How did a distillery in a tiny West Australian town beat million-dollar companies to claim the honour of World's Best Column Distilled Rum? If you ask Codie Palmer, the very distiller who achieved this impressive feat at the World Rum Awards this year, there's one essential ingredient that just can't be replicated anywhere else – location.
Palmer is the owner of Illegal Tender Rum Co, a boutique distillery in the Coral Coast town of Dongara, around 3.5 hours north of Perth. It's a hot, dry, and windy town best known for kite surfing. But it also happens to have the ideal conditions for producing quality rum.
An electrician by trade, Palmer left his role managing a gas power station to found Illegal Tender Rum Co in 2015. Although he'd been distilling from 15 years of age, it wasn't until his wife Hayley became tired of stepping over cooling lines and other distilling paraphernalia that he got the final push needed to follow his dream.
---
---
It turned out to be the right decision. Illegal Tender has now won a total of 17 World Spirit Awards since opening, including a bronze medal in their first year of entering the competition. It was the encouragement they needed to pursue their vision.
"To actually win an award was massive and it gave us a huge confidence boost to continue," says Palmer. "It's not been easy. I've spent my life savings in it. And It's more of a passion project than a business. We do everything by hand. We don't take shortcuts."
In May this year, Illegal Tender Rum Co's Distillers' Cut was awarded the title of 'World's Best Column Distilled Rum, Five Years and Under' at the World Rum Awards in London.
"Because of the time difference where judging took place, the awards were announced in the middle of the night. My wife and I were sitting in bed refreshing the page constantly. When we didn't see our name listed under the category entered, we initially we got disheartened, but kept scrolling only to discover we'd been named Style Winner!"
"No other award had made me weep like a little baby."
Unlike most rums produced globally which contain molasses in the base brew, Illegal Tender's feature Australian dark brown cane sugar, which is one of the last processes in sugar refinement before you get molasses. It's a costly and more labour-intensive option, but Palmer says it leads to a smoother, cleaner flavour with no harsh undertones.
All rums are double-distilled on-site and then aged in oak ex-red wine casks. And that's where the distillery location comes into play. Dongara experiences four distinct seasons, meaning eight maturation cycles over two years. It's also prone to wild temperature swings (30 degrees during the day, just 3 degrees at night) which assists with the maturation.
---
---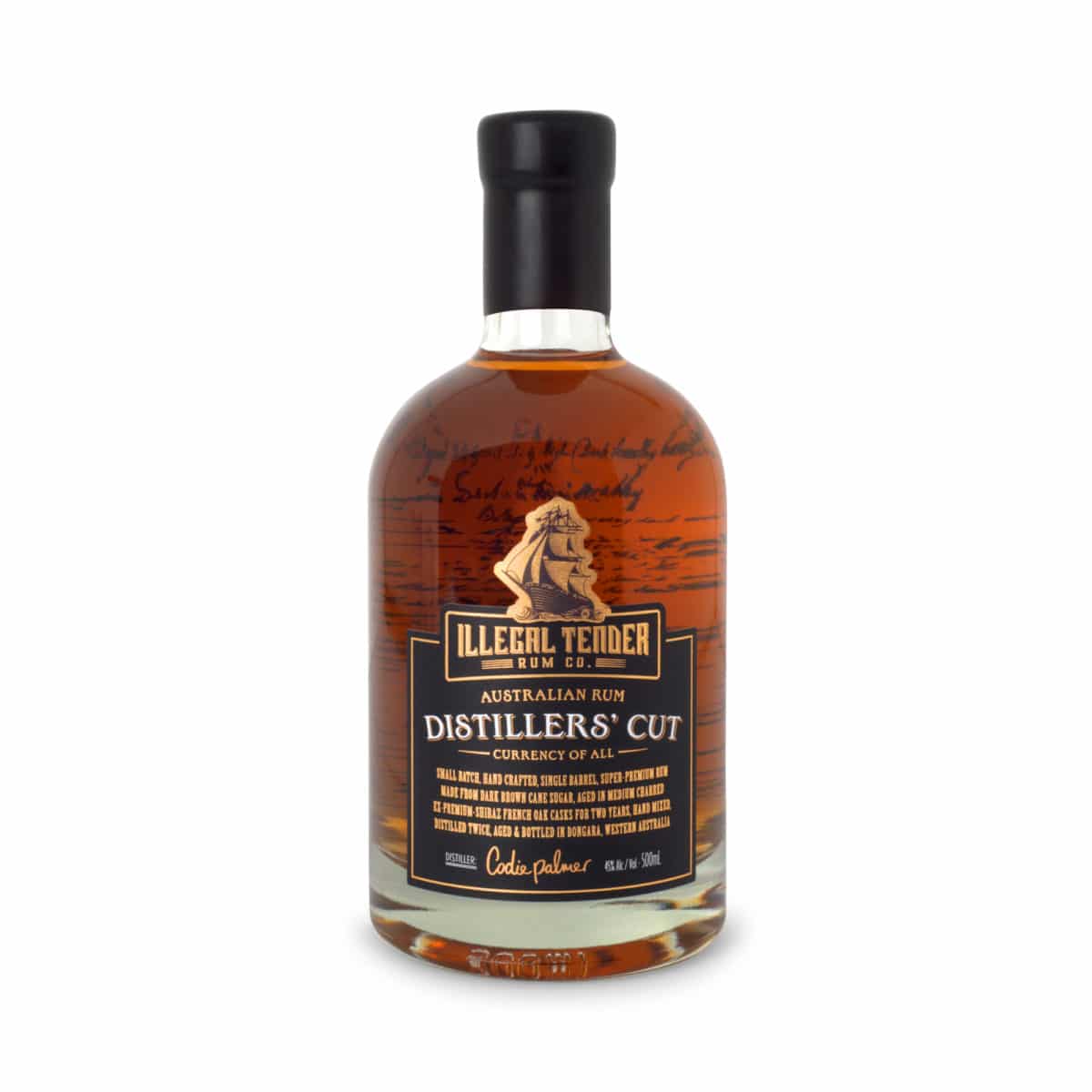 "When you look at maturing casks in any weather, you're always looking for that swing," says Palmer. "You want the cask as warm as possible and then as cool as possible in as little time as you can. It speeds up the process and results in flavours that can't be replicated anywhere else."
RELATED: The 13 Best Australian Gins For Your Liquor Cabinet
Like almost every business, 2020 has been a challenge for Illegal Tender. When the first wave of COVID hit in March, closing pubs and clubs, Palmer says his sales dropped by some 85% almost overnight. It was a devastating blow for a small business owner. As stories about the urgent demand for hand sanitiser filtered out, Palmer saw a way to help and made the decision to halt rum production and pivot to creating hand sanitiser.
A 7-hour round-trip mercy dash down to Perth to secure the required ingredients before the Mid West border closed at the beginning of April – a West Australian government crisis response which effectively divided the state into nine separate districts with no unauthorised travel between them – only added to the urgency and stress.
At one point, Palmer says it felt like everyone in West Australia was emailing or calling, and they couldn't keep up with the urgent demand. Ferments were taking longer than they wanted and they were running out of the ingredients needed to make more batches.
"With the stories we were hearing, we knew we had to do something. Whatever it took".
What it took included something Palmer never thought he'd do, taking nine 220L barrels of the precious rum he had ageing out the back and redistilling into the potent ethanol needed to create hand sanitiser. It was a heart-breaking decision, but one he doesn't regret it.
Now life is returning to some normality, Palmer and his team have been buoyed by their award win but admit there's not much further you can take a rum after it's named the world's best. So, they decided to launch a second brand: StableViews Distillery.
---
---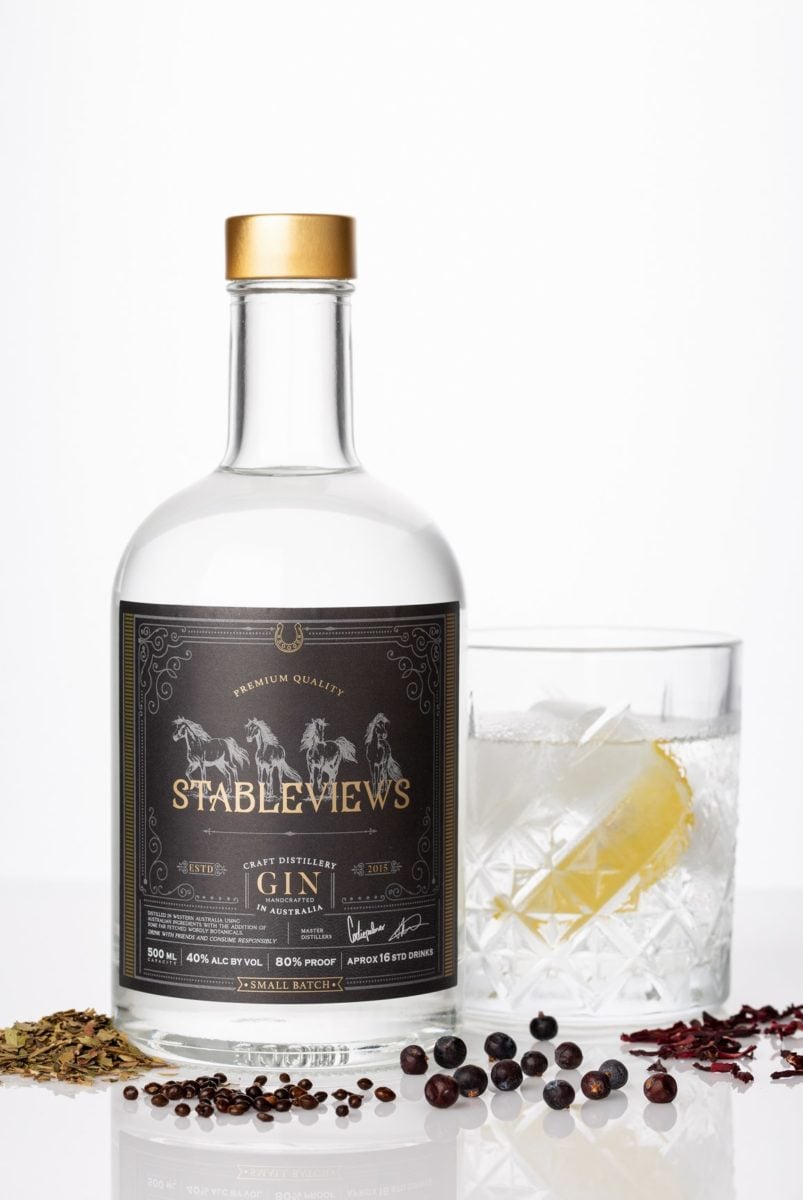 Their first release – an Australian dry gin – sold out within just a couple of hours. With a brand-new cellar door experience now open, and plans for several new products, Palmer says he's looking forward to seeing just how big their small shed can become.
Related: 16 Of The Best Rums In Australia For Your Weekend Shenanigans