Few tastes can compare to the sour sting of a salted-rimmed margarita sinking down the ol' gullet on a ripper day. Much like a well-made old fashioned or solid Vodka martini, the margarita holds a special place in the world of classic cocktails. It's the sly salty dog of the crew, with a firm grip on balance where the right mix of tongue-pleasing sweet and lip-smacking sour is key. Having a go-to margarita recipe in your back pocket is always a good idea, although zoning in on just one or two is tough.
Given it's one of the most popular cocktails in history, there are now several versions of the margarita, from the classic margarita cocktail recipe to various recipe variations like the spicy margarita, the frozen margarita, and fruit flavoured margaritas like the watermelon margarita or cranberry margarita. Then, of course, you've got the trendy Tommy's Margarita, which switches out the orange liqueur in a classic margarita recipe for lighter, less calorie-dense agave syrup
We know you're here for a trusty original margarita recipe, in which case all you'll need to do is scroll down to get to the punch. But if you want to really build yourself up as a bit of a margarita expert, you should first understand where the margarita came from and why it's so highly regarded as the unimpeachable Queen of sour cocktails. So grab your cocktail shaker filled with ice, prep the freshly squeezed lime juice, find whatever can give you that coveted orange flavor (cointreau and lime juice are a perfect pair so we suggest that) and make sure you've got some of the best Tequila on hand.
---
---
---
History of the Margarita
So where was the margarita created? No one knows, to be quite honest. The origin story of this cocktail is incredibly hard to pin down because there are so many tall tales laying claim to its creation, from some loose unit from Texas named Robert James Thomson, who claims he invented it at a party in Houston, to a bartender named Francisco Morales who apparently first mixed up the simple recipe at Tommy's Place Bar in Juarez, Chihuahua.
The earliest account of the margarita cocktail is from 1936. Iowa newspaper editor James Graham claims he stumbled across the original recipe during his travels in Tijuana, predating all of the other margarita origin stories.
Depending on who you're listening to, virtually all of these stories have some kind of credibility. Although we do know that the margarita was a direct descendent of the classic American Daisy cocktail. And it was preceded by the Picador, a British cocktail that had the same recipe as the margarita with similar proportions.
In the 1937 Cafe Royal Cocktail Book by William James "Billy" Tarling, the Picador recipe dictates:
¼ lemon or lime juice
¼ Cointreau orange liqueur
1⁄2 Tequila
Never heard of them? Don't worry. Not many people have heard of the picador or the daisy because they are not quite as popular as they used to be. And while they may not be as primordial as the classic Old Fashioned, which dates back to 1806, the daisy was at least the key cocktail of the prohibition era as it could be made with fewer resources on hand, and it was highly adaptable.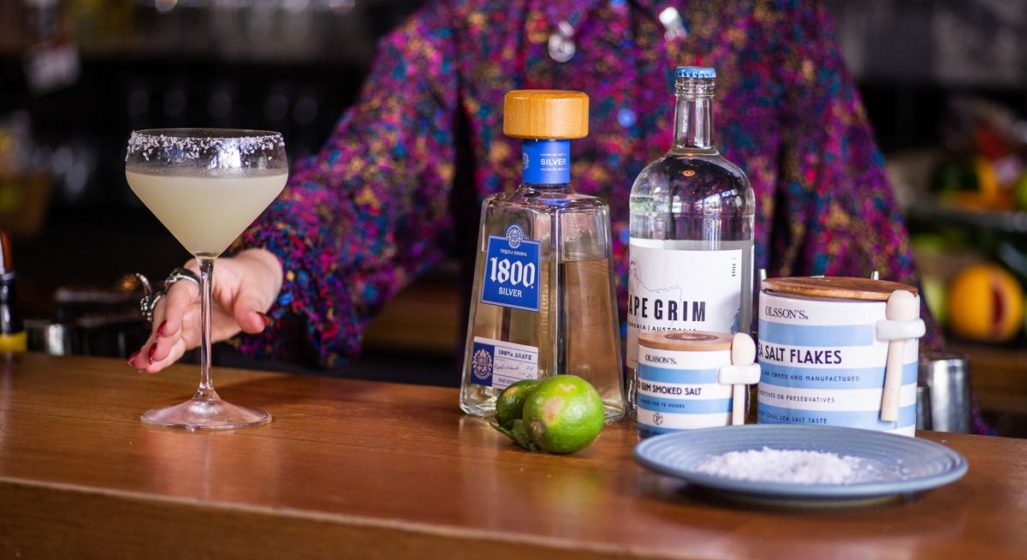 The base of a typical daisy cocktail was that of a classic sour – a spirit, some citrus juice, and a sweetener, as well as sometimes soda water. An orange-based sweetener was the usual go-to, hence why Cointreau, Triple Sec, or Grand Marnier were often used. But the base spirit was interchangeable – pretty much everything and anything was used to create the daisy cocktail and its many different versions.
The legend goes that either gin or brandy was the most popular spirit to use for a daisy cocktail. But someone, somewhere down the line, swapped that for a Tequila, giving birth to what we now know as the classic margarita. Some think the sweetener was blue curaçao, and somehow that eventually led to triple sec being most commonly used to help provide that sweet, slightly fruity hit to cut through the sourness.
---
---
Some say the decision to use Tequila for a daisy instead of brandy or gin was likely due to the fact that it was much easier to get Tequila closer to the Mexican border than any of the other spirits. This at least makes it more feasible that the margarita was created somewhere in Texas.
However the margarita came to be, it's one of the only cocktails that serious drinkers would include in their daily diet, depending on how much a nutrient profile the recipe has.
---
What Makes The Perfect Margarita?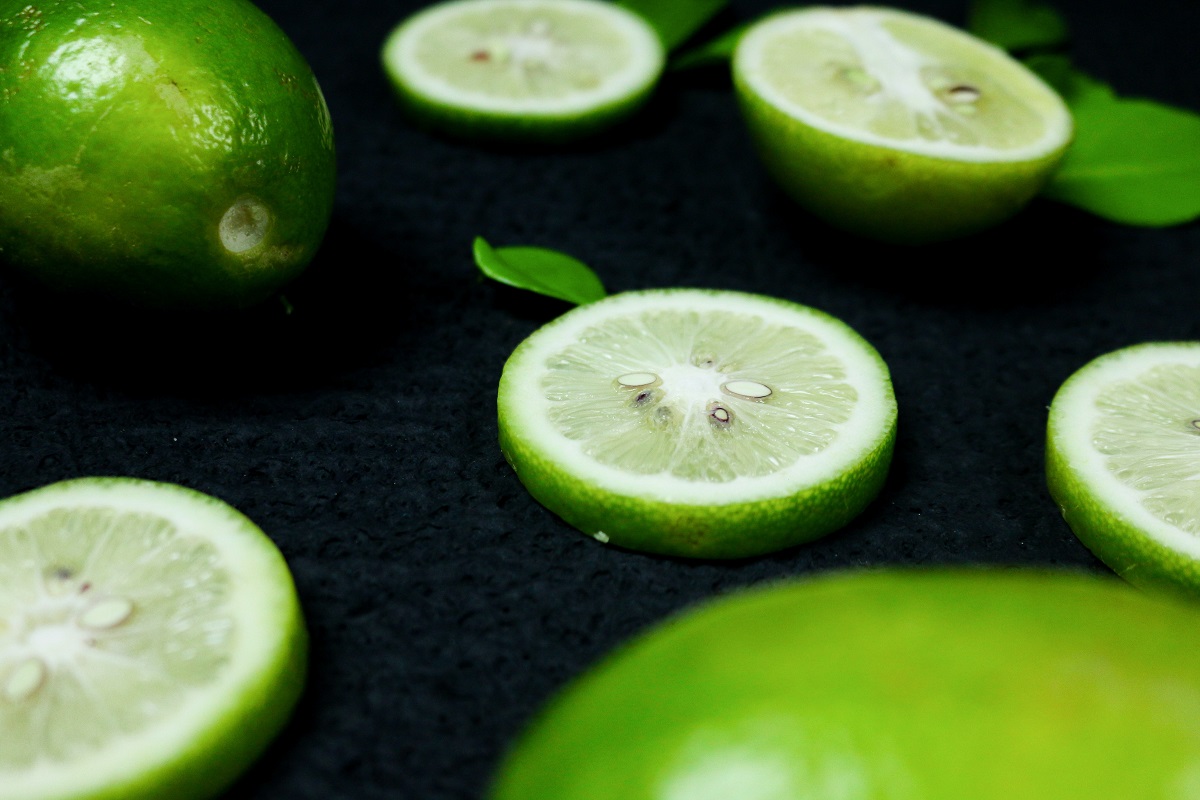 Tequila, orange liqueur, lime. If you want a good quality margarita, then you need to pay equal attention to all the ingredients, from the spirit – a good quality Tequila is essential – to the lime wedges. The very basic recipe would cut out an orange liqueur like triple sec or Cointreau altogether and just use simple syrup (in which case you'd need to use more Tequila since simple syrup doesn't contain alcohol).
Although there is another, more viable option if you're strapped for time and you want to make a margarita in 90 seconds or less. We've included that recipe below, which is called The Long Margarita and uses a specially made CAPI mix.
Another very important element is the salt used. You need that salted rim to help enhance both the sweet and sour notes in the drink, particularly the latter. Salt makes the sour note seem a bit brighter and zestier, and you can't be reaching for the best margarita without paying attention to the rim.
You also want fresh ice. Sonic ice seems to be the most popular lately. Also known as pellet ice or nugget ice, these are smaller, more chewable pieces of ice that are perfect for a margarita on the rocks. They absorb the drink faster, flavouring the ice nicely, but they also melt quicker as a result. If you use sonic ice for your margarita, you don't want to be nursing the drink in the hot sun lest you want more water than Tequila.
As Patrón brand ambassador Joseph Chisholm puts it, "the key to a good margarita is to always use premium Tequila and fresh lime. It also pays to keep the recipe simple."
Best Tequila For Margaritas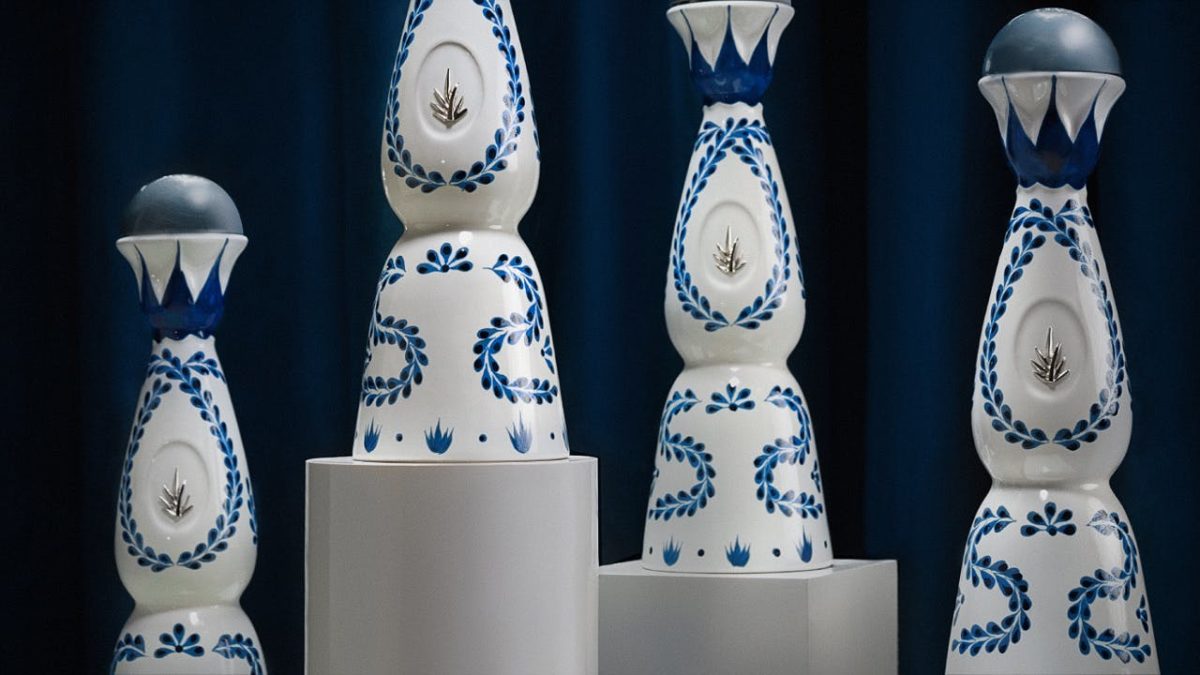 What is the best Tequila for margaritas? That largely depends on your personal tastes, but most typically you'd want to use a 100% blue agave-based Tequila so that the recipe isn't made up of anything else like artificial colourings and sweeteners.
---
---
Most margs are made with Blanco unaged Tequila because these types of Tequilas are most robust and don't add anything else to the overall profile. Although some like using reposado to introduce a slightly sweeter, creamier profile to their margaritas. You essentially want a young Tequila that has not been aged in oak barrels or has spent only a few months soaking up that oak. You won't find many margaritas that use añejo Tequila, which is aged from 1-3 years, or extra añejo Tequila, which is aged more than three years
Experimenting is key here, so if you've got money to burn and you really want to dial it in and specialise in making a margarita then check out our round-up of the best Tequilas you can buy.
Some of the best Tequilas to go with when you're making a margarita include G4 Tequila, 1800 Tequila, Tequila Ocho, T1, Patron, and Casamigos.
Triple Sec or Cointreau?
You've generally got three options for this essential layer of a margarita. Most of the time, it's down to just two, with Grand Marnier being the least common of the three due to its more prominent and disruptive profile of Cognac brandy. So the question is whether to use triple sec or Cointreau.
A margarita mix with Cointreau will invariably be punchier, while a triple sec margarita is usually more sessionable. It all comes down to what you want sitting behind that orange flavour, whether it's the slightly more bitter-sweet Cointreau, or the better balance of triple sec.
Limes (Or Lemons)
Most bars would grab any limes around. You'd find they usually have a few slices or a full lime wedge lying in wait, and use those to squeeze what is usually an aggressively sour element to the margarita to finish it off. The balance is thrown out of wack and you're left with a caustic marg that you can only sip occasionally. No one wants a cocktail that's more of a hindrance than a hero.
That's why you should always pay attention to the quality of your limes, hence your fresh lime juice. Unlike lemon juice, which varies far less in terms of quality, the flavour you'd get from limes depends greatly on the season, origin, and terrior in which they are grown. The better the provenance, the better the margarita. It's always a good idea to taste your lime juice before squeezing it into your drink. You want something that's refreshing; if the lime juice makes your throat burn or scratch, don't use it.
That being said, a lot of people still prefer to use lemon juice over lime, which is equally as viable. Lemons are a bit more consistent in flavour but are often a bit heavier. If you really want to experiment, try an equal blend of lemon and lime juice and see how you go.
---
---
Salt
I briefly mentioned salt above, but it's worth giving you a quick rundown as to how exactly you should get those grains around the rim of your glass. First, you'll need to spread the salt on a plate in an even layer. Get your lime wedge and cut out a little notch in the middle so you can slide the juice around the rim of your glass. This moistens the rim so you can then coat it in salt. Do so, just make sure to tilt the glass so the salt only lines the outside of the glass; you don't want any salt on the inside. Just shake off any excess into the sink and you should have a perfectly salted rim.
If you're considering having a margarita with some food, think about how the food serving contributes to the overall palate. If you're having something salty already, you'll want less salt on the rim of your glass. As always, it's all about proportions.
---
Classic Margarita Recipe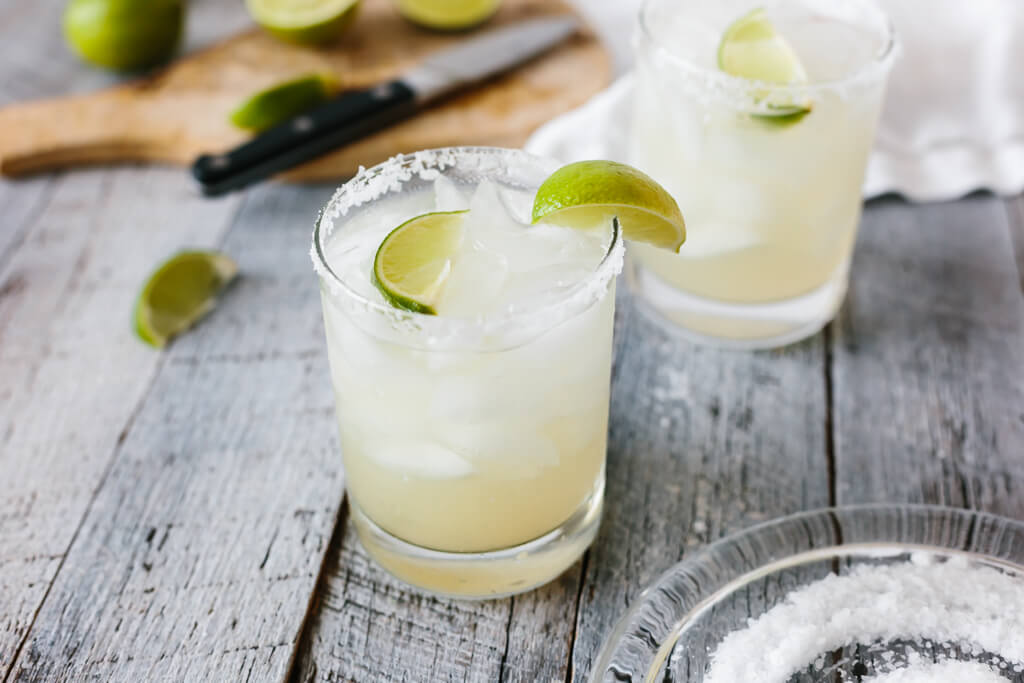 You'll need a cocktail shaker, some ice cubes, a lime wedge for garnish (although not necessary), and some margarita glasses before you dip right into this classic margarita recipe. Remember, the secret to a good margarita is in the cocktail's simplicity. 90% of the time, you'll be more than satisfied if you just find the best ratio of Tequila, triple sec and lime juice for your personal tastes. Don't bother with those cheap bottled margarita mixes, although, as detailed below, there is one from CAPI that's worth checking out.
Ingredients
Ice (Sonic ice preferred)
50 ml Tequila (Blanco or Reposado)
25 ml lime juice
20 ml triple sec
salt (for garnish)
2 lime wedges (for garnish)
Method
Grab a margarita tumbler and salt the rim (see the "salt" section above).
Fill a cocktail shaker with sonic ice, then add the Tequila, lime juice, and triple sec in that order.
Shake until the outside of the cocktail shaker is cold.
Pour the margarita mix into the glass over fresh ice using a strainer. Serve with a wedge of lime.
The Long Margarita Recipe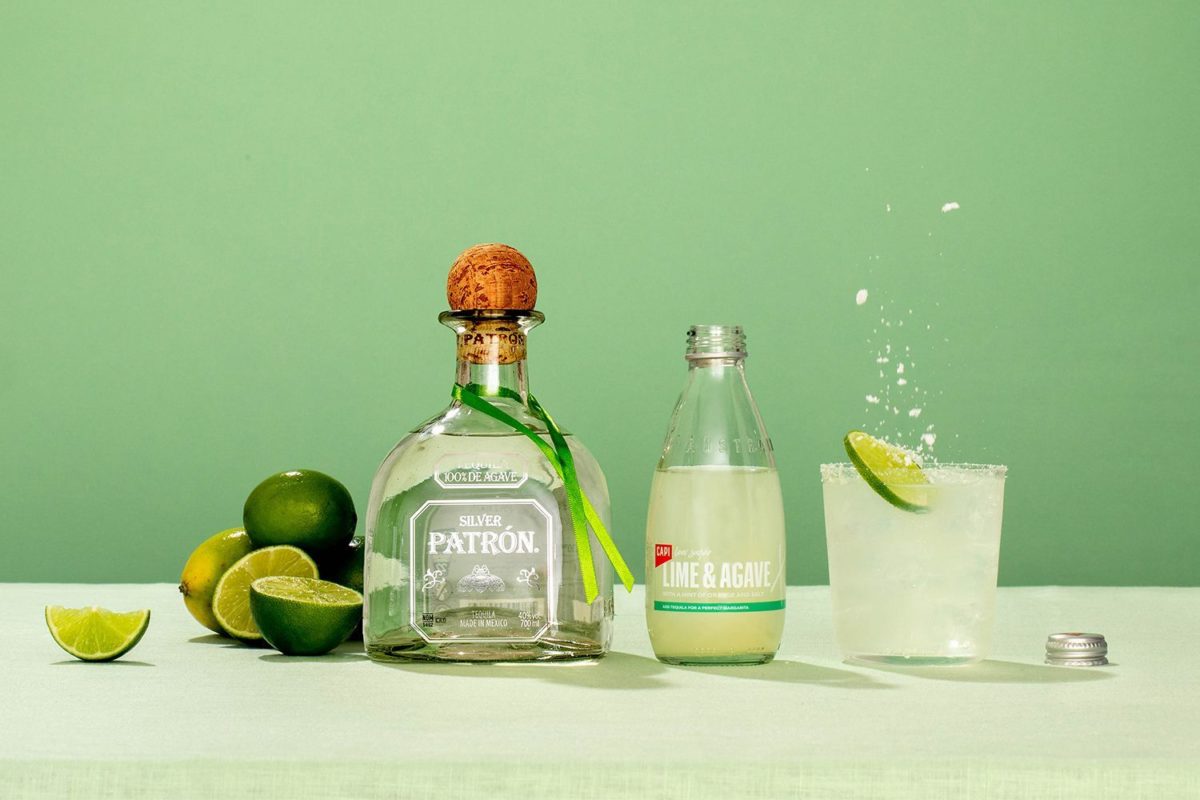 If you want to make a margarita in 90 seconds or less, then you'll want to go for The Long Margarita using CAPI Lime & Agave X – which is a pre-made mix from the Australian sparkling water brand.
As Patrón brand ambassador, Joseph Chisholm notes, "CAPI has put the work in, so you don't have to."
"Their Lime & Agave X uses the finest, real lime juice and agave nectar, balanced with a hint of orange and salt."
Ingredients
45 ml Patrón Tequila
CAPI Lime & Agave X
Lime Wheel
Ice
Salt
Method
Run a wedge of lime around the rim of a Collins glass.
Using a plate, add salt to the rim of the glass.
Fill glass to top with fresh sonic ice.
Add the Tequila to the glass.
Top off with CAPI Lime & Agave X.
Give a quick stir and garnish with a lime wheel.
Spicy Margarita Recipe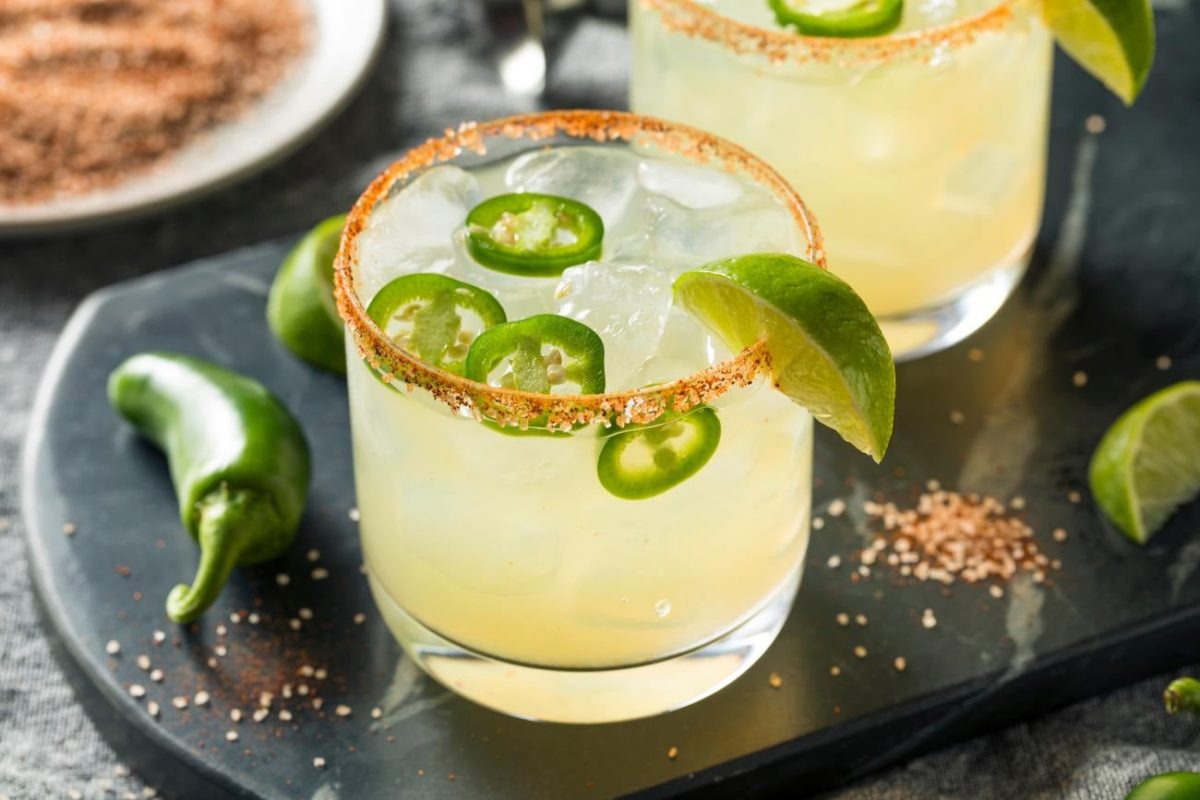 If you want another type of kick to your margarita then all you'll need to do is add some fresh jalapeño to help mix things up. Spicy margaritas have picked up in popularity over the past few years and are now the most common "alternative" form of the classic margarita. You'll just need some extra sweetness to help balance out the spiciness, so most would introduce some simple sugar syrup to the mix as well as the usual Tequila, orange liqueur, and other ingredients.
Ingredients
15 ml sugar syrup
30 ml lime juice
20 ml triple sec
45 ml Tequila
Slices of jalapeño
1 fresh jalapeño slice (for garnish)
Method
Add sugar syrup, fresh lime juice, triple sec, Tequila, and jalapeño slices into a cocktail shaker.
Shake all ingredients until the outside of the shaker is cold.
Strain into a large glass onto fresh sonic ice.
Garnish with a jalapeño slice.