Alright, fellow pissheads. I know this may be a little early – even by our standards – but Australian aviation history is quite literally at stake here. At this very moment, 1,000 Qantas bar carts from their retired Boeing 747s are being sold faster than you can say 'Spirit of Australia'. Bar carts, might I add, which come fully stocked with 80 bottles of wine and champagne, as well as a few other certified goodies.
These killer bits of memorabilia were, of course, rescued from the planes before being flown to California's Mojave Desert for a dignified retirement. And the bar carts have certainly served well in their own right – with an estimated 2,000 flights and 15 million kilometres under each one's proverbial belt. Suffice it to say, these booze trolleys have seen more of the world than most humans.
"There has been huge demand for Qantas 747 memorabilia," says Phil Capps, Qantas Executive Manager of Product & Services.

"And frequent flyers have expressed keen interest to convert the bespoke inflight trolley into everything from lampstands to storage units."
---
---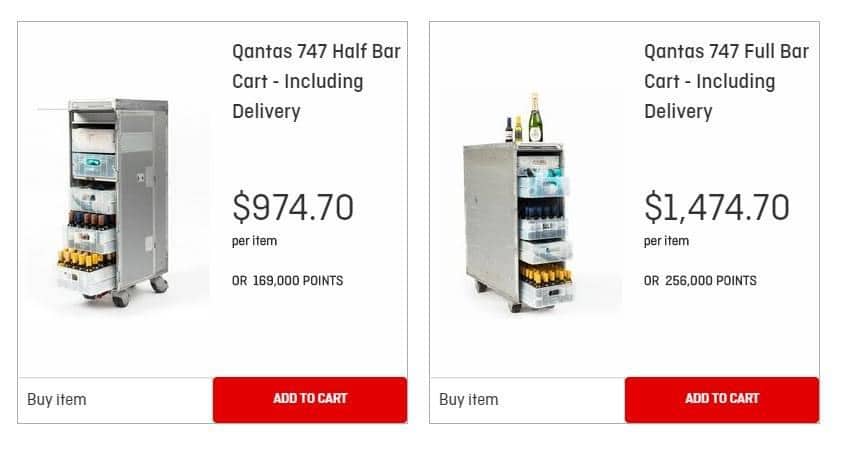 The Qantas bar carts will cost you $974.70 / 169,000 Qantas Points with free delivery to metropolitan areas in Sydney, Melbourne, Brisbane, Adelaide, and Perth; each one contains the following:
40 x Mini-bottles of Australian white wine
40 x Mini-bottles of Australian red wine
1 x Bottle of Champagne
2 x Qantas business class amenity kits incl. ASPAR Travel Essentials skincare products
1 x Sheridan throw produced exclusively for First Class ( 100% combed cotton)
2 x Pairs of Qantas Business Class pyjamas (M/L + L/XL)
An extremely limited amount of full-size carts with double the items will also be up for grabs – priced at $1,474.70 / 256,000 Qantas Points. Hit the link below starting 8 AM (AEST) to cop one immediately.