Motivated by the belief that cycling and coffee are a classic combination essentially ordained by the heavens, Rapha and Rocket Espresso have linked up for a limited-edition caffeine machine that's more than its murdered-out exterior, eyebrow-raising price tag, and bragging rights.
"For as long as there have been cyclists, there have been coffee stops," notes Rapha.

"The two go hand in hand, and over 140 years since an Italian inventor filed a patent for the world's first espresso machine, a Milanese manufacturer still leads the way."
Handmade in Milan, the Rapha x Rocket R58 espresso machine (AKA: R Cinquantotto) redefines excellence. To ensure every single pre-ride cuppa is the product of optimal extraction – for any coffee type or roast style – the R58 features two independently operated, PID controlled boilers. Inclined boiler technology allows for super precise group temperature adjustment and "unrivalled" levels of temperature stability. Or to quote Samuel L. Jackson, in layman's terms, it churns out some serious gourmet shit.
---
---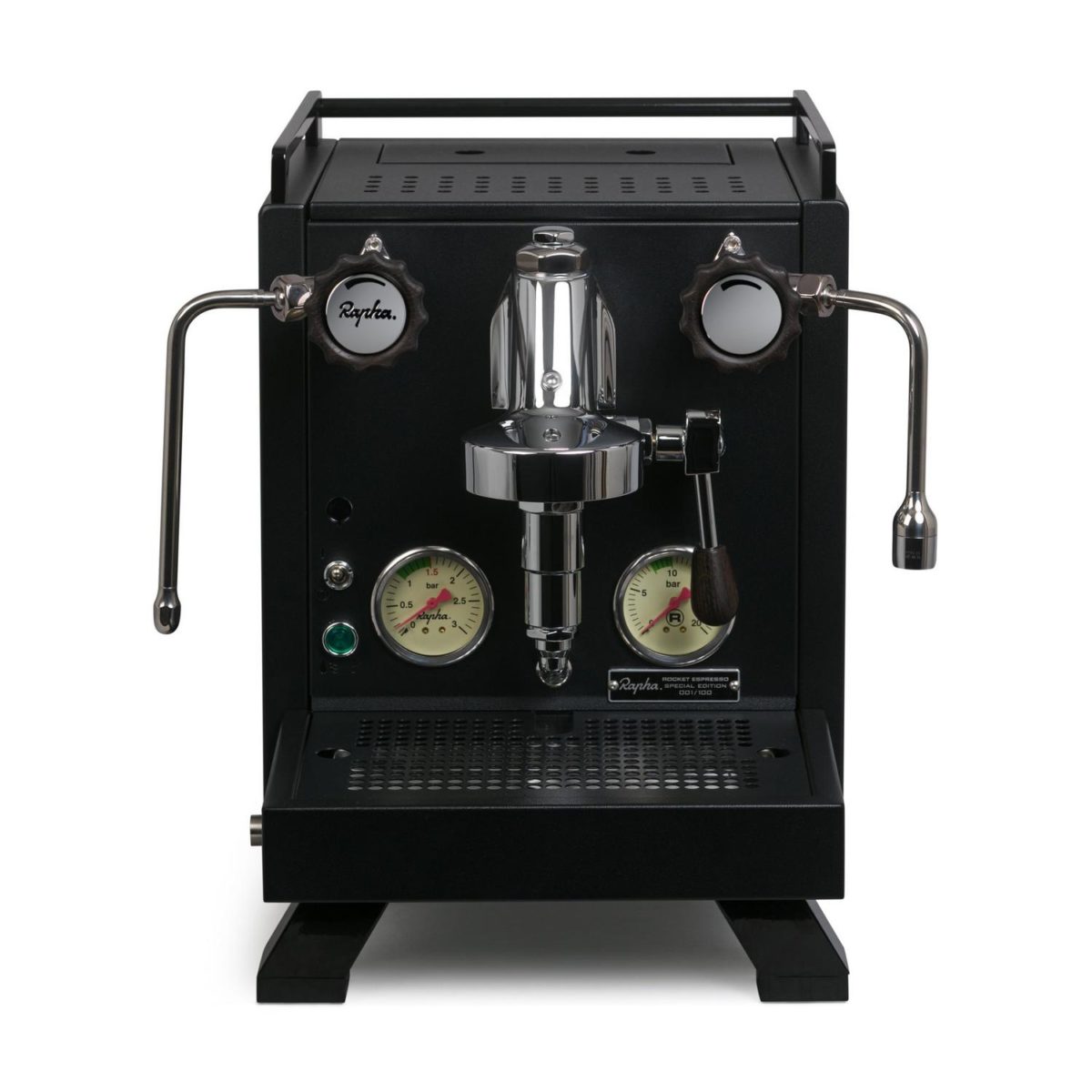 RELATED: The 12 Best Coffee Machines In Australia For Home Baristas
Similar to just about any other modern-day tech in our lives, Rapha and Rocket Espresso have streamlined the user experience by letting you control this coffee machine's entire myriad of functions via touch-screen display – and according to the site listing, unlike previous iterations of the R58, it now includes an automatic on/off function, so it's always ready to make "the world's finest coffee" at the drop of a dime.
Other notable highlights include twin stainless steel portafilter (single spout + double spout) both finished with a luxurious wooden handle, no-burn steam and water wand, a high-grade rotary pump that can draw water either from the machine's internal reservoir or directly from the main supply, as well as a full stainless steel drip tray. As for the dimensions, you're looking at 310mm x 440mm x 385mm with a total weight of just 29 kilos.
RELATED: Breville Oracle Touch Review – Still The Home Coffee Machine To Beat
There is, however, a catch. Only 100 Rapha x Rocket R58 espresso machines will be produced and exclusively available to members of the famed Rapha Cycling Club (sign up here for current/future releases). Beyond that, it's a 12-week wait from the moment of purchase to having it delivered at your doorstep on a wooden pallet in a custom crate weighing in at a considerably heftier 55 kilos. Meaning it definitely won't get here on time for Christmas.
Is all this really worth spending £2,735 (AU$5,200)? We think so.