Brisbane and rooftop venues go better together than Milo and ice cream. The city's year-round favourable weather, coupled with a population that loves a few cold ones, makes it the perfect locale for sky-high culinary indulgences. What's more, Brissie has benefitted from a burgeoning hospitality scene in the last few years, marked by an explosion of quality eateries and watering holes. You've then got plenty of choices when you're after the best rooftop bars Brisbane city has to offer.
As we ease into summer and lockdowns start to become a thing of the past, there's never been a better time to don your linen and get al fresco. Whether it be a long lunch, a sunset session, or an evening jaunt against the backdrop of city lights, Brisbane's best rooftop restaurants and bars will have you covered.
These rooftop bars in Brisbane will showcase the city's best angles, from Queen Street Mall and Brisbane CBD, to Brisbane River, Eagle Street Pier and King George Square.
---
---
RELATED: Things To Do In Brisbane – The Ultimate Brizzy Bucket List
---
Here Are The Best Rooftop Bars and Restaurants in Brisbane
Maya Mexican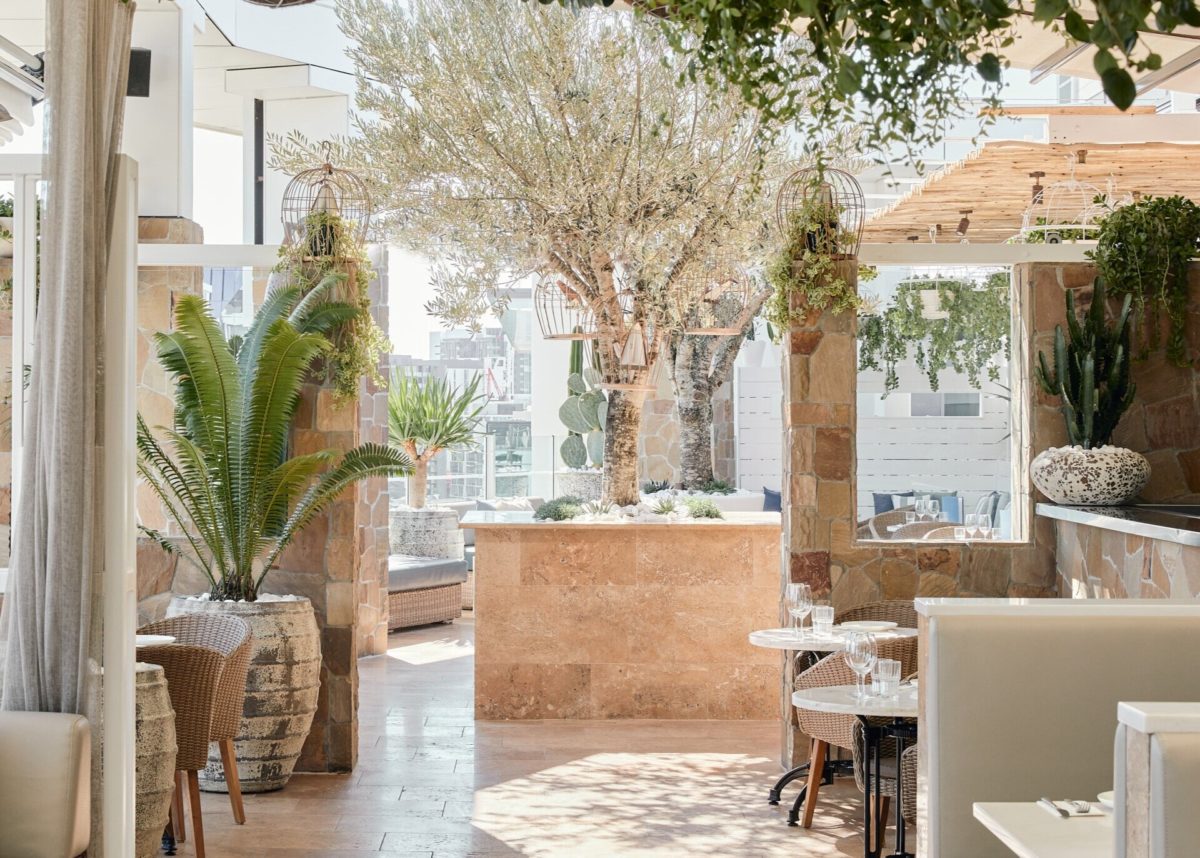 Maya Mexican will always be the place to be seen. It's arguably Brisbane's best rooftop venue and has an unrivalled view over the city. After operating as 'Eleven Rooftop Bar', owners Coats Group have reinvented the space into Maya – an effortlessly cool Mexican-style establishment. The venue's decor is coastal and fresh, with linen, sandstone, cacti and olive trees surrounding low-set booths and high tables. Maya is smartly laid out so that almost every seat in the house enjoys a view. It's also one of the few venues that face west, treating guests to spectacular sunsets behind the city in the foreground. DJ's spin lounge and house vibes from early afternoon and the atmosphere has a classy beach club feel to it.
Not just a pretty face, Maya has a menu firmly up there with Brisbane's best, be it for a quick tipple or a long dining experience. The cocktail selection is plush with both innovative creations and traditional mainstays, with standouts coming from the margarita section. If you're partial to a premium tequila, you'll be delighted to find a list the size of a short novel. The food menu is filled with smart spins on traditional Mexican dishes, executed to perfection. Highlights include the signature house nachos, the pescado tacos, and the barbacoa lamb ribs. Pair that with a few lychee margaritas and you've got yourself the perfect summer afternoon or evening session.
Address: 757 Ann St, Fortitude Valley QLD 4006
Contact: (07) 3067 7447
Opening Hours: Wednesday – Thursday (12pm – 11pm); Friday – Saturday (12pm – 1am); Sunday (12pm – 1pm)
---
Iris Rooftop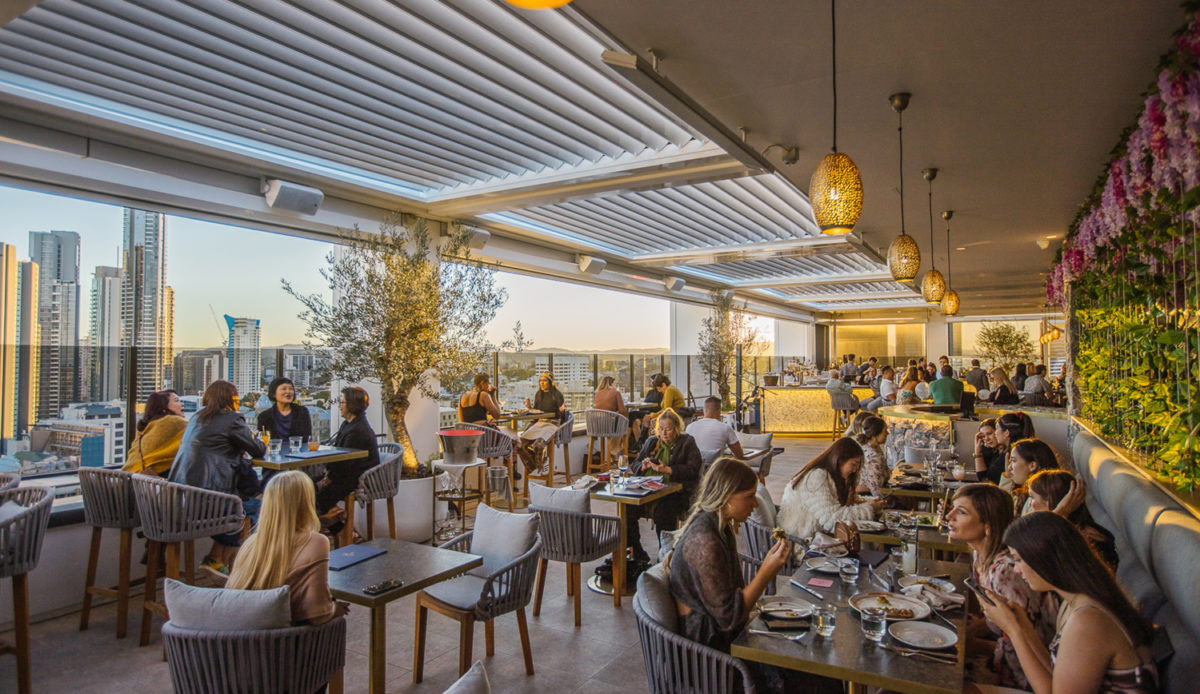 A relative newcomer from Ghanem Group, Iris has burst onto the Brisbane hospitality scene in impressive fashion. Situated above Hotel X in Fortitude Valley, the rooftop features a 270 degree view of the city and surroundings. Iris refuses to conform to one identity, taking inspiration all the way from Beirut through to Barcelona. The influence is decidedly Mediterranean and luxury, with a theme of purples, fabric greys, velvet and plenty of greenery. This Mediterranean direction spills over into the menu, which includes heavenly dishes like the slow cooked lamb shawarma, moroccan grilled chicken pide and grilled baby octopus. Start with the pumpkin guac tostadas – you'll thank me later.

The food offering is backed by a drinks menu packing just as much punch. Highlights come from the cocktail pages, with treats such as the tequila-based 'Vibe Check' and the Bombay Sapphire gin-infused rosé sangria. Iris is also quite versatile, being just as solid for a quick work lunch as a romantic evening dinner against the city lights. It's undoubtedly an enviable place to spend time and it attracts Brisbane's most interesting clientele. The venue is light and airy, embodying the definition of smooth surrounds. It's another contender for the best sunset spot in Brisbane.
Address: 458 Brunswick St, Fortitude Valley QLD 4006
Contact: (07) 3131 8999
Opening Hours: Tuesday (4pm – 12am); Wednesday – Thursday (11:30am – 12am); Friday – Saturday (11:30am – 3am); Sunday (11:30am – 12am)
---
---
---
The Terrace at Emporium Hotel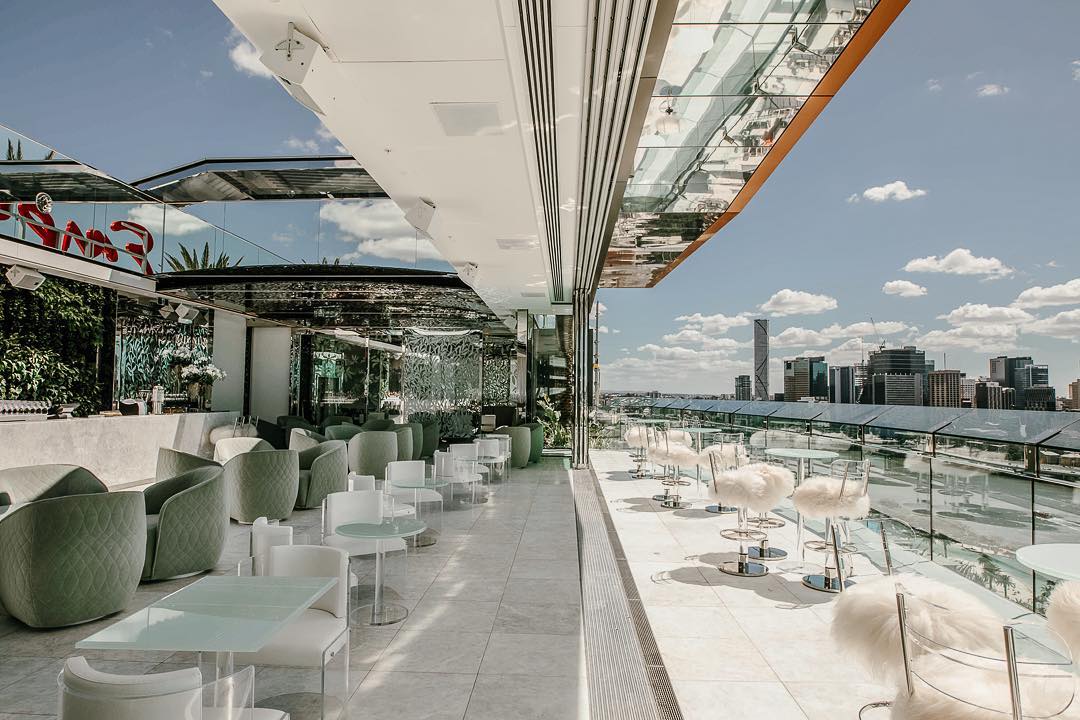 Knowing their strengths, Emporium Hotel has placed the crown jewel of the hotel on the top floor – level 21. Next to what is surely the most picturesque infinity pool in Brisbane is The Terrace, an energetic and stylish rooftop venue. Sitting in South Brisbane, the restaurant and bar has a unique view north over the river towards the city centre. With a drink in hand and a seat at the glass counter, it can be a very difficult place to depart. Inside, the design is luxurious and decidedly out there, with a retractable roof, plenty of mirrors, chrome, and light-up floor panels.
The food offering fits the sub-tropical luxe environment and is designed to be shared, with a mix of lighter and larger plates. There are hints of Asian influence floating through the menu's pages. You can't go wrong with the fried chicken in green curry sauce to start, followed by the miso glazed sirloin to bring it home. To drink, it has to be a cheeky glass of Perrier-Jouët Blanc de Blanc, swiftly followed by any of the equally tasty cocktails from The Terrace Signature Creations list. Also available for event bookings, The Terrace is a prime spot to host a soiree for you and your friends, whether it be in the main area or the private dining room.
Address: 267 Grey St, South Brisbane QLD 4101
Contact: (07) 3556 3333
Opening Hours: Monday – Sunday (7am – 12am)
---
Fiume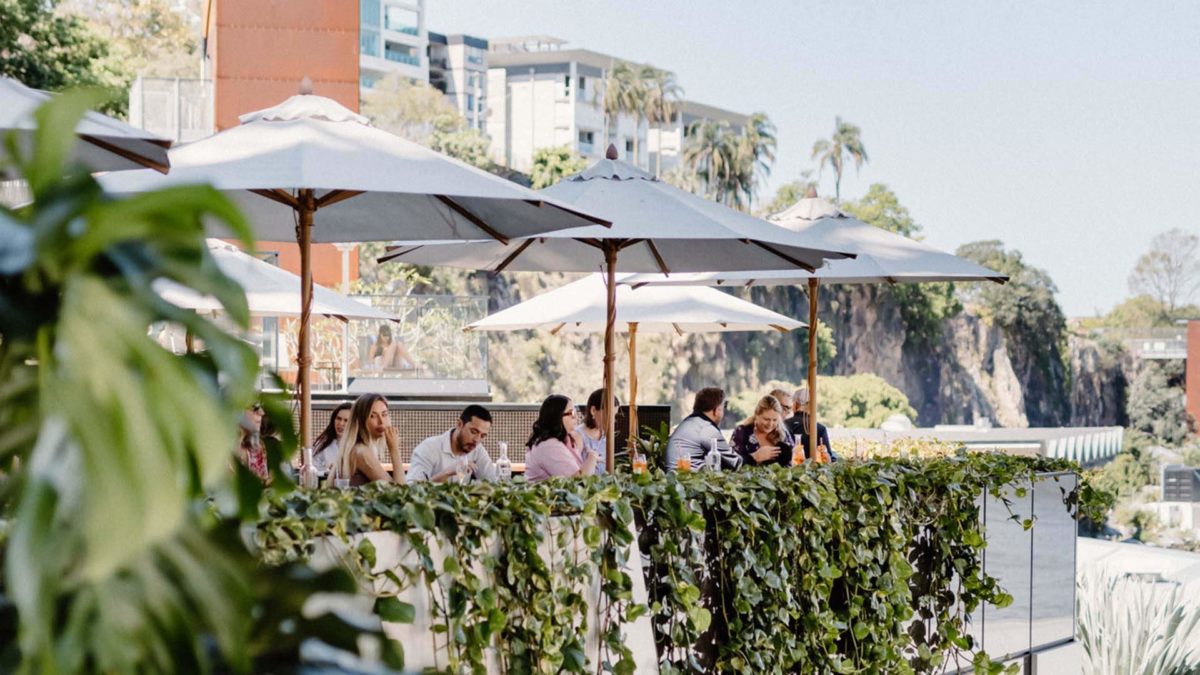 Up above the action of Howard Smith Wharves sits Fiume, a classy establishment within the new Crystalbrook Vincent Hotel (formerly The Fantauzzo). The hotel straddles a curve in the river bank directly below the Story Bridge, nailing down an unrivalled water's edge vista of the CBD. The terraced bar is a stylish, welcome recluse in the afternoon and turns into a festive gathering place after dark. It's the perfect spot to grab a seat and enjoy a classier experience when you need a break from the noise and sub-par beers at Felons below.
The bar sits next to an infinity-edge pool that guests are welcome to pull up a chair at, giving it a uniquely relaxed feeling. A team of experienced bar staff and plenty of space makes Fiume a popular option. It's also a short walk from the CBD, so it's hard to pass up for a post-work drink. For the early starters, they're currently running an Italian bottomless brunch event featuring free-flowing cocktails and a smorgasbord of tasty bites.
Address: 5 Boundary St, Brisbane City QLD 4000
Contact: (07) 3515 0700
Opening Hours: Friday (4pm – 10pm); Saturday (2pm – 10pm); Sunday (2pm – 6pm)
---
Eagles Nest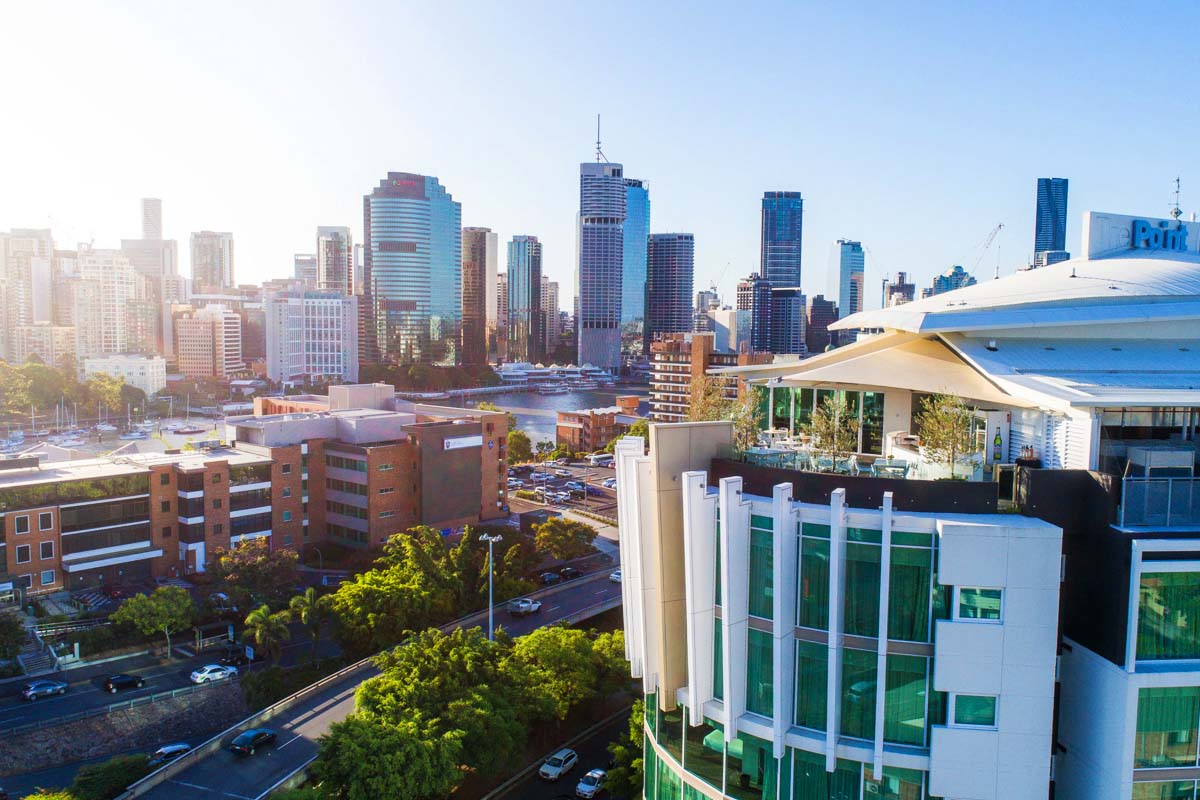 A lesser-known purist and jack of all trades, Eagles Nest can be found atop The Point Brisbane Hotel in Kangaroo Point. This hidden gem boasts an unbeatable city view ranging a full 270 degrees from the Story Bridge to Woolloongabba. Eagles Nest offers seating perched above a low glassed edge, giving drinkers the impression of being in the sky and opening the view directly below. An acoustic musician sets the perfect tone and provides a smooth background to the afternoon as it rolls into the evening.
While its vista is its drawcard, this watering hole still has a comprehensive range of drinks. The team often have a popup bar mixing crowd favourite cocktails and pouring premium drops. Eagles Nest is very exclusive and has limited trading hours, only opening from 3-9pm from Thursday to Sunday. There is perhaps no better date spot on this list for those looking for a romantic setting. We recommend booking ahead and arriving early to get an enviable spot at the edge.
---
---
Address: 21 Lambert St, Kangaroo Point QLD 4169
Contact: 1800 088 388
Opening Hours: Thursday – Sunday (3pm – 9pm)
---
The WET Deck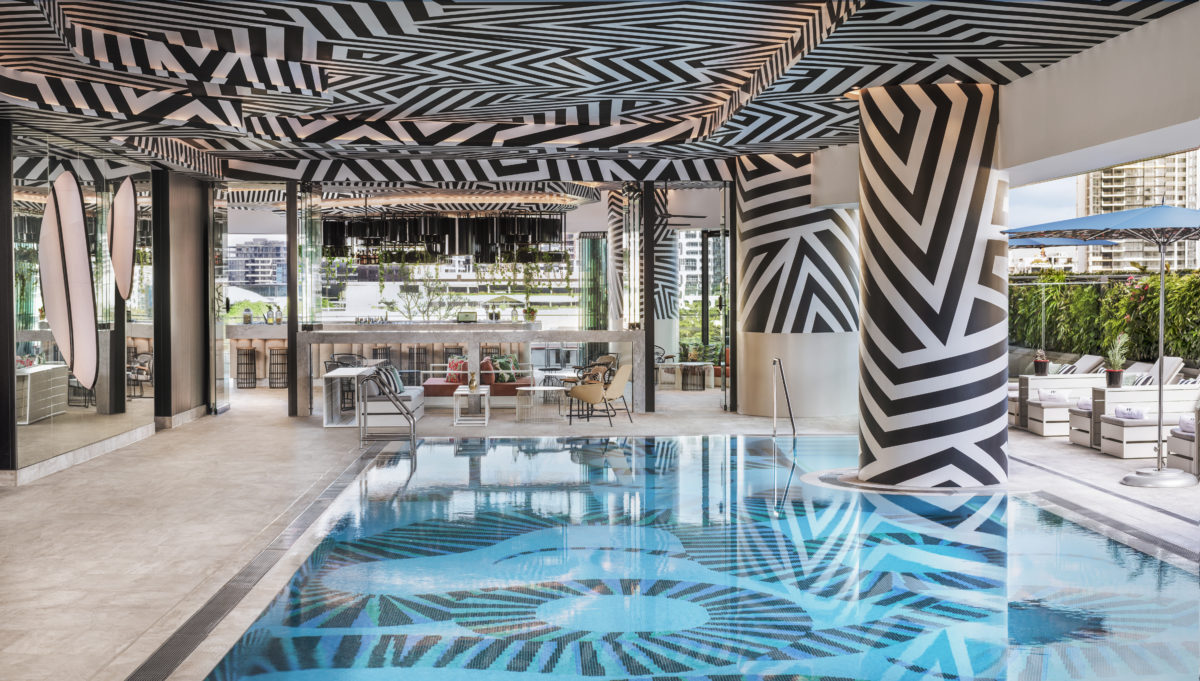 The WET Deck and bar at W Brisbane is the closest thing to a hotel playground for adults. The W group has an impressive precedent around the world as a fresh, funky and cool luxury brand. Videos of slick poolside discos at W hotels in picturesque tropical locations are mainstays on Instagram's explore feed to the point of jealous annoyance.
Up on level 4 of the Brisbane city centre outpost, guests will find a pool area that wouldn't look out of place in a gallery of modern art. Abstract patterns of mirror and light fly around the roof and pillars above the water, while sleek loungers line the perimeter. Past the pool is a vibrant and pulsing bar overlooking the river. An impressive array of cocktails, pumping music and cool clientele make it a perfect spot for a sunset or pre-dinner tipple.
The bar and pool area have a resort-like feel to them, with plenty of guests enjoying the Brisbane sun to the sound of funky house music. The bar is always changing theme and subject to fashionable takeovers, where the menu and decor get an overhaul. The pool deck also consistently plays host to events such as 'float-in cinemas' and pool parties, so the venue always feels fresh and energetic.
Address: 81 N Quay, Brisbane City QLD 4000
Contact: (07) 3556 8888
Opening Hours: Thursday (11am – 6pm); Friday – Saturday (11am – 11pm); Sunday (11am – 6pm)
---
Soleil Pool Bar (Currently Closed)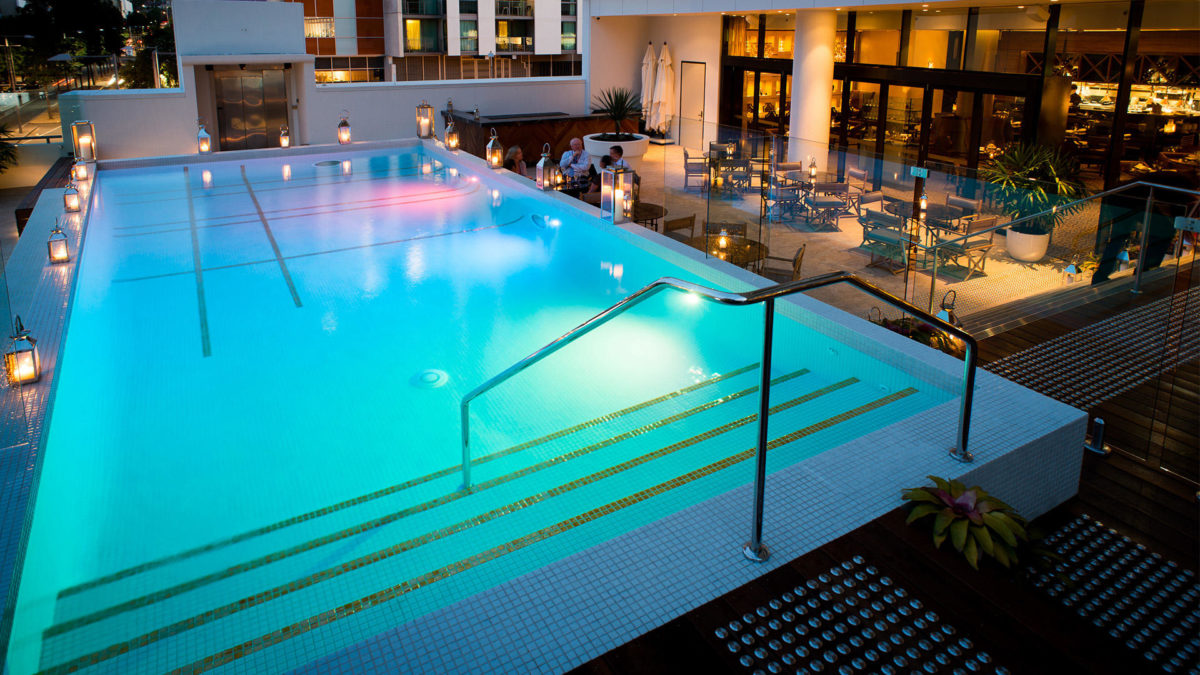 You'll find Soleil Pool Bar at Rydges South Bank, carved out as the ultimate outdoor event space with regular live acoustic music and DJs coming through to keep the vibes up.
The best thing about this Brisbane rooftop bar is that it's not really something you'd expect. Rydges South Bank has been overshadowed by more glamorous hotel openings over the years like Calile Hotel, W Brisbane, Crystalbrook Vincent Hotel, and Hotel X, but there's no denying Soleil is a major draw for locals and visitors. Plus, you know, there's a pool.
Soleil Pool Bar is currently closed, for reasons unknown (but likely due to Covid). We'll update this listing once it opens again.
---
---
Address: Podium Level, Rydges South Bank, 9 Glenelg St, South Brisbane QLD 4101
Contact: (07) 3364 0838
---
Elixir Rooftop Bar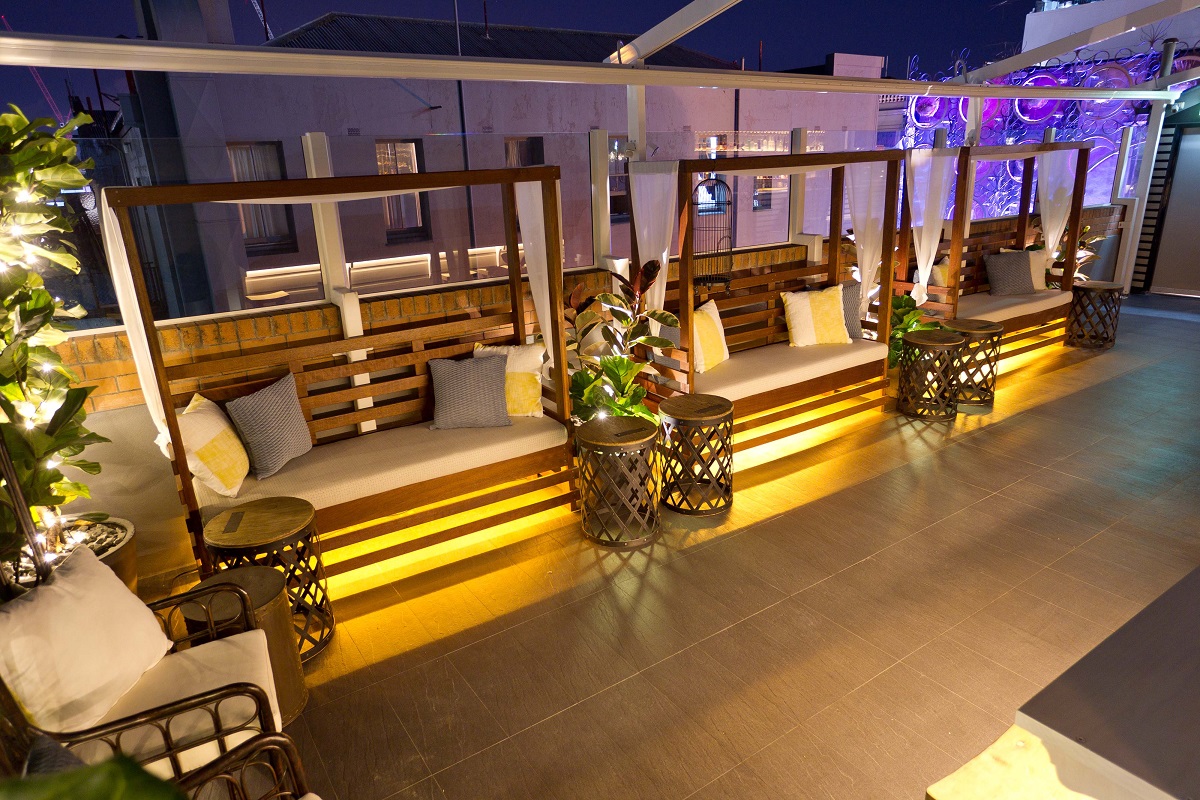 A sanctuary of fairy lights and wooden benches that feels like a violet tear-away from the brashness of Fortitude Valley. That's Elixir Rooftop Bar also summed up, presenting a nice little escape for Brisbane locals who would rather be perched up here than throwing up half-eaten kebabs at 4 am just about anywhere else in rough-and-tumble FV.
The decor may be youthful in its approach, and you might run into something that feels overly gimmicky as the signature cocktails list isn't all that great, but you'd be hard-pressed finding something as charming as this in area.
Address: 646 Ann St, Fortitude Valley QLD 4006
Opening Hours: Thursday (4pm – 8:30pm); Friday – Saturday (4pm – 1am)
---
Stock Exchange Hotel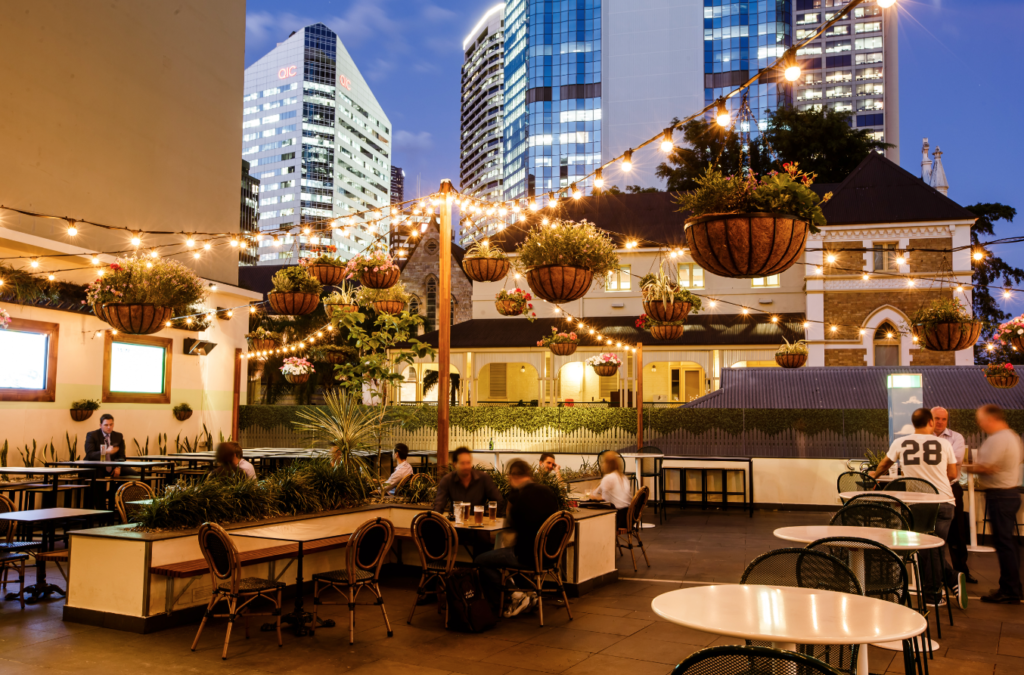 We'd be remiss for not including The Stock Exchange Hotel on this list of Brisbane's best rooftop bars and restaurants. The legendary pub, established in 1963, owes much of its refurbished charm to this incredibly vibrant and relaxing space.
The rooftop bar is quite clearly the most contemporary part of this venue, with all the essentials like fairy lights and hanging plants but without the overly tacky feeling. Plus, you've got a true publican's beer list to help you ease out of any day of the week, whether that's a mid-week bevvy overlooking Brisbane's city skyline or a wild Saturday night out. You'll find all types of people rock up to this destination venue, so make sure you're looking your sharpest – you might want to check our list of the best menswear stores in Brisbane to help.
Address: 166 Charlotte St, Brisbane City QLD 4000
Contact: (07) 3229 3522
Opening Hours: Monday – Sunday (10am – 3am)
---
Dirty Sultan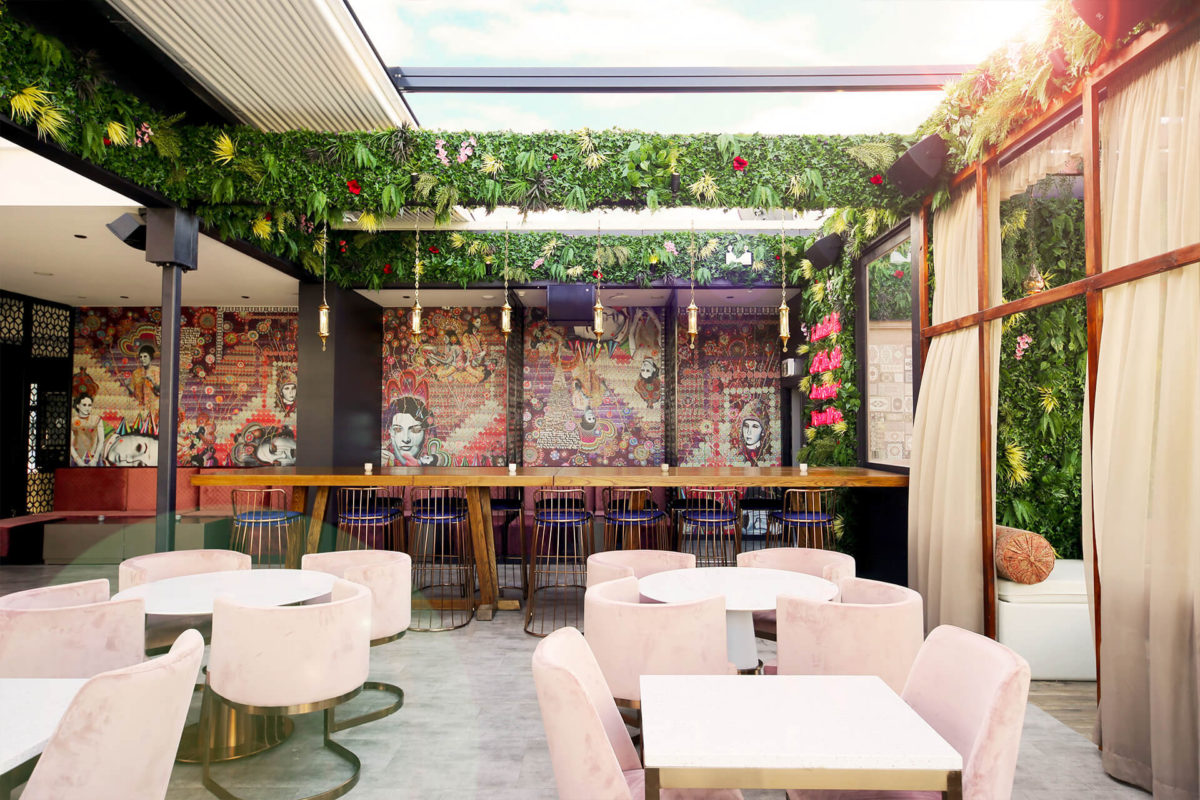 Dirty Sultan is an ultra-modern Turkish inspired bar sitting on top of The Constance in Fortitude Valley, pushing through as one of the more plush rooftop bars in Brisbane with a medley of day beds, a secret Turkish bathhouse inspired shisha lounge, and copious natural light pouring in from all directions.
---
---
There are plenty of nooks here, making it ideal for date night or a bigger group. As far as food goes, you've got a nice selection of meze and other Greek staples designed to share, while drinks bring you mostly cocktails and a respectable wine list that trumps most of the other venues in the area. It's one of the best rooftop bars Brisbane locals have got when it comes to showing off this side of the city.
Address: 14-18 Constance St, Fortitude Valley QLD 4006
Opening Hours: Thursday – Friday (5pm – 2am); Saturday (2pm – 3am); Sunday (2am – 2am)
---
Best Rooftop Bars Brisbane Has To Offer – Frequently Asked Questions
What is the best rooftop bar in Brisbane?
If you're looking for the very best rooftop bars in Brisbane you can't go past The Terrace at Emporium Hotel, Iris Rooftop at Hotel X, and the chic Maya Mexican.
What is the best rooftop bar in Brisbane for dinner?
If you want a rooftop bar that also does some great food choose Maya Mexican or Dirty Sultan.
Where is the best rooftop bar in Fortitude Valley?
The best rooftop bar in Fortitude Valley would be Dirty Sultan with its contemporary interiors, street-style Turkish food, and comfy day beds.