When Cinco De Mayo rolls around each year it's perfectly understandable that you'd want to grab the best Tequila you can get your hands on, bottle up some freshly squeezed lime juice (or lemon juice) and break out Cointreau (or Grand Marnier, which is a hybrid triple sec and cognac) to start beating up a classic margarita batch for your mates. Don't. Not this year, at least. They'd be more impressed if you could show off the range of your cocktail skills (and knowledge) by shaking up some margarita alternatives that are just as easy to make and deserve just as much recognition. You want to be that guy who knows all sorts of Tequila cocktails to whip up at a whim, so to help here are five of our favourite easy Tequila drinks that highlight just how versatile Tequila can be as a spirit.
We're not going to get all obscure on you for this one. In all likelihood, you've already heard of and tasted these Tequila cocktail recipes before, but it's always easy to forget about each one since society's ferocious appetite for a margarita almost always overshadows everything else.
And that's a margarita in all its forms, mind you. The drink has become so ridiculously popular in recent years thanks to variations like the spicy margarita or a Tommy's margarita with agave syrup (or agave nectar) instead of orange liqueur. There's little wonder as to why casual drinkers rarely stray towards equally delicious alternatives like the Tequila sunrise or a simple Tequila sour. That goes double once you get hooked on a high-end Cadillac margarita (which is basically just an elevated marg using top-shelf Tequila, Grand Mariner, and fresh lime juice). Indeed, they're hard to resist, but once you master these other Tequila cocktail recipes you might never go back to a margarita again.
---
---
RELATED: How To Master The Margarita In 90 Seconds Or Less
The best Tequila cocktails that aren't a margarita are typically just as easy and quick to make. So, much like we did with gin and the classic gin and tonic, we've sorted through our favourite margarita alternatives that we think will help you elevate your cocktail game substantially.
Whether you've got ginger beer on hand or have immediate access to some grapefruit soda; pineapple juice or orange juice, or even some tomato juice. It should come as no surprise that Tequila is so adaptable – as long as it's good quality – that the spirit plays perfectly with a great variety of ingredients beyond your typical tangy lime and salt rim.
And there are plenty of choices, from the popular Tequila Negroni to the aforementioned Tequila sour. While those are all great, we've spotlighted 5 that we feel fly too far under the radar (and one – the Paloma – which deserves a resurgence this Cinco De Mayo).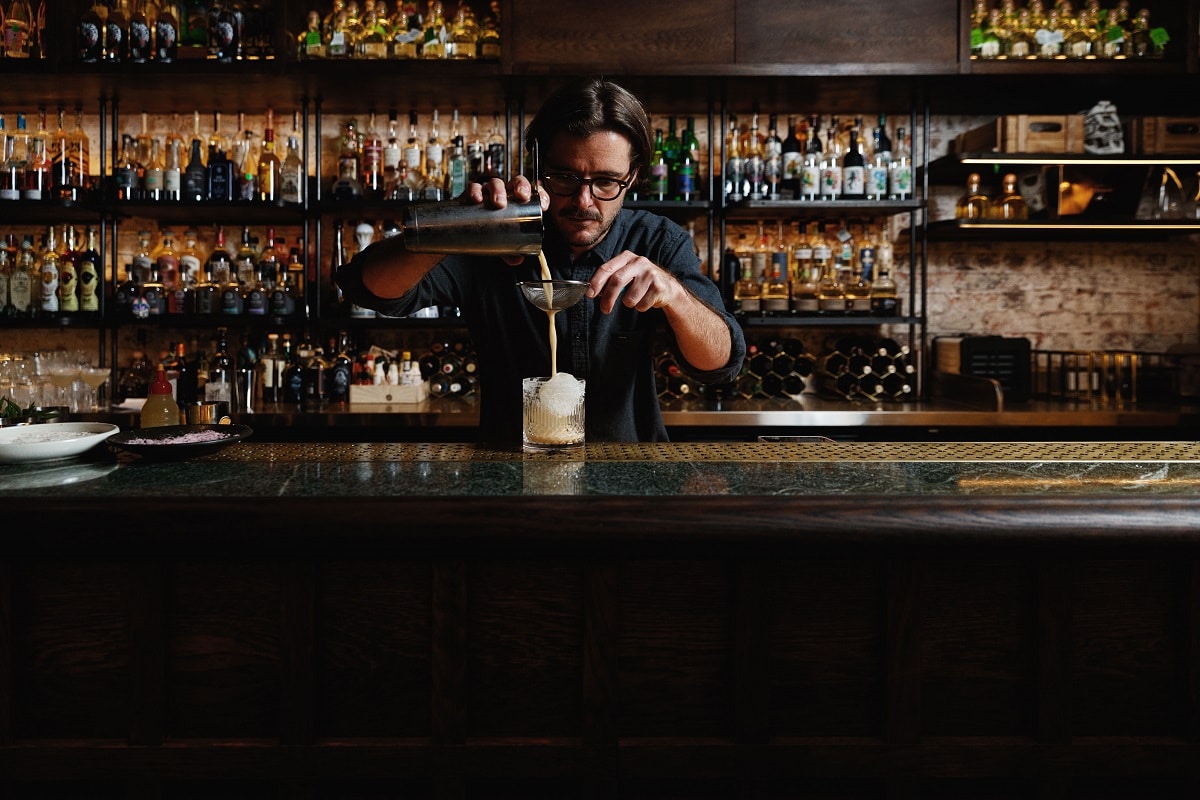 The 5 Best Tequila Cocktails (That Aren't A Margarita)
Sideline Cider
The Sideline Cider was created by Jesse Powell, a bartender in Ponca City, Oklahoma who stirred up this under-the-radar classic for Patron a few years ago. It has since become one of the brand's signature serves, using Patrón Añejo and making the profile work remarkably well with apple cider.
Given Australia has some of the best apple cider in the world (from Tasmania), you should have a good amount of scope to elevate this cocktail even further than anyone has done over in the States. Just make sure you've got some Willie Smith's on hand, a bottle of Patrón Añejo and some fresh lemon. Your mates will be impressed.
Ingredients
60 ml Patron Anejo
45 ml apple cider
22.5 ml simple syrup
22.5 ml fresh lemon juice
Grated cinnamon for garnish
Lemon wheel for garnish
Method
Add all ingredients in a glass mug over standard ice.
Grate cinnamon sprinkles over the top and garnish with a lemon wheel.
For a hot version, slowly heat all ingredients in a saucepan before adding to the glass mug.
---
Paloma
Yes, you've heard of a Paloma and there's every chance that you already know how to make a killer version of the classic Tequila cocktail and summer essential. A reminder won't hurt, though. Especially since it must be hard to see past the density of margarita and its many versions next time you pick up the menu at your local Tequila bar.
---
---
The Paloma was reportedly created in the legendary cocktail bar La Capilla of Tequila, Mexico by owner Don Javier Delgado Corona. It has since become one of the most popular Tequila cocktails, famed for its simplicity and refreshing fruity profile thanks to fresh grapefruit juice and sparkling water. Get those two key ingredients just right and you'll taste just why a Paloma should take precedence over a margarita if you and your mates are keen on something just as sessionable but not as sour.
Just make sure you've got a really good Tequila on hand because the Paloma is so expressive and well-balanced that a cheap Tequila doesn't really have anywhere to hide in that highball.
Ingredients
1 tablespoon sea salt flakes
1 teaspoon grapefruit zest
crushed ice
45 ml blanco Tequila or reposado Tequila
100 ml fresh grapefruit juice
15 ml lime juice
10 ml sugar syrup
1 lime wedge for garnish
Soda water
Method
First, mix the sea salt and grapefruit zest in a shallow dish until combined.
Rim the edge of the glass with a lime wedge and then roll the glass into the salt mix until rim is coated.
Fill glass with crushed ice.
Add Tequila, lime juice and sugar syrup.
Top with grapefruit juice and soda water.
Garnish with dried grapefruit slices (optional)
---
Vampiro
Most margarita drinkers (or anyone who is new to Tequila cocktails) probably haven't even heard of a vampiro before, but if you have the fortune to be in Mexico during Cinco De Mayo you'd surely walk away very familiar with the name.
The festive cocktail requires a high ball glass, some good quality tomato juice (or if you want something more traditional, pomegranate juice) and, if you really want to take the taste to the next level, some Worcestershire sauce. Yeah it may sound a bit dicey, and to be honest, it is, but think of it as a next-level Bloody Mary and you'll be a fan in no time.
Ingredients
Fine smoked sea salt
40 ml blanco Tequila
10 ml mescal
20 ml passata
5 ml lemon juice
10 ml lime juice
5 ml grenadine
10 ml Worcestershire sauce
3 pinches of pepper sauce or tabasco
Method
Chill a high ball glass or a small wine glass.
Brush the glass with a little water on the rim and dip into fine smoked salt until fully coated.
Put all the cocktail ingredients into the base of a cocktail shaker and mix well.
Stir the drink until the cocktail shaker feels cold.
Strain into the glass full of ice.
---
Mexican Mule
Someone somewhere got bored of drinking the same old Moscow Mule and added a bit of a kick to it. That's more or less the origin story of the Mexican Mule, which gets much of its distinctive profile from some spicy ginger mixed with some zingy lime. It's not a kind drink by any means, but very few people would be able to put one down once they get used to the singular profile.
There's a lot of bite to this one, and thankfully it's incredibly easy to make given all you need is some good quality Tequila, fresh lime juice, and ginger beer. Extra points if you shave in some actual ginger as well.
Ingredients
50 ml Tequila
Ginger beer (Bundaberg ginger beer plays really well into this cocktail)
25 ml fresh lime juice
10 ml sugar syurp
2 small pieces of ginger
1 lime wedge for garnish
Method
Muddle the ginger and combine the remaining ingredients into a cocktail shaker.
Shake well and then strain into a copper mug.
Top with ginger beer.
Add crushed ice last and then a lime wedge to garnish.
---
La Branca
Here's another one using ginger beer, but the punchy La Branca is much more complex and layered than the Mexican Mule. You'll want to grab some Fernet-Branca for this one, which is the definitive ingredient given the Italian bitters and hails from Milan, is known for its slightly herbal, methanol-like quality.
The herbal character plays well when layered onto some grassy Anejo Tequila, a dimension made all the more interesting by some spicy, sweet ginger beer. As above, you might want to use Bundaberg's ginger beer since it's so adaptable for a recipe like this.
---
---
Ingredients
45 ml Anejo Tequila
15 ml Fernet-Branca
15 ml lime juice
10 ml sugar syrup
Ginger beer (preferably chilled)
Lime wedge to garnish
Crushed ice
Method
Take a Collins or Highball glass and fill it with the crushed ice (use a short glass if you prefer to taste more of the Fernet-Branca than the ginger beer)
Add Anejo Tequila first and then layer on the Fernet-Branca and fresh lime juice.
Stir well and then top with ginger beer.
Garnish with a lemon wedge.
Want some more? Check out three other Tequila cocktails that are perfect during the warmer months.
---
Best Tequila Cocktails – Frequently Asked Questions
How many versions of the margarita are there?
There are at least 20 different versions of a margarita that are popular around the world. These include the healthier Tommy's margarita, the spicy margarita, the high-end Cadillac margarita, blood orange margarita, lavender margarita, matador margarita with pineapple juice, and plenty of others.
Is the paloma a good cocktail?
A Paloma may be overshadowed by the more inescapable margarita, but during summer this is undoubtedly the drink of choice in Mexico. Anyone who celebrates Cinco De Mayo by lazing around in the sun with a drink in their hand would be remiss if they didn't at least try putting the margarita down in favour of a Paloma.
What are the best Tequila recipes?
The best Tequila recipes, at least the ones that aren't a margarita or its many versions, include the Paloma, La Branca, Vampiro and Sideline Cider.