In almost 200 years since GlenDronach began production in the Highland whisky district, the iconic distillery, known widely for some of the most underrated single malts in Scotland, has never released something quite as rare as this. That'd be the GlenDronach Aged 50 Years, a very limited edition release coming from a distillery that's fast becoming recognised for the exceptional quality and value of its single malts as well as a noted mastery of sherry cask maturation.
Despite the GlenDronach distillery being the second oldest legal whisky producer in Scotland, the label is still relatively obscure in Australia and has only recently been attracting more attention for its signature range of sherry matured whiskies. This big-ticket release should go far in changing that image, given some of 198 bottles of The GlenDronach Aged 50 Years have finally arrived down under and will begin retailing later this month.
The single malt has spent five long and troubled decades marinating in rare Pedro Ximénez and Oloroso sherry casks sourced from the Spanish bodegas of Jerez in Andalucia. Master Blender Rachel Barrie personally selected only a small number of casks to be married in a single Pedro Ximénez, capping an incredibly long journey that has seen the liquid survive various floods and brutal Highland winters to arrive at this point.
---
---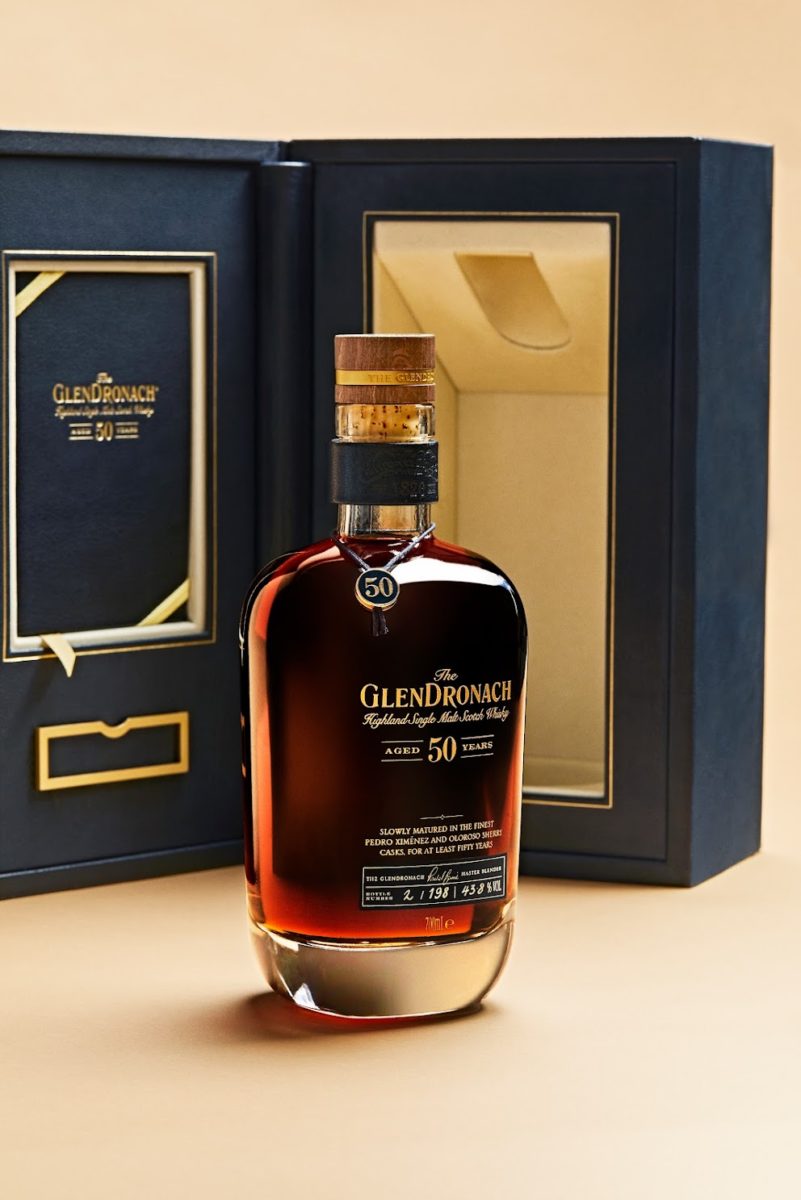 RELATED: The GlenDronach: Unpacking One Of Scotland's Oldest Distilleries
And what's the end game? Bottled at 43.8% ABV, the GlenDronach Aged 50 Years reportedly has a rich, full nose of ripe dark cherry and plum in the first instance, giving way to plenty of stone fruit, gentian and a plume of smouldering tobacco sitting over nuanced notes of bramble, orange and cranberry.
As incredible as that nose sounds, the palate promises to be quite the journey and a sure validation for how long this liquid has waited while it was passed down by several GlenDronach custodians. Official tasting notes describe a front palate of dark chocolate, tobacco and cocoa while that profile morphs with smaller details of elegant plum notes and luxurious black cherry wrapped in a swathe of velvet espresso.
"This expression tells a story of the rare dedication and mastery of those custodians who have devoted their lives, through highs and lows, to protecting and nurturing this exceptionally rare single malt," says the distillery.
Coming from GlenDronach's traditional dunnage warehouses – which are apparently haunted by the ghost of a Spanish lady who had travelled to Scotland in a sherry cask – the 50-year-old single malt has been bottled at natural cask strength without any chill-filtration and with the full depth of a natural mahogany hue imbued by the slow maturation in rare Spanish oak.
The exceptional care taken to ensure this whisky is bottled at its peak also extends to how each bottle is presented, with a bespoke wooden stopper featuring a gold engraved inlay and a fine genuine leather box embossed with The GlenDronach Distillery marque.
Sound expensive, right? Unsurprisingly, it is. If you want to get your hands on a bottle of the GlenDronach 50-Year-Old Whisky then you're looking at a price tag of $40,000.
---
---