It's no Macallan, but the world's oldest whiskey, once owned by J.P. Morgan, has officially changed hands after being auctioned off for a hammer price of US$137,000 (AU$186,750). At least it's believed to be the oldest, with the age and history of this Old Ingledew Whiskey being so vague that the liquid inside had to undergo Carbon-14 dating tests just to determine a bottling date – somewhere between 1763 and 1803 (a window determined with 81.1% probability).
Skinner Auctioneers oversaw the bidding process of the Old Ingledew Whiskey, which was only expected to fetch US$40,000 (AU$54,480) at most before the hammer came down. It's clear the bourbon's fascinating provenance has bumped up the value considerably, with the winning bidder (unnamed, so far) joining a legacy that includes ex-US Supreme Court justice James Byrnes, Franklin D. Roosevelt, and Harry S. Truman.
Given this bottle of Old Ingledew Whisky could be as old as The Revolutionary War and the great Whiskey Rebellion of the 1790s, owning such a unique whiskey confers bragging rights that stretch far beyond just price point. The precise date of the bottling doesn't even matter, which is made clear by the labelling – reading "probably made prior to 1865". If anything, it goes to show that patina counts for a great deal at these auctions, and as long as the bottle has passed through some historically significant hands, value is always going to be there.
---
---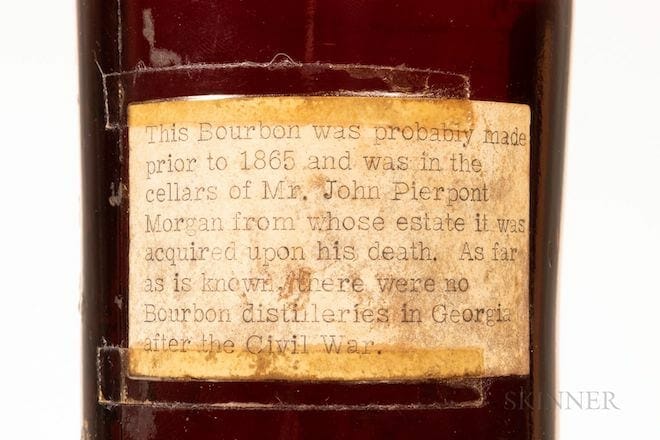 RELATED: The Best Whisky Subscription Services In Australia
Although little is known about what is apparently the world's oldest whiskey, reports suggest that it was bottled in LaGrange, Georgia, but where it was actually produced is unknown. The label is embossed with the name "Evans & Ragland", which was a grocer and whiskey bottler that operated in the Georgian city, southwest of Atlanta. And while its history can be traced back to that grocer, how it got there is still a mystery.
There were no known distilleries in Georgia back then, though Joseph Hyman, Skinner Autioneers' resident fine spirits specialist, has concluded that the whiskey must have been made in the 1850s and then stored until after the Civil War ended. Most whiskey in Georgia during that time was made by small farmers, who used the liquid to either barter, or to sell to retailers like Evans & Ragland.
RELATED: Here Are The World's Very Best Whiskies For 2021
Everything beyond that is guesswork by Joseph Hyman, the resident fine spirits specialist for Skinner Auctioneers. Even the name "Old Ingledew" is complete mystery, as there is no known distillery by that title that can be found in any historical records. Some think it was a made up name from Evans & Ragland – a piece of marketing fluff to give more value and prestige to some brown liquid scored from a local farmer.