Is there any round-up more generic and expected than 'Best Burgers in [insert city]'? Hard no. It's the quintessential food listicle every lifestyle website froths over and is often the first one people look to when craving some carbs. Sydney arguably has one of the best burger scenes in the world, rivalling hotspots like Tokyo, London and New York City, so you should have expected us to put together this best burgers in Sydney piece sooner or later.
Since around 2013, shortly after Warren Turnbull opened Chur Burger in Surry Hills, Sydney's burger scene has been a constant well of creativity, spin-offs, and collaborations. By around 2016, burgers were considered an overcrowded market in Sydney, with big players like Bar Luca, Burgers By Josh, Pub Life Kitchen, and Five Points Burgers all participating in healthy (sometimes passive-aggressive) competition.
Things are a bit tame nowadays, and although Sydney's burger scene has lost a bit of momentum, it's settled into a very comfortable space where there's more than enough competition, quality, and undying demand.
What Makes A Good Burger?
Everyone is going to have a different standard of what makes a good burger. For some, consistency trumps all, and for others, it's all about the freshness of each and every ingredient. Then you've got all the burger add ons for those who like their burgers excessive, almost impossible to hold, and really fucking unhealthy.
Although, Jimmy Hurlston, who owns and operates Easey's in Melbourne and literally wrote the book on burgers, gave us a pretty definitive explanation of what makes a good burger.
"There really are only two important elements to a burger. The meat being the single most important. In my opinion, you need to give careful consideration to the cuts of meat you use and the fat ratio. To get the best result you must find a combination that works for the style of beef patty."
"For smashed patties use a little less fat so you get a nice Maillard reaction (crust). For shaped you want a juicy, fatty patty. The next consideration is the bun. The bun should never be the star of the show. It should create a home for your meat and any of its friends. It needs to be strong enough to hold it all in but not too strong that it takes over."
"Anything else you choose to add to a burger is for personal taste. Just be careful not to add too much so you lose the flavour of the patty and the purpose of eating a burger in the first place."
Most of these burgers would satisfy Jimmy's standard, although we've included a few that push the boundaries.
The first 10 are ranked in order of appearance, just to give you a bit of a quick hit-list in case you don't have the time and patience to keep scrolling. After that, consider this the ultimate unranked directory for the best burgers in Sydney that won't leave you feeling shortchanged.
RELATED: The Best New Restaurants In Sydney
---
Where To Find The Best Burgers In Sydney
#1 BL Burgers / Bar Luca / Loaded By BL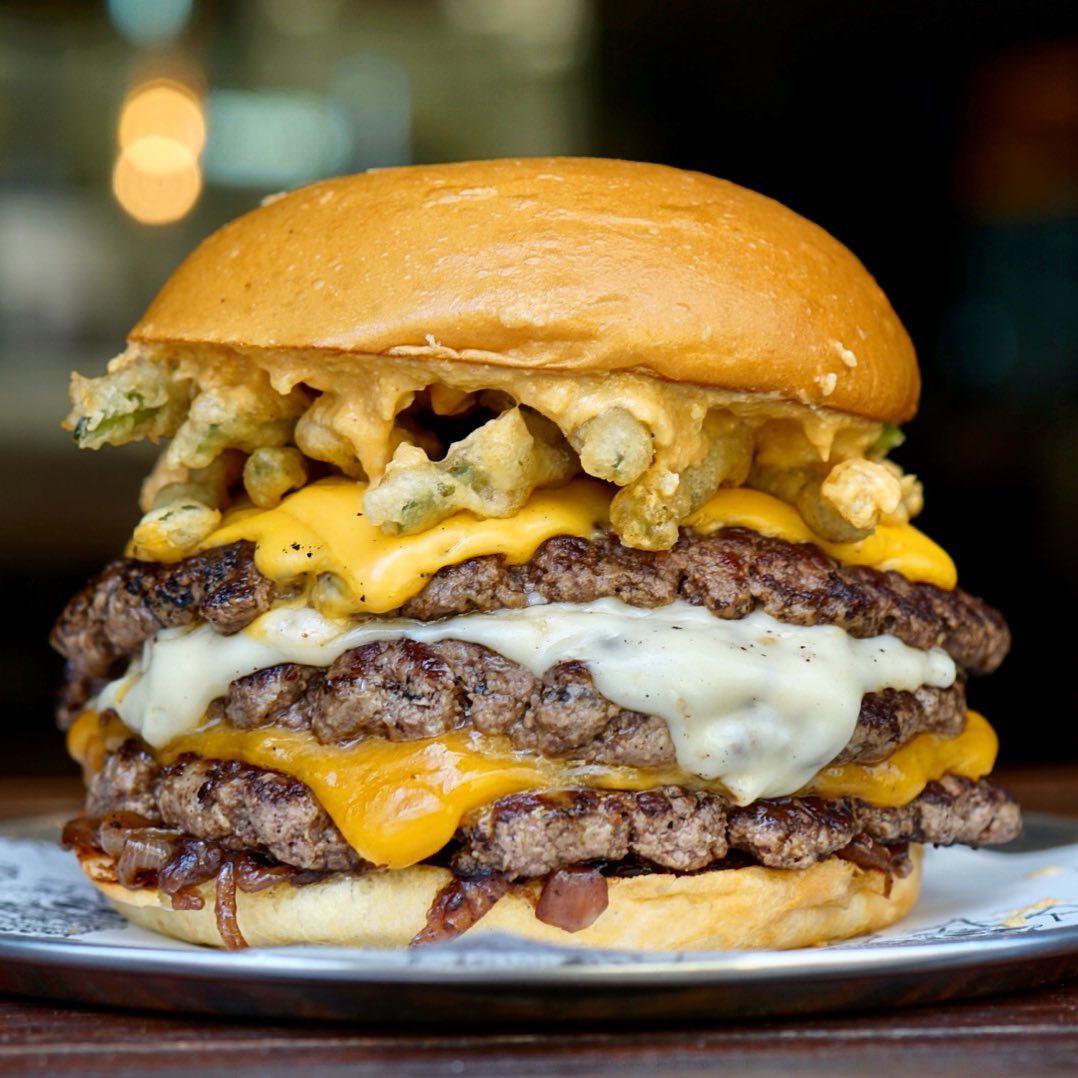 BL Burgers' ascension to burger king status in Sydney took the city's burgeoning burger scene and aggressively pushed it into overdrive a few years ago. The modest Sydney burger empire that Sarah and James Robbins built out of the back of Circular Quay pub Bar Luca has now become the reference point whenever arguments fly thick and fast over the best burgers in Sydney.
Simply put, if you find a burger round-up for Sydney and it doesn't feature BL Burgers at (or at least near) the top, it ain't worth shit.
Excited whispers about the best new burger in town started building when the Bar Luca crew slapped a towering burger called the Blame Canada on the menu. Beef patty, American cheese, maple glazed streaky bacon, maple aioli, and poutine (or at least as close to authentic cheese curds as you can get in Australia). It was a fast favourite amongst self-important burger connoisseurs, almost unanimously praising the arrival of a Sydney classic.
Introducing the Blame Canada was like fishing with dynamite for Bar Luca, and the burger's sheer popularity helped the kitchen slingshot into several fast-food style casual burger joints, named BL Burgers, as well as a build-your-own-burger concept in Newtown, named Loaded by BL.
Now, BL's a reliable name for everything associated with dude food, and burger fiends regularly worship at the altar.
This isn't a story of resting on one's own laurels though. In an incredibly clever move, BL Burgers went on to elevate Sydney's burger scene by introducing inventive, sometimes wildly themed and topical, weekly burger specials. It wasn't long before BL pretty much became the Gelato Messina of burgers, even hosting an annual round-up where they'd bring back the year's best-selling weekly specials for the ultimate burger love-in.
You'll find a laundry list of ingredients across BL Burger's weekly specials, from loaded fries and beer-battered onion rings, to southern fried chicken, blue cheese sauce, and peanut butter. It can get wild so it's always worth following BL on Instagram to see what they've got going on any given week.
I'm surprised the BL brand hasn't expanded into other cities yet, so there's also an admirable loyalty to the city that makes sitting BL on the "best burgers in Sydney" throne an easy choice.
Address: 1/151 Oxford Street, Darlinghurst NSW 2010 (also various locations)
Contact: (02) 9357 4527
Opening Hours: Monday – Sunday (11am – 9:30pm)
---
#2 UME Burger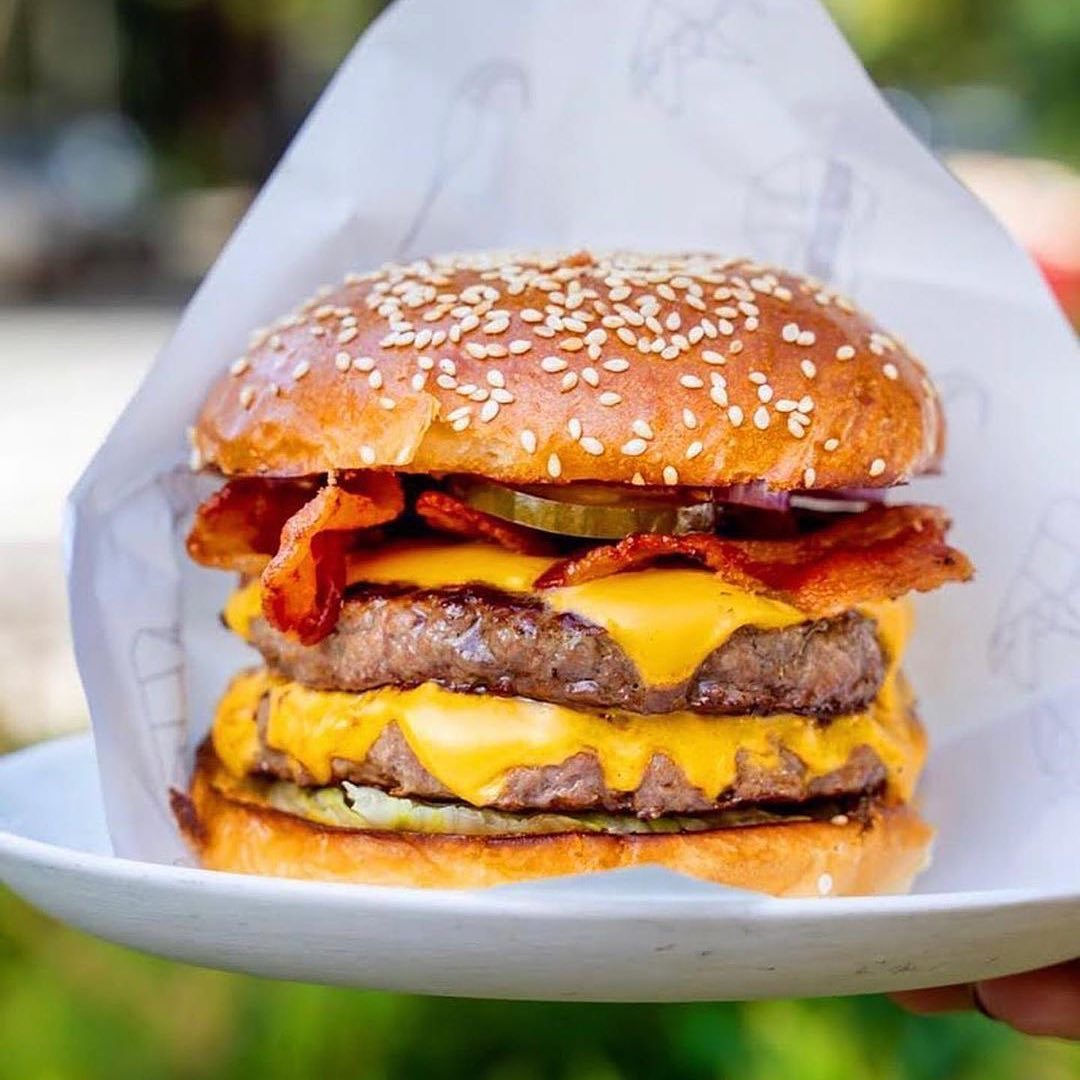 Kirby Craig had one of the best Japanese restaurants on his hands with Bar UME, but that Surry Hills favourite has since shut down – after a long and awarded 10-year stint behind Crown Street. Now the dependable chef is focusing on his other big concept, UME Burger.
With two venues – UME Burger Barangaroo and now UME Burger Darling Square – has got it in the bag when it comes to Japanese inspired burgers. Consistency, quality, and distinctiveness, the three major touchpoints for the best Sydney burgers are all perfected here, making UME a major player in the city's ferociously competitive burger game. Try the namesake signature, with a beef pattie, Wagyu mince sauce, tomato, onion, mayo, and cheese if it's your first time. Don't worry; there will be a second, so on the next go-round switch to the Chicken Katsu Burger with hand-crumbed chicken katsu, Yuzu kosho mayo, shredded cabbage, onion, and Tonkatsu sauce. They've got a Pork Katsu one too so you've got options.
If more UME burger restaurants don't start popping up around Sydney in the next few years I would be very surprised.
Address: 33 Barangaroo Avenue, Barangaroo NSW 2000
Contact: 0481 951 920
Opening Hours: Monday – Thursday (11:30am – 2:30pm); Friday – Saturday (11:30am – 2:30pm, 5pm – 9pm); Sunday (11:30am – 2:30pm)
---
#3 Mister Gee Burger Truck / Happy Ending Burgers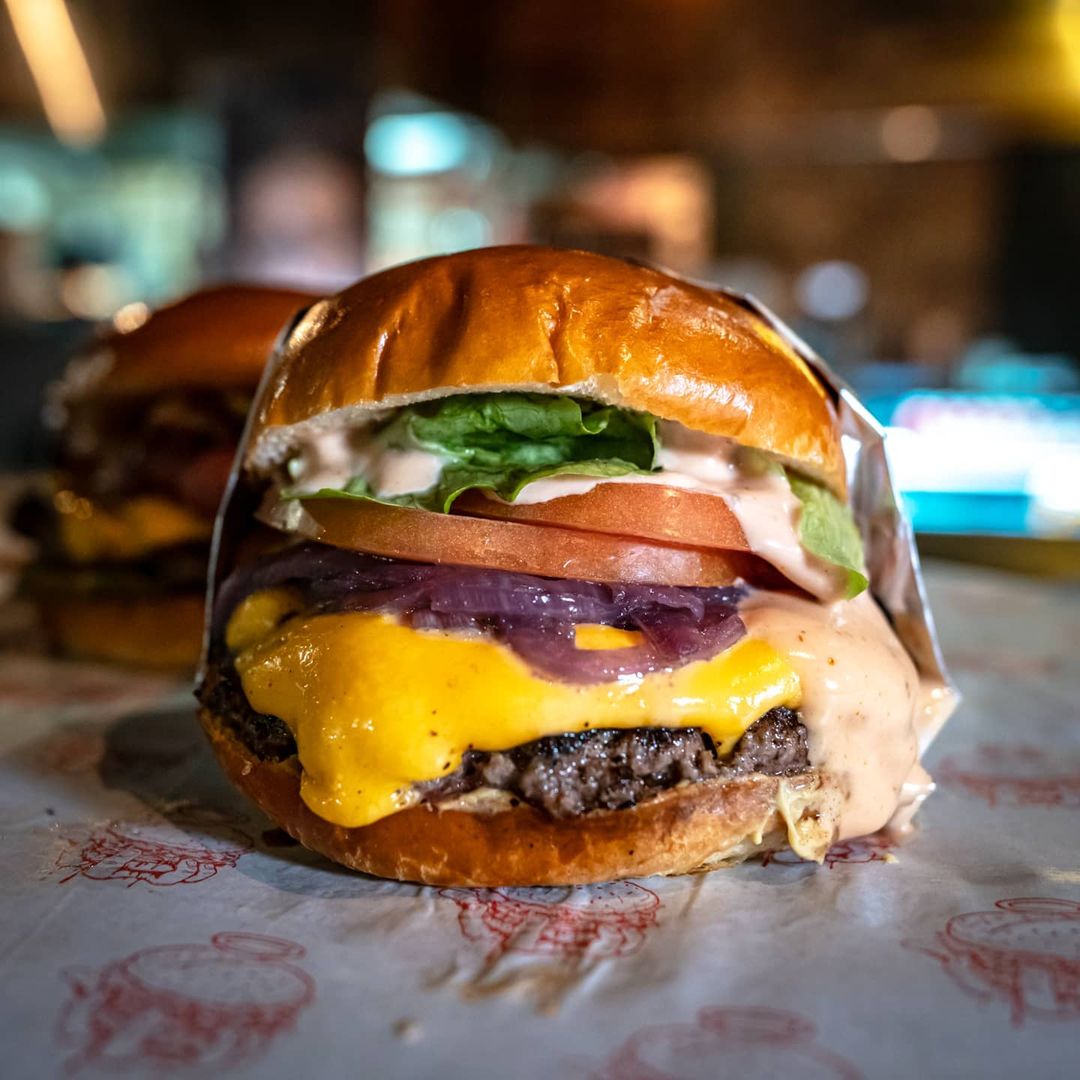 A dusty old car wash near Haberfield turned into a full-blown open-air burger party every weekend once Mister Gee Burger Truck found its unexpected residency. Owned by the affable Gee Ozgen, Mister Gee quickly became a favourite amongst Sydney's burger scene. The popularity has since extended to the team's newer Concord eatery, Happy Ending Burgers – which takes the menu of delicious burgers even further, with the show-stopper being the Psychedelics Burger, with either a deep-fried chicken thigh or dry-aged beef patty with American cheese, jalapeno, pineapple relish, maple bacon, and truffle mayo.
Mister Gee's legend is shaped by a short-and-sweet menu mainly centred around the dominant OG Truffle Burger – a regular favourite with a thick beef patty stacked on a light brioche bun with truffle oil mayo, caramelised onion, a bit of rocket, pepper, and melted cheese. A burger, a can of coke, and makeshift seating on milk crafts – it's the scene Sydney's inescapable burger revolution is built on.
Address: 315 Parramatta Road, Haberfield NSW 2045
Contact: 0401 591 067
Opening Hours: Thursday (5pm – 9pm); Friday – Saturday (5pm – 10pm); Sunday (5pm – 9pm)
---
#4 Burger Head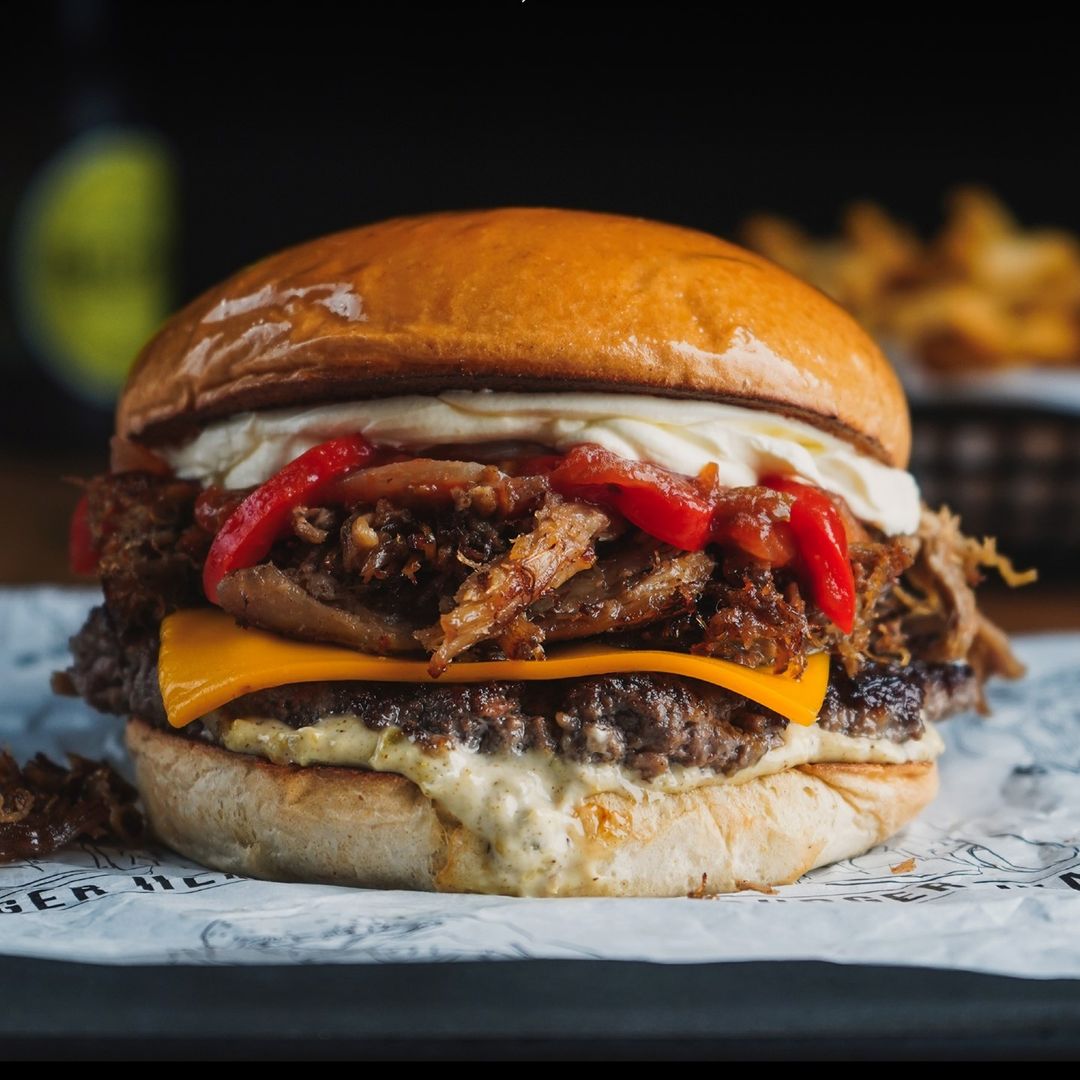 Burger Head is worth the trip to Penrith (or Botany) alone. It took a few years for the premium burger joint to build a following outside of the most hardcore burger loyalists in Western Sydney, but now the kitchen is considered amongst the creme de la creme, regularly mentioned in the same vein (sometimes even rated above) as BL Burgers, Mister Gee Burger Truck, UME Burger, and Pub Life Kitchen.
The burger spot, which is owned by a trio of fine dining chefs (Richard Borg, Joshua DeLuca, and Timothy Rosenstrauss – who, collectively, have worked across Ormeggio at the Spit, Master, Quay, and Momofuku Seibo) now includes two venues – Burger Head Penrith, and Burger Head Botany. Both pump out some of the most refined burgers Sydney has ever tasted, spearheaded by the Classic Cheese, which keeps it simple with an Angus Beef patty, pickles, onions, cheese, mustard, and BH's signature sauce
Much like BL, Burger Head is now most popular for their weekly specials so the best approach is to give them a follow on Instagram and head along whenever one of their limited edition burgers gets your taste buds all nice and sweaty.
Address: 17/98 Henry Street, Penrith NSW 2750 (also in Botany)
Opening Hours: Monday – Wednesday (12pm – 2:30pm, 5:30pm – 8pm)
---
#5 Hubert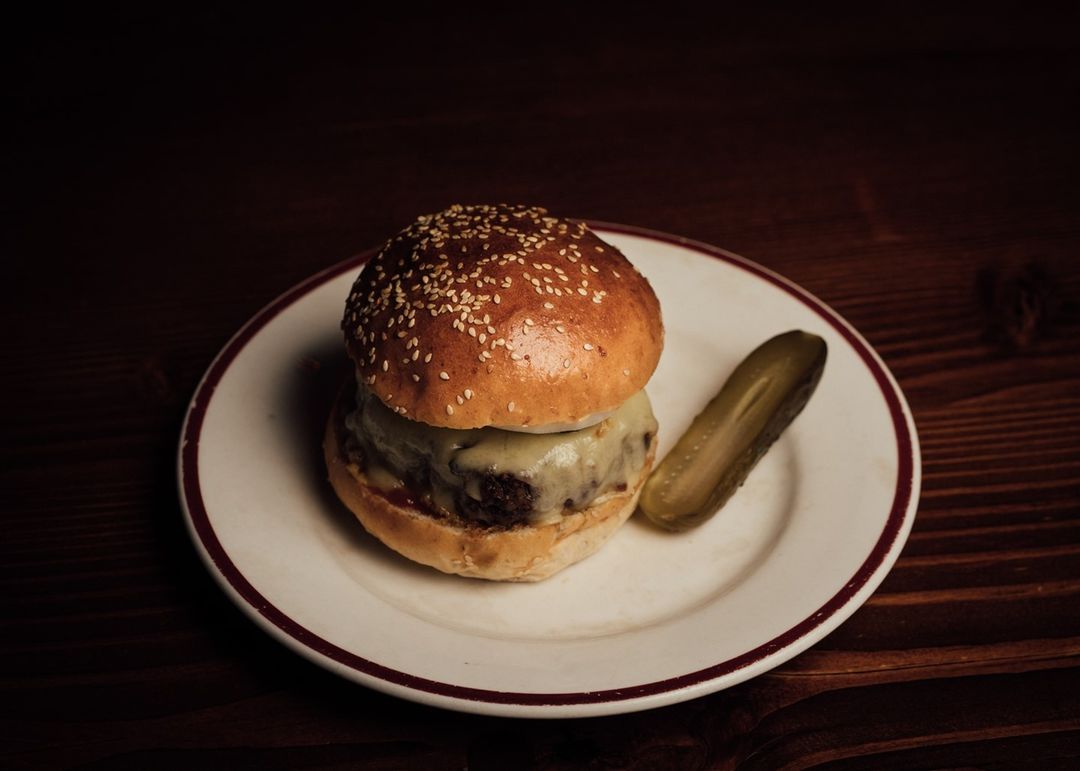 Dedicated burger restaurants are all well and good, but some of Sydney's best restaurants also tend to jump on the game every now and then. For a while, Neil Perry was leading the restaurant-quality burger scene with Rockpool's famous full blood Wagyu burger, but now that baton has passed to Hubert.
The Swillhouse Group has already built what is one of the most fascinating French restaurants Sydney has ever seen with the fantastical, old-world ambiance of Hubert. Try and peel yourself away from tucking into one of the best steaks in Sydney and turn your attention to the Normandy Burger. It's a simple, reliable, and exceptional burger with a dry-aged beef pattie, Gruyere cheese, a dill pickle, and signature burger sauce. Yeah, it's quite pricey at $26, but if you've got the dosh for the nosh, it's really the only thing you'll need all night.
Address: 15 Bligh Street, Sydney NSW 2000
Contact: (02) 9232 0881
Opening Hours: Monday – Tuesday (5pm – 1am); Wednesday – Friday (12pm – 1am); Saturday (5pm – 1am)
---
#6 Pub Life Kitchen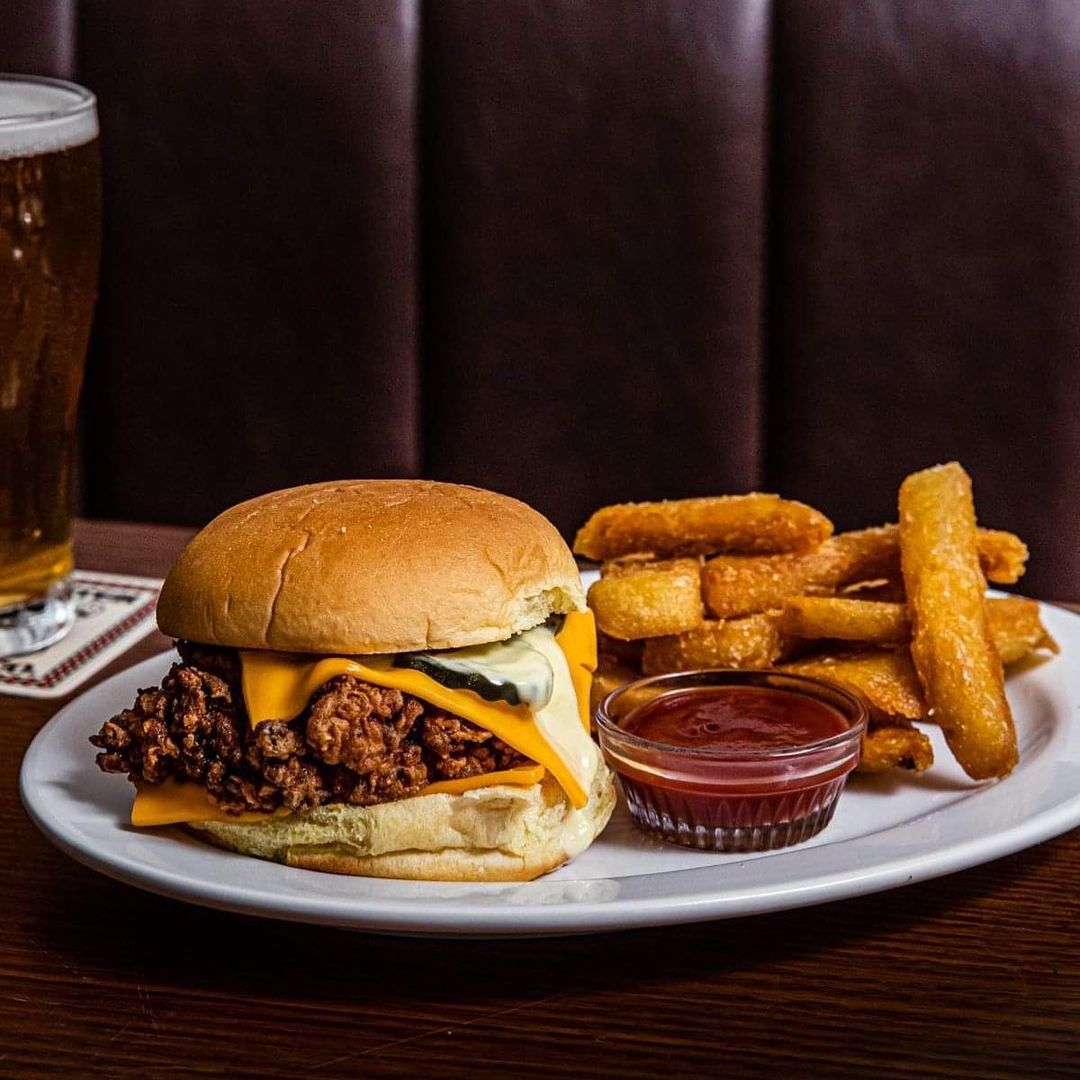 Sydney's OG Burger King is back to fight for the inner-city throne after a long absence flipping burgers out west.
Jovan Curic first asserted his reign with an experimental BRGRS menu at Macquarie Hotel before taking up a prime position at Ultimo's historic Lord Wolseley Hotel. Buoyed mostly by The OG – dry-aged grass-fed beef, pickles, cheese, tomato, lettuce, roasted garlic and lime mayo – PLK quickly became the burger joint to beat before Curic shut up shop to join a new concept at Wakeley (Superior Burger).
Lockdown wasn't too kind to Superior Burger – which is now located solely in Mortlake and is further down this list – but a positive is that Curic is now back where he belongs. Whether you want the TLC – fried chicken, cheese, pickles, green Sriracha mayo – with a side of sticky chicken wings, or PLK's take on a classic fish burger, your taste buds are in very good hands. Pair that up with Serbian pub food and a great craft beer list and you've got a damn good night out, whether you're joining the insatiable burger lovers or not.
Address: 265 Bulwara Road, Ultimo NSW 2007
Contact: 0467 644 434
Opening Hours: Wednesday – Friday (5pm – 8:30pm); Saturday (12pm – 3pm, 5pm – 8:30pm); Sunday (12pm – 4pm)
---
#7 The Gidley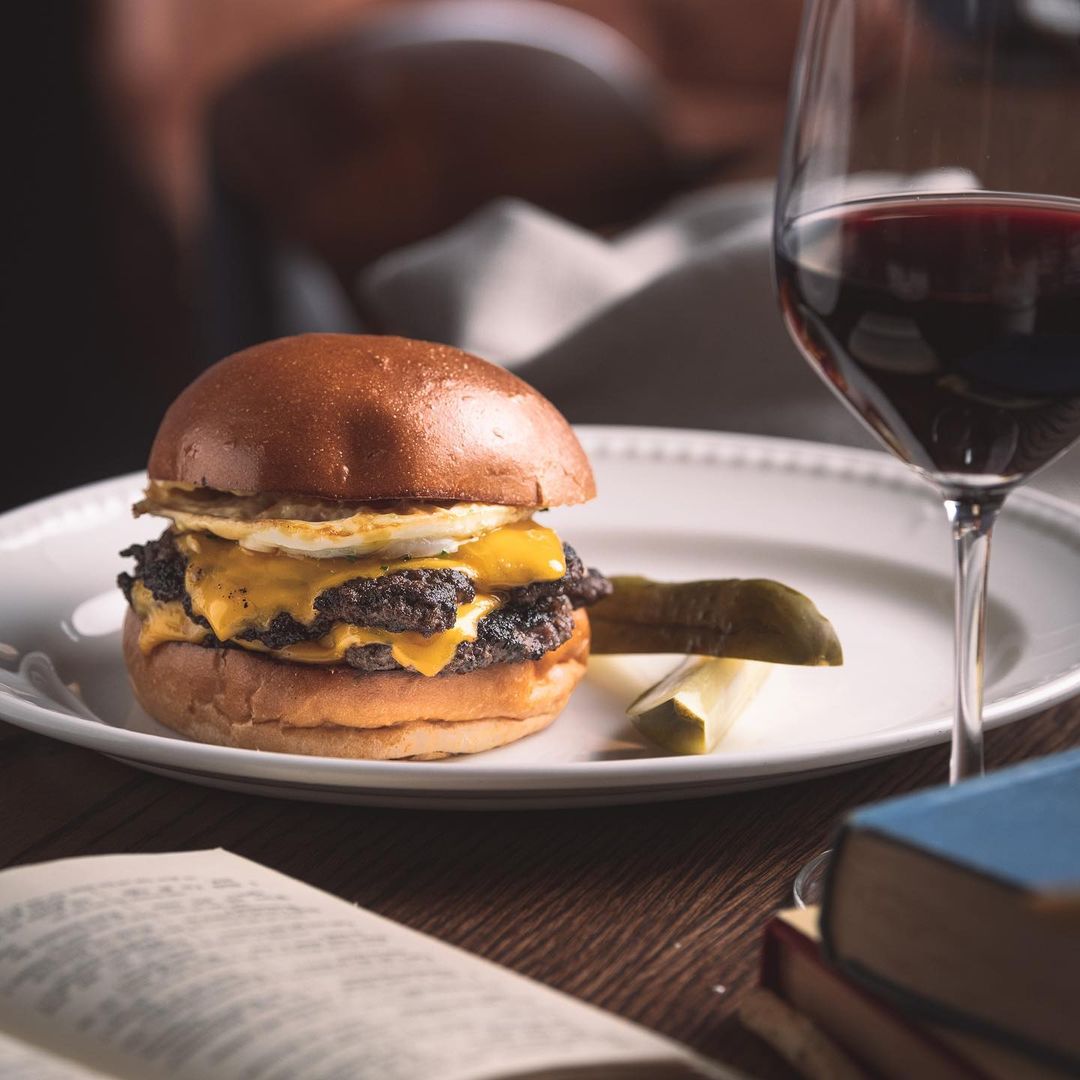 We had to put at least one Sydney steakhouse burger on this list, and that honour goes straight to The Gidley. No questions, no hesitation. Hand the house your hard-earned $24 and they'll give you this beauty in return – perfectly stacked double beef patties with cheddar and a house pickle. It's simple, elegant, and delicious, focusing on the quality of each and every ingredient. You'll need to fork out a few bucks extra to get some egg and bacon stacked onto the soft burger bun, but it's absolutely worth it.
Hint: They also serve the burger in the lounge, so even if you've rocked up without a booking you can still tuck into this elegant steakhouse burger.
Address: Basement/161 King Street, Sydney NSW 2000
Contact: (02) 9169 6898
Opening Hours: Monday – Tuesday (5pm – 12am); Wednesday – Saturday (12pm – 12am)
---
#8 Belly Bao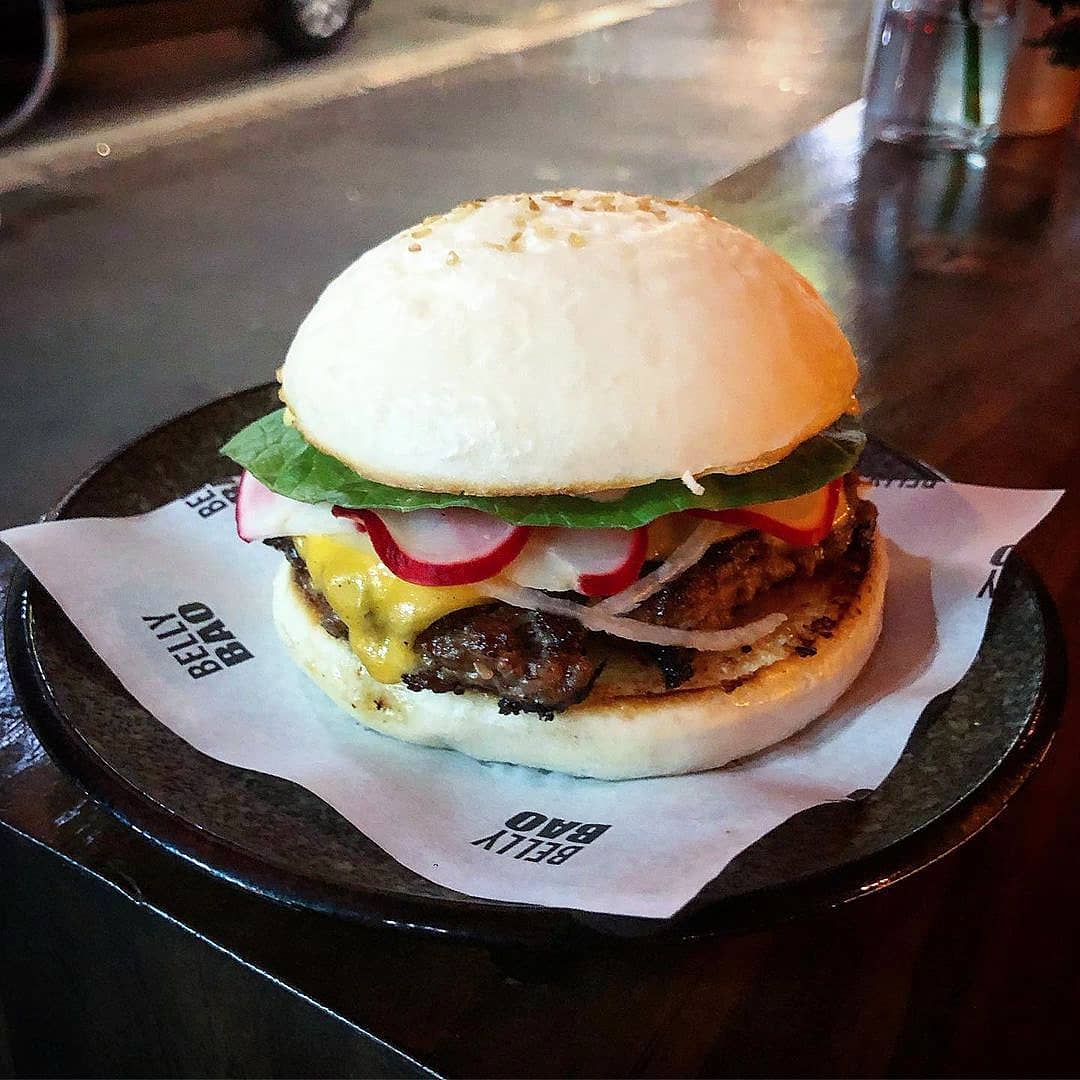 Belly Bao could be seen as a wild card, given it's so high on this list of the best burgers in Sydney. You'd understand if you've actually wrapped your palate around one of those modestly sized baogers – which is an exclusive creation from the inventive Malaysian flavoured kitchen, using Taiwanese baos as burger buns and flipping the concept with – as far as the signature goes – Angus beef, cheese, lettuce, onion, gherkin, and some signature baoger sauce.
It's something unexpected, and some burger enthusiasts might turn their nose, but it's tough to deny once you've sunk a few of these bad boys alongside from of that crispy-as-fuck BBC Fried Chicken.
Address: 184 King Street, Newtown NSW 2042
Contact: 0402 826 907
Opening Hours: Tuesday – Thursday (5pm – 9pm); Friday (11:30am – 3pm, 5pm – 9pm); Saturday (11:30am – 9:30pm); Sunday (11:30am – 9pm)
---
#9 Superior Burger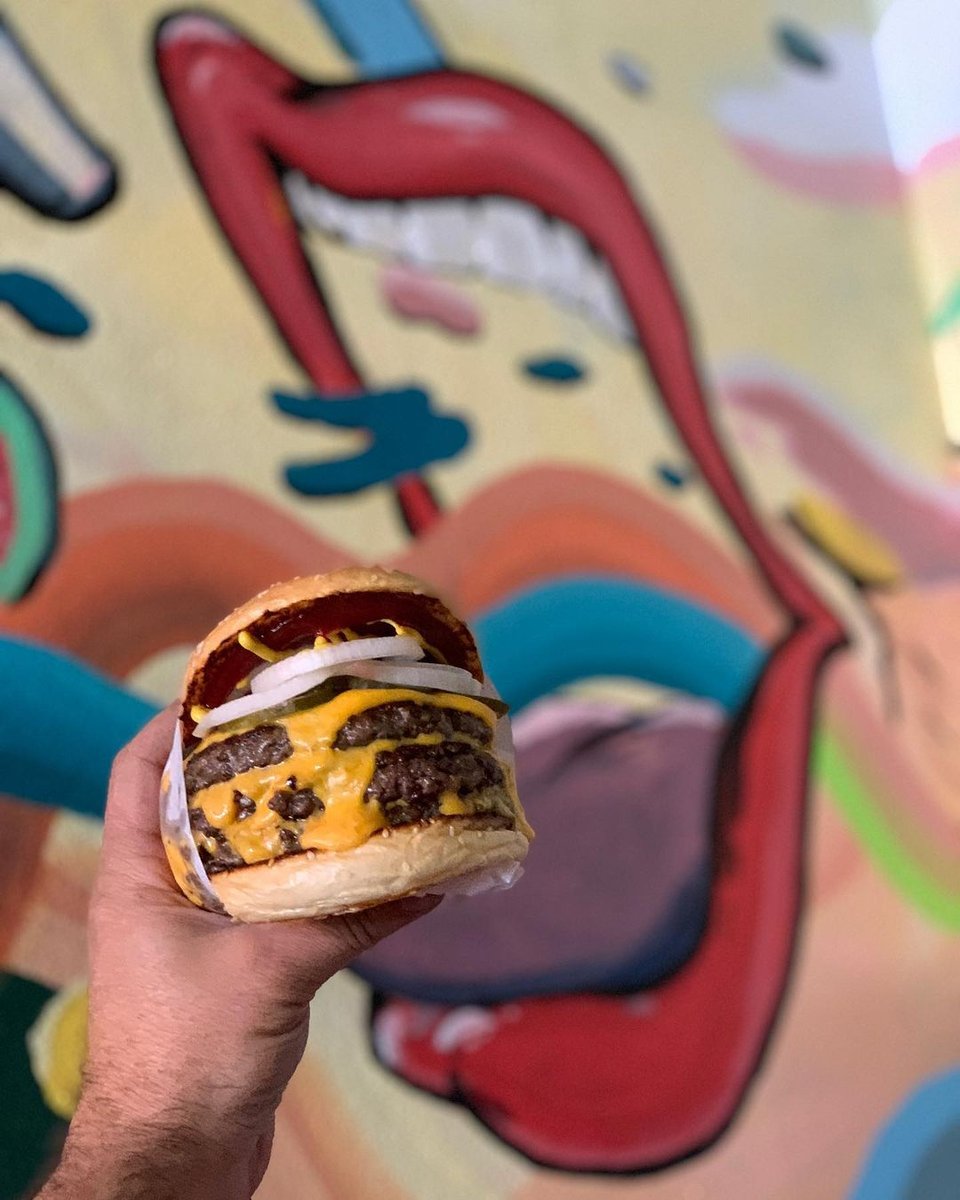 Pore-clogging tears of pure grease were shed when Jovan Curic decided to close Pub Life Kitchen and head back out west to help current owner and director Daniel Sullo start Superior Burger. It was best to think of the brightly lit, slightly Miami-esque space as a kitsch version of a classic tuckshop, narrowing in on produce and provenance with a focus on quality with every layer of the burger, from the bun to the patty.
All the classics were served up here, alongside equally excellent fried chicken and densely packed thickshakes. And that's the long-short it all. What Sullo created was framed by the classic archetype of a burger joint, just done better with more attention to detail and an uncanny ability to pump out exceptional burgers each and every time.
Lockdown combined with a relatively obscure location forced closure, but Superior Burger has since expanded to Mortlake where it remains, for now at least.
Address: 1 Bertram Street, Mortlake NSW 2137
Contact: (02) 8068 8033
Opening Hours: Thursday – Sunday (12pm – 3pm, 6pm – 9pm)
---
#10 Out of the Blue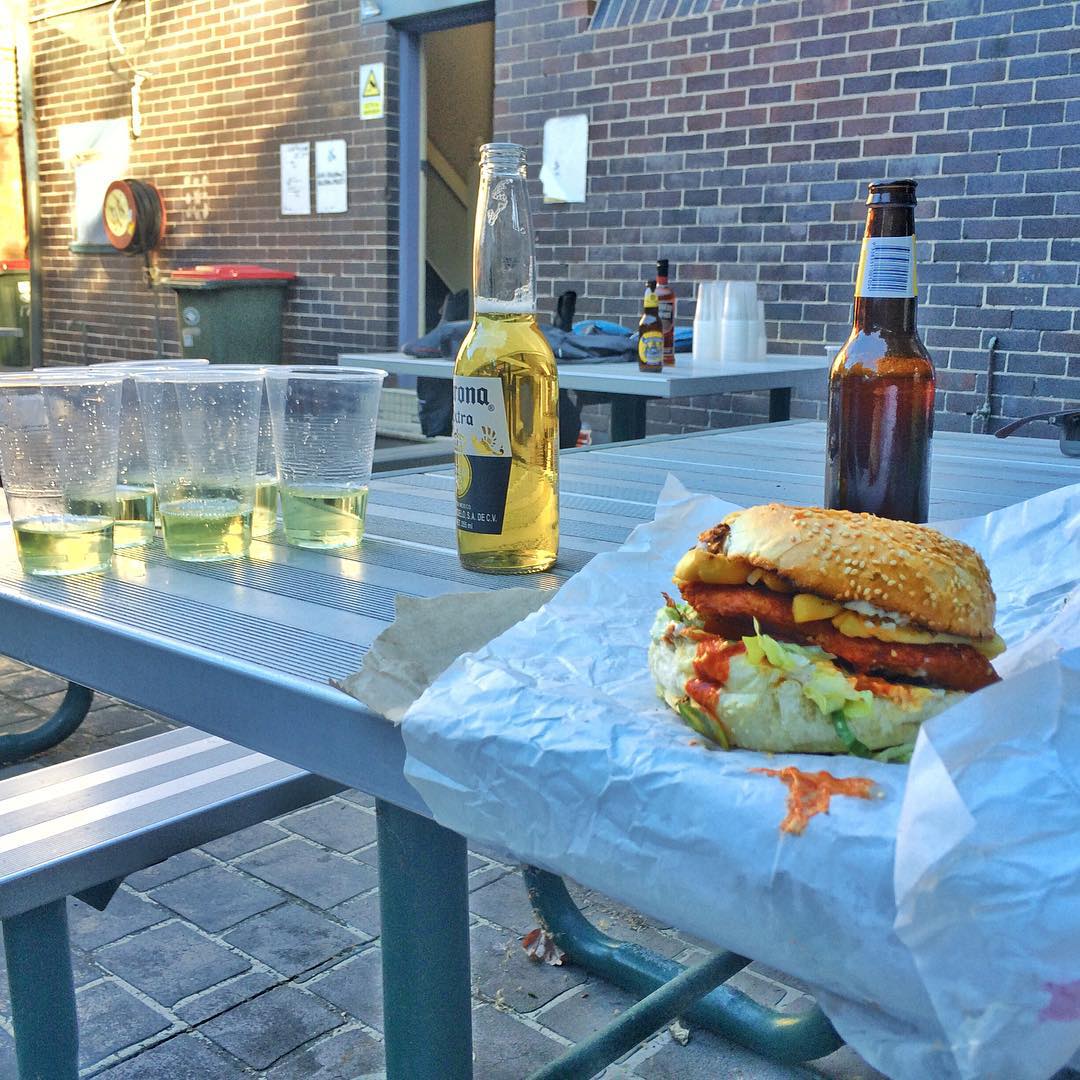 Out of the Blue is another sure-shot hit for juicy burgers, whether those are your classic chicken burger or beef burgers with double cheese and all the trimmings. You'll also get classic beachside fish & chips at this Clovelly favourite, where the floor is frequently dusted with sand shed by punters fresh from a swim, keen to grab a scotch fillet burger or the fan-favourite chicken schnitzel burger.
Address: 2/272 Clovelly Road, Coogee NSW 2034
Contact: (02) 9315 8380
---
Super Nash Brothers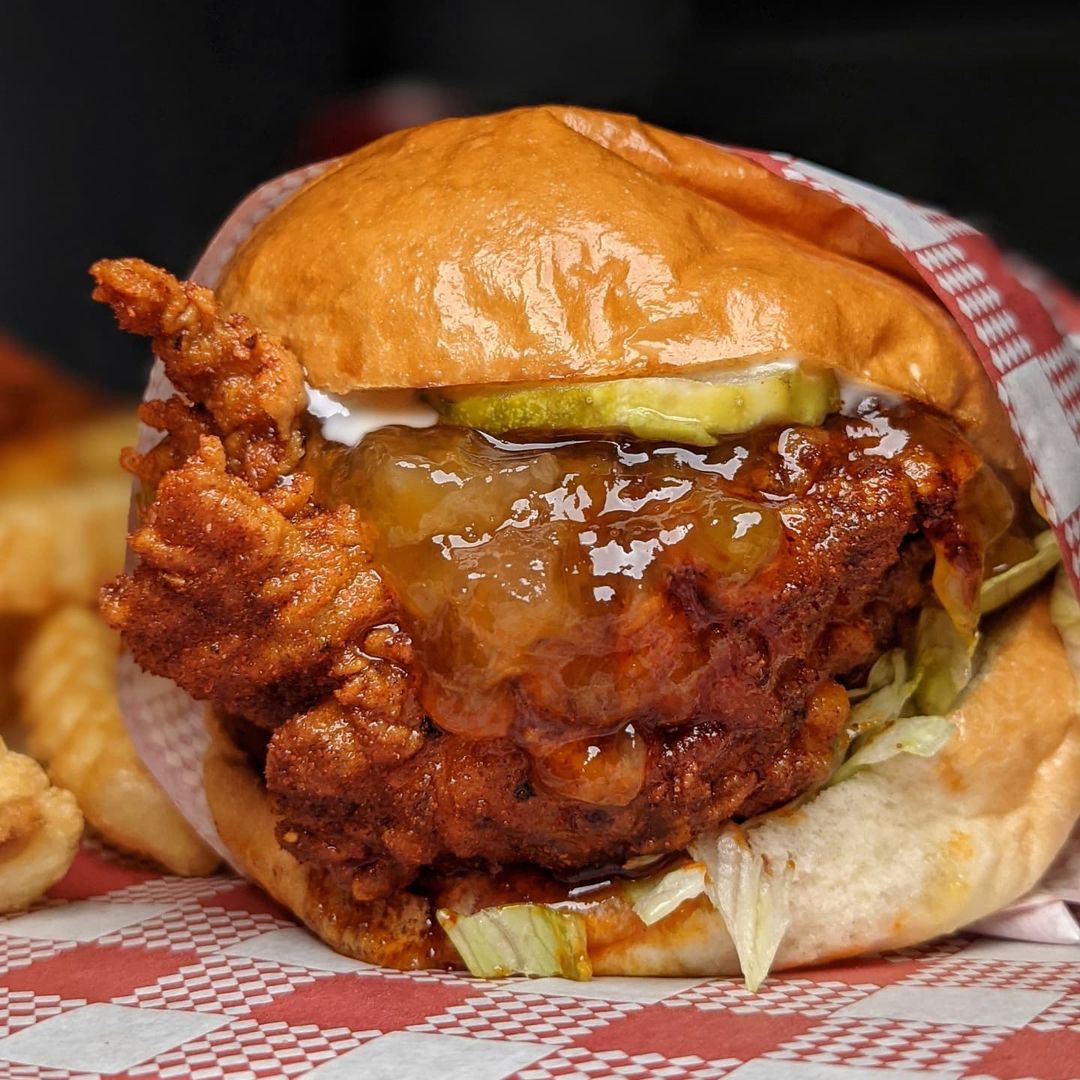 As you could probably tell from the name, it's all about Nashville style hot chicken at Super Nash Brothers, who have a shop at Waitara Oval, a newly opened shop in Waterloo, and a food truck that's parked up at random spots across Sydney on any given day. If you can pull yourself away from the baskets of hot chicken, you want the Super Nash sandwich. It's, simply put, perfect, and one of the best fried chicken burgers you can find in the entire country.
Address: 22 Waitara Avenue, Waitara NSW 2077 (also in Waterloo)
Contact: 0486 028 723
Opening Hours: Tuesday (5:30pm – 8:30pm); Wednesday – Saturday (11:30am – 2:30pm, 5:30pm – 8:30pm); Sunday (11:30am – 2:30pm)
---
Dean's Diner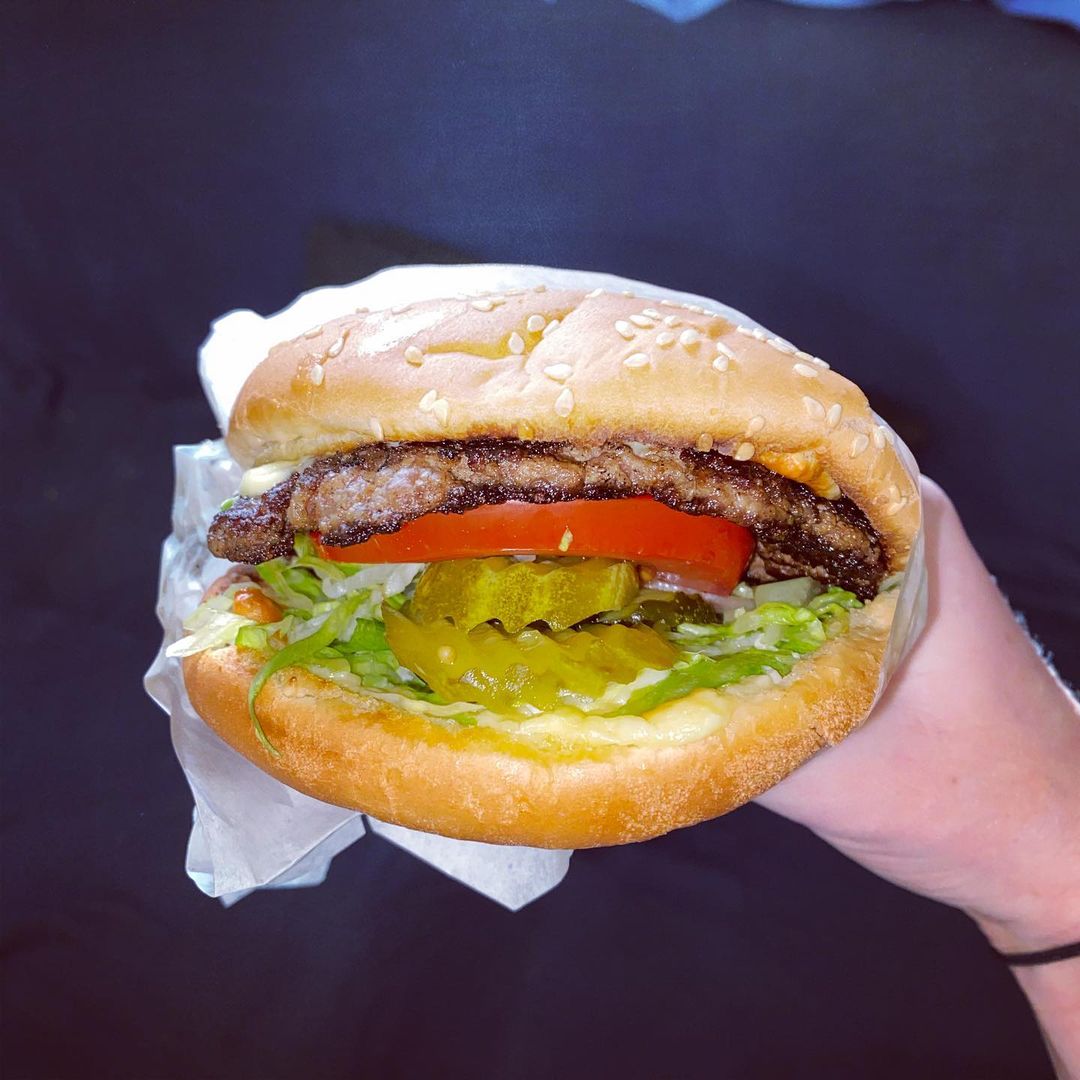 Dean's Diner may not look like much but a dusty old classic diner hidden away on the ass end of King Street, but this long-standing favourite is still pumping out the best tuckshop-style burgers in the entire city. There's nothing distinctive here, just an ability to produce immensely satisfying, messy beef burgers that make you wonder why we ever needed an overcrowded gourmet burger scene in the first place.
Address: 385 King Street, Newtown NSW 2042
Contact: (02) 9557 6085
Opening Hours: Wednesday (12pm – 9pm); Thursday – Saturday (12pm – 9:30pm); Sunday (12pm – 9pm)
---
Burgerhood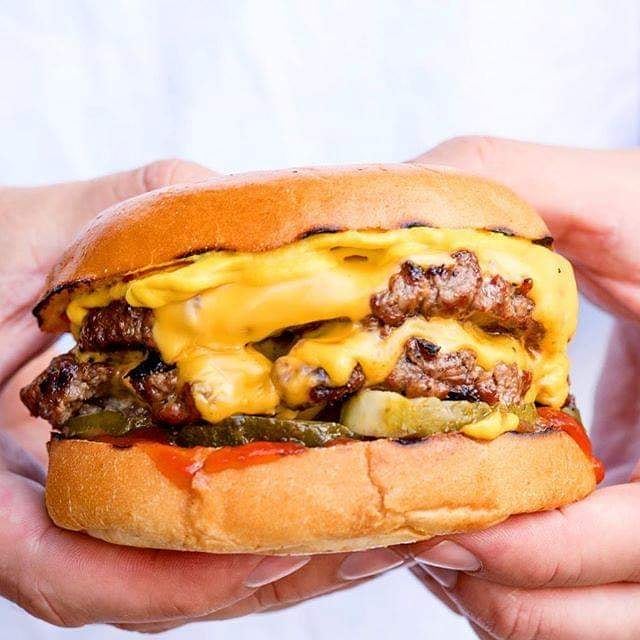 Inspired by the best fast food burger chains of the US is Balmain's best American-style burger joint. Burgerhood is pretty much all the locals need, avoiding the need for them to stumble on out to the hotspots like Darlinghurst and Surry Hills to grab a gourmet burger worth biting down on. The same team that runs Grandma's Bar and Wild Rover are responsible for this one, serving up classic cheeseburgers as well as a few left-field options like the beer-battered fish burger with mushy peas, cheese, lettuce, and smoked tartare.
---
One Penny Red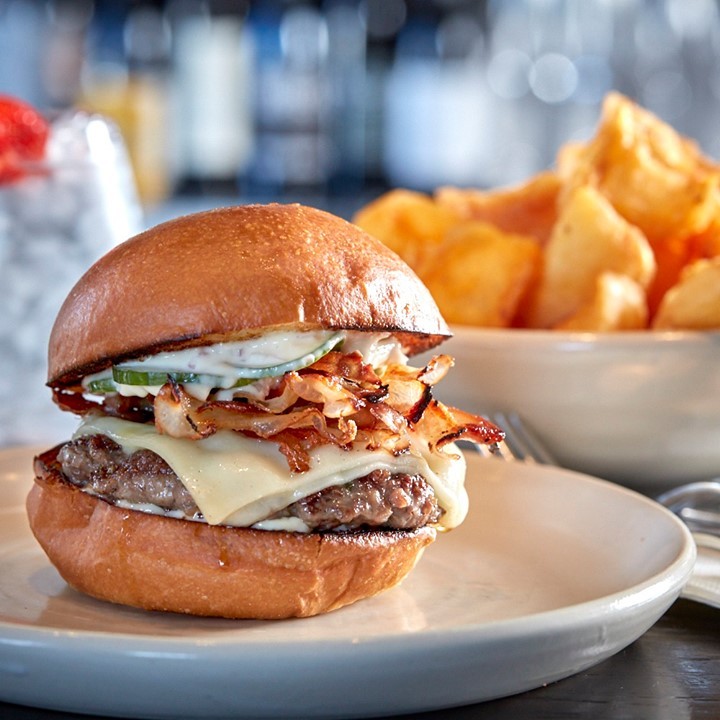 Most come to Marrickville's hugely popular One Penny Red to grab a set menu and some paired wines for a varied lunch or dinner. Although repeat customers know that it's worth skipping all that just to get straight for the single burger on the menu, the excellent $21 vernon cheese & bacon burger with a grass-fed beef pattie and house-smoked bacon neatly stacked on a milk bun with gruyere, pickles, and spiced salt potatoes.
Address: 2 Moonbie St, Summer Hill NSW 2130
Contact: (02) 9797 8118
Opening Hours: Tuesday – Thursday (5:30pm – 11pm); Friday – Saturday (12pm – 3pm, 5:30pm – 11:30pm); Sunday (12pm – 3pm)
RELATED: A Definitive Guide To The Best Fried Chicken In Melbourne
---
Burger Co by Kingston Hurstville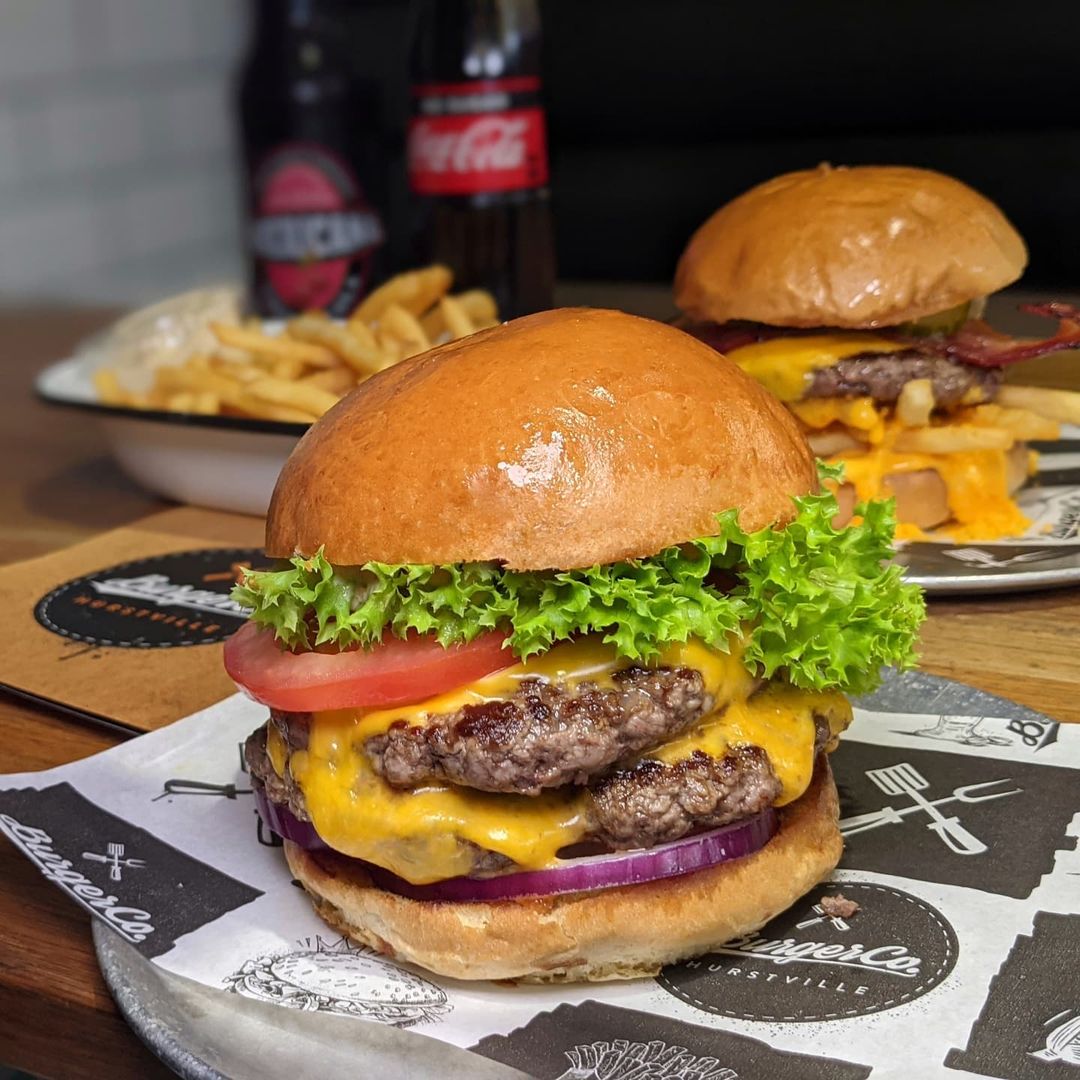 You'll be hard-pressed to find a decent burger joint inside a Westfield unless it's one of the already established chains like Grill'd or Maccas. Burger Co by Kingston, on the 5th floor of Westfield Hurstville, is an easy exception. The kitchen is as consistent as they come, with juicy gourmet burgers regularly flying thick and fast like the over-the-top Candyman with maple bacon, pickles, Cheetos loaded fries, liquid cheese, American cheese, and maple bacon aioli anchored by a rich 100% Australian beef patty. Yes, liquid cheese. This is possibly the only burger with liquid cheese in the world that tastes any good.
Address: 23 Roseland Avenue, Roselands NSW 2196
Contact: 0422 832 062
Opening Hours: Monday – Wednesday (10am – 5:45pm); Thursday (10am – 9pm); Friday – Sunday (10am – 5:45pm)
---
Burger Hounds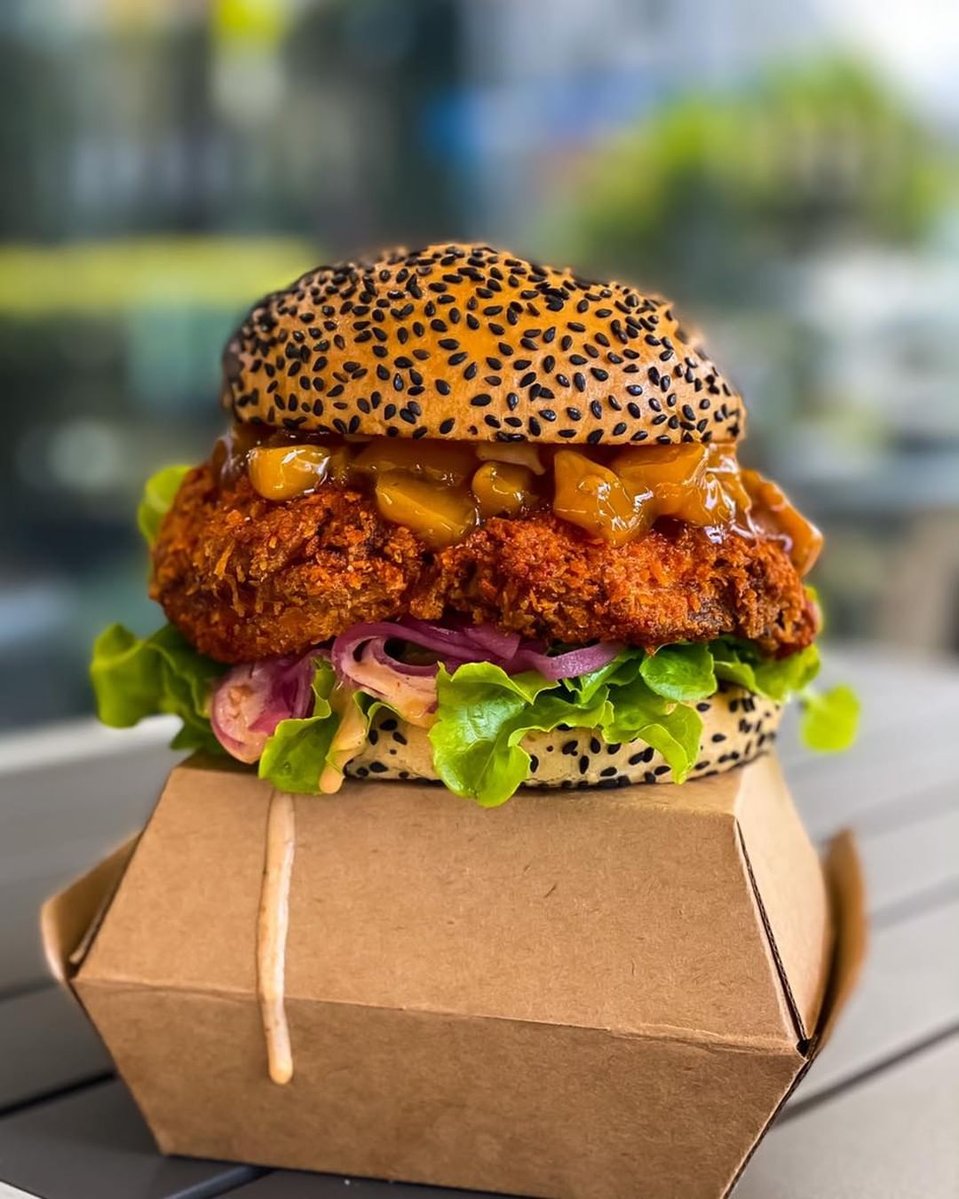 There was once a time when the top dogs of Sydney's burger scene were clustered in and around the CBD. Recent years have taken that far beyond the inner-city to places like Wahroonga, where local favourite Burger Hounds is an easy inclusion for this list of the best burgers in Sydney.
There's a lot to wrap your head around on the Burger Hound menu as, much like BL Burgers and Burger Head, this is a kitchen that absolutely hammers when it comes to creativity. You'll want something like the Old Smokey if you want a good showcase of talent here, with Spanish onions, smoked cheddar, dill pickles, smoked aioli, smokey BBQ sauce, streaky bacon and a rich 200g Black Angus patty. They've also got quite a few options on the menu that could give BL's Blame Canada a run for its money.
Address: 1 Redleaf Avenue, Wahroonga NSW 2076
Contact: (02) 9487 1886
Opening Hours: Wednesday – Saturday (11am – 3pm, 5pm – 8pm); Sunday (11am – 3pm)
---
Little L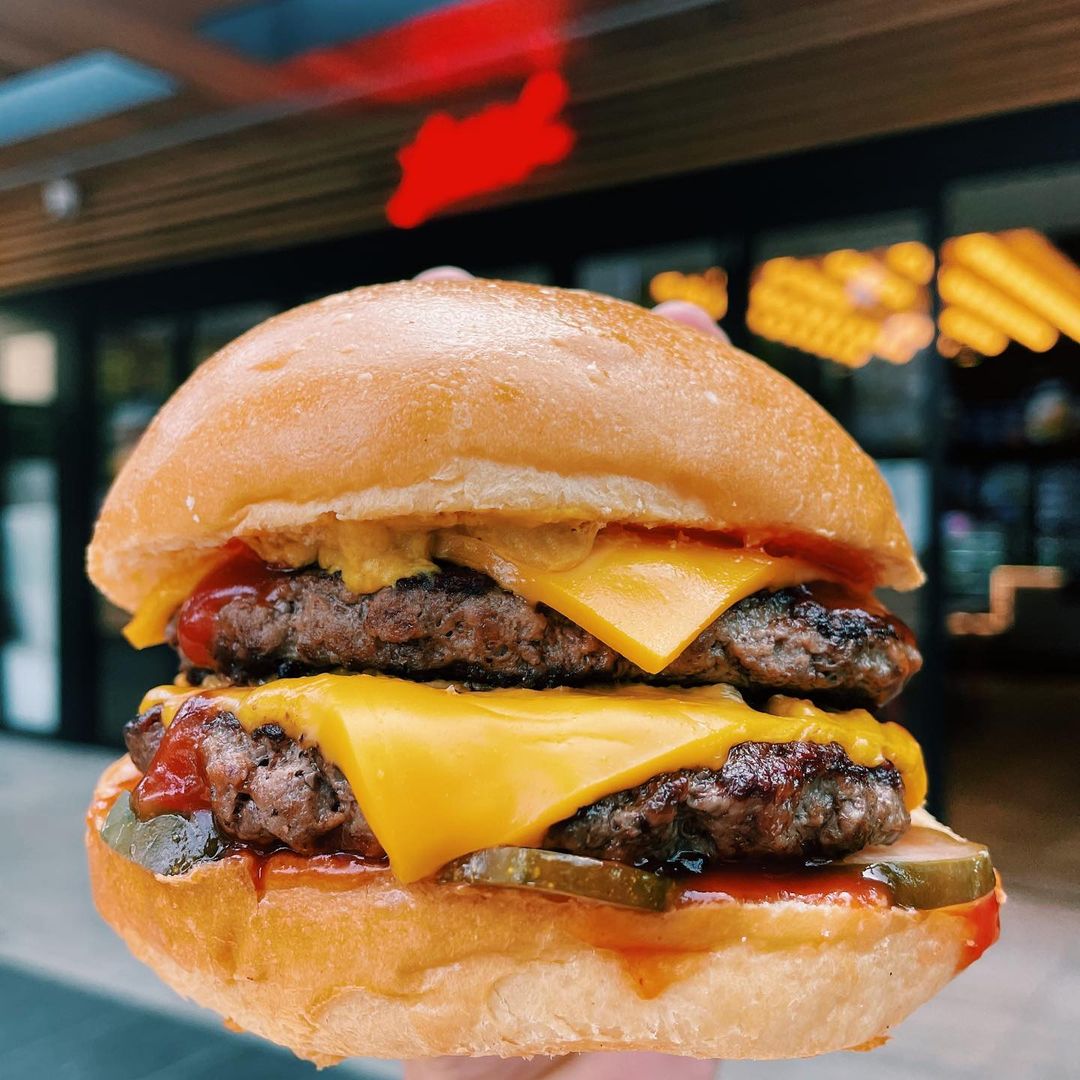 The specialty at Little L is chicken burgers done perfectly, with locations across Bondi, Mona Vale, and Coogee. This one tends to fly under the radar for visitors to those areas, but there's nothing else around that really compares when it comes to a good, straight-laced chicken burger.
Grab the Big L if you want the best order, with 3 pieces of grilled chicken stacked with cheese, lettuce, and housemade mayo.
Address: 1/23- 37 Campbell Parade, North Bondi NSW 2026 (also various locations)
Contact: (02) 9130 1300
Opening Hours: Monday – Sunday (11am – 8:45pm)
---
Two Hungry Bears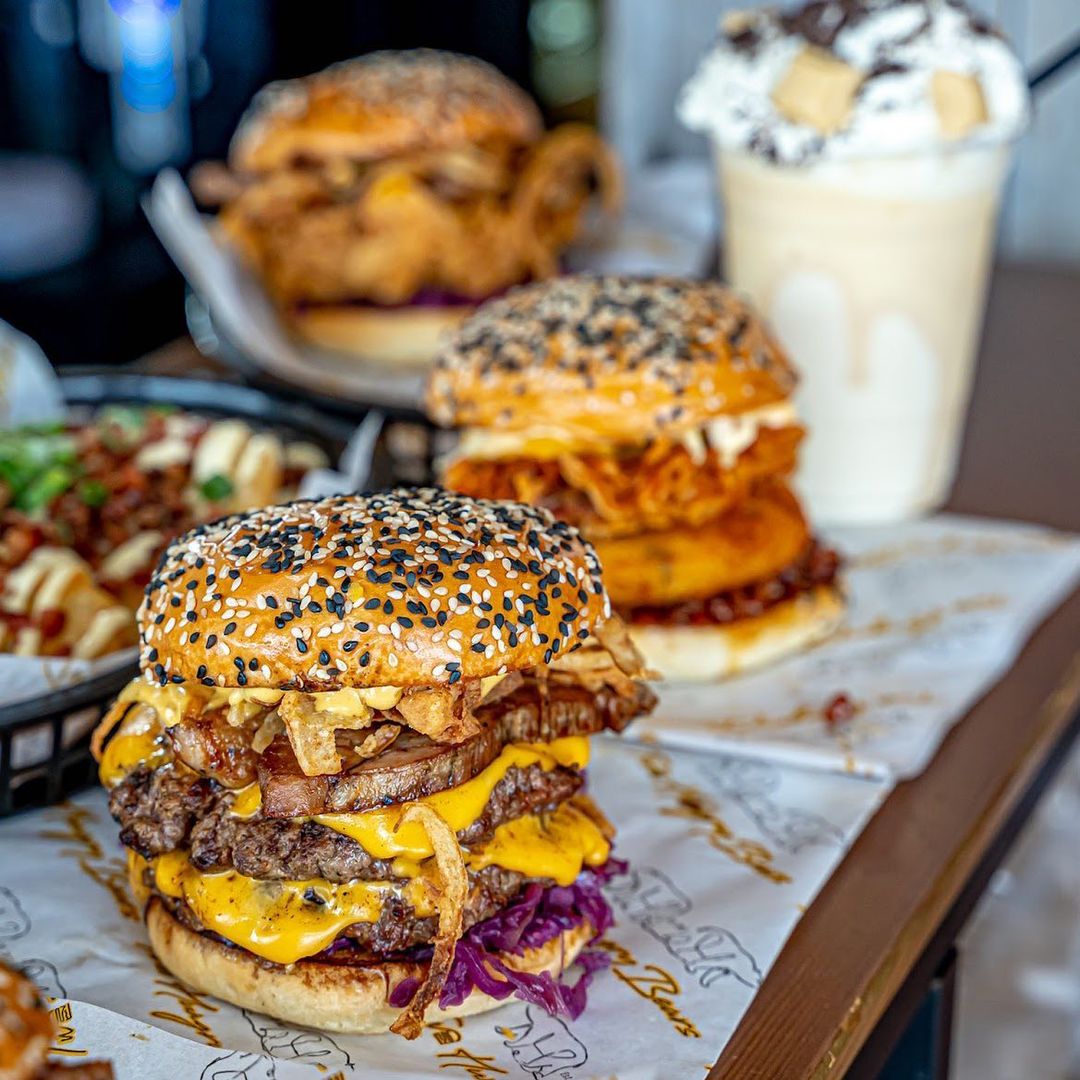 Two Hungry Bears is a rapid-riser when it comes to Sydney's favourite burgers. The Narrabeen venue began life primarily as a coffee shop, but the owners found their burgers to be the breadwinners, filling a void for this relatively quiet part of the Northern Beaches.
There's a lot to try here, given Two Hungry Bears bank much of their popularity on pumping out regular weekly and monthly specials. As such, the best approach is to give them a follow on Instagram and keep an eye out. Just make sure some smoked sausage poutine is part of the order and you'll be good. Although if you did want just one suggestion, try and go for the kitchen's best burger, the Royale With Cheese. It's obviously inspired by Pulp Fiction, with American Cheese, McClure's pickles, lettuce, tomato, ketchup, mustard, mayo, and an Angus beef patty. It's the classic burger order here and the most reliable.
Address: 1303 Pittwater Road, Narrabeen NSW 2101
Contact: (02) 9913 9736
Opening Hours: Thursday – Saturday (12pm – 8:30pm); Sunday (11am – 3:30pm)
---
Margaret / Rockpool / Whenever Neil Perry Decides To Make A Burger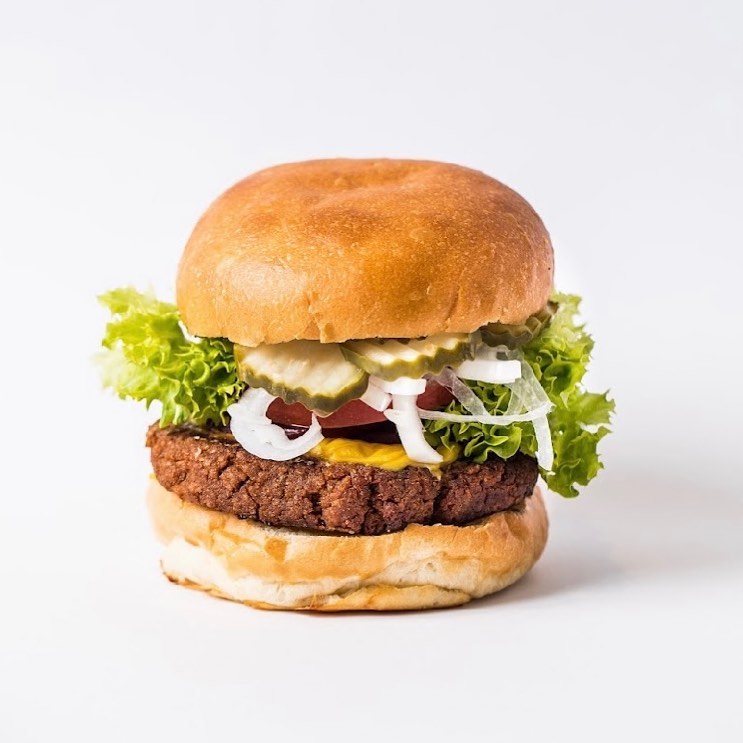 Neil Perry's new Double Bay restaurant, Margaret, may not have a burger on the menu right now, but you never know when the dependable chef will start flipping up a version of his storied Rockpool David Blackmore's Wagyu beef burger, which you can still get from the bar at the iconic CBD restaurant. Consider this entry a placeholder then, just nudging you towards Margaret whenever Perry decides to bring out one of his tried-and-true specialties again. And, hey, if he never wants to make another burger again, at least his legacy is still there at Rockpool Bar & Grill.
Address: 30-36 Bay Street, Double Bay NSW 2028
Contact:
Opening Hours: Wednesday – Sunday (dinner from 6pm); Thursday – Sunday (lunch from 12pm)
---
Burger Patch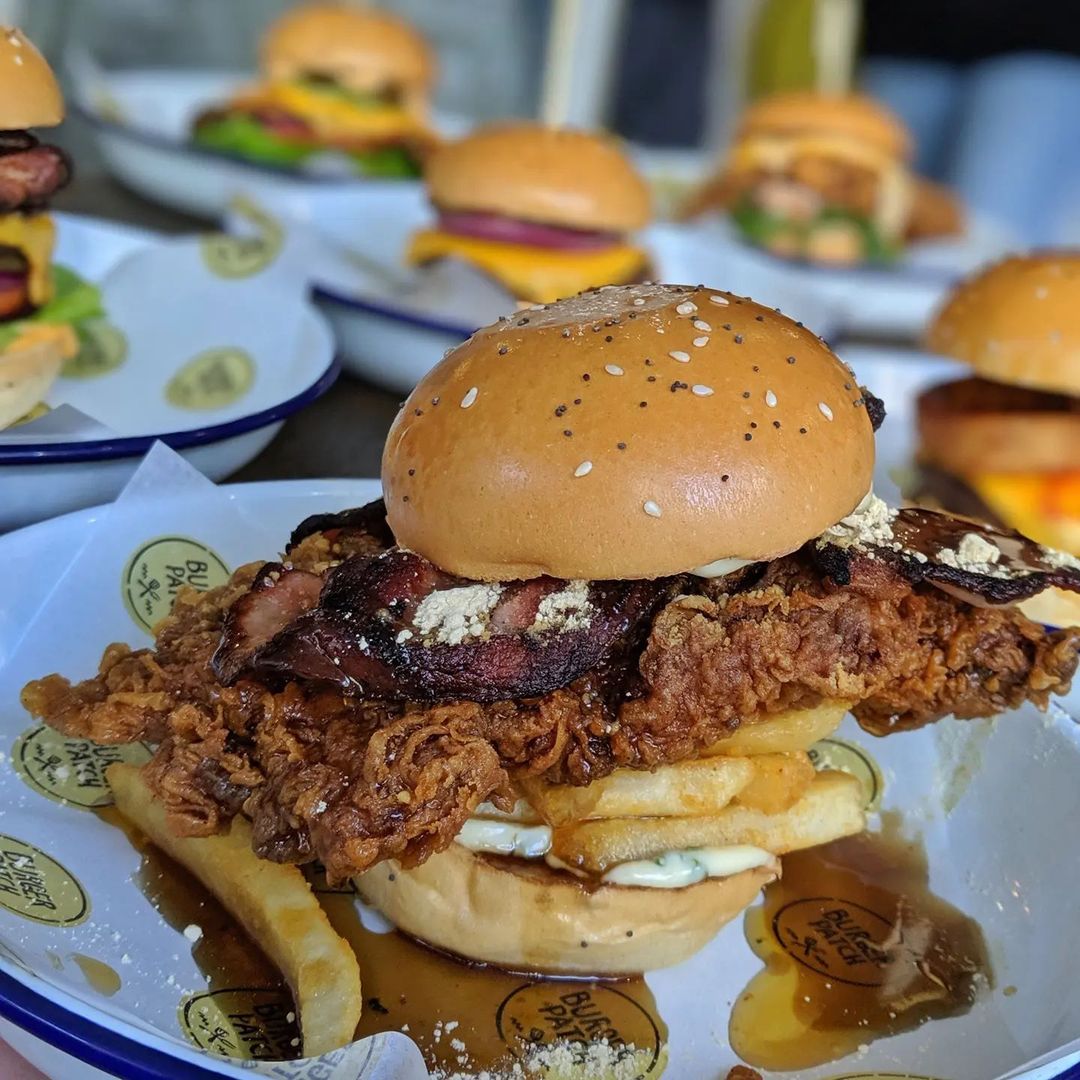 Burger Patch doesn't take a half-measures approach to burgers, and this Chatswood kitchen is one of the few that has mastered the art of overstuffing without sacrificing structural integrity.
You can pimp your burger here, so the focus is on supplying just about every burger add ons and burger hacks under the sun. There are a few pre-made creations for the uncreative, but the best approach here is always to have a little bit of fun with it.
Address: 234/1 Katherine Street, Chatswood NSW 2067
Contact: (02) 8094 8822
Opening Hours: Tuesday – Thursday (12pm – 8pm); Friday – Saturday (12pm – 8:30pm); Sunday (12pm – 8pm)
---
High N' Dry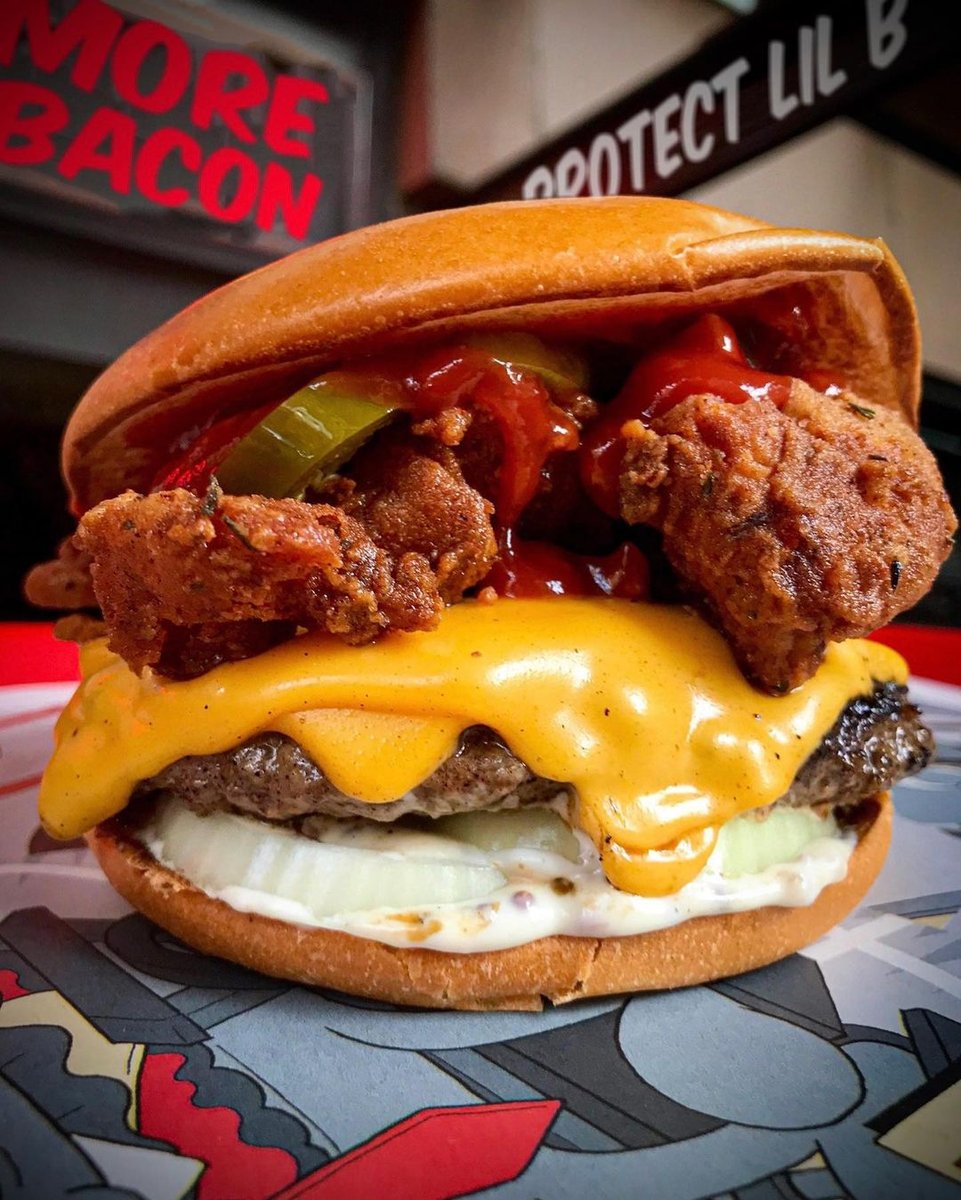 Unfair lawsuit from monolithic US burger chain be damned, Hashtag Burgers are still thriving, arguably as better as ever with their Leichhardt burger joint High N' Dry. Co-owners Ben Kagan and Andrew Saliba have an iron-clad grip on what makes Sydney's burger fiends tick, so you'll find plenty to love here, along with an extensive craft beer list. Get the Nashville hot chicken burger or the Portuguese chicken sandwich if you want a recommendation, but anything here is going to hit the spot.
Address: 71 Renwick Street, Leichhardt NSW 2040
Contact: (02) 9518 1293
Opening Hours: Monday – Tuesday (5pm – 9pm); Wednesday – Thursday (11:30am – 3pm, 5pm – 9pm)
---
Bonditony's Burger Joint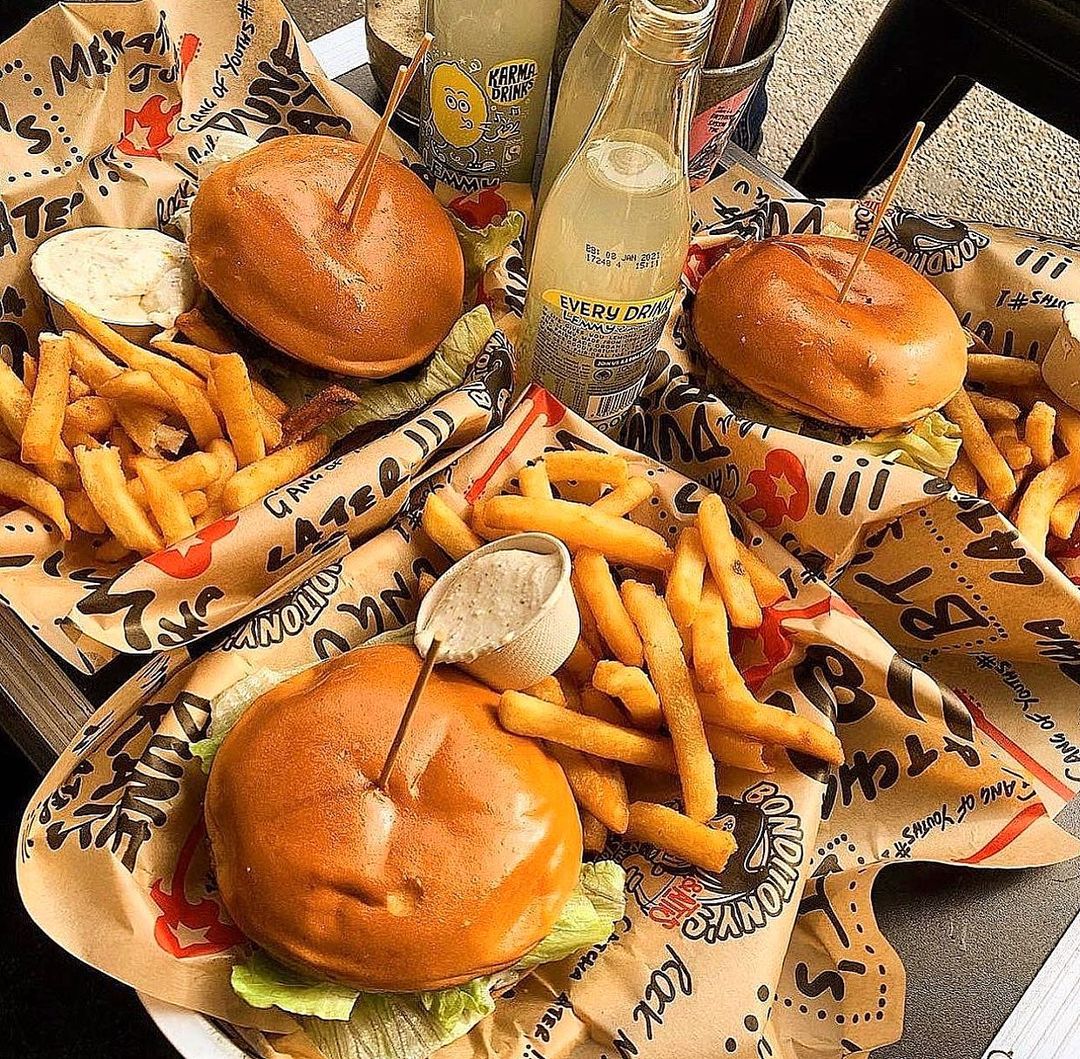 While Little L may have you covered for chicken burgers, there's only really one place on Bondi where you're cravings for a good, perfect built US-style hamburger will be met. That's Bonditony's, now a local institution with a healthy mix of petite and over-the-top burgers.
Owner Tony Gosden was formerly a big player in the Australian music industry so a lot of these burgers are named after, and built-in homage to, some of the country's best bands like Gang of Youths, Lost Valentinos, Zeahorse, The Delta Riggs, Sticky Fingers, and Lime Cordiale. The best order here is the Trippin' Zeahorse with American cheese, free-range bacon, homemade tomato relish, aioli, and iceberg lettuce stacked with a 100% grass-fed beef patty. Needless to say, the store's soundtrack is the tits too.
Address: 1/144-148 Glenayr Avenue, Bondi Beach NSW 2026
Contact: 0410 893 003
Opening Hours: Tuesday (5pm – 9pm); Wednesday – Sunday (12pm – 9pm)
---
Milk Bar By Cafe Ish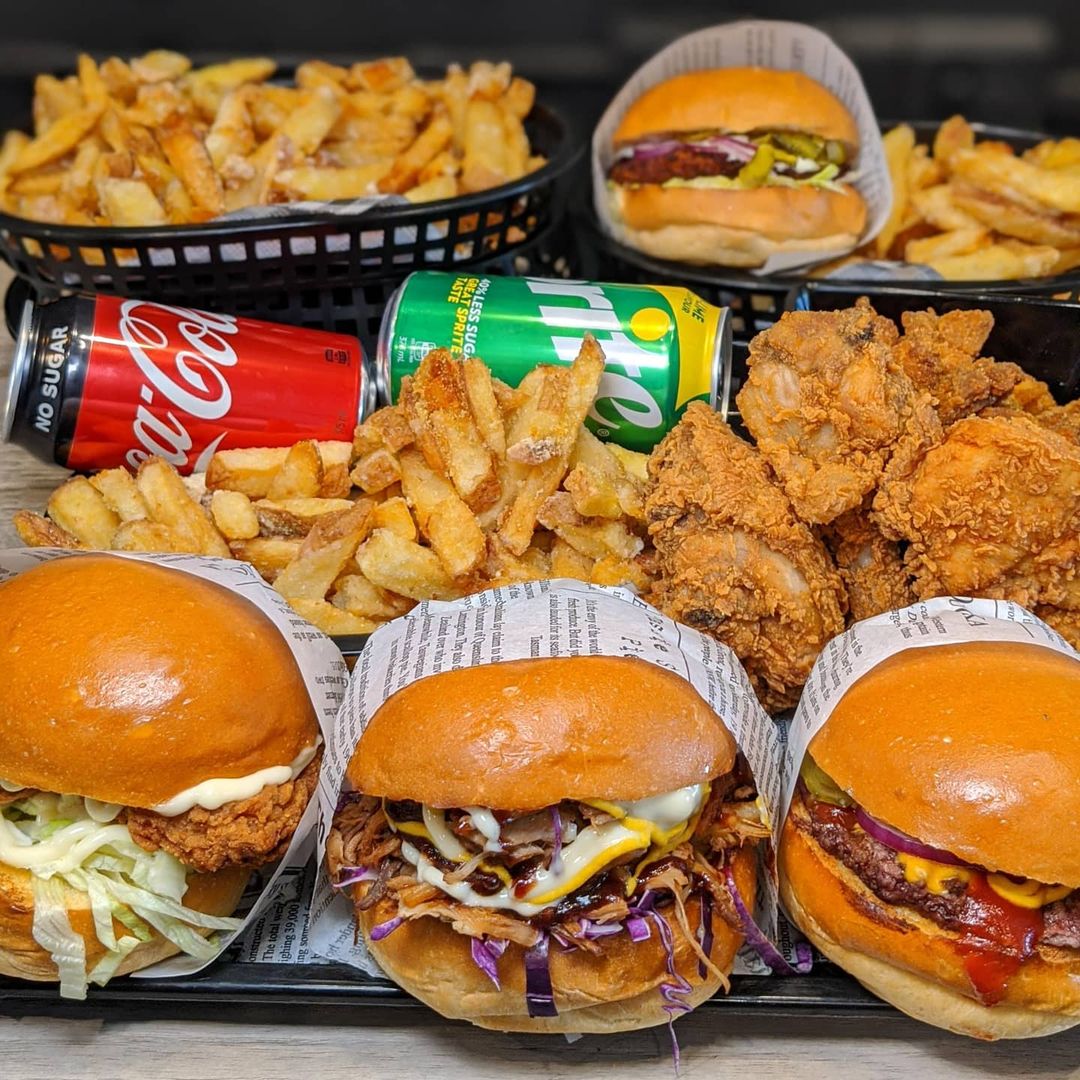 Redfern's Milk Bar by Cafe Ish was once considered one of the best spots for burgers in Sydney. This was when the scene was still young and fresh, and the idea of a gourmet burger wasn't met with the kind of feverish cult-like hype it is now. The spot fell off for a while, but the legacy left behind by former chef Joshua Nicholls is now firmly in-tact.
You're best off with the simple burgers here, like the cheeseburger with a 150g pure Angus beef patty, American cheese, pickles, red onion, tomato sauce, and mustard on a house-baked milk bun, but anything here is going to go down nicely. A personal favourite is the Korean-style Old Boy which throws in some premium bacon, kimchi, bulgogi sauce, aioli, and miso sauce.
Address: Shop 1/105 Regent Street, Redfern NSW 2016
Contact: (02) 9698 8598
Opening Hours: Tuesday – Thursday (5pm – 9pm); Friday – Sunday (11:30am – 3pm, 5pm – 9:30pm)
---
Suburgia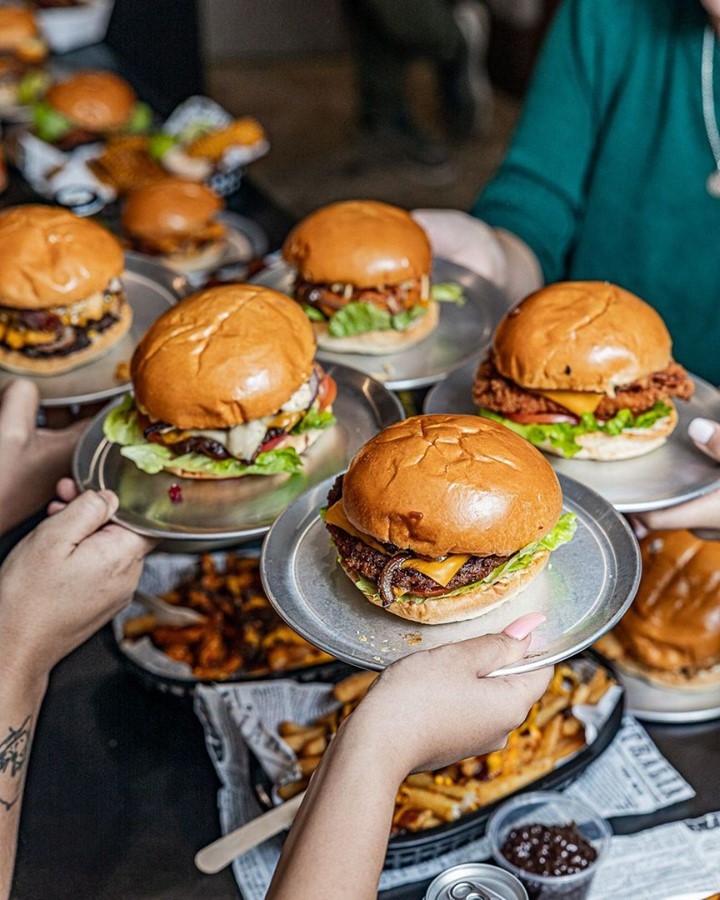 Redfern's Suburgia is a great concept, dedicated entirely to expressing Sydney's suburbs and local tastes as burgers. You've got The Epping – a Wagyu cheeseburger – and the Cronulla – a fish burger – as two of these best options on the menu, although Suburgia is at its best when the team is showing some love to the kitchen's immediate area. Grab The Redfern if you want to really live it up, with southern fried chicken, smokehouse bacon, jalapenos, chipotle salsa, double cheese, pineapple, honey, and BBQ sauce.
Address: 231 Chalmers Street, Redfern NSW 2016
Contact: 0466 684 108
Opening Hours: Tuesday – Sunday (12pm – 9pm)
---
Bush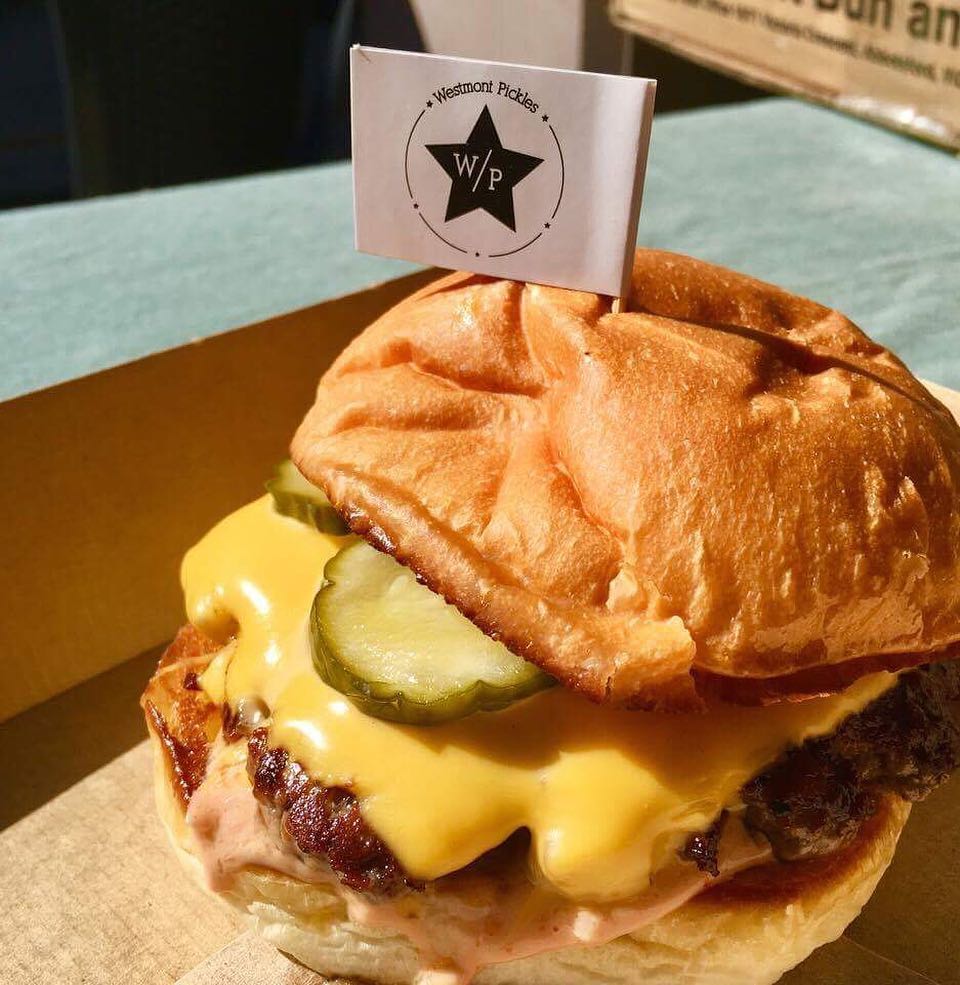 This list ain't ready to leave Redfern just yet. Bush is another essential if you're looking for the best burgers Sydney has to offer, with this kitschy diner offering just one amongst their menu of elevated outback classics. The double cheeseburger is a cracker, with chuck beef patties, some grilled speck, pickles, and cheese on a Bread Top milk bun, with a rich sauce made from kewpie mayo, onions and tomato.
Address: 55 George Street, Redfern NSW 2016
Contact: 0432 439 966
Opening Hours: Thursday – Saturday (12pm – 10pm); Sunday (12pm – 5pm)
---
Gojima
I thought Gojima would be too gimmicky when I first tried it. And look, it kind of is. But Chase Kojima, of Sokyo – one of the best Japanese restaurants in Sydney – came through with something surprising, unique, and beautifully balanced.
With nori sheets and crispy rice used instead of buns, these sushi inspired burgers run through everything from your classic cheeseburger to actual sushi burgers like the one with Hiramasa kingfish, cheese, lettuce, cucumber, pickled radish, scallions, and housemade sweet mustard sauce. The specific architecture takes some getting used to, but I think Chase has nailed the delicate act of blending Japanese and American with the same kind of sophisticated flair you'd expect from Sokyo.
Address: 182 Harris Street, Pyrmont NSW 2009
Opening Hours: Monday – Wednesday (11:30am – 2:30pm); Thursday – Saturday (11:30am – 2:30pm, 6pm – 9pm); Sunday (11:30am – 2:30pm)
Classic Burgers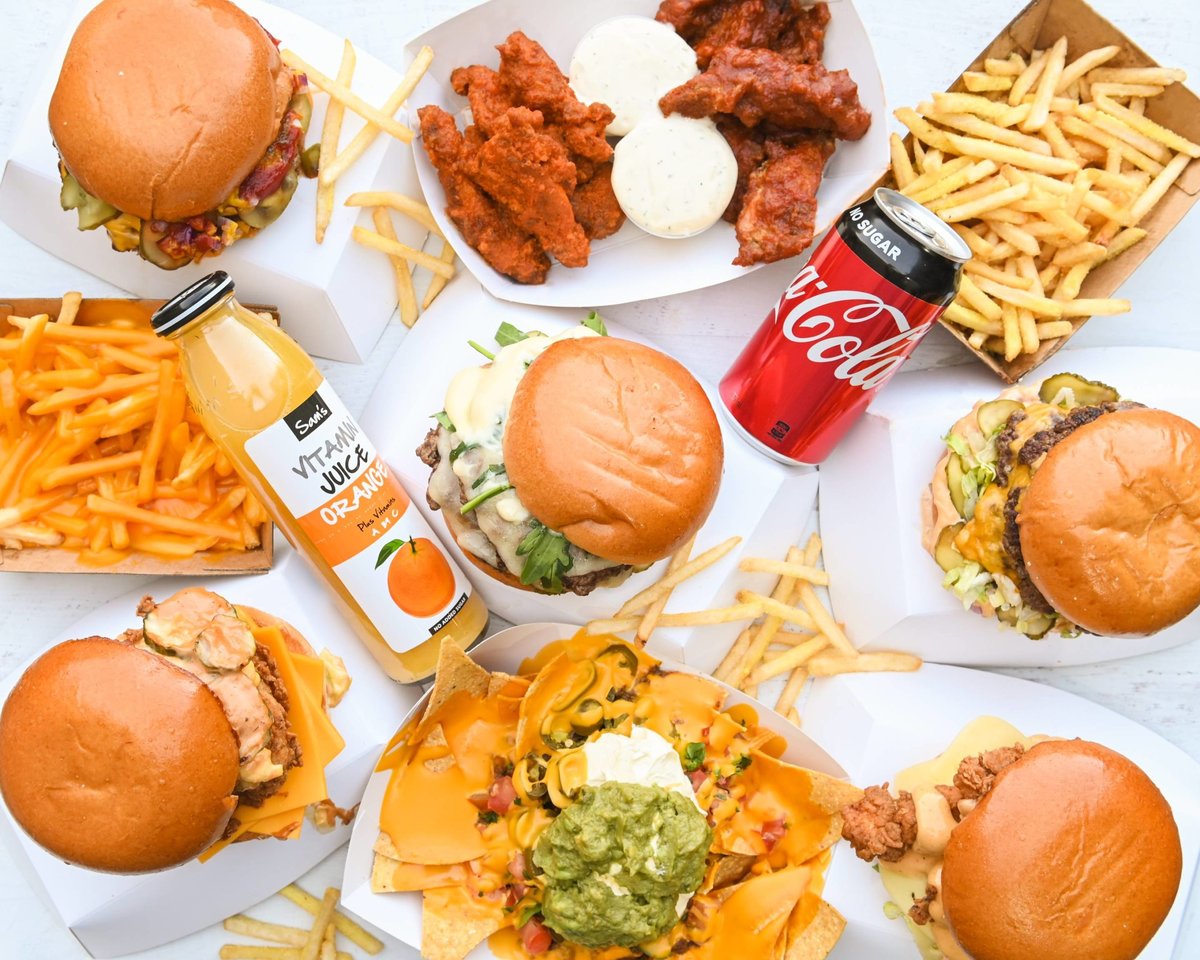 Classic American style burgers are what you should expect here. The reason why Classic Burgers is named the way it is should be obvious, making it all about tradition perfected with fresh, local ingredients. Although what really sets this burger place is a part is that the kitchen doesn't feel like overcharging for their top quality gourmet burgers. Most of what you find here keeps it closer to $10, whereas most others would swell up towards the $20 (and beyond) mark. Delicious, accessible, and unpretentious. Classic Burgers is a box-ticking trifecta.
Address: 564 Hume Highway, Yagoona NSW 2199 (also in Liverpool)
Contact: (02) 7905 0895
Opening Hours: Monday – Saturday (12pm – 12am); Sunday (12pm – 10pm)
---
Smokey Sue's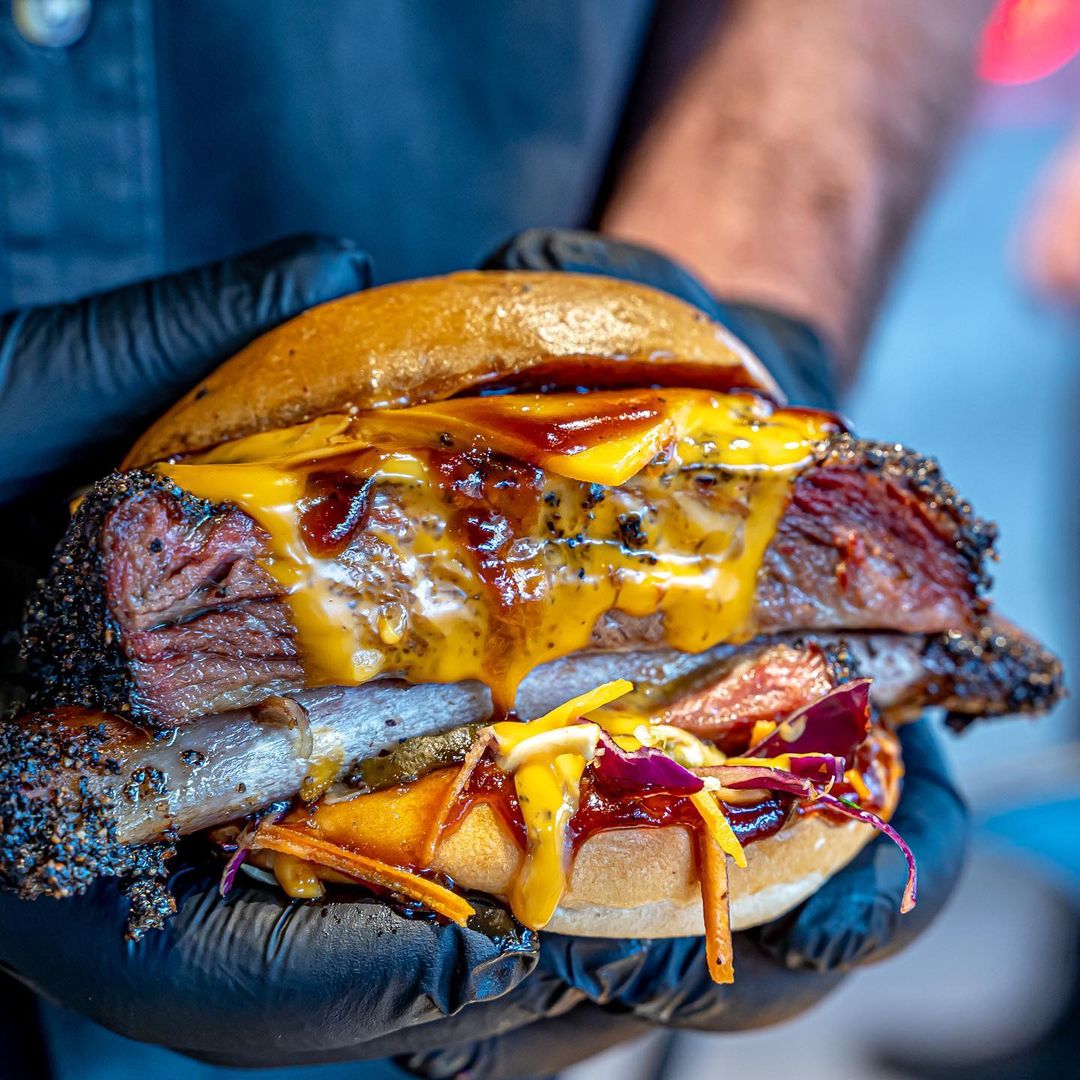 You won't find many classic smokehouses worth a damn around Sydney, especially since Bovine & Swine shut up shop in Enmore before moving out to Emu Plains for an incredibly upsetting slow death. Nowadays you really have LP's Quality Meats in Chippendale and that's it as far as central and accessible goes.
Maroubra's Smokey Sue's is a nice, low-and-slow favourite, built as a homage of the US southern states with comfort essentials like brisket, pulled pork, and buttermilk fried chicken. You better believe they do an equally excellent burger as well, with the Ribby McRibface melting hearts and taste buds city-wide.
Address: 737 Anzac Parade, Maroubra NSW 2035
Contact: (02) 9908 3909
Opening Hours: Monday – Saturday (12pm – 9pm); Sunday (12pm – 8:30pm)
---
Five Points Burgers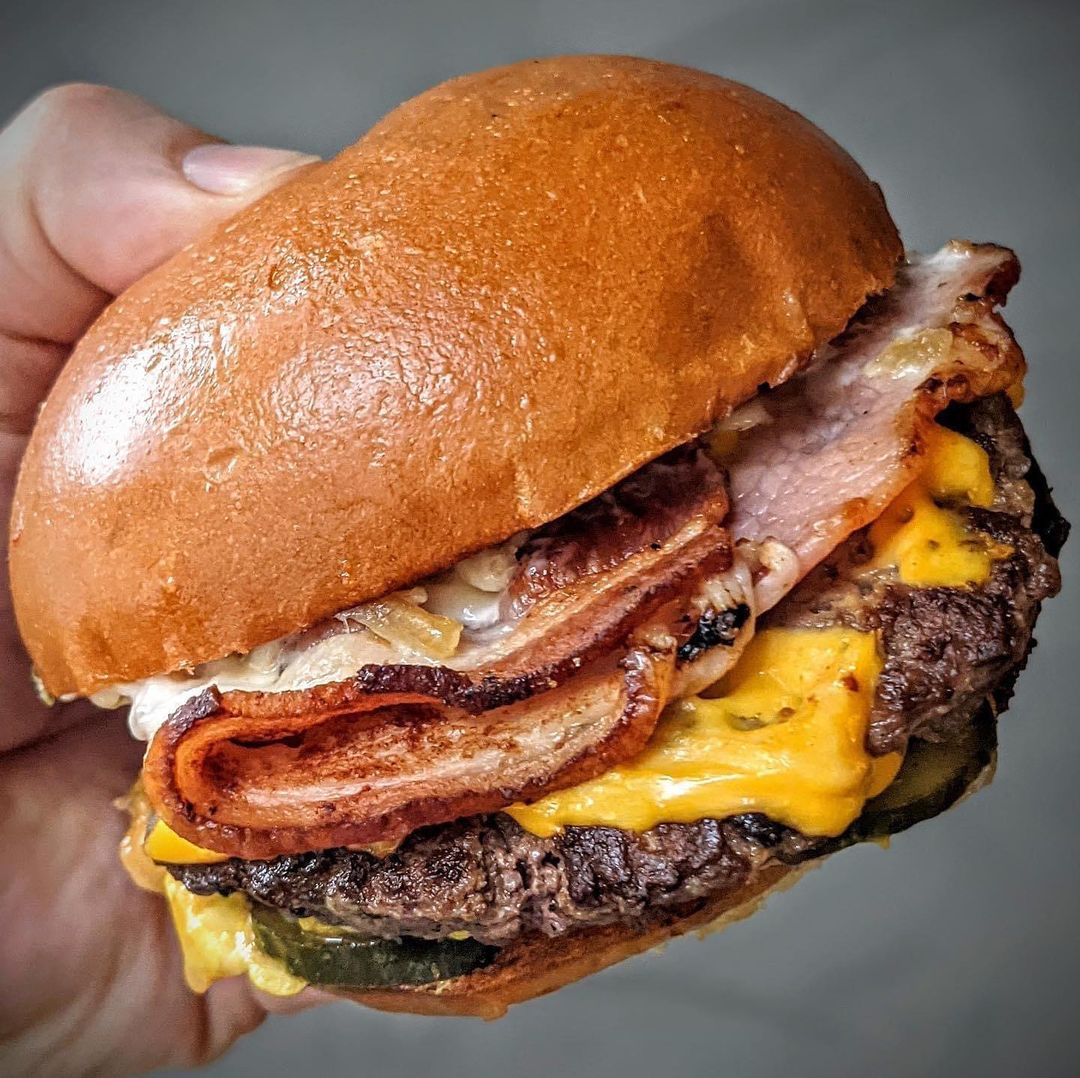 North Sydney favourite Five Points Burgers may not have the same hype it once did when the gourmet burger joint first opened, but don't mistake that for dwindling quality. Sydney's burger fiends are just fickle sometimes. But leaving this burger spot, a tribute to New York's boroughs, off a list of the best burgers in Sydney would be a big blow to credibility.
The snub-nosed Bronx burger is the top pick here, with a grilled beef patty, double cheese, bacon, onion jam, tomato sauce, pickles, American mustard, aioli, and iceberg lettuce.
Address: 124 Walker Street, North Sydney NSW 2060
Contact: (02) 8904 0276
Opening Hours: Monday – Wednesday (11am – 8pm); Thursday – Friday (11am – 9pm); Saturday (11am – 8pm)
---
Mary's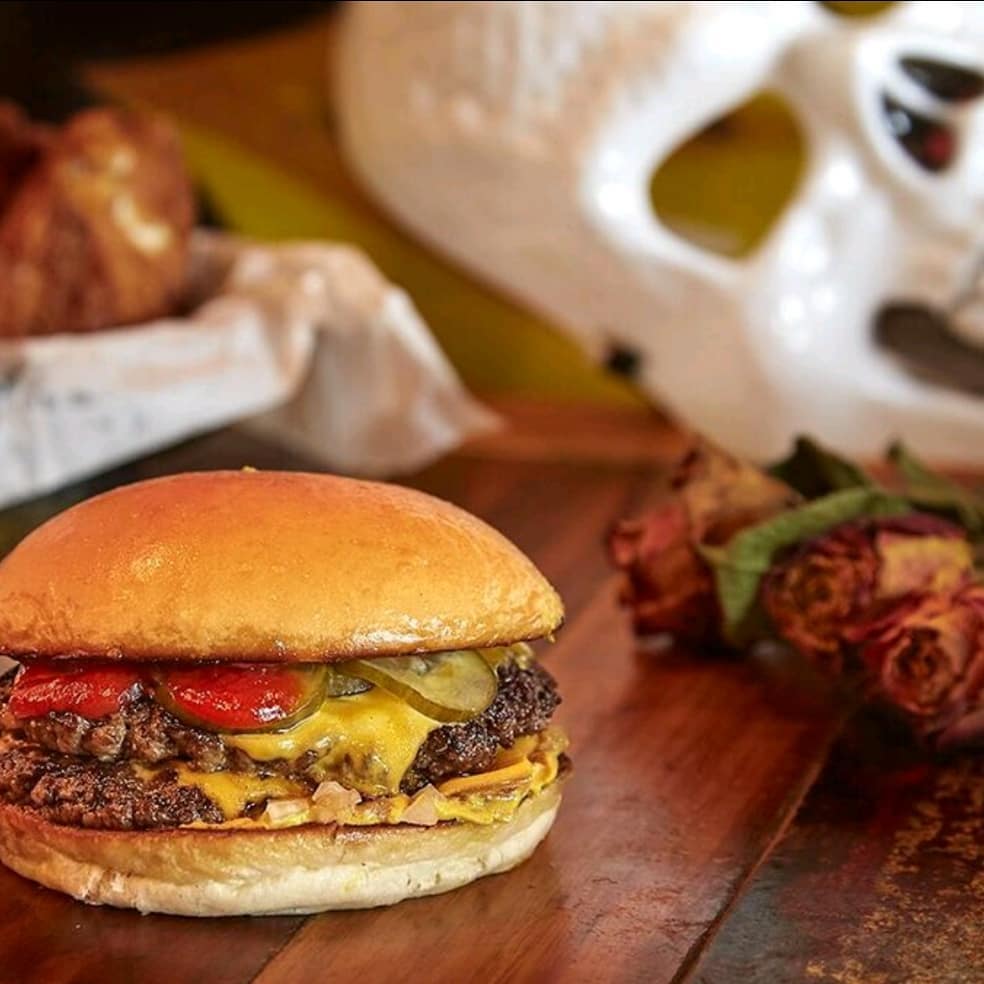 A lot of people hate Mary's, a lot of people love Mary's. But at least they feel something. Established as a dingy ode to rock & roll in Newtown, Mary's is synonymous with Sydney's burger revolution.
Look, I've had Mary's burgers which were absolute dogshit before, particular at the Circular Quay joint. But when they get it right, little else can compare to this greasy mix of a tender beef patty with cheese, tomato, lettuce, trashcan bacon (not rescued bacon, by the way), and Mary's sauce on a squishy milk bun. Whether you're munching down on a Mary's in the VIP tent at Splendour or downing some in the sun on the Lansdowne rooftop, no one can deny what Jake Smyth and Kenny Graham have built.
Address: 6 Mary Street, Newtown NSW 2042 (also various locations)
Opening Hours: Monday – Thursday (4pm – 12am); Friday – Saturday (12pm – 12am); Sunday (12pm – 10pm)
---
Vic's Meat Market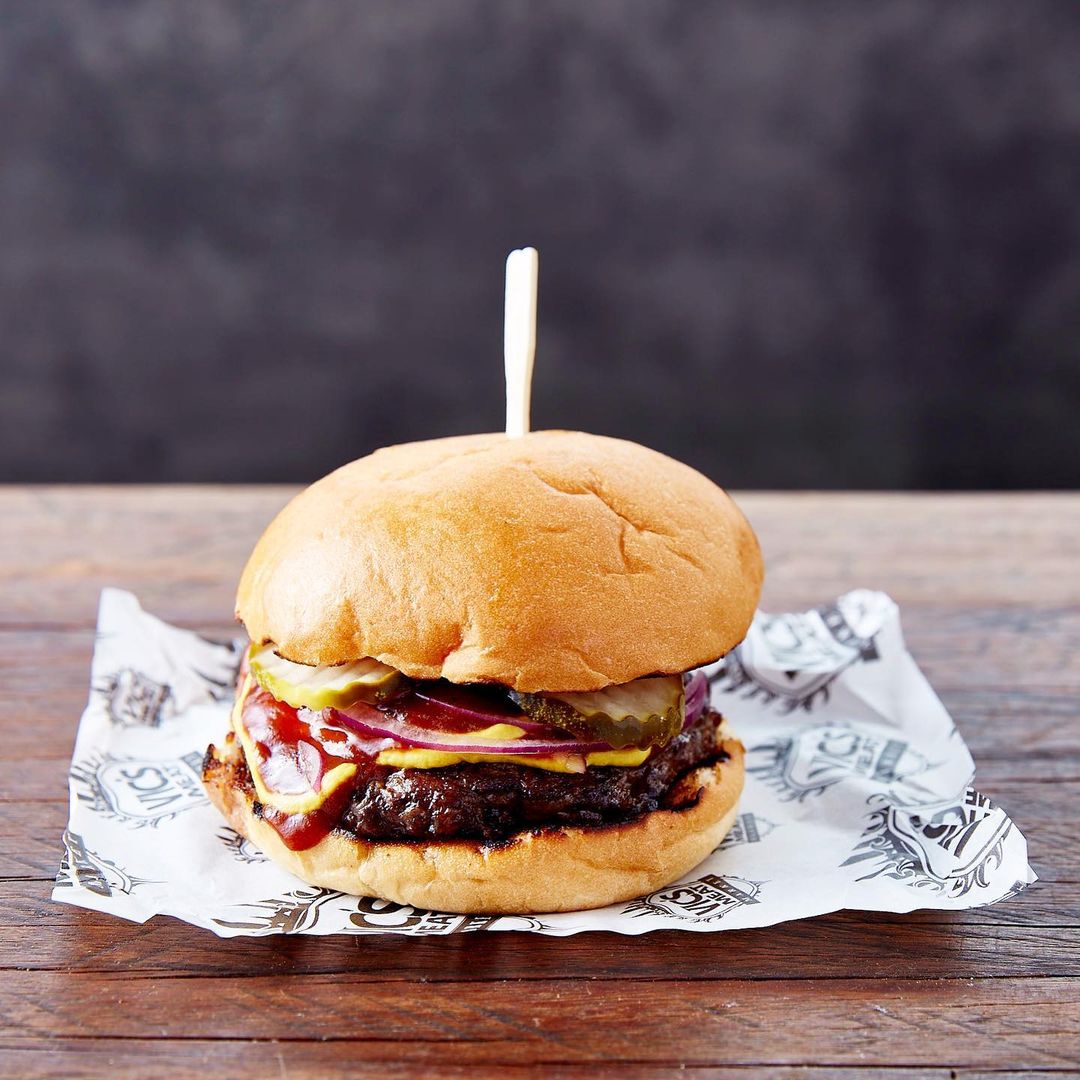 Head along to Sydney Fish Market and hit up Vic's Meats for a classic Wagyu cheeseburger with style. The tidy, well-postured burger is perfectly content with just being a simple, delicious meal with no excess sauce, no left-field potato bun, and no sense of drama. It's just a 10-hour smoked wagyu brisket with housemade BBQ sauce and tangy slaw.
Address: Sydney Fish Market, 50-60 Bank St, Pyrmont NSW 2009
Contact: (02) 8570 8570
Opening Hours: Monday – Sunday (7am – 4pm)
---
Burgers Anonymous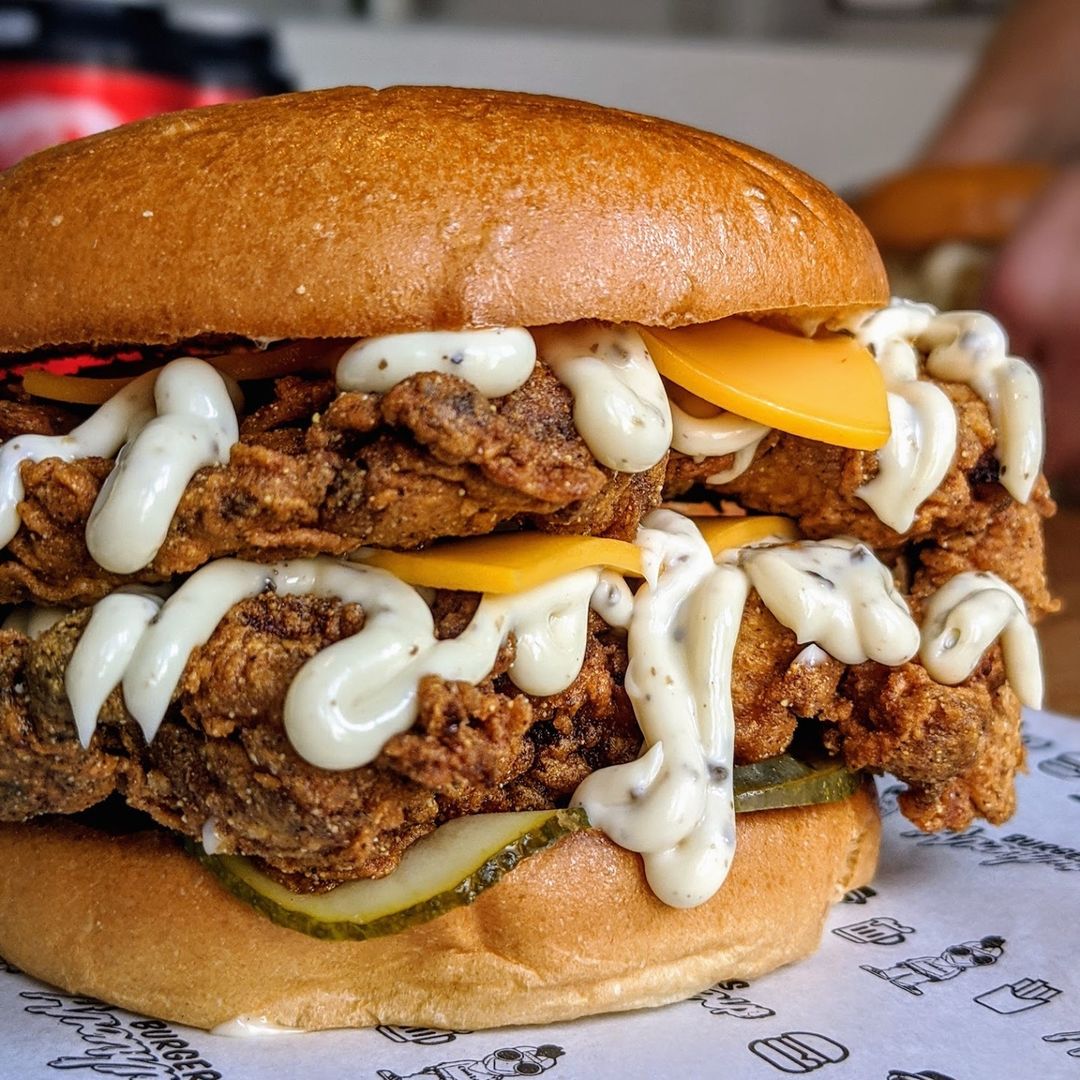 Although Burgers Anonymous seemed like they were trying too hard to stand out when the first venue opened on Oxford Street in 2015, themed towards Breaking Bad for some reason, the team wasted no time in proving worthy competitors on the circuit. It says a lot that a burger joint on Oxford Street can still draw a crowd despite BL Burgers being nearby, with burgers like the Heisenburger with a prime beef patty, maple-glazed 'crack bacon', American cheese, lettuce, tomato, onion, pickles, and housemade sauce.
Address: 80 Oxford St, Darlinghurst NSW 2010 (also various locations)
Contact: 0415 980 019
Opening Hours: Monday – Thursday (5pm – 9pm); Friday – Saturday (11am – 9pm); Sunday (11am – 8:30pm)
---
Grill'd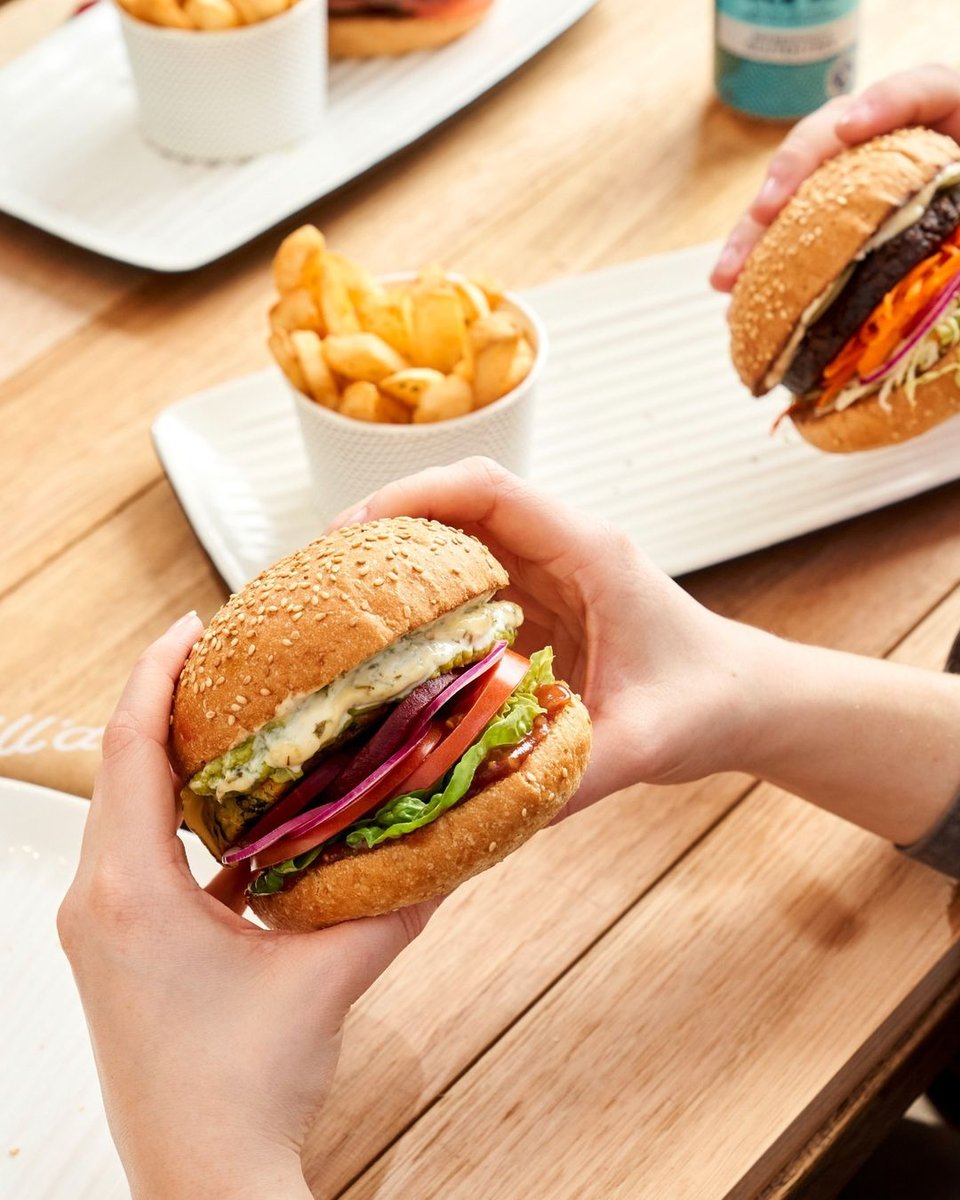 I might get shit for this, but much like the other chains listed below, Grill'd have perfected that fine, highly desired art of consistency. At least for the most part. Now with the brand hinged on health(ier) burgers, the menu here is rich and varied, with plant-based burgers and Beyond Meat burgers offered alongside reliable favourites like Sir Truffle and Crispy Bacon & Cheese.
Consistency counts for a lot in the business of burgers, and Grill'd deserve plenty of props for being pretty much the only inescapable burger chain that's not just worth a damn but is also giving the more traditional fast food burgers an effective lesson in freshness.
Address: Various Locations
---
Five Guys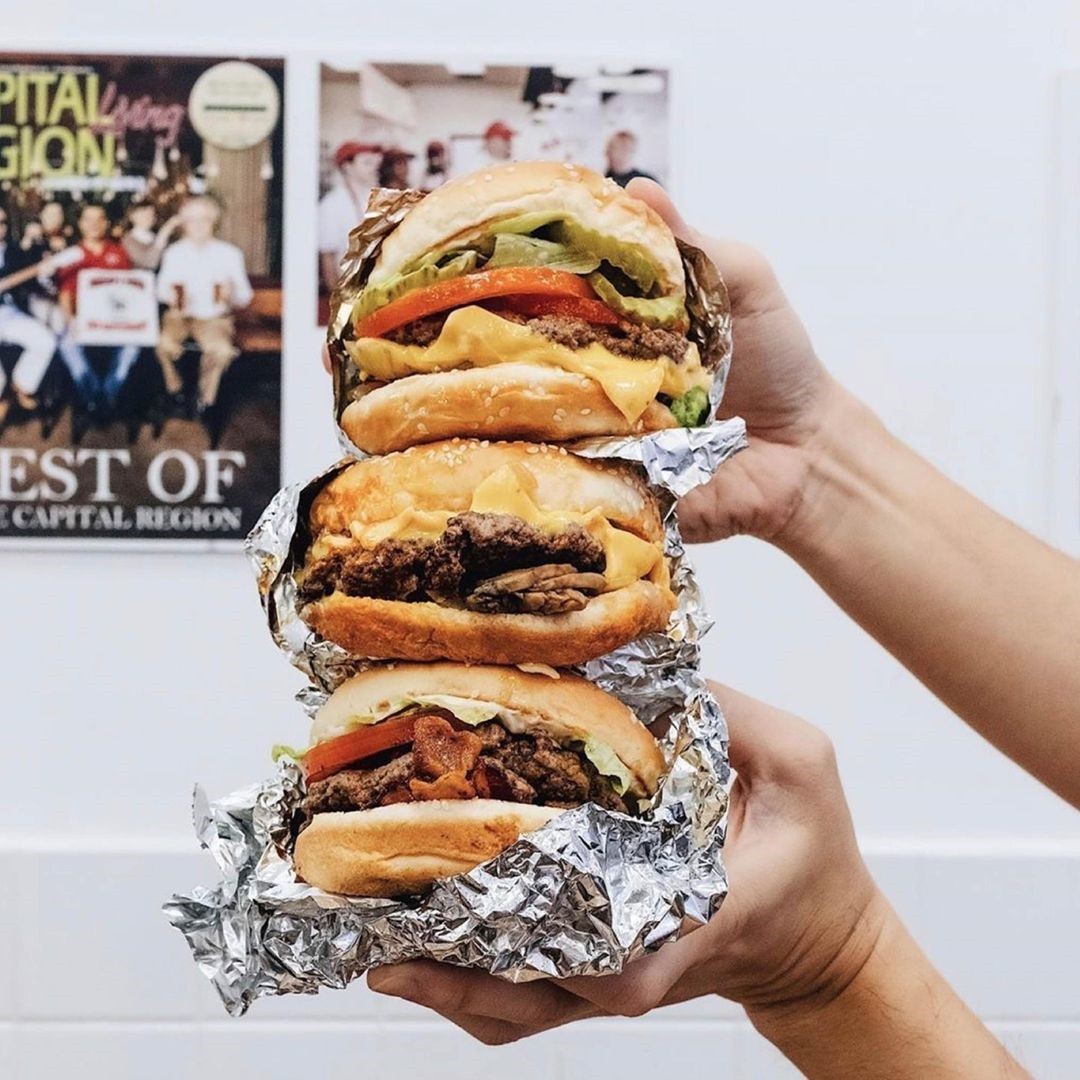 Shake Shack and In-N-Out haven't shown any love to Australia. The only big international chain that really gave a damn about us down under has been Carl's Jr. Although the love they show isn't always reciprocal. In with a much better chance is Five Guys, which recently opened its first spot out in Penrith and plans to seed through Sydney in the coming years.
The only problem is that Five Guys is ridiculously overpriced for what you get. If you can stomach that, then you'll be more than satisfied with anything you find here.
Address: 123 Mulgoa Road, Penrith NSW 2750 (soon to be more locations)
Contact: (02) 8629 8855
Opening Hours: Monday – Sunday (11am – 10pm)
---
McDonald's / KFC / Oporto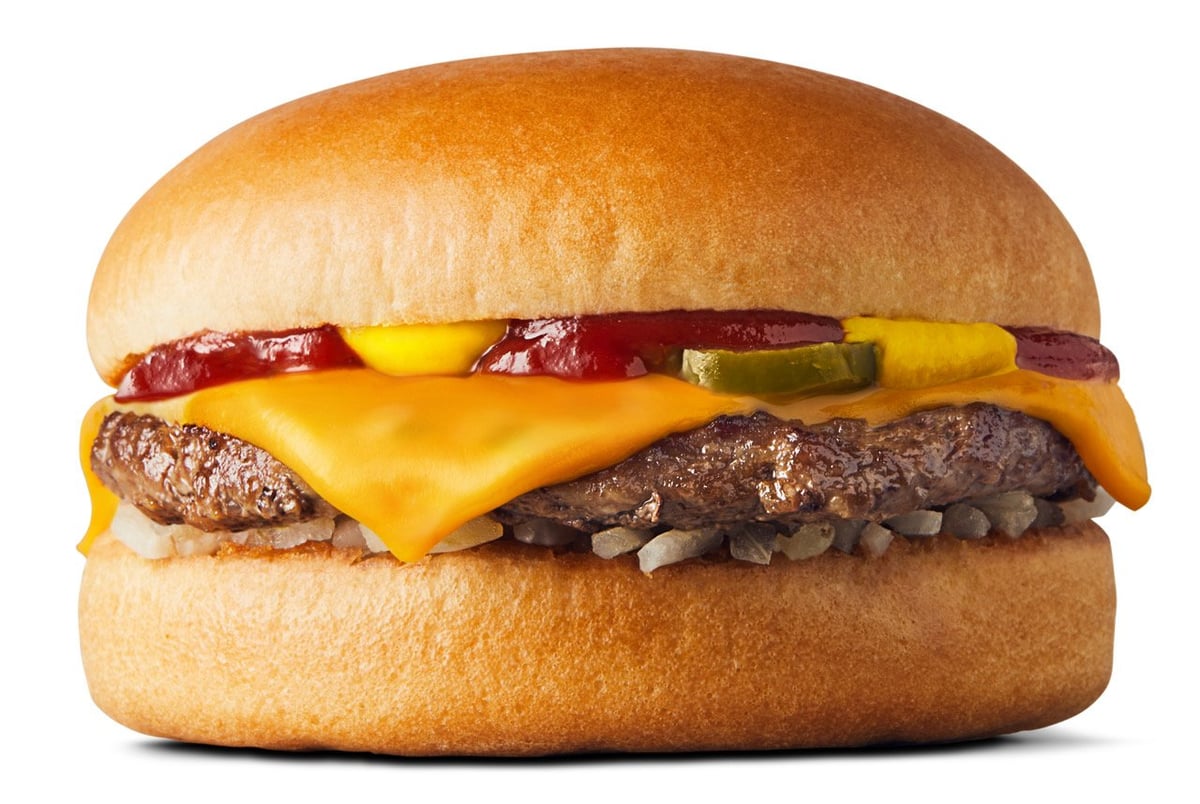 I can just imagine the comments flying across social media now. "The flogs from Boss Hunting put Maccas on their best burgers in Sydney list *cry laugh emoji*. Yeah, cool. But as I wrote above for Grill'd, consistency counts for a lot in the burger industry, and love them or hate them, McDonald's has absolutely mastered the art.
I'm not saying you won't have a night out where your Big Mac or classic cheeseburger, or that strangely manicured Fillet O'Fish bun, won't taste like a steaming pile of shit (assuming you don't think it always tastes like that). But more often than not, you know what you're going to get with Maccas. The business was built on that kind of dependability and pioneered the fast-food industry, so it kind of earns its place.
Both KFC and Oporto have emerged as equally worthy competitors, and no one in Sydney would deny the power of a zinger or an Oprego after a bender. Consider these the three burger chains that have risen above the rest and offer some of the best burgers in Sydney for when fast food is on the cards.
Are these spots home to the best burgers in Sydney? Fuck no. But you'd be a fool for denying the balance between quality, price, and – if you didn't get the point by now – consistency. And hey, at least I didn't include Red Rooster.
Address: Everywhere
RELATED: Sydney's Best Sandwich Shops For Those Office Lunch Cravings
---
Best Burgers In Sydney – Frequently Asked Question
What are the best burgers in Sydney?
If you want the very best burgers in Sydney you'll want to go to the top 3: BL Burgers, Mister Gee, and UME Burger. These are the best spots for reliable gourmet burgers that have pushed Sydney's burger scene more than a few steps forward.
What is the best burger in Sydney CBD?
The best burger in Sydney CBD can be found at The Gidley
What is the best burger in Western Sydney?
The best burgers in Western Sydney can be found at Burger Head in Penrith.