Take even just a slice of the best pizzas in Melbourne and you'll surely agree that this city does the Italian classic like few others can. Whether you're looking for some pizza napoletana, or you want to see what the cities most inventive pizzaiolos are experimenting with, once you walk into any of the following Melbourne pizza restaurants, you'll feel right at home.
The city, much like Sydney, is pretty much defined by its Italian dining scene. And while the best Italian restaurants in Melbourne is a separate conversation all together, the kitchens that focus primarily on pizza dough and fresh pizza toppings are just as important.
If you want to have the best pizza cooked and delivered straight to your face, while soaking up some of the liveliest dining atmospheres you'll find in Melbourne, take note of the following pizza restaurants. You'll find them dotted all over Melbourne, from Fitzroy and Brunswick, to Hampton and Footscray.
---
---
Here's Where You'll Find The Best Pizzas Melbourne Has To Offer
---
Lazerpig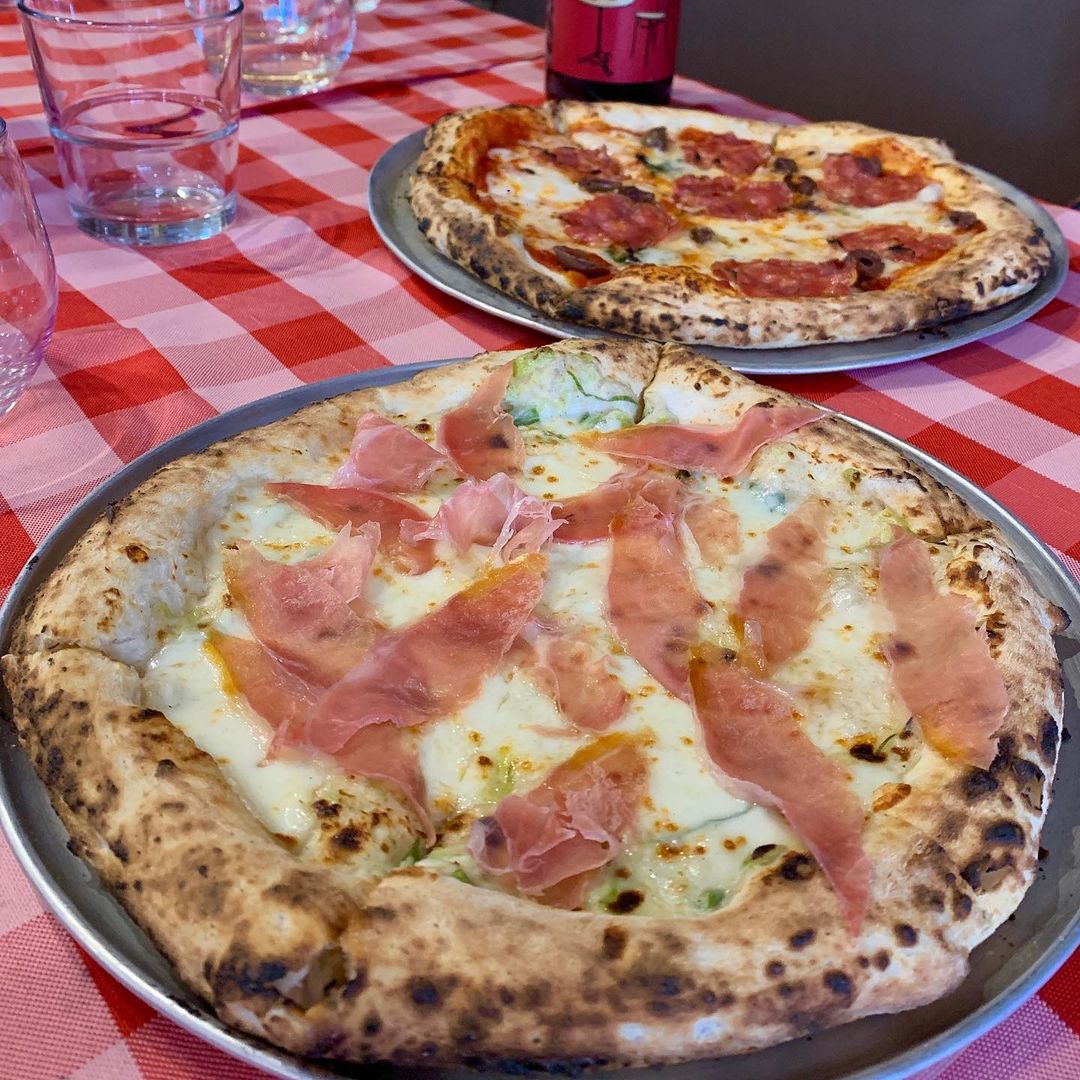 Chewy crust, thin base, every single time. The lads at Lazerpig know how to work that wood fired oven and pump out some of the best pizza in Melbourne. Some may even say the best, especially if you want that balanced style between no-nonsense Italian style pizzas, and experimental
Smack bang in the chic heart of Collingwood, this Smith Street pizza joint hits all the right beats both for lovers of classic style pizza, and those who are after some pizza toppings that are a little more unconventional.
The signature Ronny J (named after pornstar Ron Jeremey – so, uh, they might want to change the name) is one of the better options here, taking a peperonata base and building with pork & fennel sausage, fior, roast jalapenos, honey, and parmigiano – these aren't light pizza slices, but definitely worth the bloat.
You can either continue that hunger for something different with the Mary Had A Little Lamb (garlic base, slow cooked lamb, fior di latte, red onion, olives, feta, rosemary, lemon), or skew a bit more traditional with the dependable Queen Margherita (sugo base, fior di latte, basil, buffalo mozzarella), inspired by the classic food from Italy.
Either way you play it, it's hard to overlook this late night favourite and their trusty, almost magical, oven.
Address: 343 Smith St, Fitzroy
Opening Hours: Wednesday – Thursday (5pm – 10pm); Friday – Sunday (4pm – 10pm)
---
DOC Pizza & Mozzarella Bar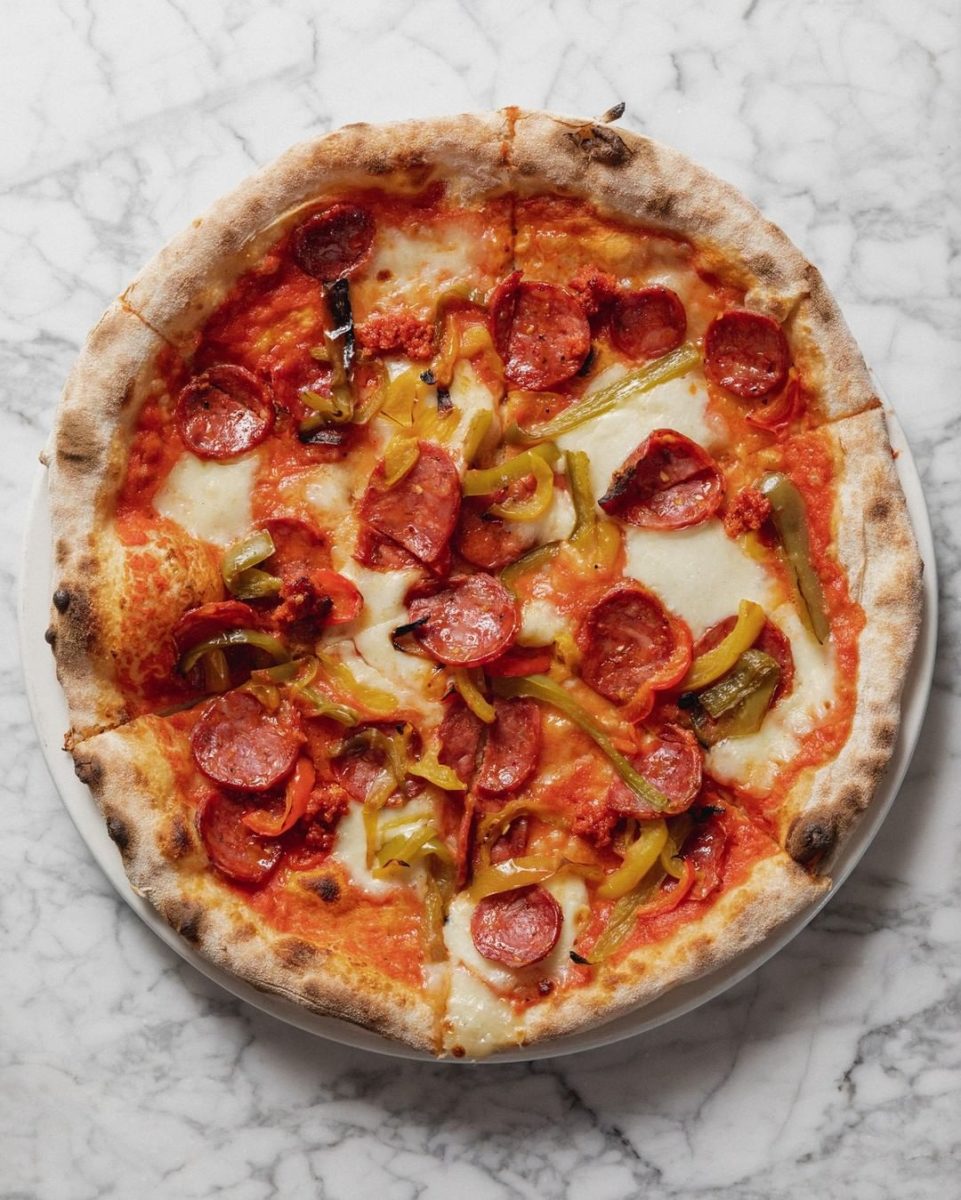 Much like 400 Gradi, DOC Pizza is considered one of the pioneers for Melbourne's pizzeria scene, and a stately legend ever since the original opened in Carlton in 2007. You can now find DOC's all across Melbourne, and the brand has even gone interstate and moved on up to Sydney.
---
---
Proliferation doesn't mean dilution though, with DOC Pizza still a classic choice for Melbourne's best pizza. Like any great pizza joint, the kitchen takes its cues from Naples and values simplicity above all else, putting much of their focus on the quality.
DOC Pizza has since become an unstoppable force of Italian produce with various delicatessens and even a coffee shop near the original restaurant.
You're after pizza though, and you'll get it quintessentially Italian here, so stick to the classics like the signature and satisfyingly light Pizza DOC, which has San Marzano tomatoes, mozzarella, and fresh basil – a classic in Italy, and a classic in Melbourne.
Check the Carlton details below, and for all other DOC restaurants, head to their website.
Address: 295 Drummond Street, Carlton
Contact: (03) 9347 2998
Opening Hours: Monday – Wednesday (5pm – 10pm); Thursday – Friday (5pm – 11pm); Saturday (12pm – 11pm); Sunday (12pm – 10pm)
RELATED: The 10 Best Pizza Ovens In Australia For A Backyard Slice [2021 Guide]
---
Ladro TAP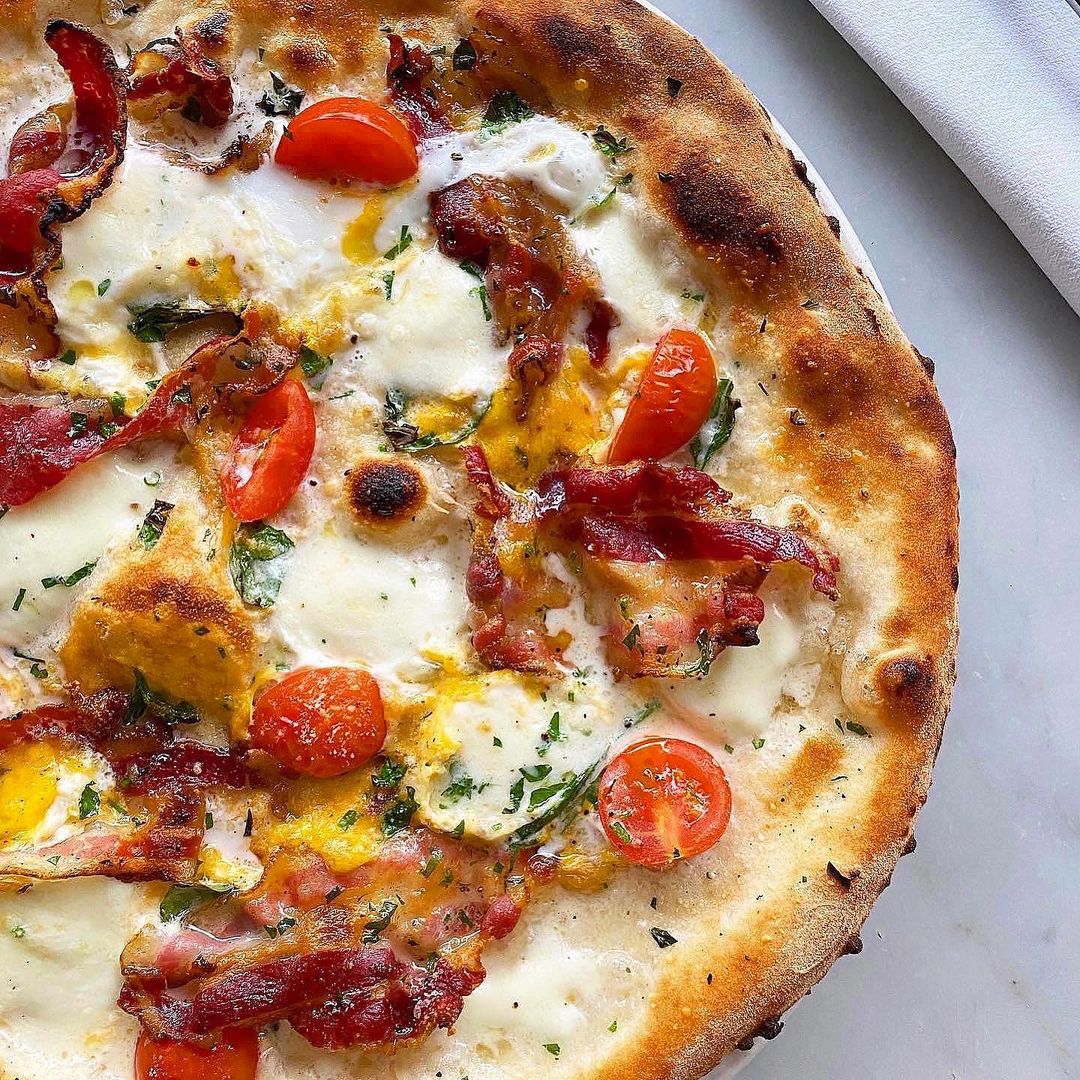 While most pizza restaurants will offer gluten free if you ask (or pay a bit extra), Ladro puts a bigger emphasis on catering to those who are specifically looking for gluten free pizza. Although they do make it in the same oven as conventional pizza.
Top choices at this Prahran diner on Greville Street favour more stacked pizza toppings like the Patate, which has fior di latte, taleggio, kipfler potatoes, rosemary, truffle oil, and basil, with the option to add some prosciutto or speck. Then you've got the Nduja, which is pretty much as it sounds – San Marzano sugo as the base with spicy pork ndua, bufala, onion, garlic, chilli, parsley, and oregano.
---
---
Better yet, they serve the pizzas whole and give you the cutting wheel so you can decide the size of your slice, whether you're going full New York style, or keeping it nice and trim.
Stray from the pizza oven for a second and ask for the vegan mozzarella as well – it won't disappoint.
Ladro is also slinging pizza out of Fitzroy to click through to the website below for the details.
Address: 162 Greville St, Prahran
Contact: (03) 9510 2333
Opening Hours: Monday – Friday (4pm – 11pm); Saturday – Sunday (12pm – 11pm)
---
48 Hr Pizza e Gnocchi Bar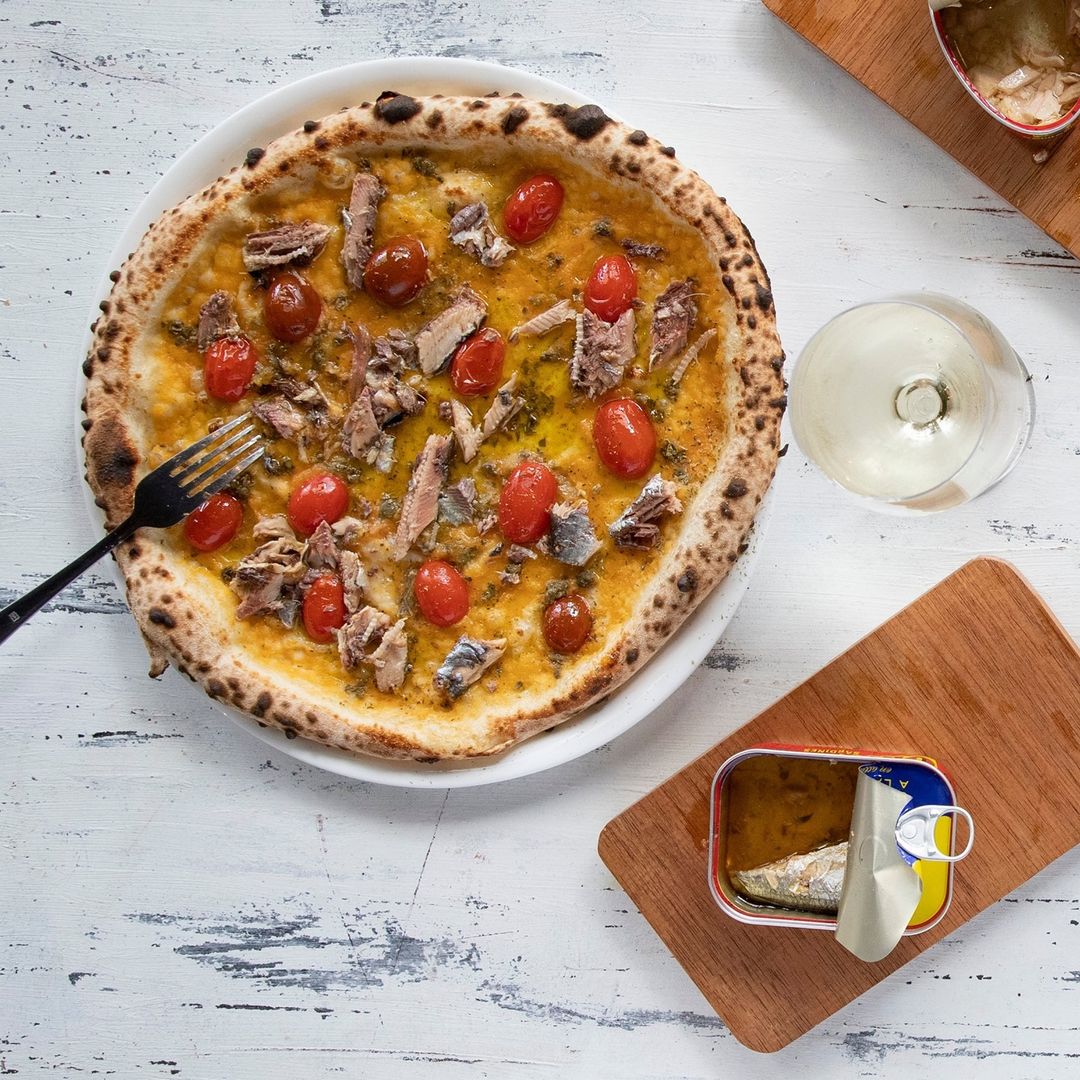 Sure, you could go to 48 Hr Pizza e Gnocchi Bar for some of that potato dumpling pasta, but the wisest choice here at this South Yarra original is always going to be pizza. And as much pizza as you can possibly stomach.
As one of the city's favourite pizza joints, 48 hr Pizza e Gnocchi Bar is often claimed as the best of the best when it comes to this staple of Italian food. Much like 400 Gradi and DOC, popularity has pushed the business to open more venues across Melbourne, so their pizza is fairly widely accessible.
You'd be hard-pressed to find a Italy obsessed Melbourne local who hasn't spent a late night stuffing their face with favourites like the classic Marinara, or the Notti d'Oriente with lamb sausage, mozzarella, capsicum, and red onion.
As you may be able to tell by the name, the team here are dead set on the fact that truly authentic, Neapolitan style pizza needs dough that has been leavened for at least 48 hours with natural yeast, to help lighten the load so it doesn't come of the oven all excessively starchy and heavy.
---
---
Address: 373 Malvern Rd, South Yarra
Contact: (03) 9824 2573
Opening Hours: Sunday – Thursday (5pm – 9pm); Friday – Saturday (5pm – 10pm)
---
Capitano
From Bar Liberty to Capitano, the team behind this popular Carlton pizza joint manage to get the perfect chew from their sourdough bases, giving them plenty of structure for their old-school and new-school pizza toppings.
You'll want to choose carefully if you're going to pick through their expansive wine list, there's plenty to pair here, with a lot of Italian varieties mixed in with a few local classics. It's tempting to go for the tried and true traditional pizzas, but Capitano is actually at their best with the pizzas squares, like the 'Roni Square with tomato, pepperoni, pickled chilli, mozzarella, and parmesan.
It's also worth looking through the non pizza food offerings to fill up the table, like the light vegan cacio e pepe – non-traditional by any means, but also nowhere near an affront to Italy.
Address: 421 Rathdowne St, Carlton
Contact: (03) 9134 8555
Opening Hours: Monday – Thursday (5:30pm – 10pm); Friday (5:30pm – 11pm); Saturday – Sunday (12pm – 11pm)
---
Harley and Rose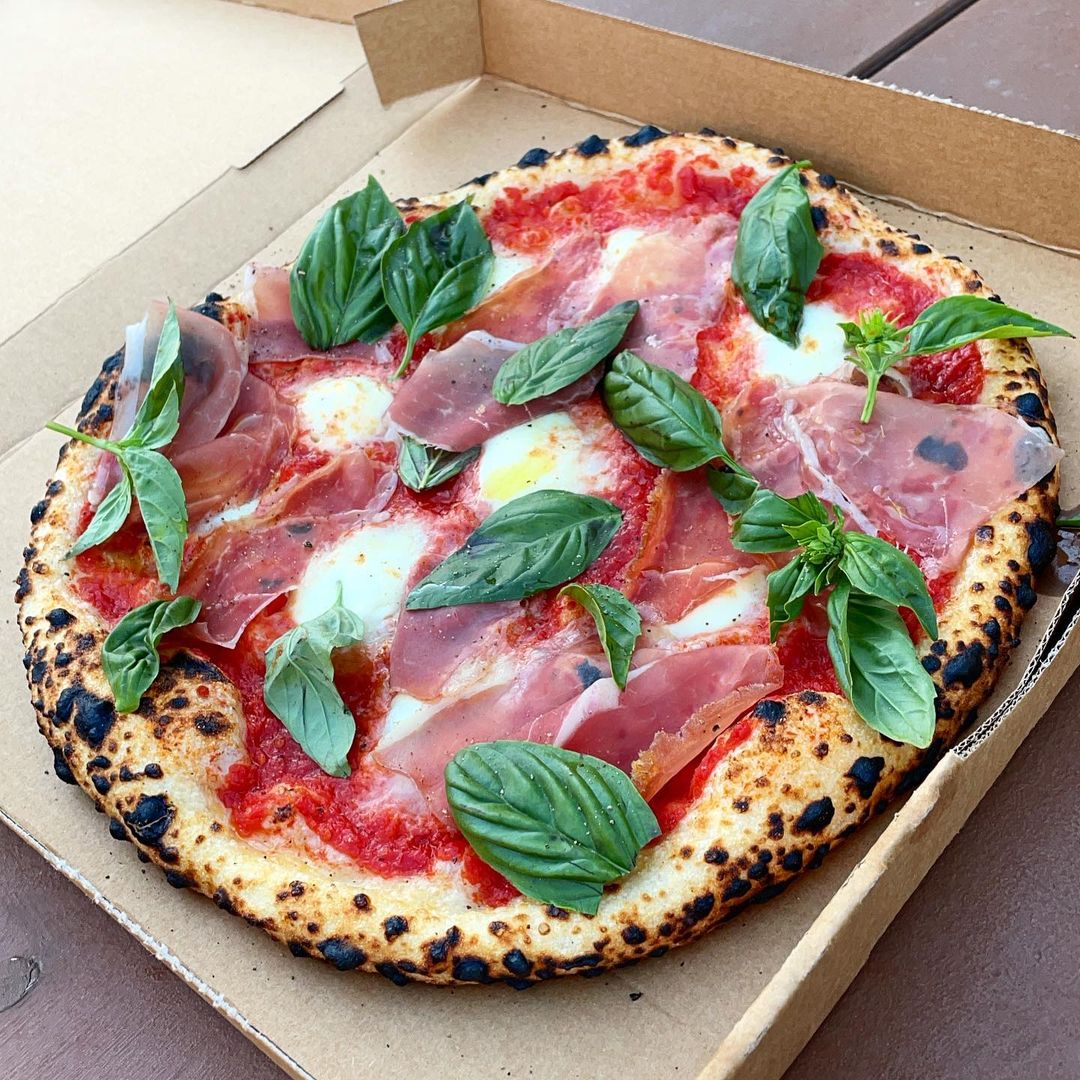 Consider Harley & Rose a hidden secret, tucked away in Footscray with a bunch of Melbourne's most underrated chefs and hospitality stalwarts offering up a sweet and simple list of pizzas. And while Harley and Rose isn't just a pizzeria, with plenty of snacks and other plates on the menu, those slices of pure joy are always going to be hard to resist.
Don't think traditional here, go straight for the Pippie Pizza, which is as out-there as it sounds. Pippies are stacked with parsley, lemon, and cream for a different kind of pizza hit that'd surprise even the most adventurous Melbourne diners. Also highly recommended is the House Sausage pizza, with fennel sausage, tomato, eggplant, and pecorino cheese.
Yeah, it's not a Fitzroy or Collingwood joint, but Harley and Rose is definitely worth the travel outside of the CBD. Some of the best pizza in Melbourne is always going to be worth the effort.
---
---
Address: 572 Barkly St, West Footscray
Contact: (03) 9689 9752
Opening Hours: Wednesday – Saturday (5pm – 10pm); Sunday (4pm – 9pm)
---
SPQR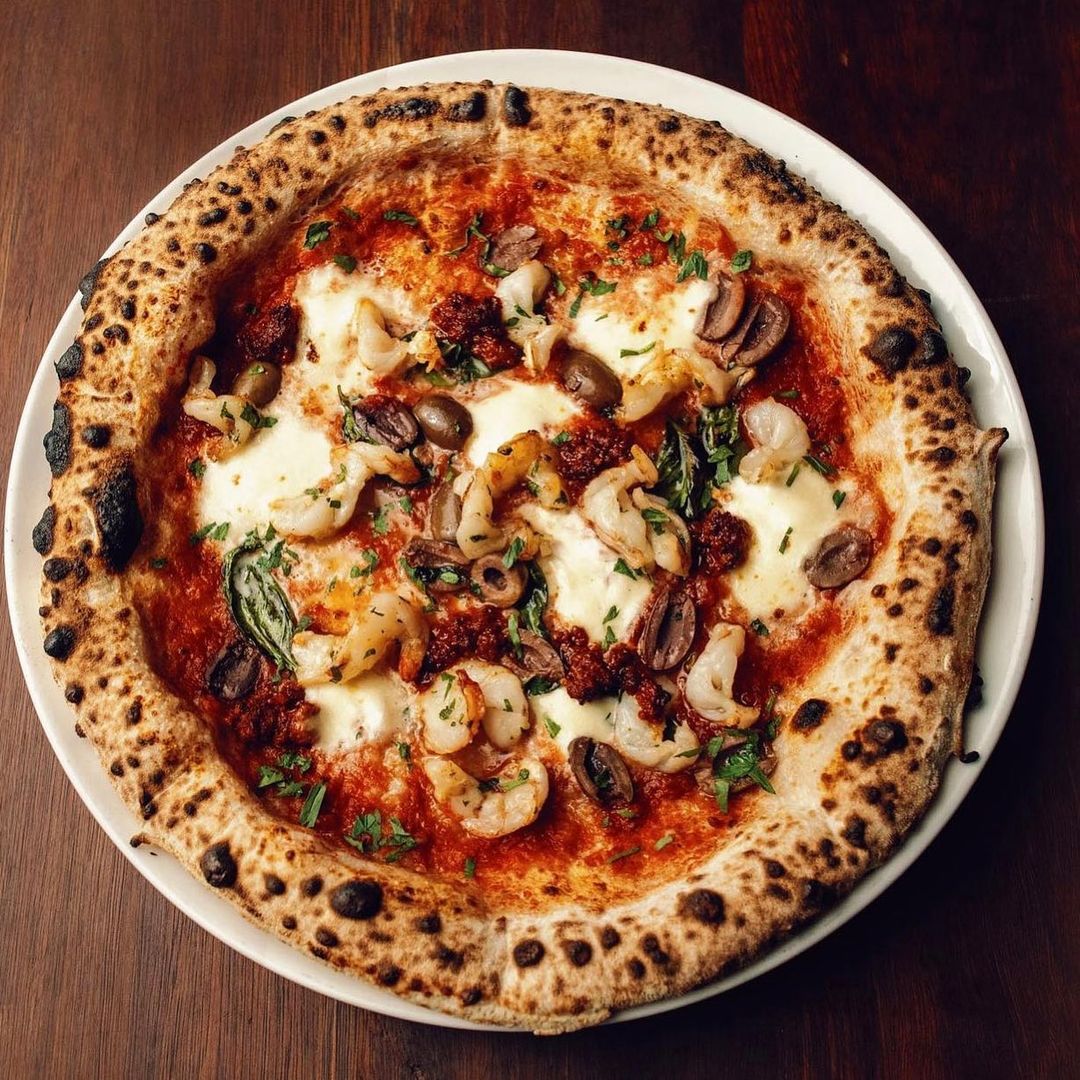 Looking for some beautifully consistent, wood fired sourdough pizza in Melbourne CBD? You'll want to head on over to Liverpool Street where you'll find SPRQ. While they've also got a restaurant in Docklands, the CBD mainstay is what you want here.
The simple and light Margherita is the top choice, but there's also an excellent Surf & Turf with San Marzano, prawns, nduja, fior di latte, olives, and basil. It's not hard to land on quality here, especially when the pizza menu is a short and straight to the point as this one, confidently curated for some of Melbourne's best slices.
Address: 26 Liverpool St, Melbourne
Contact: (03) 9671 3326
Opening Hours: Tuesday – Thursday (5pm – 9pm); Friday (12pm – 2pm, 5pm – 10pm); Saturday (5pm – 10pm)
---
Baby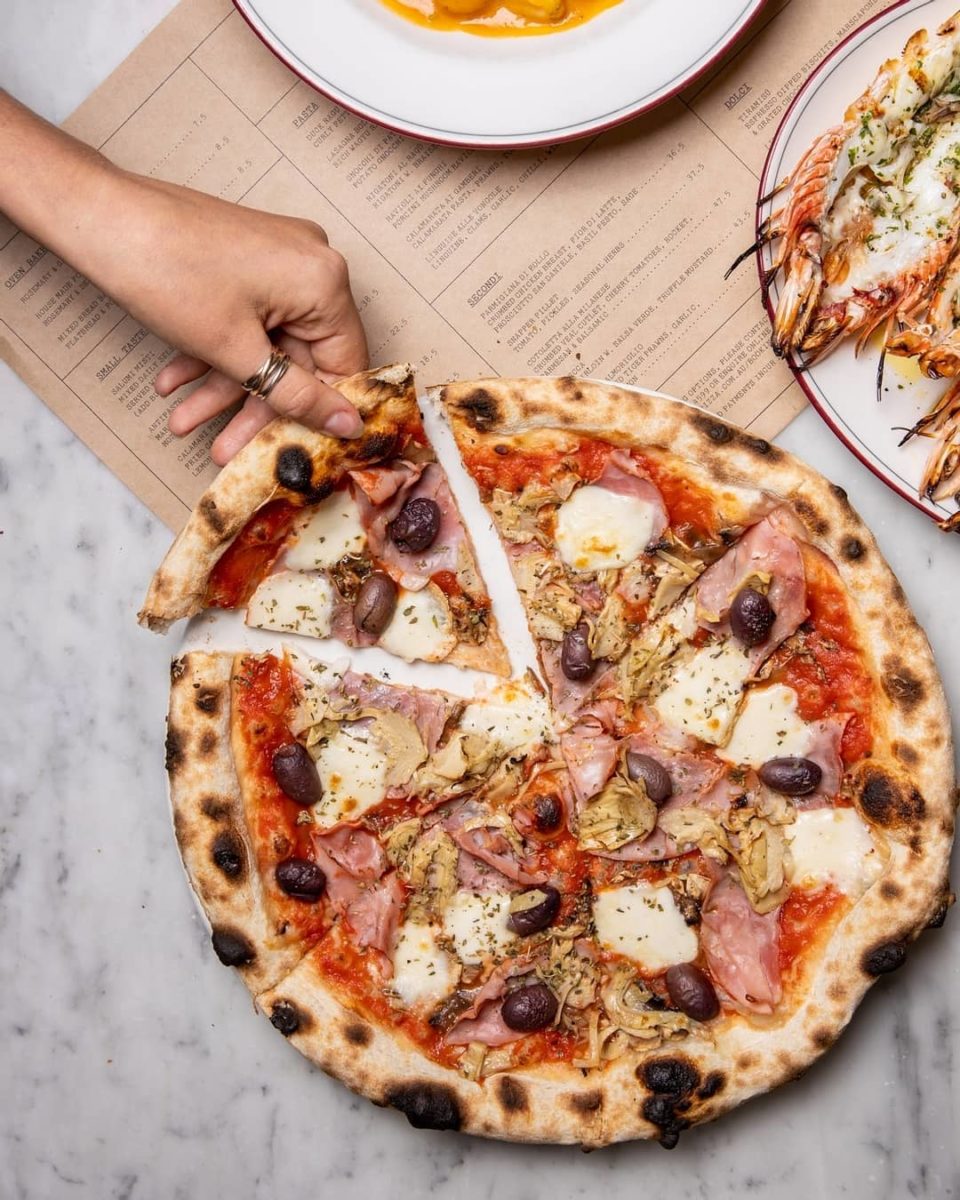 Head on over to Richmond and you'll find Baby Pizza on Church Street. There's very little that's traditional pizzeria about this, instead opting for something a bit more contemporary but still aligning nicely with the taste for something quintessentially Italian.
Coming from the same team behind Chin Chin and Kong (as well as the newly opened, high-profile Society), that is Lucas Group, the focus here is on quality down to every last detail.
Homemade mozzarella should tell you that much, texturally perfect as it graces the face of pizza favourites like the light San Daniele with fior di latte, San Daniele proscuitto, rocket, San Marzano, and reggiano. And if you really want to go hard, get the saucy, delicious burst of flavour that is the Salumi, with double smoked leg ham, spiced sausage, borgo hot salami, and tomato.
The kitchen offers some of the best range of all of Melbourne's pizzerias.
---
---
Baby also has gluten free bases available, so take note if you need your dough a bit lighter from the wood fired oven, yet still want to try some of the best pizza in town.
Address: 631-633 Church St, Richmond
Contact: (03) 9421 4599
Opening Hours: Monday – Sunday (12pm – 10pm)
---
Pizza Miene Liebe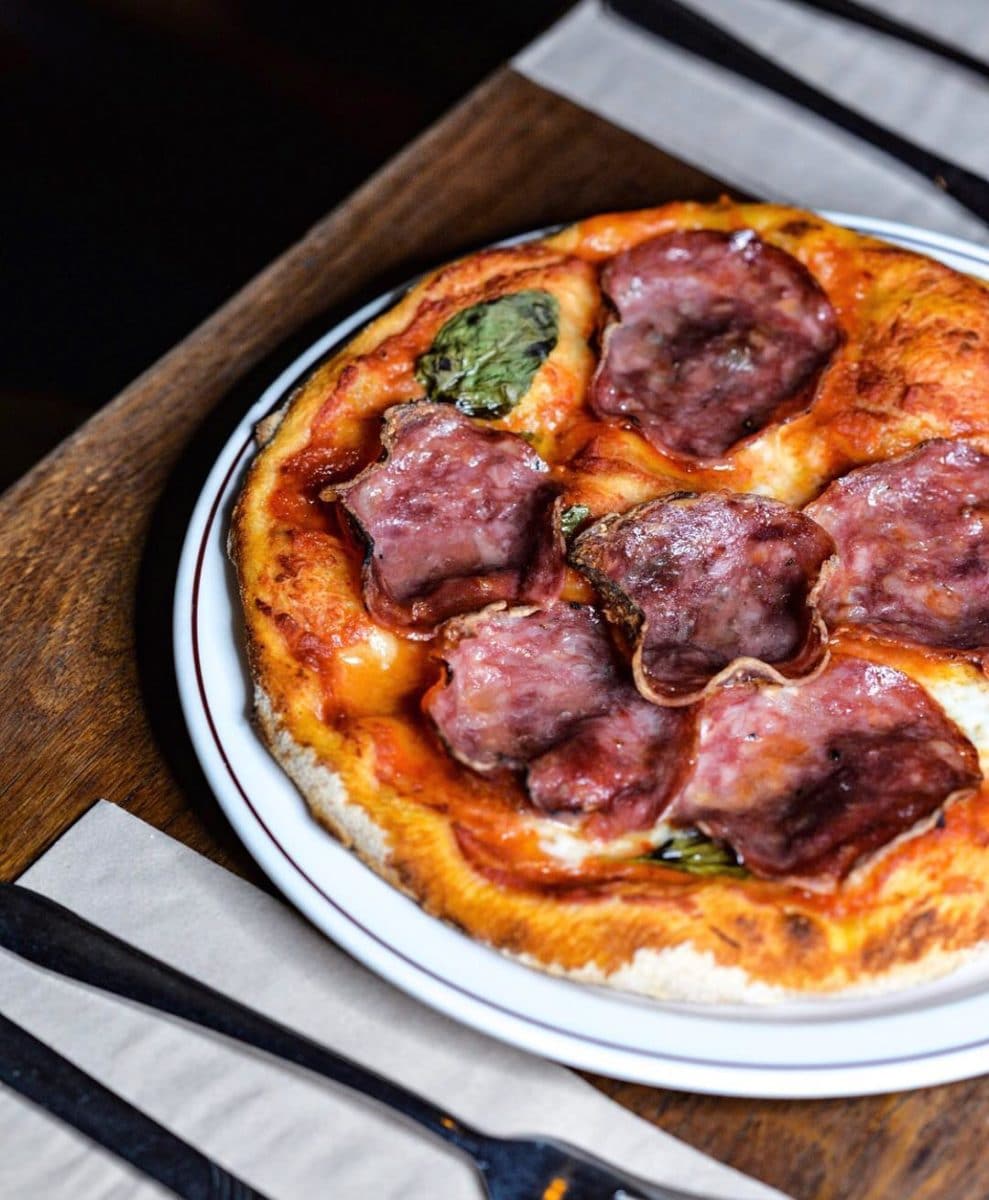 One of the most popular restaurants in Northcote, and absolutely one of the best pizza joints you'll find in Melbourne. Pizza Miene Liebe is a locally beloved institution, but it's often overlooked by outsiders looking in more productive pizza hotspots like Brunswick East, Fitzroy, Collingwood, and South Yarra.
The range here is embarrassingly wide, and can overwhelm quite easily. Stay the course. Land on whichever feels right and go for it, even if you're vegetarian or vegan you've got plenty to love here.
If a bit of spice doesn't scare you away, go for the Super Hot, with tomato, provolone, hot sopressa, prawns, garlic, and chilli. It may not be traditional Italian, and can often feel as heavy as a New York slice with too much pork, but it'll surely have you coming back to this pizza joint numerous times.
Also well worth a try is the relatively light Wise Guy, with buffalo mozzarella, anchovies, peas, sage, and prosciutto, moving away from Naples and towards something a bit more experimental and contemporary.
Address: 231 High St, Northcote
Contact: (03) 9482 7001
Opening Hours: Monday – Saturday (5pm – 10pm)
---
Pizza Farro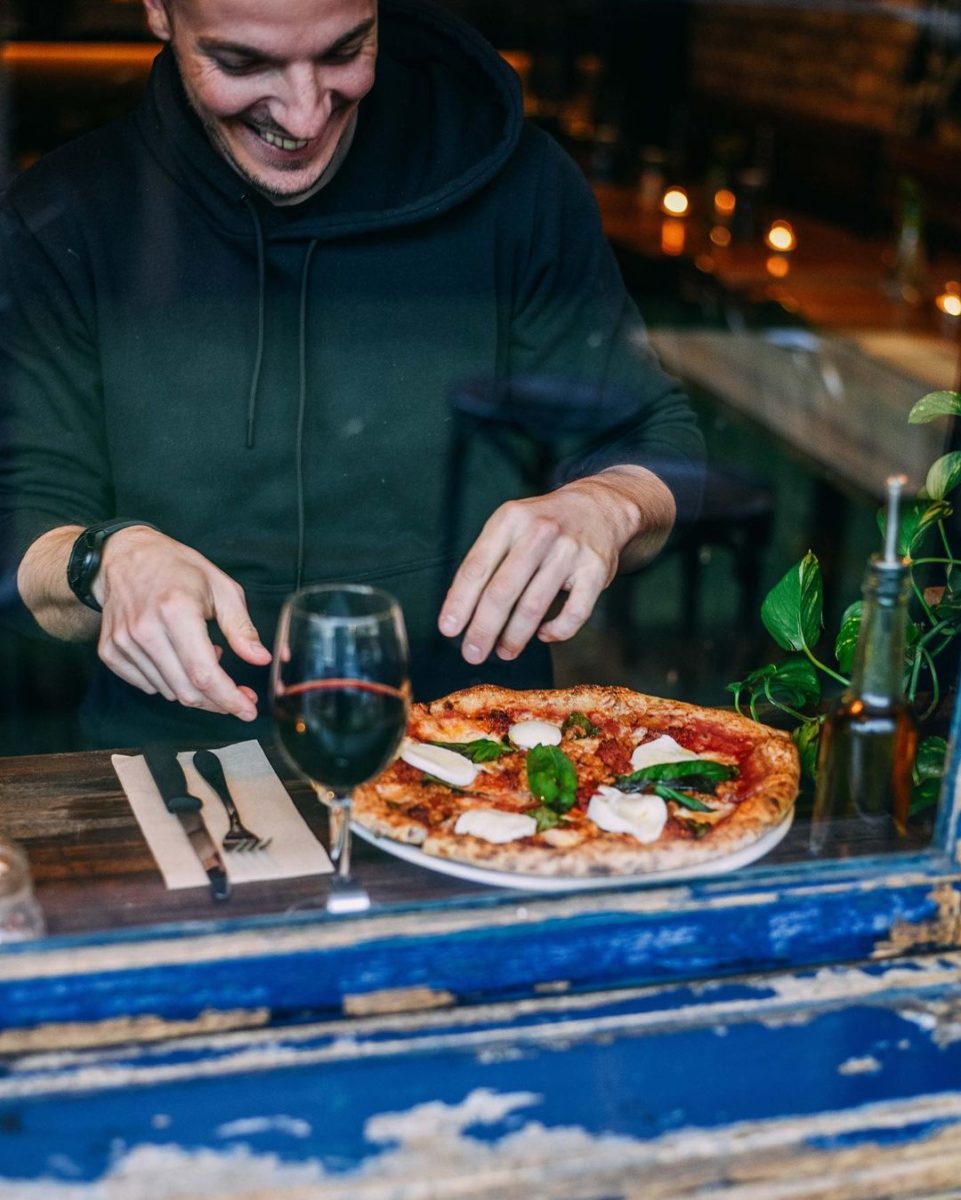 Heading over the Thornbury will bring you to some of the best pizza you can possibly find in Melbourne. Your slice sojourn will bring you to Pizza Farro, where spelt flour is used for the dough, resulting in thin bases with more protein but an equally respectable chew (they also do gluten free if you want, and have a separate vegan menu).
The fresh pizza toppings that stand out will always involve some sort of cheese at Pizza Farro, whether its the simple Bufalo, or the Gamberi Melanzane with mozzarella, prawns, eggplant, garlic, semi-dried tomatoes, chilli, and parsley.
The city's vegan crowd are regularly seen here when they want some good, reliable pizza, but then again just about everyone goes through this restaurant at least once a month.
Address: 608 High St, Thornbury
Contact: (03) 9484 2040
Opening Hours: Monday & Wednesday – Thursday (5:30pm – 9pm); Friday – Saturday (5pm – 9:30pm); Sunday (5pm – 9pm)
---
Eat'aliano by Pino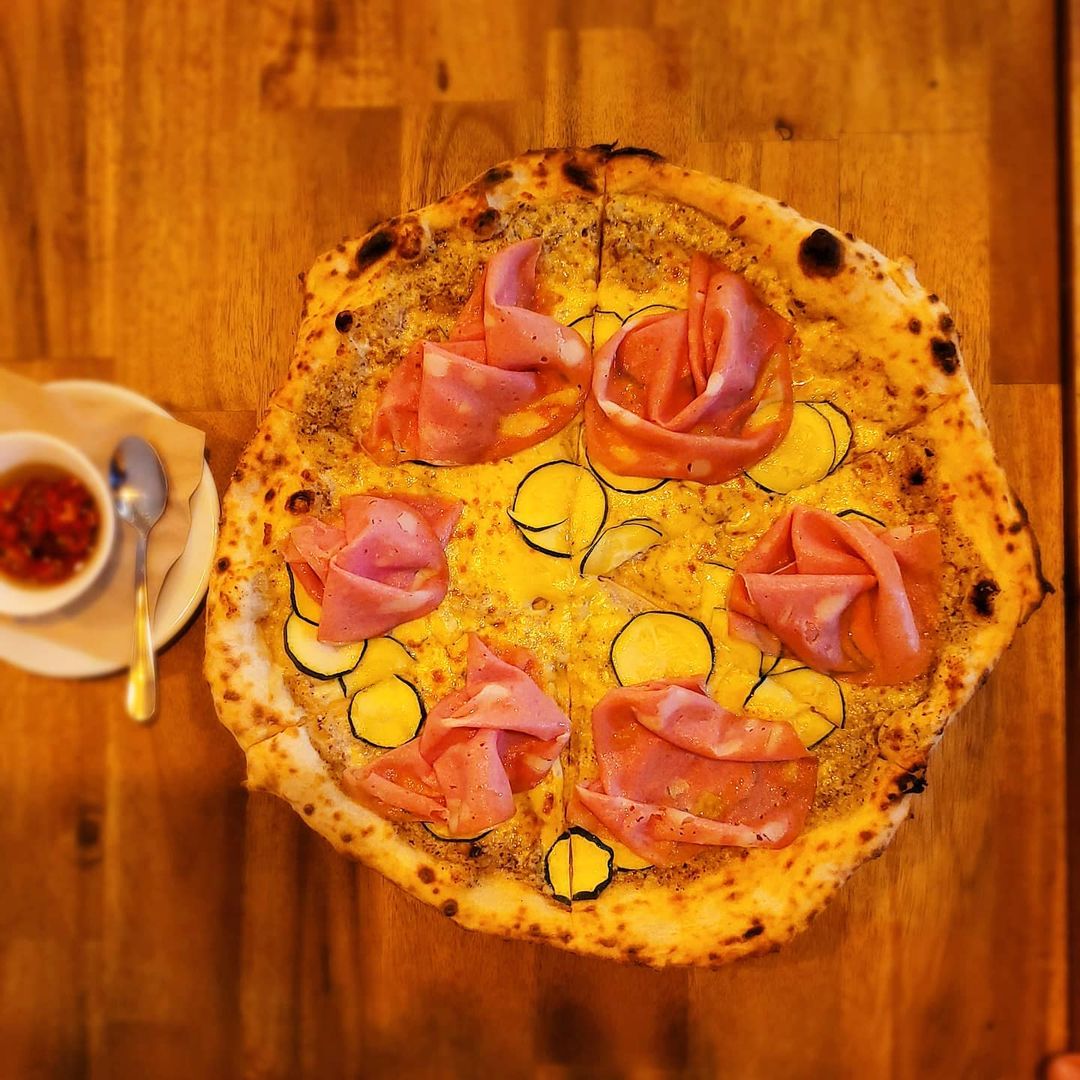 Located in Windsor, on High Street, Eat'aliano by Pino makes easily the best pizza in the area. They don't need any out-there pizza toppings here, just fresh, simple ingredients and dough that's obviously been treated with love and handled by a primo pizza oven
While simple is the way to go here, there are also quite a few unconventional bangers like the La Melbourne, with S. Marzano, cheese, leg ham, olive, artichoke, and mushroom.
Address: 120 High Street, Windsor
Contact: (03) 9510 2221
Opening Hours: Tuesday – Sunday (5:30pm – 10pm)
---
La Svolta Pizzeria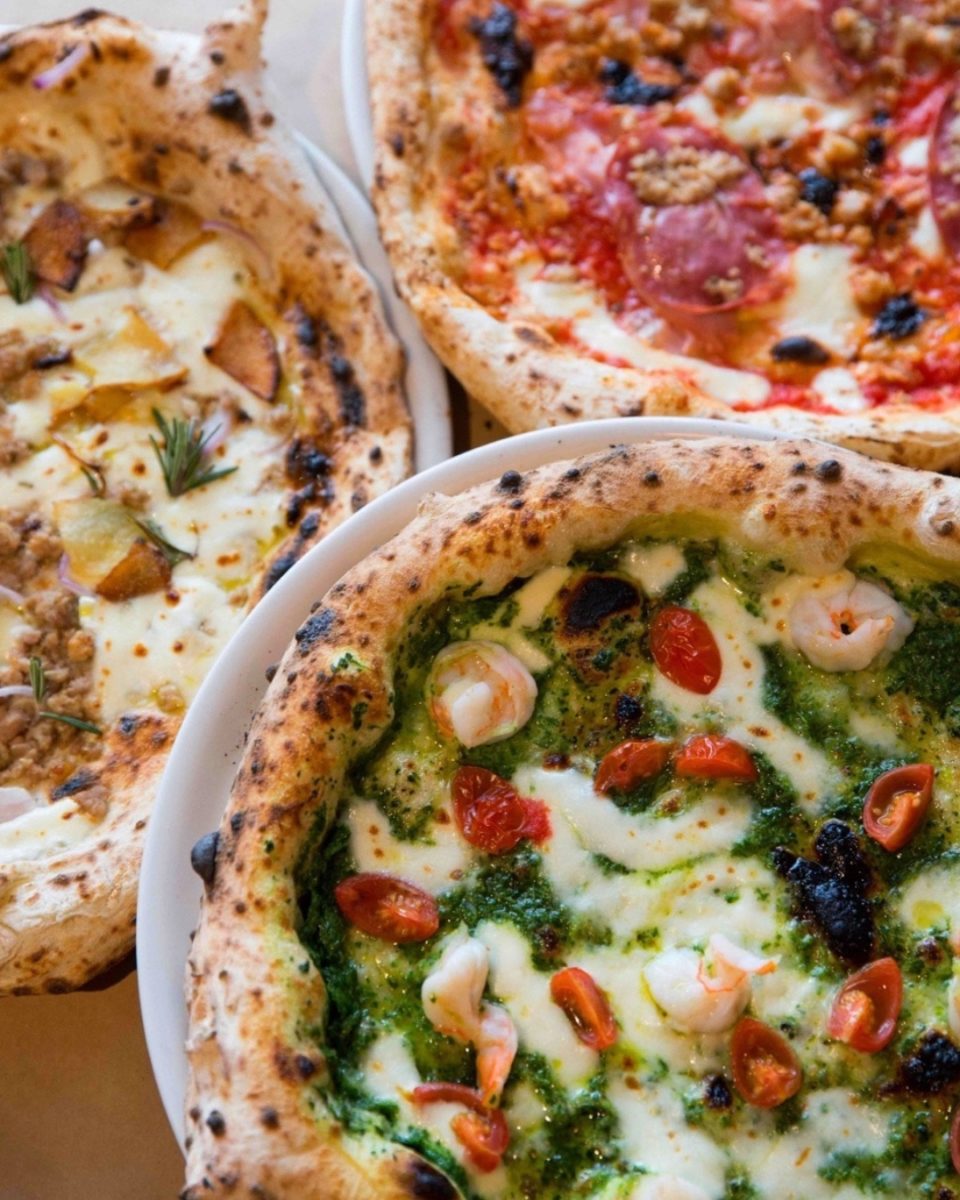 Make the trip to Hampton. There are plenty of pizzeria style restaurants on the main drag here, but you'll want to zone in on La Svolta. It's legendary, and for very good reason.
The pizza here always hit the spot, although the pasta is equally excellent on any given day of the week. As you should be doing at all Italian restaurants, start by picking through the antipasti menu with plates like Polenta Fritta, which has pecorino cheese and truffle oil to help stuff that texture with tremendous flavour.
Then it's onto the pizza. There's a list of all the classics here, and it's clear that the kitchen knows exactly how to treat the dough. But if you only choose one pizza at this restaurant, go for the Diavola, which has pizza toppings like eggplant and nduja with fresh cheese and sundried tomatoes.
Address: 450 Hampton St, Hampton
Contact: (03) 9521 8990
Opening Hours: Tuesday – Thursday (5pm – 9:30pm); Friday – Sunday (12pm – 3pm, 5pm – 9:30pm)
---
Bar Romantica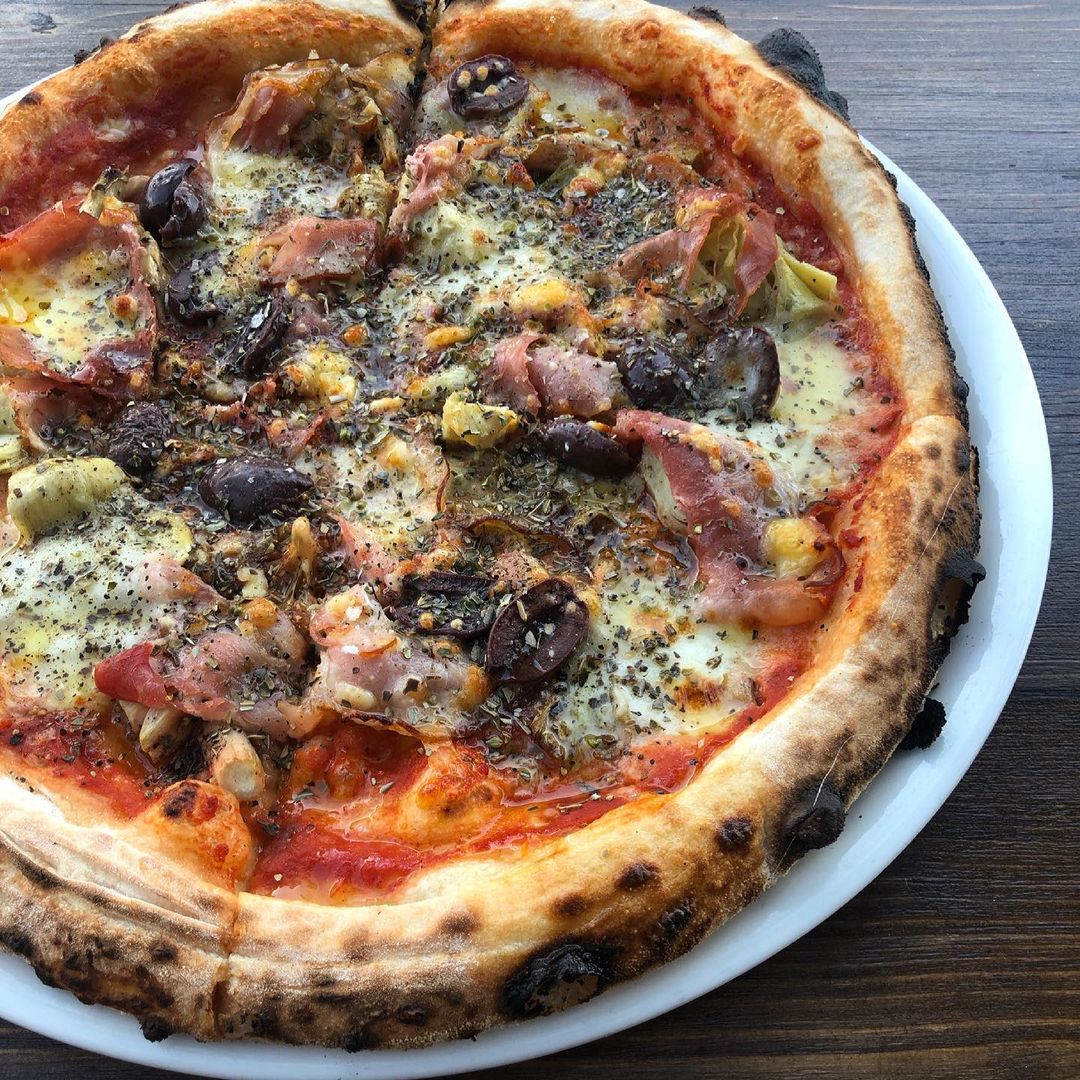 Located in Brunswick East, Romantica is a reliable scene-stealer for the area, and has most definitely thinned the crowd from the nearby OG 400 Gradi. It's easy to taste why, with pizza that takes a hardened, determined approach to offering the freshest, locally sourced ingredients and finding that sweet spot between old-school and new-school.
The signature has just passata, fior di latte, and basil – that's how simple they get here, instead trusting the perfectly textured crust to do all the work as it delivers these fresh ingredients straight to your mouth. Also great is the Jerusalem artichoke, pecorino cheese, blue cheese, and rosemary, and one with Italian sausage, passata, fior, and spiced honey.
Whatever you get, just add $4 on top and get some white anchovies. Trust. And, yep, gluten free pizzas are also available (also $4 extra).
Address: 52/54 Lygon St, Brunswick East
Contact: (03) 9191 9410
Opening Hours: Wednesday – Thursday (5pm – 11pm); Friday – Saturday (5pm – 12am); Sunday (5pm – 10pm)
---
400 Gradi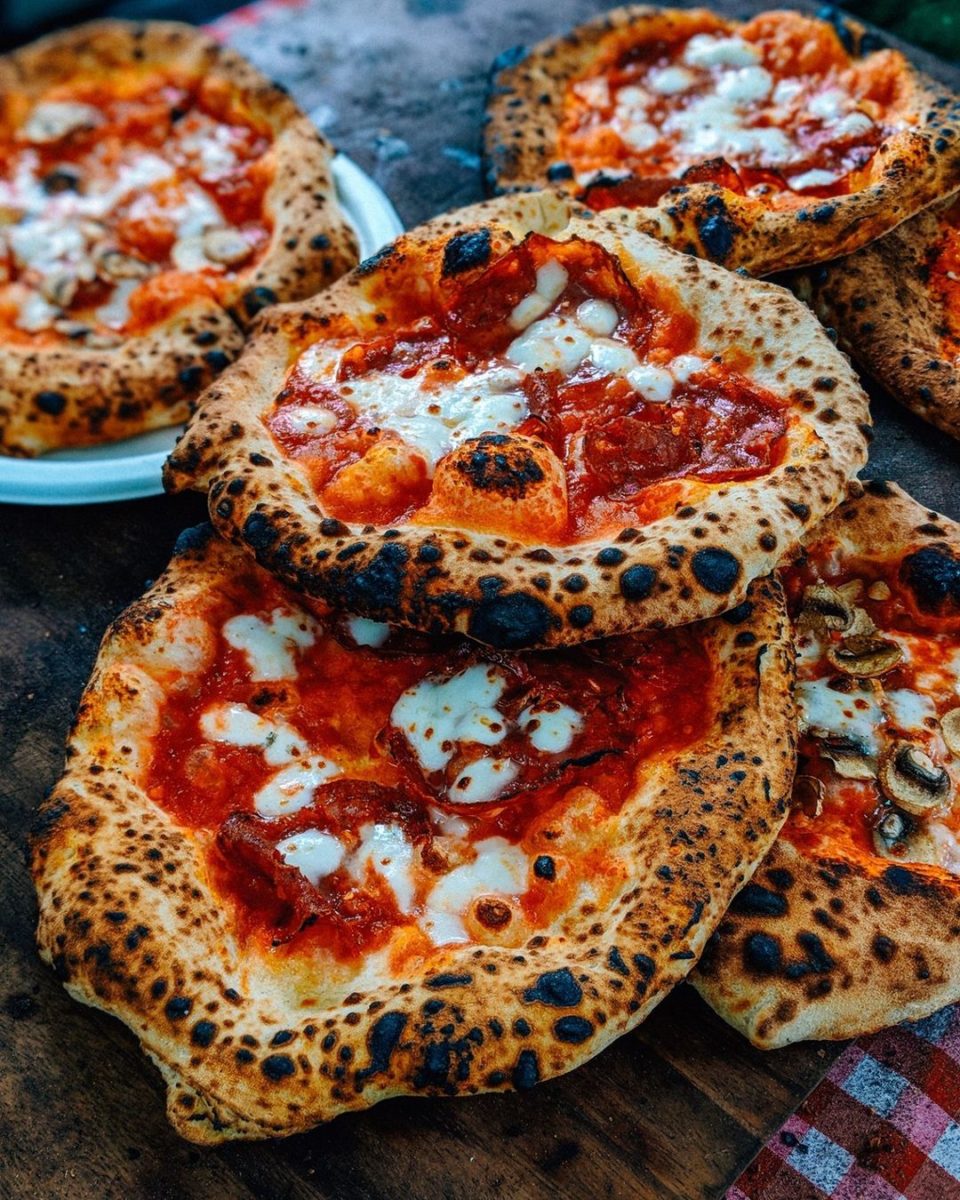 After Johnny di Francesco took out the number one spot at the 2014 Pizza World Championship in Italy, it seems like all Melbourne's wood fired fiends could talk about was 400 Gradi and its many old-school pizzeria style restaurants.
As far as authentic Italian pizza goes (ie, far), this is the place to be for when you want simply done, consistently great pizza cooked for you.
Although plenty of worthy competition has popped up since 400 Gradi shot through to become one of Australia's most talked about pizza restaurants, the Brunswick original is still seen by many as the gold-standard best (for the record, we disagree, but it's hard to argue on the kitchen's best days).
Stick with the classics here and you can't go wrong. Start with the pizza that won Francesco the aforementioned title – the signature Margherita Verace with San Marzano tomato, fior di latte, basil, and extra virgin olive oil, which will make you feel like you've just popped over to Italy.
Then mix it up on the menu with the Caserta (San Marzano tomato, fior di latte, 20 month aged prosciutto di parma, and rocket), and – personal favourite – the impeccably fresh Bufalina (San Marzano tomatoes, basil, extra virgin olive oil, buffalo mozzarella).
As you can tell, minimalism is the law here and as long as the wood fired stone oven keeps burning at 400 degrees, you're guaranteed a molto bene tempo.
Di Francesco has since put his name on many different pizza related joints, including 90 secondi in Docklands, which promises (and delivers) on quality pizza in 90 seconds – which is based on his idea that if a pizza is taking longer than 90 seconds in the oven, it won't be true Neapolitan-style pizza.
Pizza toppings include all the regulars like pork, beef, cherry tomato, and everything else you'd expect from classic pizza.
Note that they now have 5 locations, expanding to Brunswick to Norwood, Eastland, Essendon, and a restaurant in Crown Melbourne. Check out the Brunswick details below, and for their other restaurants and locations head to the website.
Address: 99 Lygon St, Brunswick East
Contact: (03) 9380 2320
Opening Hours: Monday – Sunday (12pm – 11pm)
---
Not keen on pizza, or even Italian? Think broader with the best new restaurants in Melbourne.
Best Pizza In Melbourne – Frequently Asked Questions
Where can I find Melbourne's best pizza?
Some of the places where you can find Melbourne's finest slices of pizza include Bar Romantica, Baby, and Capitano.
Where is 400 Gradi?
The original 400 Gradi is on Lygon Street in Brunswick, but you can also find outposts at Crown Melbourne, Norwood, Essendon, and Eastland.
What's the best pizza in Melbourne CBD?
You can never go wrong with SPQR when looking for good pizza in the heart of the city.