We've already told you where to find the most primo slices in our guide to the best pizzas in Melbourne, but now it's time to turn attention towards the harbour city. The Victorian capital may pride itself on a rich, diverse, and wide-reaching Italian heritage, but there are solid arguments for Sydney having the best pizza in the entire country – for some, it's no debate at all. From staunch traditionalists like Via Napoli and Da Mario to modern risk-takers like Pizza Madre, Westwood Pizza, and the new Ria Pizzeria, there are numerous options to play around with when you're searching for the best pizza in Sydney.
Whether they are using strong ground flour or the standard Tipo.oo, experimenting with different fermentation periods or sticking to the regular 48-72 hours, playing with gourmet toppings or keeping it simple, these are the best pizza joints Sydney has to offer in 2021.
RELATED: The 18 Best Italian Restaurants Sydney Has To Offer
---
---
Where To Find The Best Pizza In Sydney
---
Pizza Madre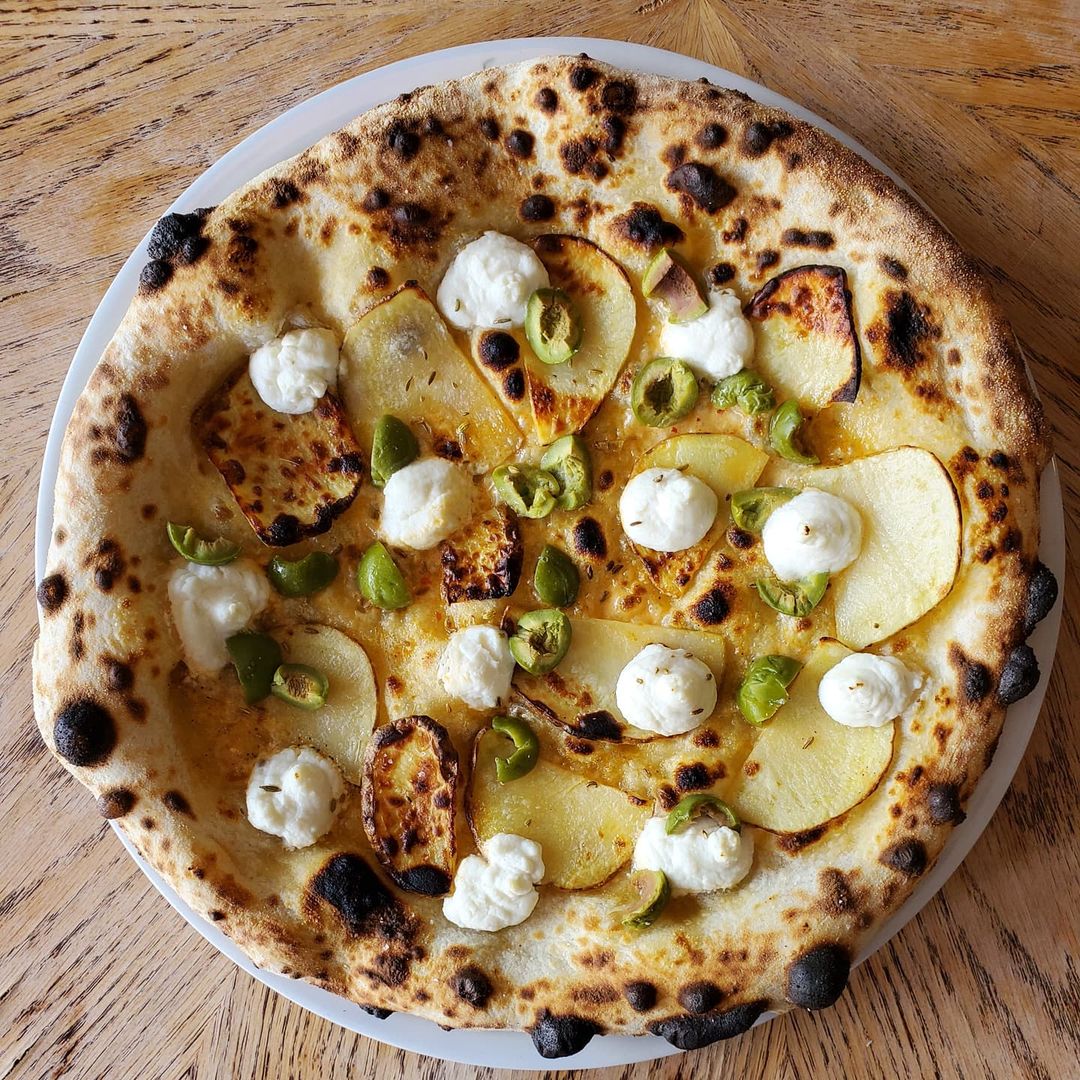 A pizza joint with not even one piece of meat in sight wouldn't nearly have been as trendy 10 years ago as Marrickville's Pizza Madre is today. While you may not be able to grab a slice of meat lovers here, the seasonal menu is a constant lure for pizza lovers all over Sydney, cramming into this Victoria Road restaurant to get a hit of toppings like the cabbage, pumpkin, and roasted pepitas pizza with fior di latte cheese and goat's curd. Those wood fired sourdough bases have seen plenty of inventive blends, all freshly prepared with a strong lean towards top-shelf artisanal ingredients.
The commitment to quality is obvious here, offering some of the best pizza in Sydney while demonstrating that you don't necessarily have to be sticking close to the Neopolitan pizza rule book, laid out by the overarching Associazione Verace Pizza Napoletana (AVPN) body in Naples, to achieve pizza perfection.
Just keep it simple with something like the smoked mozzarella pizza with tomato sauce, cheese, fresh basil, and fresh oregano and you'll be glad pizza-making traditions aren't as strictly adhered to as they used to be.
Each month there are around 6 or 7 pizzas available on the rotating menu, all dictated by the availability of local produce. If it ain't fresh, it ain't used. And there's something about the consistency in those light, vibrant toppings that easily place Pizza Madre at the top of this list of the best pizza in Sydney.
Address: 2/205 Victoria Road, Marrickville NSW 2204
Contact: 0417 849 419
Opening Hours: Saturday – Thursday (4:30pm – 9pm); Friday (4:30pm – 9pm)
---
Westwood Pizza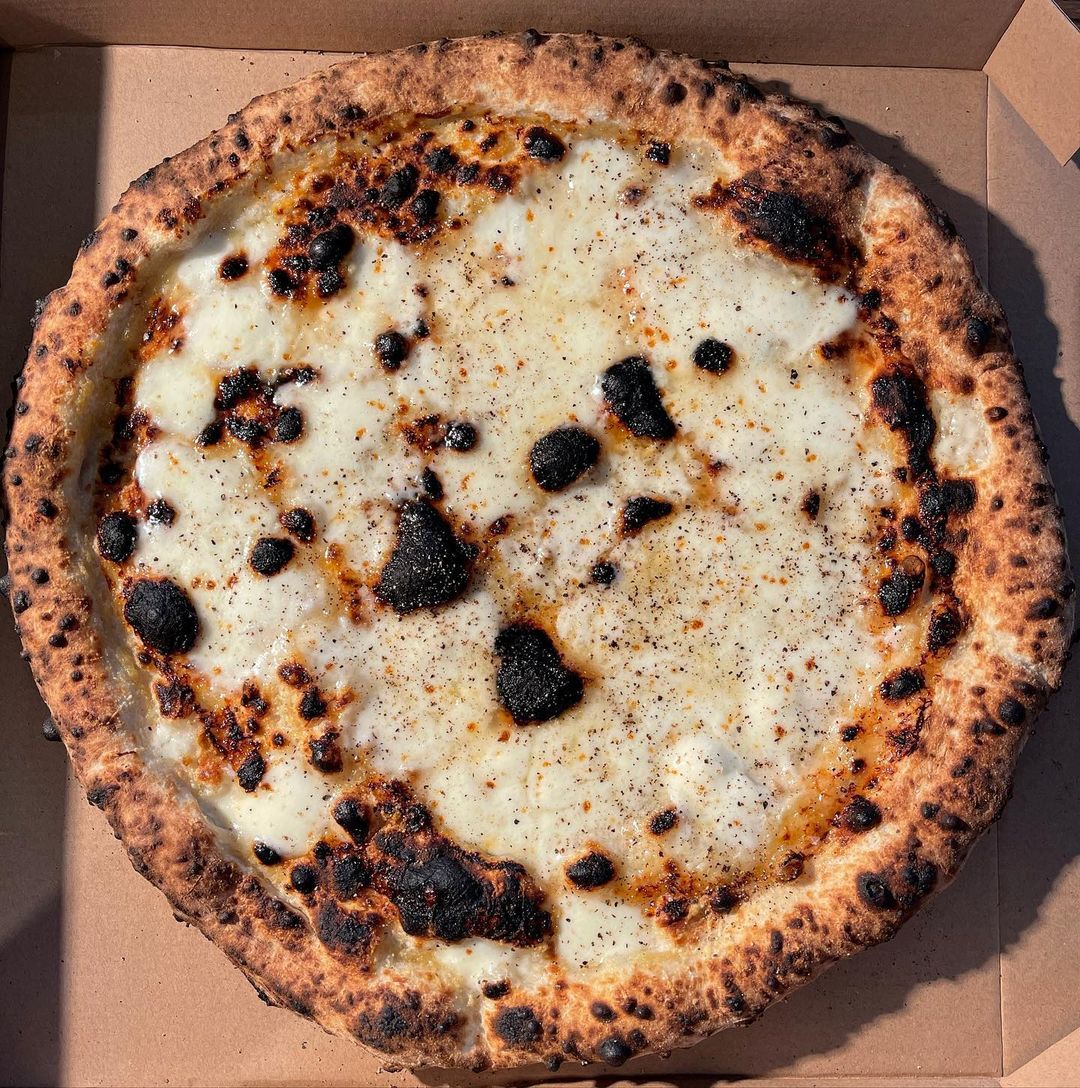 Every Sydneysider has a favourite pizza spot they swear by, but in 2022 loyalty has certainly been tested by Newtown's relatively new Westwood Pizza. During lockdown, the Australia Street venue has been teeming with people trying desperately to get their hands on the kitchen's intentionally non-traditional creations, particularly the fermented-garlic honey pizza, which has seen such a meteoric rise in popularity that it's now mentioned in the same breathe Sydney essentials like The Apollo's saganaki and Totti's pillowy wood fired bread.
Hell, this syrupy, chewy, floppy, blistered, and messy pizza may have ever surpassed any slice you could possibly find at stalwarts like Lucio's and Via Napoli, almost the point where getting your hands on one of the other 150 pizzas that massive wood fired oven pumps out per night feels like too much of a compromise.
---
---
Although the wild mushrooms option with black garlic and taleggio, and the Salamanca with Spanish salami are respectable alternatives. There's no half and half here; make a commitment and dive in.
It's Tokyo-level popularity over here. And Sydney's never really seen anything like it before. A pizza restaurant so ridiculously in demand that getting your hands on a slice is as arduous a task as trying to hold onto your dignity when your mates invite you out for a gimmicky metre long pizza at Criniti's. As mentioned above, they only make 150 pizzas a night, so getting your mouth across those toppings requires a great deal of pre-planning. Worth it? Si.
Address: 245 Australia Street, Newtown NSW
Contact: 0466 181 266
Opening Hours: Wednesday – Monday (5pm-10pm)
RELATED: The 10 Best Pizza Ovens In Australia For A Backyard Slice
---
Da Mario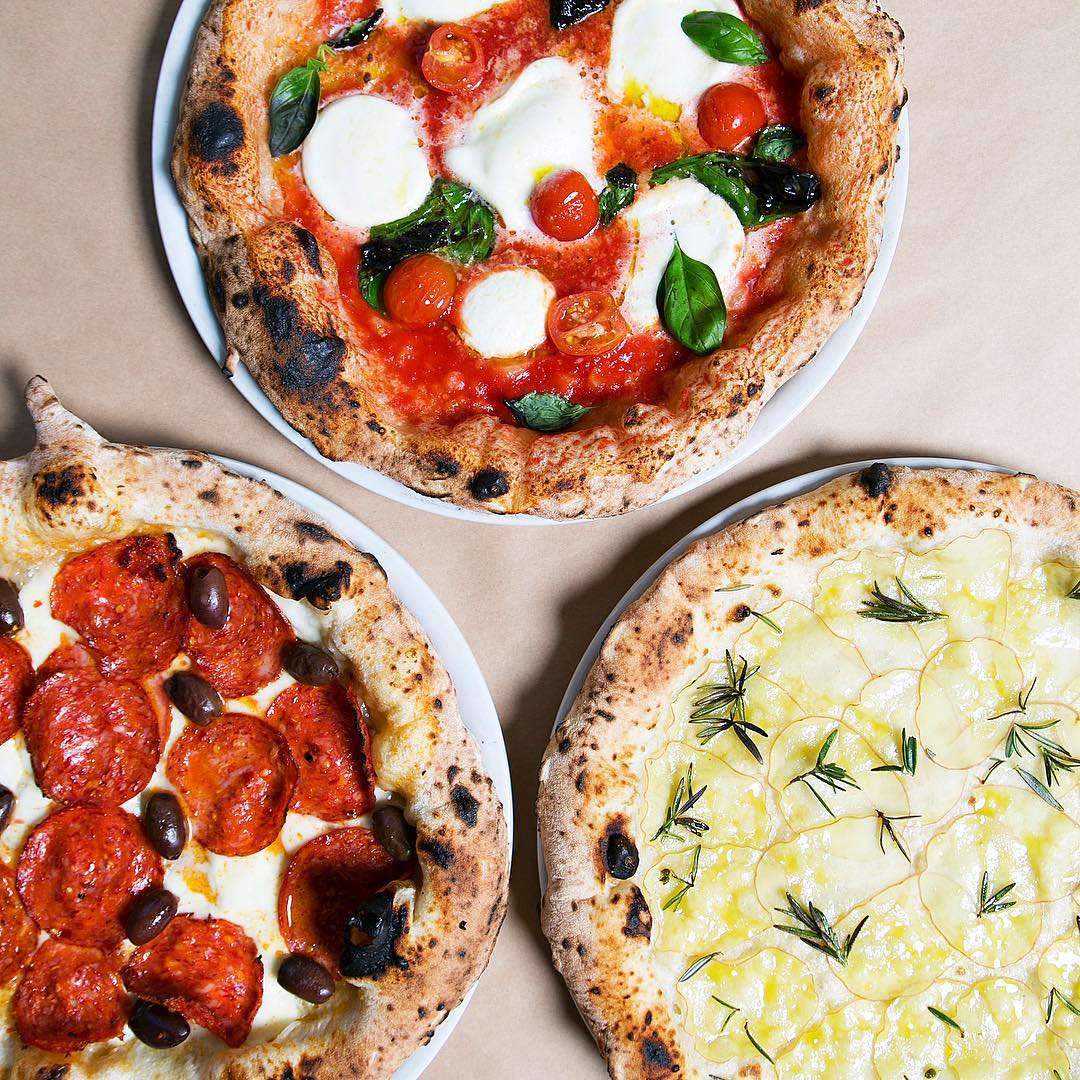 The ATO may have robbed us of Surry Hills legend Pizza Mario but Pizzaiolo David Cowdrill wasted little time opening a spin-off in Rosebery. That would be Da Mario, which is now considered one of the top pizzerias in Sydney for anyone craving some strictly traditional pizza like the thin charred masterpiece that is the signature Salamino, with melted mozzarella, crispy salami, and generous dollops of ricotta. The cheese and sausage pizza is an icon.
All the pizza toppings at Da Mario are typical, but the commitment to using only quality produce makes a big difference, so even if you aren't going for the salami standard, it's almost impossible to walk away from Da Mario feeling disappointed. A personal favourite has always been the gorgonzola con radicchio, a perfect option if you aren't in the mood for Neapolitan pizza. While some of Sydney's other best pizza restaurants get by on their smaller, boutique curation of pizzas, the beauty with Da Mario is that you have the luxury of choice with around 22 options across rosse, bianche, and calzones.
Address: Shop 1/36 Morley Ave, Rosebery NSW
Contact: (02) 9669 2242
Opening Hours: Friday – Sunday (5pm – 8:30pm)
RELATED: The Best New Restaurants In Sydney
---
---
---
Matteo Double Bay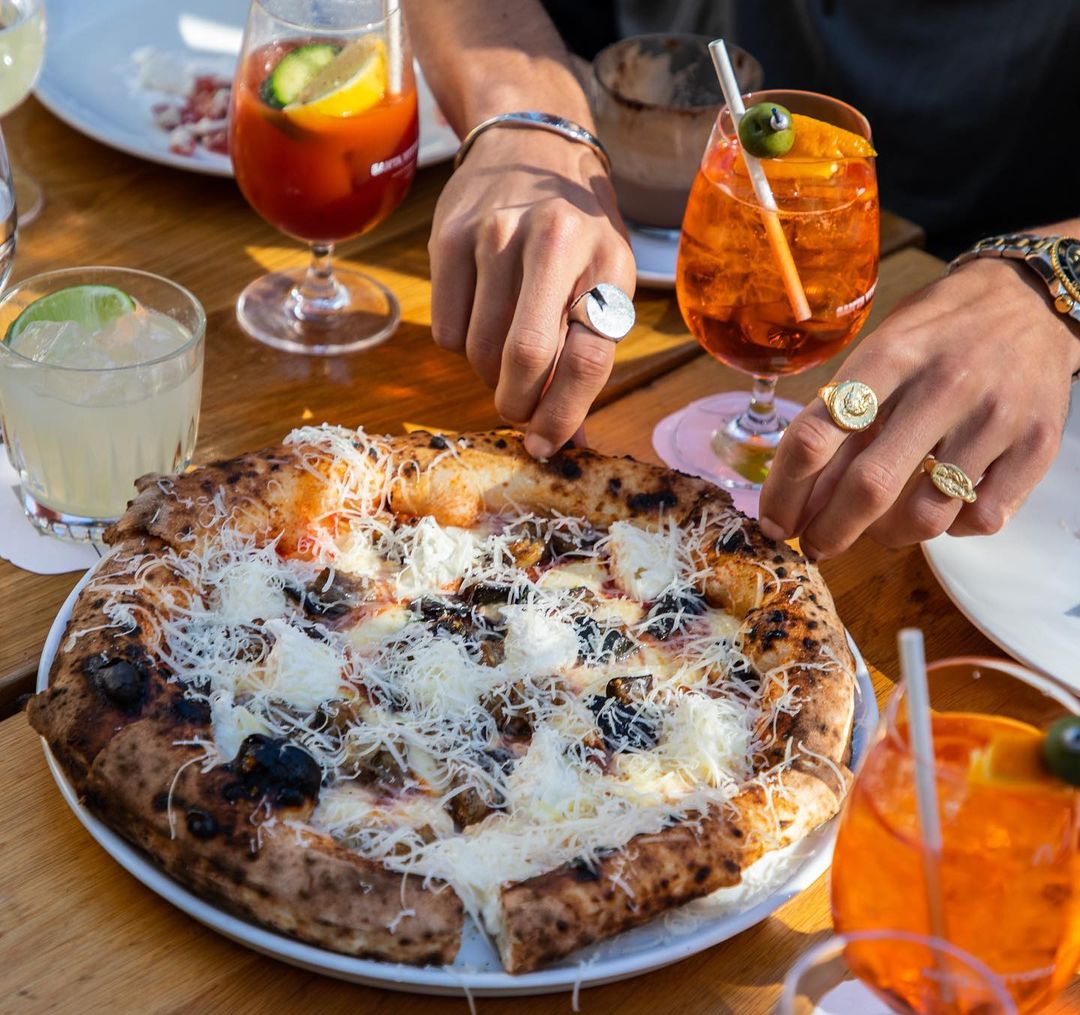 I'm sure many Bondi locals were distraught when Chef Orazio D'Elia announced he was leaving his trademark Da Orazio Pizza + Porchetta, which he built into an Italian powerhouse with Maurice Terzini, in 2017. While that venue has since morphed into CicciaBella, Orazio's work has only gotten stronger with the opening of Matteo in Double Bay, and its spin-off, Matteo Downtown in Sydney CBD.
Both restaurants are smart, casual sojourns to Italy, atmosphere carefully designed to complement the vibrant, fresh flavours that comprise each table spread. Fluffy buffalo mozzarella, spicy sausage, perfectly textured octopus – rotate all those small plates around the table and anchor that freshness with great pizza options like the smoked mozzarella with crispy potatoes, local speck, and rosemary.
While the city's Matteo Downtown used to have more pizza on the menu, the CBD spin-off is now mainly favoured for its newly introduced mozzarella bar and Italian pies. If you want no-fuss, traditional-style pizza, the Double Bay original is your go-to, and while it may not blow your top with uniqueness like Westwood Pizza, it's one of the most reliable options when you're looking for the best pizza shops in Sydney.
Address: 29 Bay Street, Double Bay NSW 2028
Contact: (02) 9327 8015
Opening Hours: Monday – Thursday (5pm – 12am); Friday (4pm – 12am); Saturday – Sunday (12pm – 12am)
---
Bella Brutta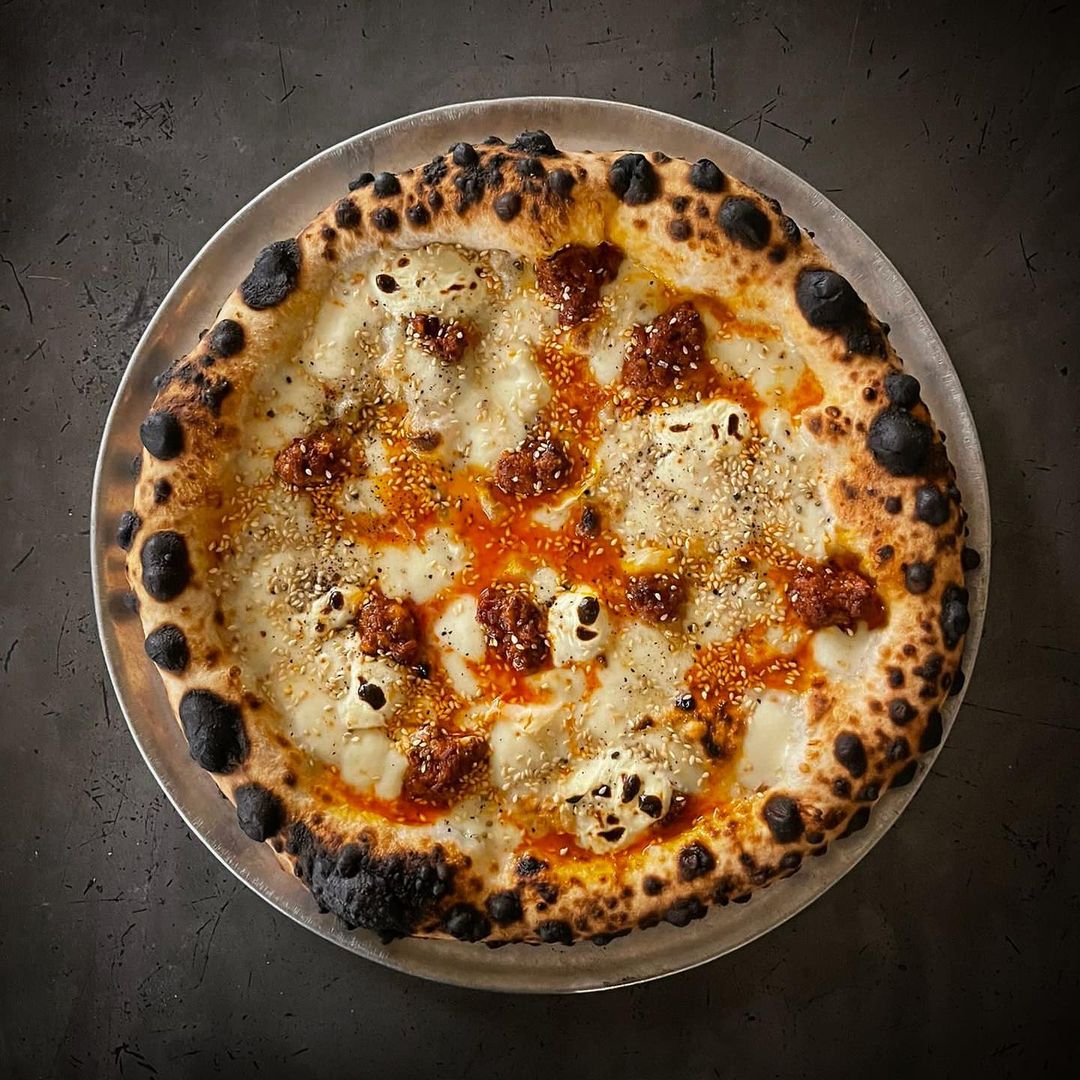 Bella Brutta is still considered fairly new on Newtown's King Street, having opened in 2018 as a collaboration between LP Quality Meats' chef Luke Powell and Porteno's infallible Elvis Abrahanowicz and Joseph Valore. While former staff have definitely stolen some buzz with neighbouring Westwood Pizza, Bella still has enough charm to healthily compete and help restore Newtown as one of the best playgrounds for pizza lovers in Sydney.
The narrow, grungy space inside is archetypal Newtown, and the pizza is similarly adapted to the local scene. Powell nods heavily to Italy without actually paying homage to it, taking those gorgeously puffed traditional crusts and instead of taking much more of a gourmet approach. You'll find interesting toppings here, but the favourite has always been – and will always be – the marinara with pomodero, garlic, oregano, and optional anchovies.
Address: 135 King Street, Newtown NSW 2042
Contact: (02) 9922 5941
Opening Hours: Monday – Friday (4pm – 9pm); Saturday – Sunday (12pm – 9pm)
---
Via Napoli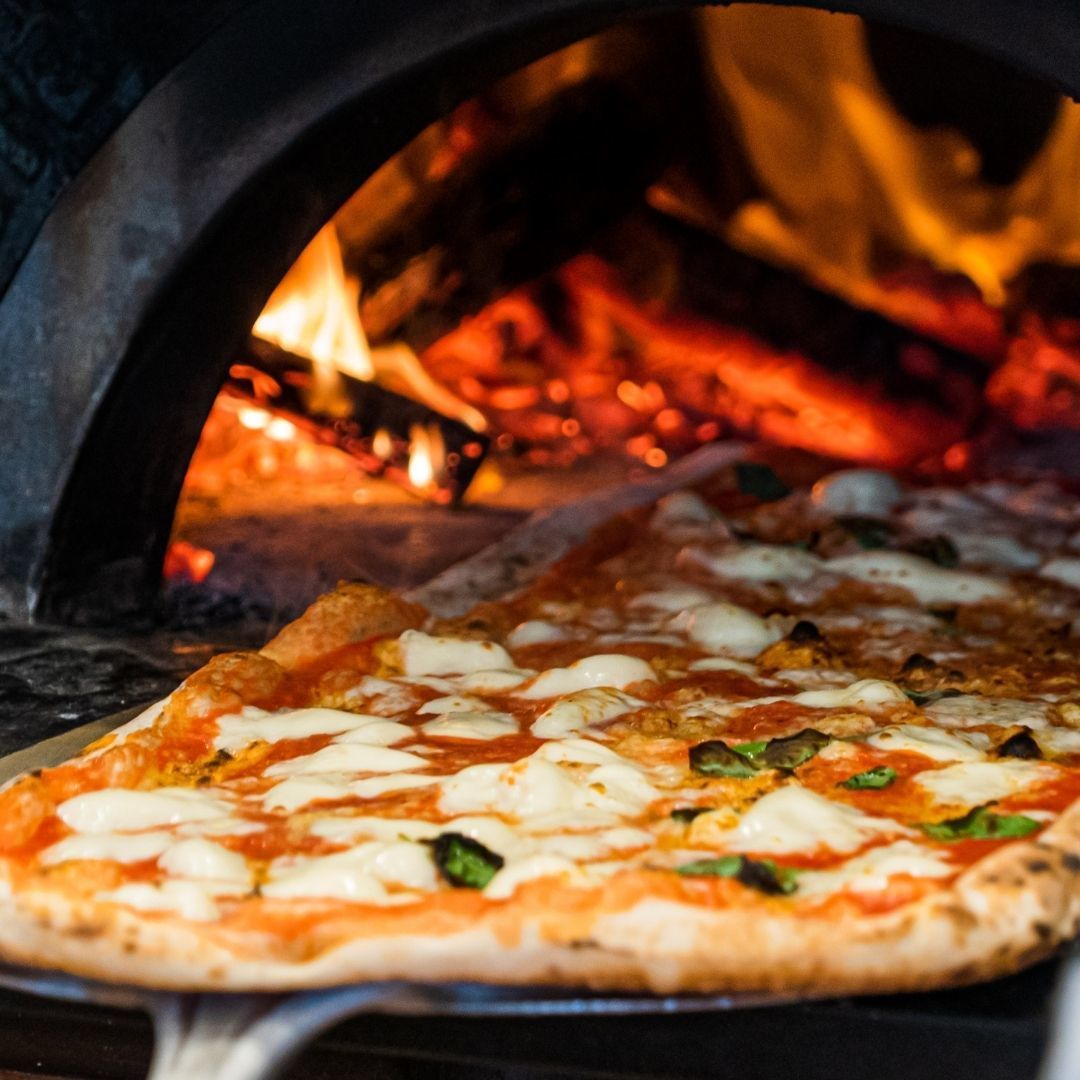 Lane Cove would be a fairly boring suburb if it wasn't for Via Napoli, and if the legendary pizzeria didn't exist there would be very little reason to ever have to stroll through the Lower North Shore suburb. It's simply one of the best pizza restaurants that side of the bridge (although not the best), built on family recipes and plenty of Naples nostalgia.
---
---
It's clearly all about tradition here, and even though Sydney's pizza du jour is very much modern and decidedly non-traditional right now, there's very little that can beat the familiar comfort of a Naples style pizza blistered to perfection and getting by on the beauty of simplicity. Besides, if you're feeling particularly adventurous you can always do as all the regulars do anyway and order up some of that famously indulgent deep fried folded pizza flecked with mozzarella, cacciatore, pepper, and buffalo ricotta.
The newer Hunters Hill and Surry Hills locations are often just as good, but some have cited a consistency issue that simply doesn't exist at the Lane Cove original.
Address: 141 Longueville Rpad, Lane Cove NSW 2066 (also in Hunters Hill and Surry Hills)
Contact: (02) 9428 3724
Opening Hours: Tuesday (5pm – 10pm); Wednesday – Sunday (12pm – 10pm)
RELATED: 14 Best French Restaurants Sydney Can't Get Enough Of
---
The Dolphin Hotel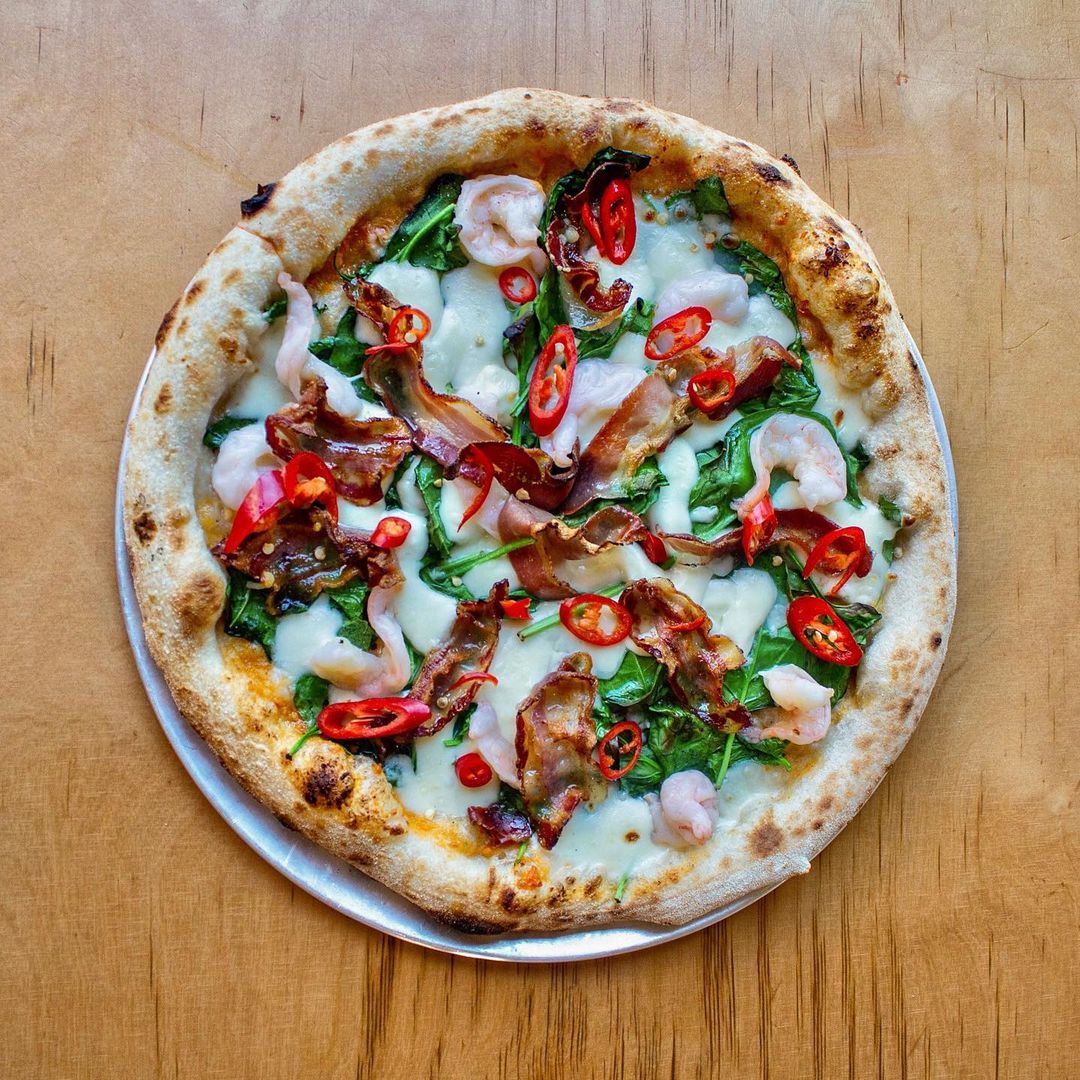 The wood fired pizza oven gets a workout at The Dolphin Hotel, now firmly established as one of Crown Street's crowning glories when it comes to a solid night out with the boys. Spread across the Wine Room, Dining Room, and Public Bar, the mega venue is still holding strong following the 2020 departure of Maurice Terzini and Monty Koludrovic, pumping out plenty of antipasti favourites and top-shelf wines alongside those effective, simple traditional pizza based on the regional Italian pizzas of the country's northern cities expressed through 100% Australian ingredients.
Anything with just 3 or 4 ingredients is going to be the best way to go at The Dolphin Hotel, with fast-favourites including the Margherita with heirloom cherry tomato, garlic, basil, and mozzarella, and Cacio E Pepe with parmesan, black pepper, and truffle. Most just prefer the straight-laced pepperoni pizza with a nice glass of chardy.
You'll find all those wood fired pizzas in the Public Bar, but skip the craft beers for some wine – the three-level venue has one of the better wine lists in the area.
Address: 412 Crown Street, Surry Hills NSW 2010
Contact: (02) 9331 4800
Opening Hours: Monday – Saturday (11:30am – 12am); Sunday (12pm – 10pm)
---
---
---
Dimitri's Pizzeria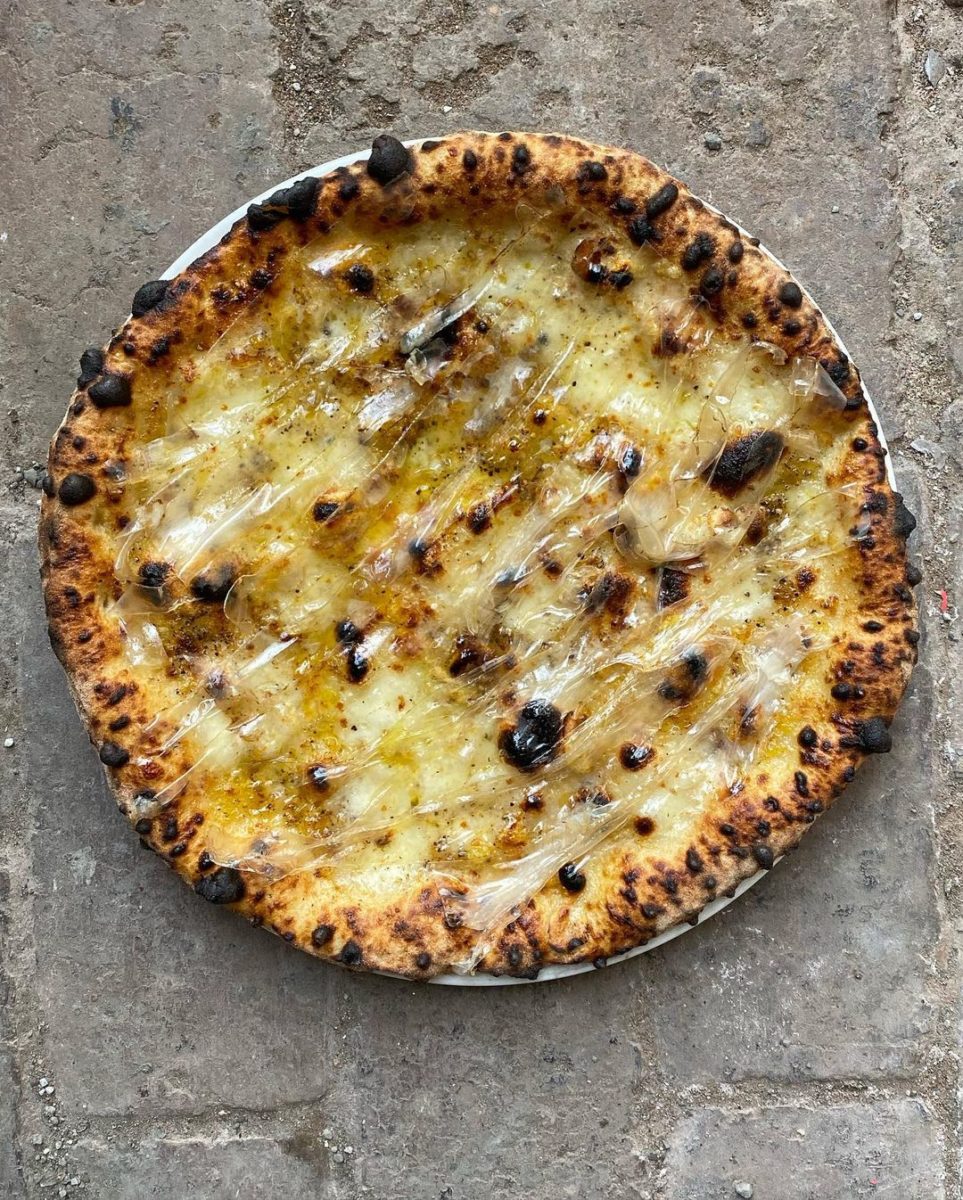 Dimitri's Pizzeria can often fly under the radar in debates over Sydney's best pizza, but there's no mistaking its underdog status once you roll out of this modest Oxford Street joint stuffed with springy dough and quality Australian ingredients.
Coming from owners Ken Williams and Drew Huston, Dimitri's kitchen uses organic stone-ground flour for the pizza dough, worked up into chewy little surfaces for the sometimes traditional, mostly experimental mix of rich toppings that have the kind of just-picked freshness you'd want from a pizza restaurant that actually cares about each and every pie that pops out of that Italian-made wood fired oven. If you want a reliable night out with good pizza and natural wine, this is your joint.
Address: 215 Oxford Street, Darlinghurst NSW 2010
Contact: (02) 8068 4247
Opening Hours: Thursday – Saturday (5pm – 9pm)
---
Mix Pizza Bar
You probably haven't heard of Mix Pizza Bar unless you've happened upon it while driving through Kirrawee. It's a local superstar, but many outside of the area have rarely heard of this humble pizza shop. On social media, they've got less than 400 subscribers on Facebook, a bunch of 4 or 5 star Google reviews, and a now-defunct Instagram page. There's almost no online presence, and maybe that's a good thing. It's the kind of local secret anyone would in the area would fight fiercely to protect (sorry, guys).
Despite the relative obscurity, it's hard to deny Mix Pizza Bar its status as the single most underrated pizza joint in Sydney once you actually get across the kitchen's penchant for 13-inch and 15-inch perfection. Skewing tradition, a lot of the most popular orders here are absolutely stacked with toppings, but the perfectly chewy base holds it all together nicely. Get the signature if you're especially hungry: tomato sauce, onion, mushrooms, artichokes, eggplant, anchovies, olives, mozzarella, oregano, parmesan, garlic, and parsley.
Address: Shop 2/157 Oak Road, Kirrawee NSW 2232
Opening Hours: Tuesday – Thursday (4:30pm – 9pm); Friday – Saturday (11am – 10pm); Sunday (11pm – 9pm)
---
Verace Pizzeria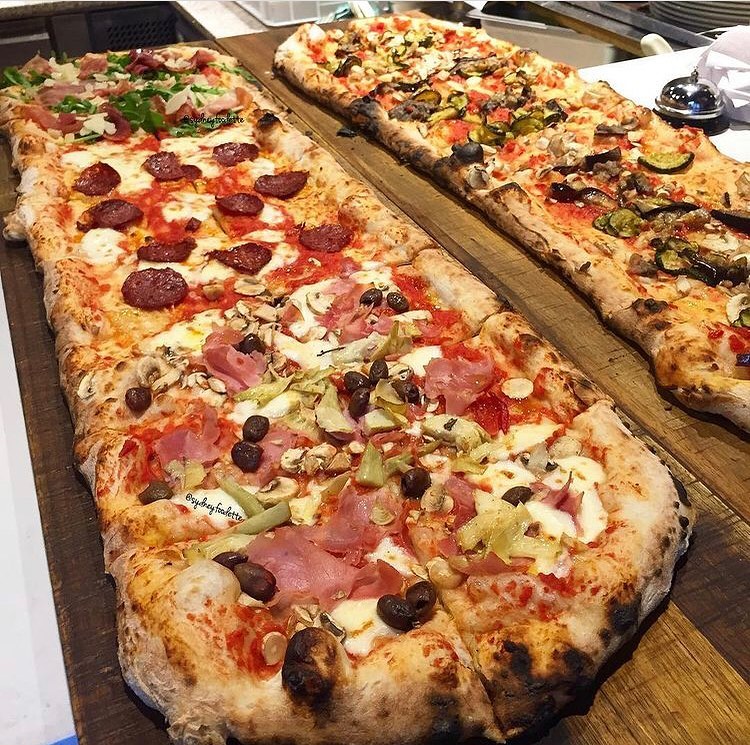 A favourite in Macquarie Park and North Ryde, Verace Pizzeria is where you actually want to go if you and your mates want to demolish a one metre pizza and not feel like you've been suckered into a gimmick. Not Criniti's. Verace Pizzeria – an absolute showstopper for Sydney's pizza-loving scene, and a strict adherer to the traditions laid out by the Associazione verace pizza Napoletana in Naples.
Just a 13-minute drive from Via Napoli, this kitchen is another strong addition to that side of Sydney and reiterates that simplicity is best when it comes to pizza. The standard Margherita comes with just San Marzano tomato sauce, cheese, basil, and extra virgin olive oil; standard, but guaranteed satisfaction.
---
---
Address: 7 Khartoum Road, Macquarie Park NSW 2113
Contact: (02) 9888 2929
Opening Hours: Monday – Wednesday (5pm – 9pm); Thursday – Sunday (11:30am – 2:30pm, 5pm – 9pm)
---
Vacanza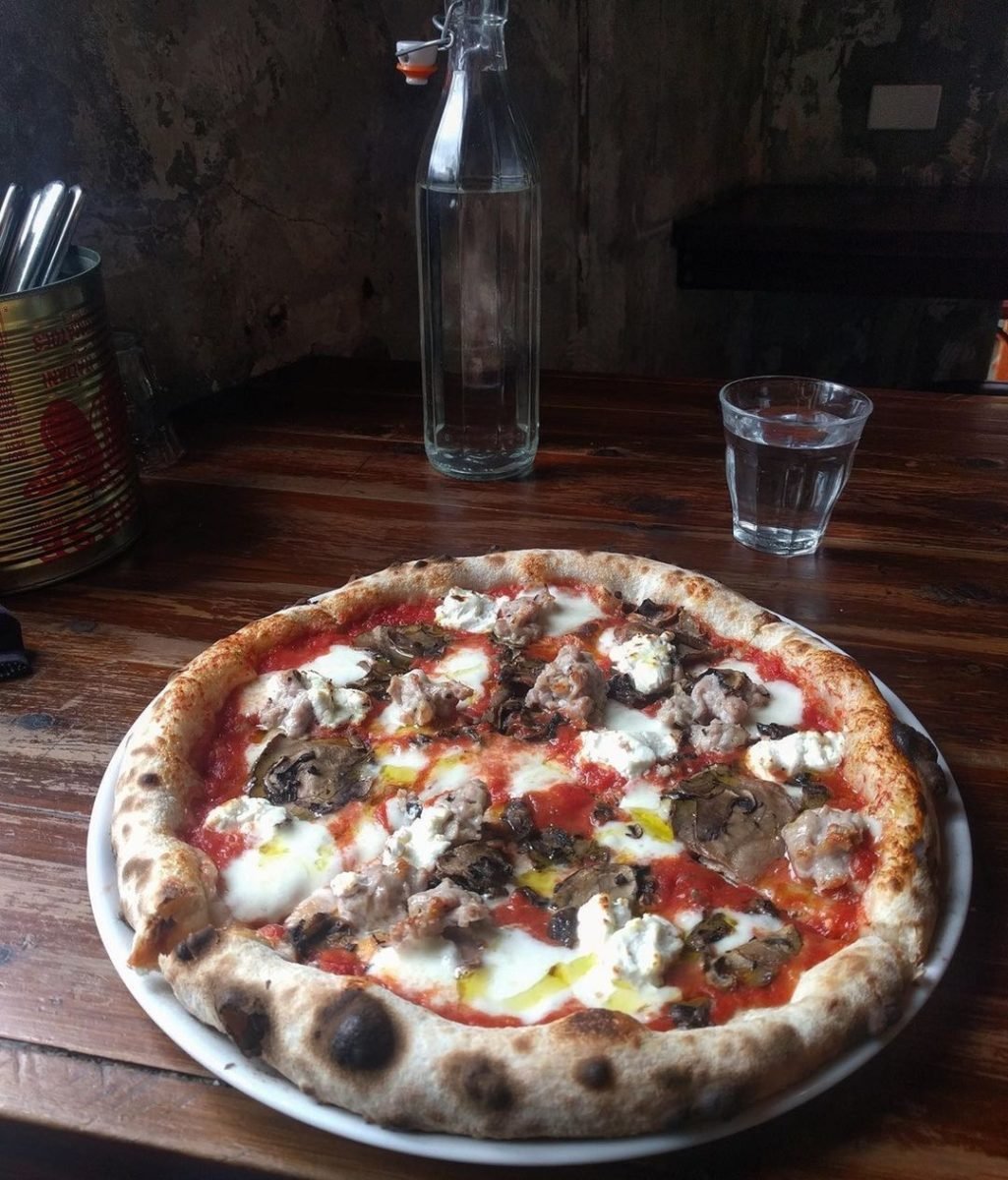 Bronte's favourite pizza parlour, with a second smaller location in Surry Hills, is an easy choice when looking for the best pizza in Sydney. While the inner-city location has the same kitchen, it's better to go beachside if you want more space, the option of a private dining room, and a more comprehensive mozzarella bar on the side of all that authentic pizza.
Any of the 14 pizza options are going to go down well here. Vacanza is built on the idea that less is more, so the first picks should be anything with the least ingredients, like the Da Franco, a toasty number with San Marzano tomatoes, triple smoked ham, and fresh burrata.
Address: 261 Bronte Road, Waverley NSW 2024
Contact: (02) 9090 2089
Opening Hours: Wednesday – Thursday (5pm – 8:30pm); Friday – Saturday (5pm – 9pm); Sunday (5pm – 8:30pm)
---
Postcard From Napoli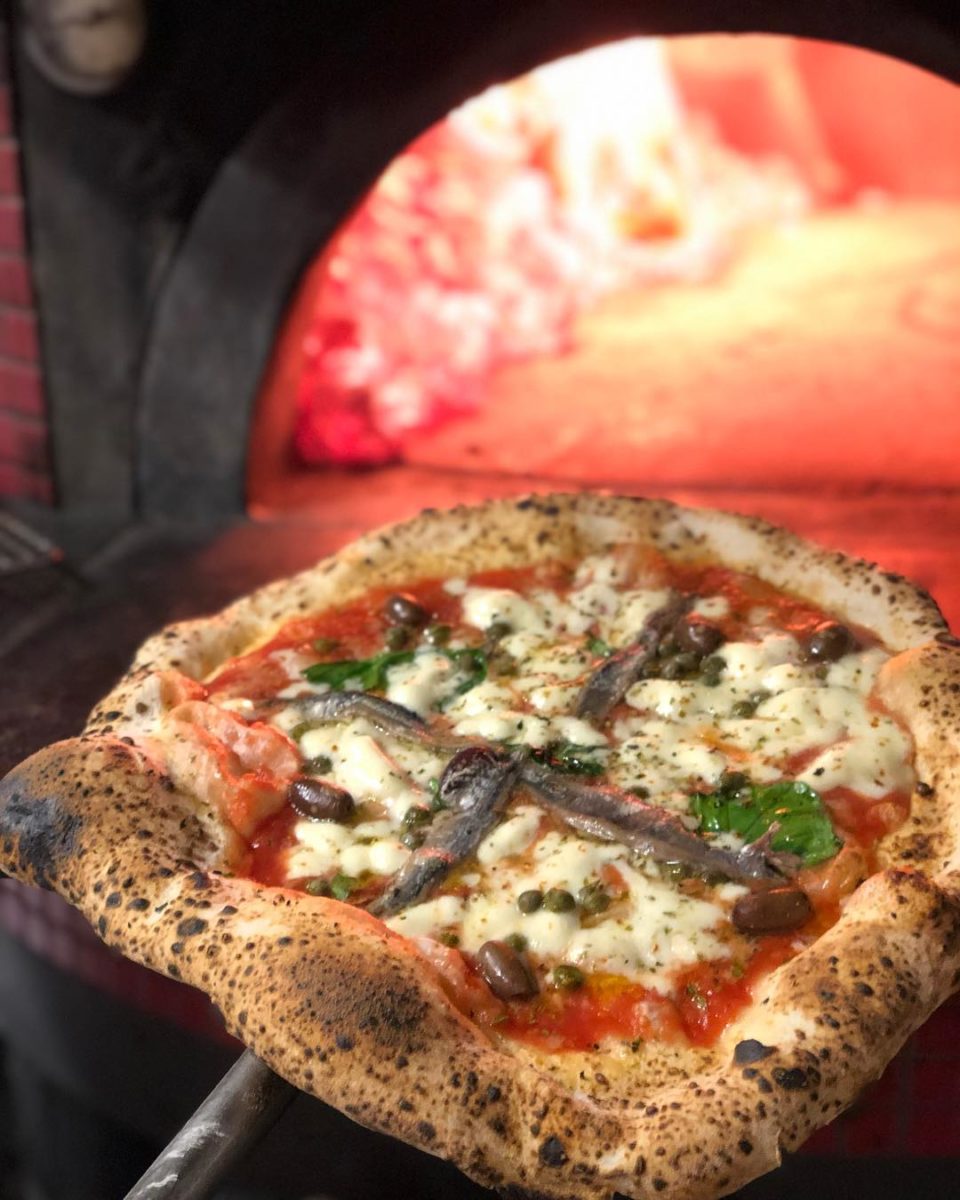 This South Sydney pizzeria was flying under the radar for years until it was announced that Postcard From Napoli was validated by the Associazione Verace Pizza Napoletana. Along with Da Mario, Lucio's, and a whole host of others, the Oatley joint is one of just a few in Sydney to hold this authoritative mark of approval. But that alone doesn't necessarily earn Postcard From Napoli a place on this list of the best pizzas in Sydney.
You know you're getting authenticity here, of course, but no amount of words can compare to actually putting these meticulously handmade pizzas in your mouth. Go for the O'Puroc as soon as you take a seat, with the perfectly structured base holding up mozzarella, Italian sausage, Italian mild salame, smoked ham, fresh basil, EVOO, and a San Marzano tomato sauce.
Address: shop 2/93 Mulga Road, Oatley NSW 2223
Contact: (02) 8021 8403
Opening Hours: Wednesday – Saturday (5pm – 8:30pm); Sunday (5pm – 8pm)
RELATED: 16 Best Japanese Restaurants Sydney Has To Offer
---
Lucio Pizzeria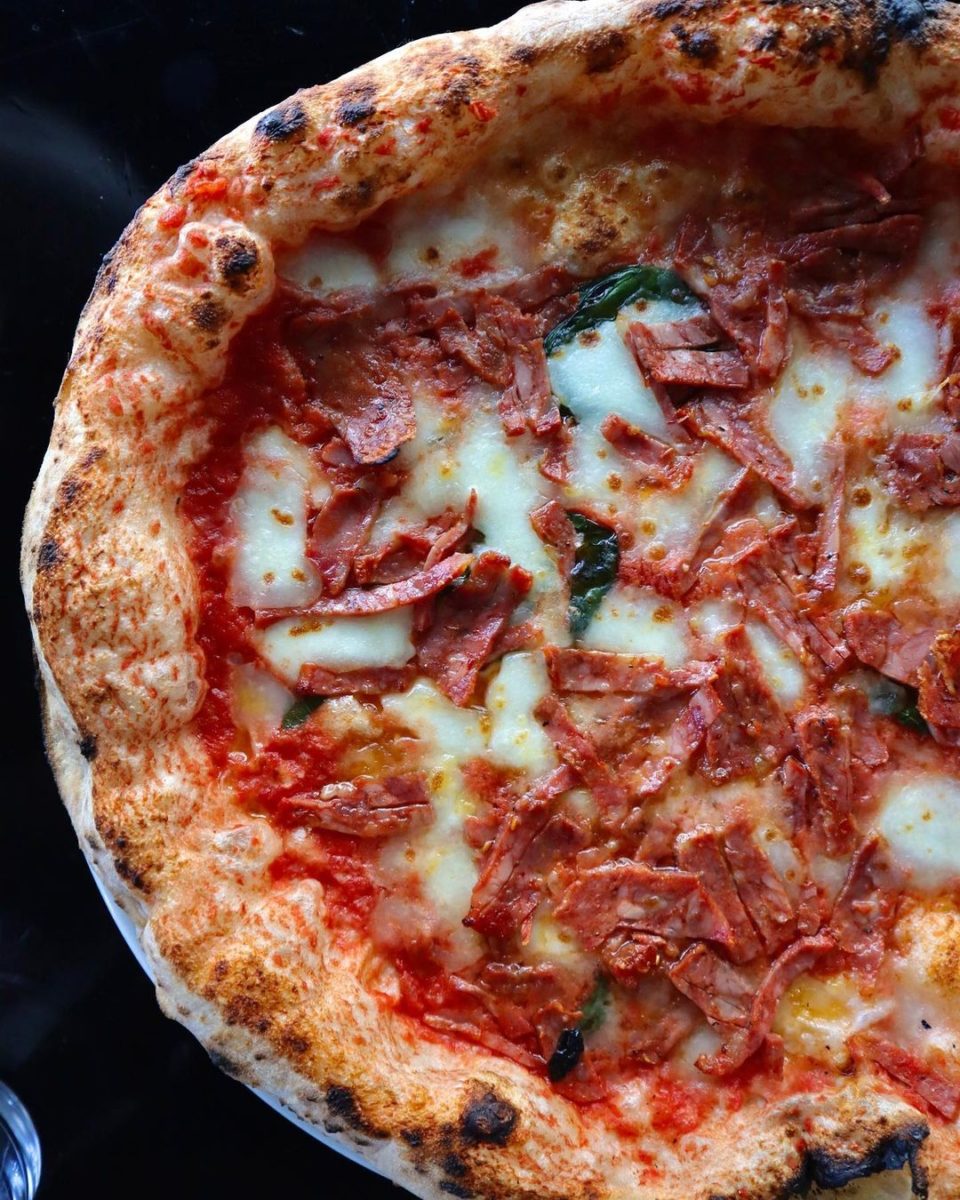 Lucio's pizzerias in Darlinghurst and Zetland are still going strong for the scene, despite plenty of competition popping up over the years. Much like Postcard From Napoli, both venues hold the distinction of an Associazione Verace Pizza Napoletana certification, which is of little surprise once you've tasted pizzas like the Bufalina with tomato, buffalo mozzarella, cherry tomato, parmesan, and basil.
Address: Shop 1/248 Palmer Street, Darlinghurst NSW 2010
Contact: (02) 9332 3766
Opening Hours: Wednesday – Sunday (6pm – 9:30pm)
---
Ria Pizza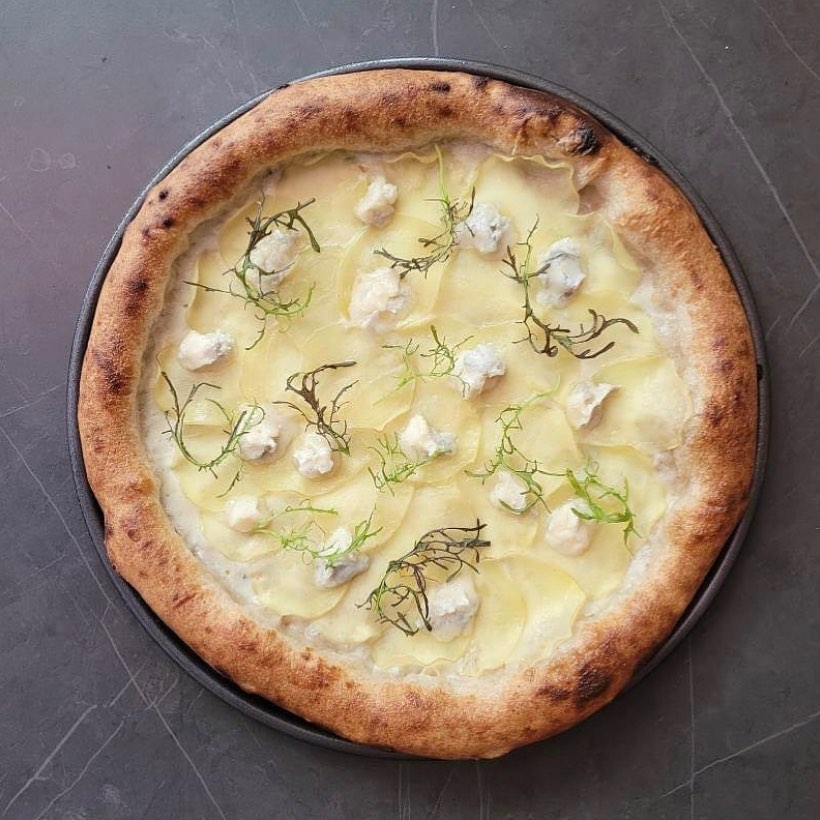 Now that Brent Savage and Nick Hildebrandt have moved their Potts Point wine bar, Monopole, over to the CBD, the dependable Bentley Group now have the space they needed to finally open Ria Pizza & Wine. The masterminds behind Yellow, Bentley, and Cirrus have always talked about opening a pizza restaurant, so it's no surprise to see Sydney's newest slice in high demand.
Much like Westwood, Ria has a non-traditional, gourmet approach with mostly distinctly Australian ingredients. Lovers of simplicity will appreciate the tomato, fior di latte, and basil pizza, but heading here just to order the basic would be a missed opportunity. Go for the WA octopus pizza with N'djua relish and green chilli salsa, or the garden-fresh zucchini with pepita seed pesto, feta, and mint.
Address: 71A Macleay Street, Potts Point NSW 2011
Contact: (02) 8080 9640
Opening Hours: Wednesday – Sunday (5pm – 11pm)
---
Glorietta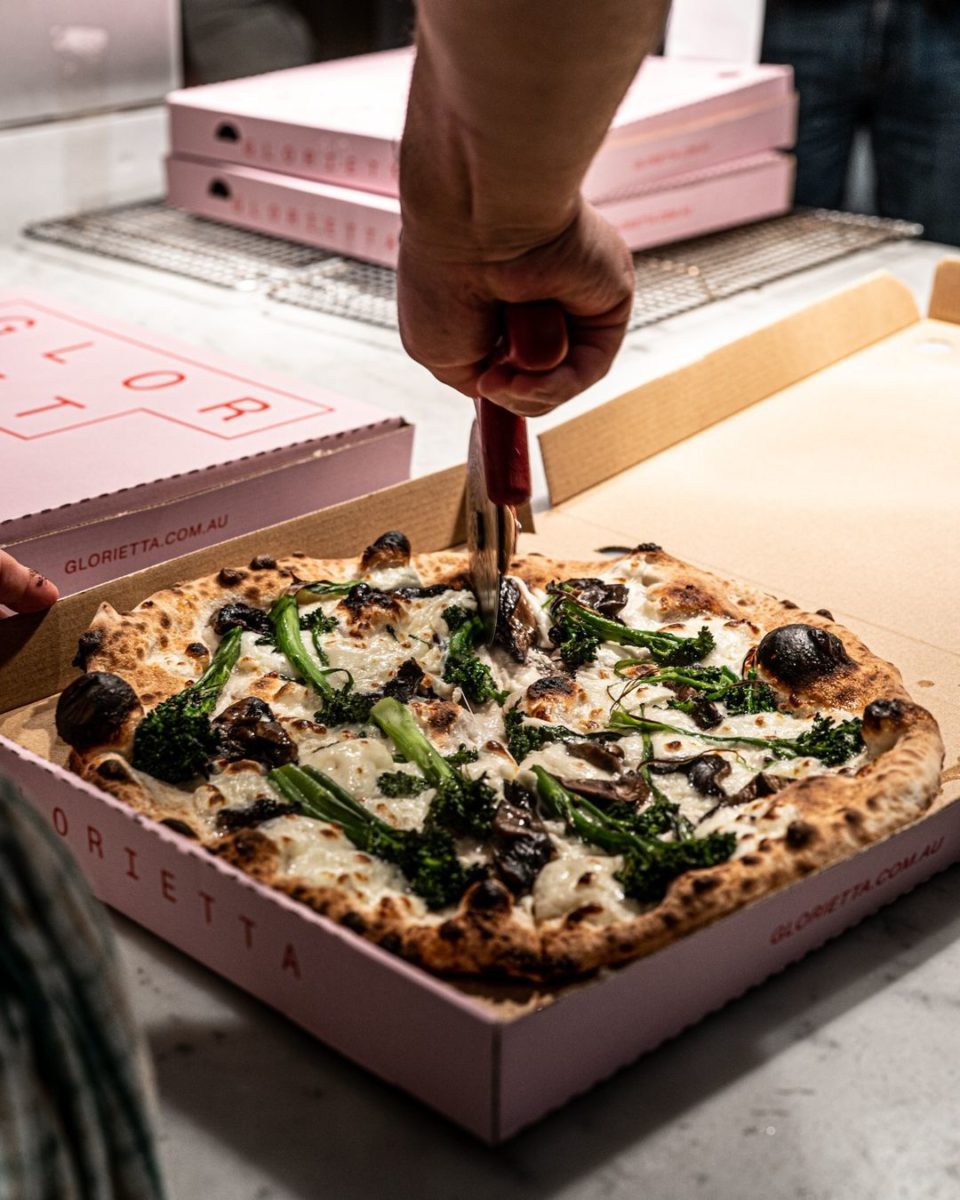 North Sydney favourite Glorietta has more than a few traditional classics on the menu, but the real attractions here are the gourmet options like the Beesting with chilli honey, mozzarella, tomato, and a N'duja inferno. The willingness to experiment has seen Glorietta rise to become the single most popular pizza joint in North Sydney, dominating the area with consistency since opening back in 2020.
Eating those Roman-style pizzas out in the sunny courtyard feels like you've just been whisked away to Europe as well, building the appropriate atmosphere for an arvo pizza session flanked by $10 negronis and $6 wines.
Address: Upper Ground Floor, 100 Mount Street, North Sydney NSW 2060
Contact: (02) 9167 7499
Opening Hours: Sunday – Thursday (4pm – 9pm); Friday – Saturday (4pm – 9:30pm)
---
DeVita Manly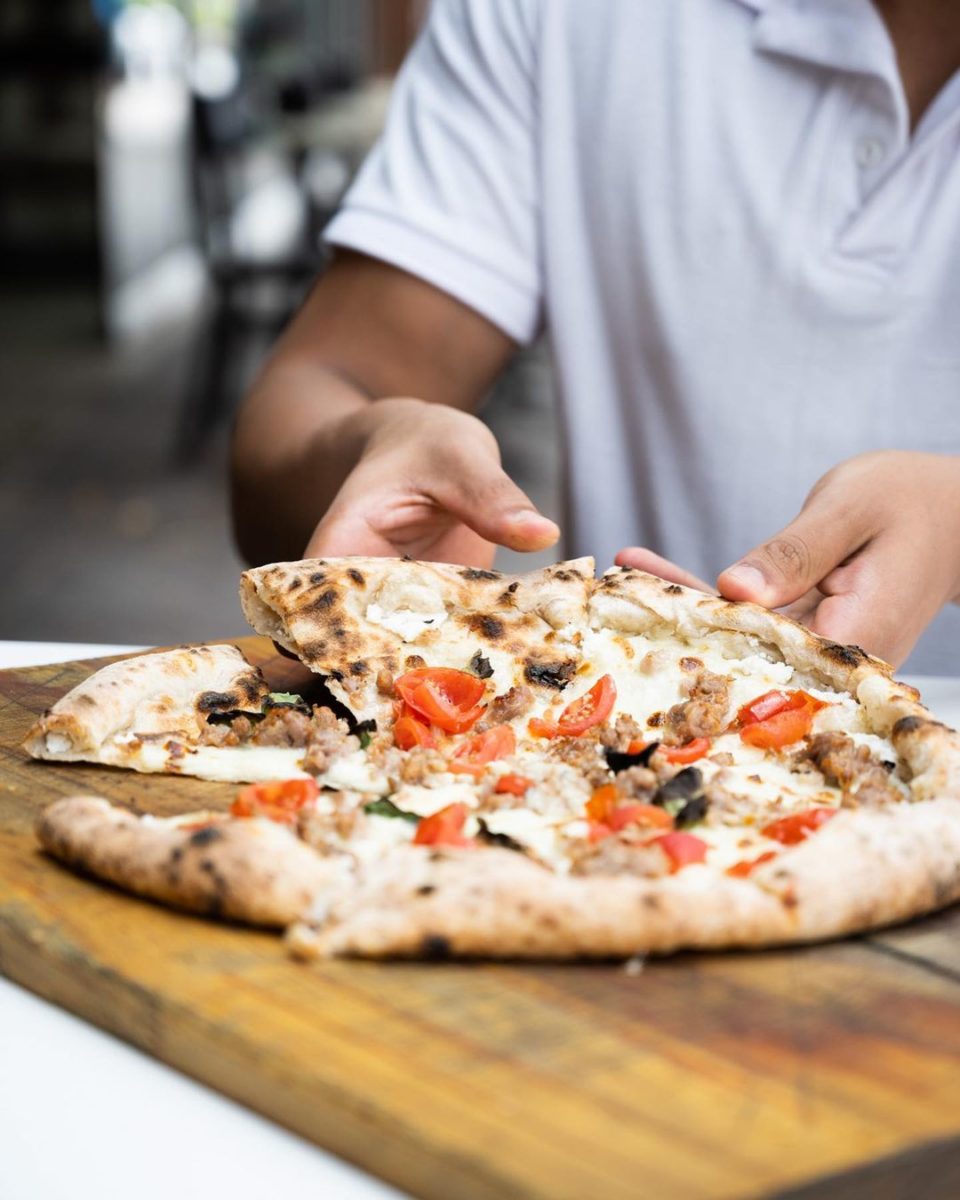 We could have just as easily gone with Pocket Pizza, which is absolutely worth your time as well, but we wanted to zone in on just one pizzeria out in Manly. It's down the two, and the winner is DeVita Manly, with its consistent homage to Naples. It's worth paying the $3 extra per pizza and going for the texturally perfect bases made with stone-ground flour, providing a lighter, fluffier base for toppings like the chef special with cream, ham, fior di latte, mushrooms, olive oil, and basil.
Address: Shop 1B/4-8 Darley Road, Manly NSW 2095
Contact: (02) 8068 6751
Opening Hours: Monday – Sunday (12pm – 10pm)
---
Mario Brothers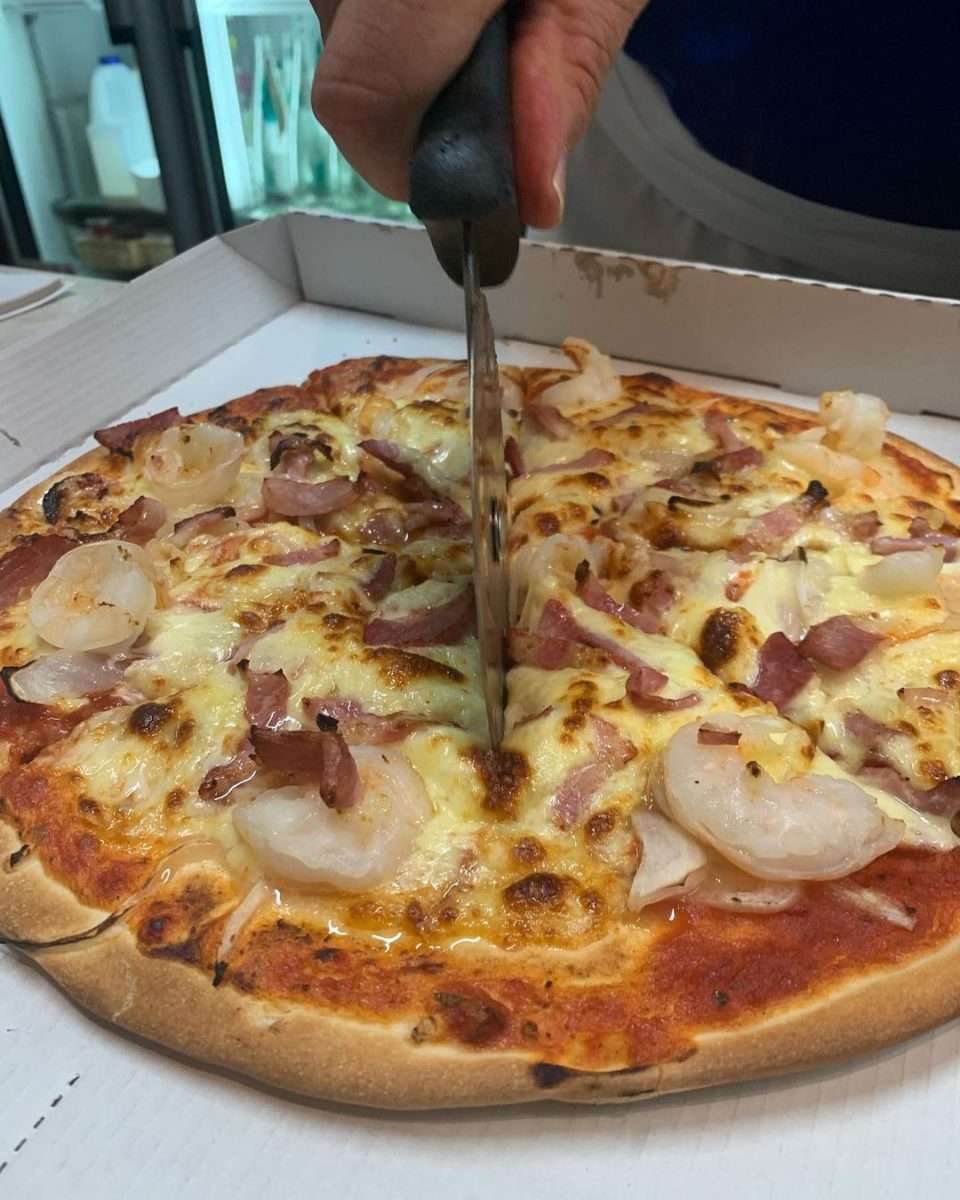 Via Napoli and Glorietta may get all the glory when it comes to the best pizzas on the other side of the bridge, but there's no mistaking Mario Brothers in Crows Nest for anything other than the neighborhood's best. There's nothing special setting this restaurant apart from others, at least as far as optics go. It's a nice, rustic, family-friendly setting with a fairly stock-standard menu of traditional pizzas and Italian toppings. The reason it's head and tails above the competition is an unparalleled sense of consistency, complemented by impeccable service and quality that extends to more than just the pizzas – the Tortellini Milano is a game changer. Everything here is worth ordering, and it's all reasonably priced too, easily positioning Mario Brothers as the best pizza restaurant in Sydney for those who need perfection each and every time.
Address: 314 Pacific Highway, Crows Nest NSW 2065
Contact: (02) 9966 5551
Opening Hours: Monday – Thursday (5pm – 10pm); Friday – Saturday (5pm – 11pm); Sunday (5pm – 9pm)
---
D.O.C. Pizza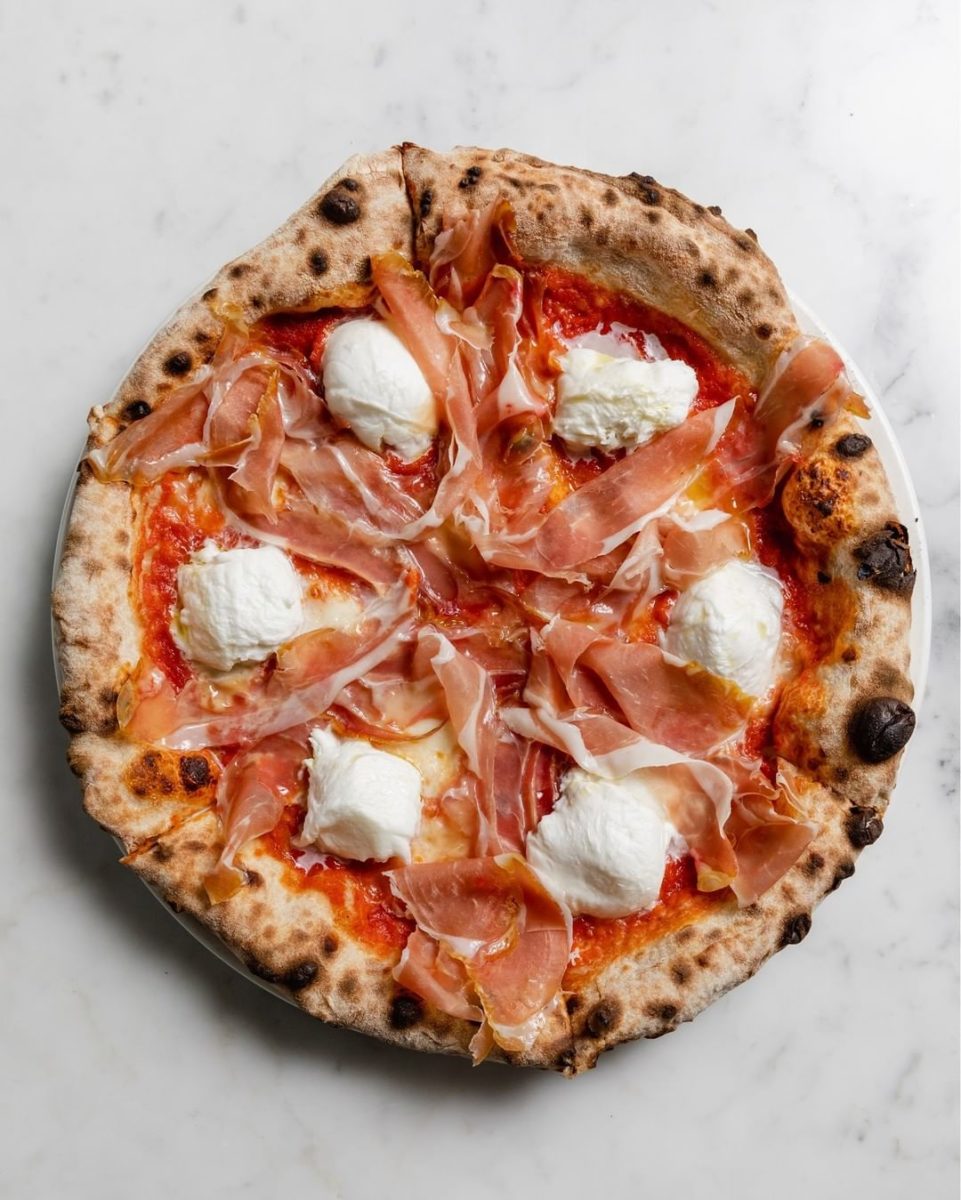 D.O.C. Pizzeria has such a hold on the Melbourne pizza scene that it made complete sense that'd it'd eventually expand to include a venue in Sydney. There's only one venue from the well-regarded brand, and that's in Surry Hills, contending nicely on the scene with dedicated pizza and mozzarella bars in a tight, handsome space constantly pumping out fresh, consistently impressive produce.
It's almost worth just going for the cheese and salami selections, but a visit to D.O.C. Pizzeria wouldn't go down half as well without some of that famously smokey Speck pizza, with smoked prosciutto, fontina, wild mushroom, and thyme.
Address: 78 Campbell Street, Surry Hills NSW 2010
Contact: (02) 9211 1507
Opening Hours: Wednesday – Saturday (5pm – 9pm)
---
Gigi's Pizzeria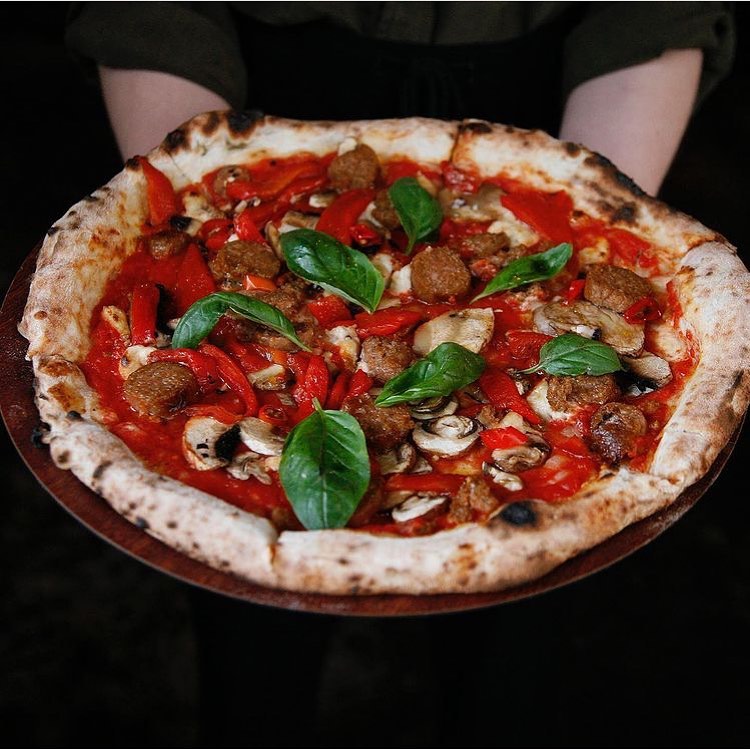 Look, we know it's odd to find a pizza shop in Sydney with no cheese, but Newtown's Gigi's Pizzeria somehow makes it work… incredibly well. Much like the dedication to vegetarianism at Pizza Madre, this King Street pizza joint narrows in on vegan pizza with a plant-based menu. Owner and pizzaiolo Marco Mattino is still dedicated to AVPN-certified dough, which produces the most incredibly moreish pizza crusts, but the toppings stick to natural produce like different seeds, nuts, and fruits, while key ingredients are imported from Italy.
Address: 379 King Street, Newtown NSW 2042
Contact: (02) 9557 2224
Opening Hours: Monday – Sunday (6pm – 10:30pm)
---
Best Pizza In Sydney – Frequently Asked Questions
Where can I find the best pizza in Sydney?
Right now, you'll find the best pizza in Sydney at Newtown's Westwood Pizza, as well as Potts Points' Ria Pizza, Lane Cove's Via Napoli, and Crows Nest's Mario Brothers. Although a hidden gem that shouldn't be overlooked is Mix Pizza Bar in Kirrawee.
What's the best pizza in Sydney CBD?
Unlike in Melbourne, many of Sydney's best pizza restaurants actually aren't located in Sydney CBD. The closest would be Dimitri's on Oxford Street or Lucio Pizza nearby on Palmer Street.
Where can I find good vegan pizza?
If you're looking for vegan pizza in Sydney, go straight to Newtown's Gigi's Pizzeria. This place prides itself on only using freshly grown vegan produce for their toppings, and the quality really shines through.