So you've snagged yourself some crustacean, but how exactly are you going to use all that lobster meat to elevate the traditional Christmas lunch? Having the deliciously inexpensive seafood piled up on a plate isn't quite the same as turning it into a Michelin-worthy meal for whoever you've got running around the house on Christmas Day. You're going to need some primo lobster recipes to help.
Fortunately, there's plenty of those to go around, whether you're looking to channel New England's culinary chops with some buttery lobster rolls, or take it to Italy with some classic rock lobster linguine. Here are five simple lobster recipes to make the ingredient shine.
How To Handle Lobster
If you're not just buying lobster meat outright and opting for the whole thing in a shell – Eastern Lobster is going for roughly $80 per kg at Sydney Fish Market, for example – you'll, of course, have to kill the crustacean yourself. The easiest and most humane way to do this is to chill them in the freezer for 30-60 minutes until they become insensible. This isn't long enough to freeze them, but rather just remove sensation. Once chilled, they should be promptly killed by splitting them. Place the lobster on its back, on a flat, nonslip surface, with its claws tied to expose the under-surface clearly. Hold the lobster around the top of its head with firm pressure and, using a large, sharp knife and a mallet (to force the knife quickly through the animal), cut through the head to destroy the first nerve centre. Cut along the longitudinal midline to pierce and destroy the rest of the chain of nerve centres in two stages. After cutting in half lengthways, rapidly remove the chain of nerve centres at the front end of the lobster. The cutting procedure should last no longer than 10 seconds. For all details on the most humane way to kill a lobster head to the RSPCA guidelines.
---
---
---
Rock Lobster Linguine
Chef Nic Wood knows a thing or two about Australian lobster recipes. Although the chef has now moved overseas, he was best known in Australia as the culinary mastermind behind one of Perth's best restaurants, Santini Bar & Grill, as well as one of the executive chefs of QT Hotels and their new dine-at-home packs. He holds such a command over local produce that it would be foolish not to pick his brain for how to best prepare your prized lobster. Here, he suggests tossing it up with a good old fashioned linguine and dressing the pasta with cognac, tomato, and bottarga.
30g garlic – finely sliced
1 brown onion – diced
80ml olive oil
500g San Marzano tomatoes
Sea salt and cracked pepper
60ml cognac
½ bunch dill – chopped
½ bunch basil – picked
1 clove garlic – finely sliced
20ml olive oil
30g butter
240g fresh linguine pasta
10g bottarga
Make the tomato sugo first; heat olive oil in a heavy based saucepan, add onion and garlic. Cook until transparent.
Add tomatoes and bring to the boil, then simmer for 90 minutes.
Blend until smooth and season to taste, pass through a fine strainer.
Now that you've made the tomato sugo, split your lobster down the middle, remove the vein, and take the tail meat out. Dive the meat into 2cm pieces.
In a cold saucepan, place the olive oil and sliced garlic. Place onto stove top until the garlic starts to sizzle.
Deglaze with cognac and then place 200ml of tomato sugo and bring to the boil.
Place the lobster meat into the sauce and turn the heat to low and allow to slowly poach.
While the lobster is poaching, place the linguine into boiling salted water and cook until al dente. Strain the pasta.
Place the pasta into tomato sauce along with butter and herbs and mix until butter is melted. Season with salt and pepper.
Place into a serving bowl and finely grate bottarga over the top of the whole dish.
---
RELATED: 10 Steps To Creating God Tier Bolognese Sauce
Rock Lobster & Herb Salad
Roberta Muir, the General Manager of Sydney Seafood School, has been helping people up their cooking game for years now. Few people are better equipped to offer up a few of their most popular lobster recipes, simple enough so anyone can follow, but still complex enough to take all the attention away from that glazed turkey at Christmas lunch. Here's an easy one for rock lobster swimming around in a herb salad with some Asian dressing (recipe serves 4).
1kg cooked rock lobster
1 cup watercress sprigs
½ cup coriander leaves
½ cup spearmint leaves
2 Lebanese cucumbers – halved lengthwise, seeded and sliced into crescents
2 spring onions – bulbs only, finely sliced
2 teaspoons sesame seeds – toasted
¼ cup lime juice
2 red shallots – finely chopped
2 medium red chillies – seeded and chopped
2 teaspoons sesame oil
2 teaspoons fish sauce
2 teaspoons grated palm sugar
Make the Asian dressing first by combining lime juice, red shallots, red chillies, sesame oil, fish sauce, and grated palm sugar in a large bowl. Set aside.
Place the Rock Lobster on its back on a chopping board. Using a sharp knife, separate the tail from the head. Use kitchen scissors to cut down either side of the underside of the tail shell. Pull shell back and remove the meat in one piece.
Slice 8 medallions from the thickest part of the tail. Remove the digestive tract that runs through the top of each medallion. Roughly chop remaining meat. Cover and refrigerate until needed.
Combine watercress, coriander and mint; wash and dry well. Add cucumber, spring onion, and Asian dressing. Toss well.
Divide salad between plates, scatter with chopped rock lobster meat. Place 2 medallions on each salad, drizzle any remaining dressing over the medallions and sprinkle with sesame seeds.
---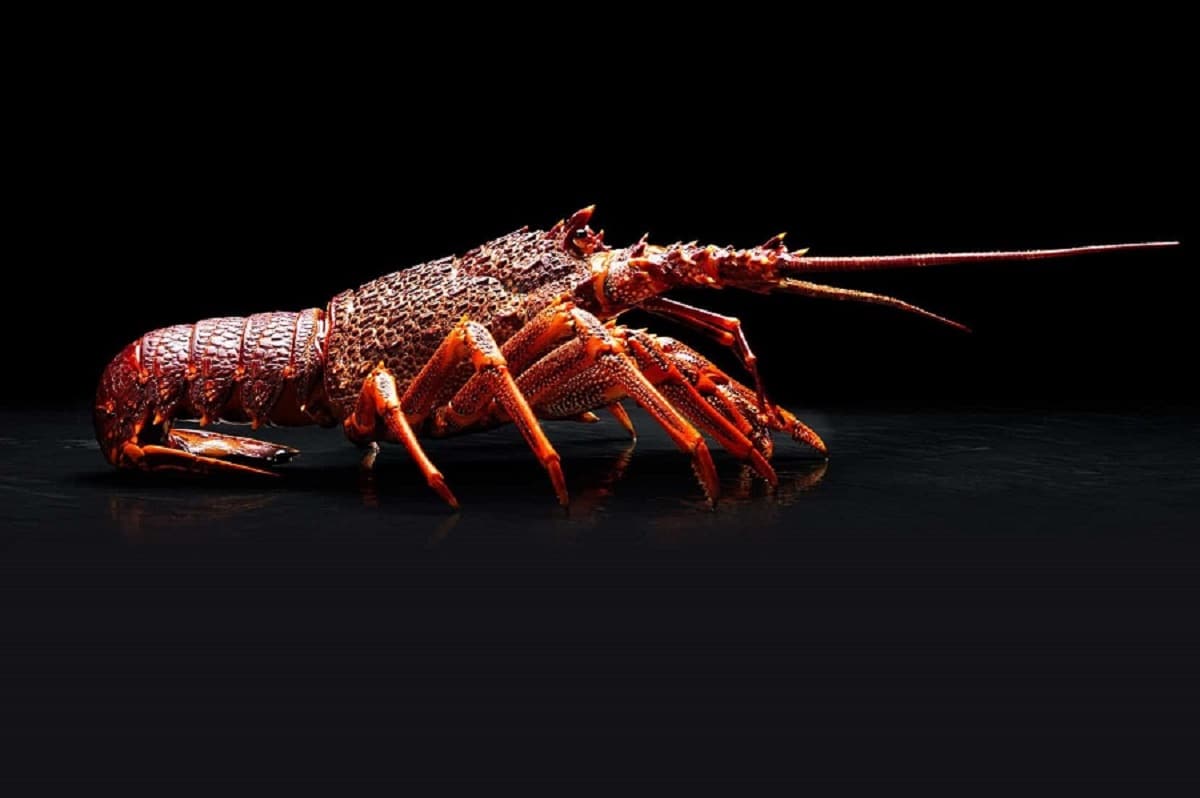 RELATED: East 33 Will Now Deliver Sydney Rock Oysters To Your Door
Steamed Rock Lobster With Marie Rose & Caviar
Borrow some flair from the Brits with their traditional Marie Rose sauce to bring a little extra flavour to some steamed rock lobster and salmon caviar. As far lobster recipes go, it's one of the more high-end from Nic Wood, and if it's good enough for him, then it's going to be an excellent addition to that Christmas feast you've been planning ever since you found out local lobster prices had tanked.
½ lemon – juice + zest
1 tablespoon Worcestershire sauce
5g fresh horseradish – finely grated
20ml cognac
5 tablespoons tomato sauce
6 drops tabasco sauce
½ teaspoon smoked paprika
8 tablespoons kewpie mayonnaise
1 pinch cayenne pepper
Seat salt and cracked pepper
1 rock lobster
½ brown onion – roughly diced
½ fennel – roughly diced
1 lemon – cut in half
½ teaspoon black peppercorn
Water
½ bunch chives – finely sliced
½ bunch dill – picked
½ bunch mint – picked
½ bunch chervil – picked
½ bunch chives – batons
½ bunch Italian parsley – picked
1 shallot – finely sliced
1 lemon
20g salmon caviar
Olive oil
Paprika
Make the Marie Rose sauce first by mixing the lemon, Worcestershire sauce, horseradish, cognac, tomato sauce, tabasco sauce, smoked paprika, kewpie mayo, cayenne pepper, sea salt, and cracked pepper in a bowl until completely combined. Taste and adjust seasoning as you see fit.
In a large pot, fill three quarters with water and bring to the boil.
Place onion, fennel, lemon, peppercorns, and salt into the pot and allow to boil for 2 minutes to infuse flavours.
Place lobster into boiling water for 5 to 7 minutes, remove lobster out of the pot into ice water to stop cooking process (or follow the freezer method mentioned above).
Split the lobster down the middle and remove the vein and clean the head out.
Remove the meat from the tail and chop into largish chunks and place into a mixing bowl, then add olive oil, salt, pepper, and mix so all the meat is dressed.
Place the shell on to a serving tray with crushed ice then place the meat back into the shell and top with salmon caviar.
In a mixing bowl, mix pickled mint, dill, chervil, chive batons, and sliced shallots with a splash of olive oil. Place on top of the lobster.
Place Marie Rose sauce into a ramekin and top with sliced chives, sprinkle with paprika.
Garnish with fresh lemon.
---
Lobster Risotto
Aside from the aforementioned salad, Roberta Muir recommends a simple risotto as the best way to make use of all that lobster meat. If you've followed any of the lobster recipes above, you've already extracted the meat and have some finely diced waiting in the fridge for you to use. Simply find your best basic risotto recipe, and before you put the finishing touches, fold the lobster through. Just make sure you've already brought your lobster to room temperature – so out of the fridge for around 30 minutes before you start to cook. To help, here's a risotto recipe sourced from Bon Appetit.
1 tablespoon Kosher salt
6 tablespoons extra virgin olive oil
½ large white onion – finely chopped
2 cups rice – either carnaroli or Japanese sushi rice
1 cup dry white wine
5 tablespoons unsalted butter – cut into pieces
1 ¾ cups finely grated parmesan – divided
Freshly ground black pepper
Lobster meat
Combine 1 tablespoon salt with 10 cups of water in a medium stockpot. Bring to a very bare simmer over medium heat.
Heat oil in a 6-quart Dutch oven pot over medium. Cook onion and a pinch of salt, stirring frequently until onion is translucent and starting to soften; which should take around 6-8 minutes.
Add half cup of water and cook, stirring often until water evaporates and onion is sizzling in oil, completely tender; which should take around 5 minutes. If the onion is still firm, add another splash of water and continue cooking until meltingly soft.
Add rice and stir well to coat with oil. Cook, stirring occasionally until grains of rice are translucent around the edges. Add wine and another pinch of salt. Bring to a simmer and cook, stirring occasionally until wine is completely evaporated.
Reduce heat to medium, then add hot salted water to rice in three quarter cup increments, stirring constantly to allow the liquid to fully absorb until rice is al dente. The finished texture should be more of a liquid than a solid, and the grains should be tender but not mushy. Be careful not to overcook.
Remove pot from heat, add butter, and stir until melted. Gradually add 1 and a quarter cups Parmesan, stirring until cheese is melted and liquid surrounding risotto is creamy but fluid. Stir in more salted water if needed to achieve the right consistency. Taste and season with salt.
At this point, as per Muir's instructions, you should be folding the lobster meat into the risotto.
Garnish with parsley or dill.
---
Lobster Roll
When working with fresh Australian produce, minimalism is almost always the best approach, no matter which lobster recipes you're reading. That's what Muir suggests if you're going the typical lobster roll route, with the best approach to grab a really crunchy white bread roll, toss the lobster meat through some whole egg mayonnaise, and layer it onto that roll with some peppery watercress. Although if you did want to kick it up a notch, here's a great recipe from BBC Good Food.
---
---
500g cooked lobster meat
5 tablespoons mayonnaise – whole egg
1 tablespoon lemon juice
2 celery sticks – stringed and diced
1 pinch cayenne pepper – plus extra to serve
1 tablespoon melted butter
6 good quality hot dog buns – brioche preferred
Snipped chives – optional
Good quality potato crisps – to serve
Gherkins or pickles – to serve
If you haven't already, use one of the above methods to remove all the lobster meat. Cut it into large chunks and set aside.
Mix the mayonnaise with the lemon juice, celery, cayenne pepper, and a pinch of salt. Fold the lobster through the mixture to combine. Taste and adjust seasoning. Note that if you're going to eat it straight away, leave at room temperature, or you can chill up to one day in advance.
To serve, split the rolls and lightly butter all sides, including the outside. Heat a griddle pan and griddle the rolls in batches on all sides.
Divide the lobster mix between the rolls, scatter with chives (optional), and serve on a platter with a bowl of crisps and some gherkins or pickles.