Purveyors of palatable pasta, Fabbrica – brought to you by the brains behind Ragazzi Wine and Pasta, Love Tilly Devine, and Dear Sainte Eloise – have dropped a collection of 'finish-at-home' pasta packs and if their duck and rainbow chard ragu is anything to go by, you may be looking at the greatest home dining hack of 2021, for just $20.
The progressive pasta shop opened in late 2020 on Sydney's King St selling standout sandwiches, produce, and hand-made pasta by the gram. While my experiences with their initial shopfront offering have been enjoyable, I was blown away by the restaurant quality meals I purchased at Carriageworks Farmers Market last weekend.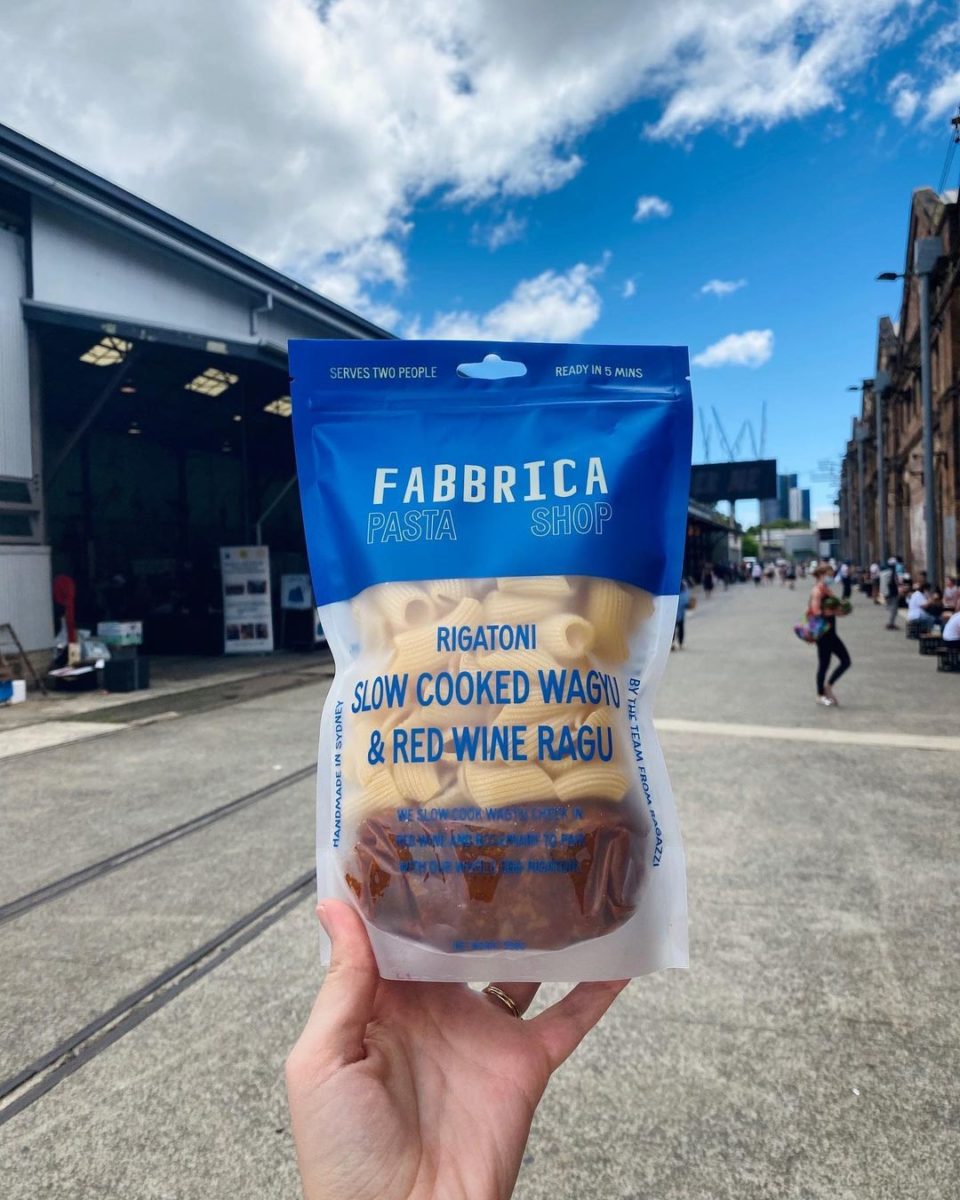 To even contemplate purchasing the individual ingredients of free-range duck, chard, marsala, brandy, thyme, etc and hand-made pasta for that price is absurd. What's more absurd is that a packet of Latina Fresh beef ravioli and accompanying slop will set you back almost the same price. We are talking about walking in the door at 7.30 pm, boiling water, opening the beautiful packet, cooking the Casarecce for 3-4 mins (depending on your al dente desires), and having the sauce heated and ready to go before the pasta hits the colander – literally, from plastic to plate in 5 mins.
---
---
For those unfamiliar with the variation in viscosity provided by the pasta water, direction is provided. Stir the pasta through the sauce, add a splash of water and you're done. Top with parmesan, fresh basil, and your choice of Calabrian chilli (I prefer Muraca Calabrian Spicy Hot Cream Peppers) and you're sitting down to a meal that will make you question your favourite Italian restaurant and on the couch relaxing by 8 pm.
As I scoured every millimetre of the bowl to scrape the final mouthful together, I was utterly devastated, refusing to come to terms with the fact the meal was coming to an end. If I wasn't so conscious of my waistline post-Christmas I would have walked to the fridge, cracked the pork and fennel sausage version, and scoffed that down too.
To put it simply, this is game-changing pasta at home, and this is coming from someone who lives 100m away from one of Sydney's best Italian restaurants – Kindred – and frequent their takeaway often. What is additionally exciting is that you could buy multiple packs and serve them to your date/partner/dinner party guests and claim you've slaved over the ragu all day, and you would be showered in praise for your efforts – it really is that good.
Fabbrica finish-at-home packs are more than enough for two and come in two additional flavours to those outlined above; a slow-cooked wagyu and red-wine ragu and fan favourite spaghetti cacio e pepe. You can purchase them on Saturdays in January at the Carriageworks Farmers Markets or in the King St store ongoing.
Stock up, thank me later.