We're fast approaching the time of year when fitness goals are abandoned faster than a redheaded stepchild at Jamberoo and the population collectively starts packing on the winter layers for a comfortable cooldown. Clearly with their finger on the pulse, The Bavarian has announced a Schnitzel Festival – or more colloquially, Schnitty Fest – celebrating the revered pub icon for a whopping ten-week period.
Hitting national location in NSW, Queensland, Victoria, South Australia, and even the ACT, The Bavarian Schnitty Fest will showcase ten different schnitzel variations created by the Haus of Hearty Feeds' official Schnitzel Masters – each being offered for just $10 in a "schnitzel blitz" every Wednesday.

The new menu will include the following:
Mexican ($26)
Crumbed chicken breast, corn chips, spicy beef, beans, cheddar, tomato salsa, coriander, & sour cream
Hawaiian ($25)
Crumbed chicken breast, double smoked ham, grilled pineapple, napolitana sauce, & fries
Nashville ($26)
Southern fried chicken breast, Nashville rub, cabbage slaw, dill cucumber, potato gems, & chipotle aioli
Oktoberfest ($26)
Crumbed chicken breast, sautéed potatoes, wurstsalat, pickled cucumber, & mustard
The G&P ($24)
Crumbed chicken breast, garlic and parmesan rub, rocket & parmesan salad, semi-dried tomato, & fries
Jagerschnitzel ($23)
Crumbed chicken breast, mushroom sauce, & fries
Parma ($24)
Crumbed chicken breast, double smoked ham, mozzarella, Napolitano sauce, & fries
Schweineschnitzel ($26)
Pork schnitzel, cabbage slaw, lemon, & fries
Mushroom Parma ($24)
Crumbed confit mushroom, mozzarella, Napolitano sauce, cabbage slaw, & fries
Vegan ($26)
Potato and mixed veggie schnitzel, green salad, & fries
RELATED: Iconic Burger Is Sydney's New Pop Culture Themed Burger Restaurant
---
---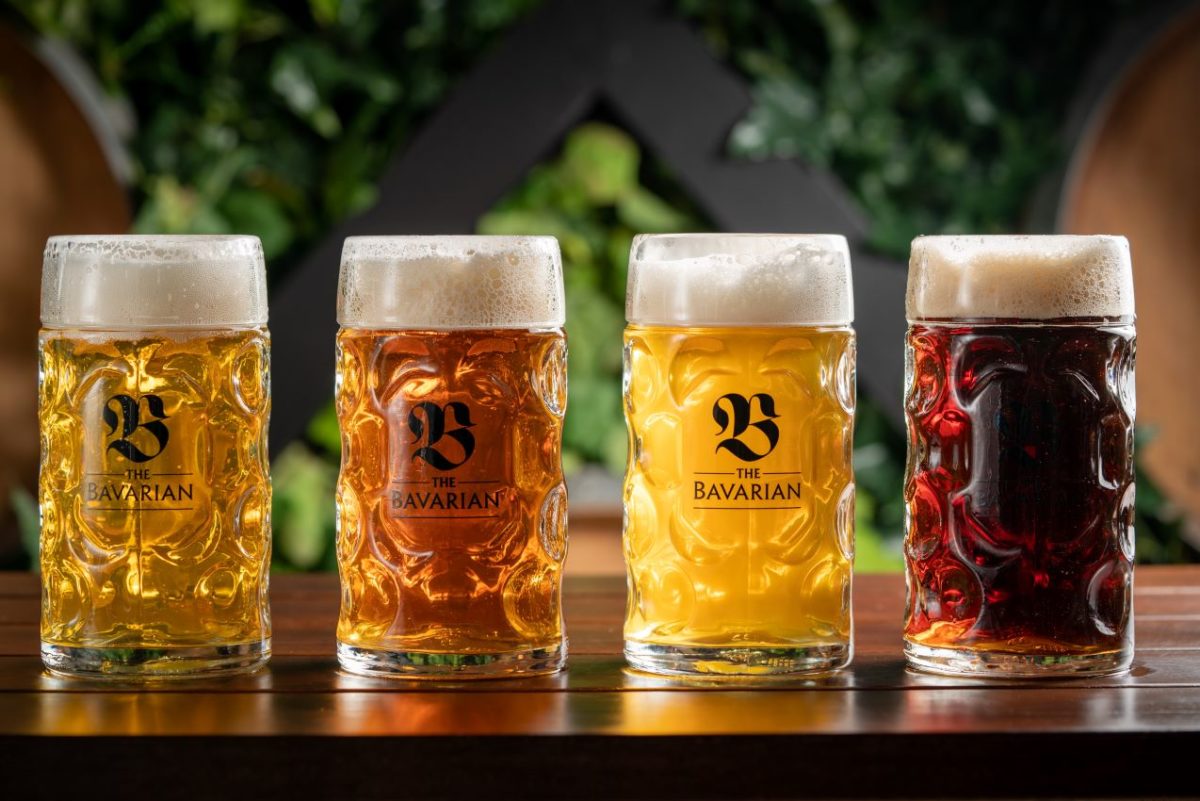 But what is a schnitty without a cold one to wash it down? As an eatery of the people, The Bavarian will also be offering beer paddles featuring its unique range of imported German beer styles: Lowenbrau, Hofbrau, Spaten, Franziskaner, and Paulaner. Those looking to get stuck in for a good sesh will be able to sample four beers for $20 or eight for $35, and choose their very own all-German line-up (or mix it up with some domestic brews).
"We're known of as the Haus of Schnitzels and Steins for good reason," says John Sullivan, Food & Beverage Director.

"The Bavarian is the only restaurant and bar in Australia where eight imported German beers can be found under one roof, where they're served in traditional one-litre glass steins, and can be paired with classic, house-made German dishes."
"Our schnitzels are a perennial favourite on the menu for their generous size, fantastic bread-crumbed crunch and tender meat filling and our schnitzel festival is an homage to this classic Bavarian dish that Australians have made their own."
The Bavarian Schnitty Fest will run from March 31st to June 9th.