With November comes warmer weather, more excuses to drink, music festivals to attend, and the final month before the holidays begin to really ramp up. There's a whole lot to get done in this second to last month of 2018, so here are some of our recommendations, both in Sydney and in Melbourne, for great things to do and awesome new places to eat and drink.
Sydney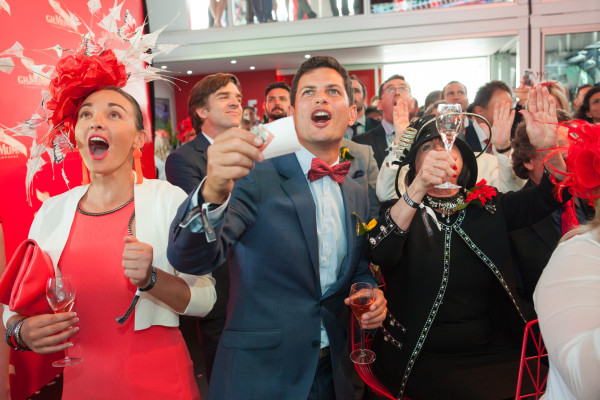 Events
Streets of Barangaroo Melbourne Cup
This year, Barangaroo is not only the place for your Melbourne Cup lunch, but it's also the place to continue your celebrations after. Streets of Barangaroo are celebrating entertainment, champagne, fashion, racing, and good vibes with pop-up eateries and bars, a Mumm Champagne Terrace, Craft Beer Garden and live music. Multiple screens will broadcast Channel Seven's coverage from Flemington and TAB facilities. Furnace and The Fundamentals keep the party going into the night with countless covers of classics. From 12-9pm, entry to all the waterfront festivities is free and for over 18's only.
---
---
The Royal Inner West Beer Fest
On November 18th (12pm-8pm) and 19th (12pm-6pm), the Royal Hotel in Leichhardt will be hosting its Royal Inner West Beer Fest to celebrate 12 local and regional breweries. Featured will be Wayward Brewing Co. (Camperdown), Young Henrys (Newtown) and Batch Brewing Company (Marrickville), among many others. It will be a day of indulgence with all of The Royals usual great dishes and beer tasting cups going at 10 for $25.
Sam Smith Australia Tour
This November, the iconic UK singer-songwriter will be returning to Australia for the first time in three years in support of his latest album The Thrill of It All. He'll take the stage at the Qudos Bank Arena on November 14, 16 and 17, singing tracks from his latest record as well as classic hits such as 'Too Good at Goodbyes'.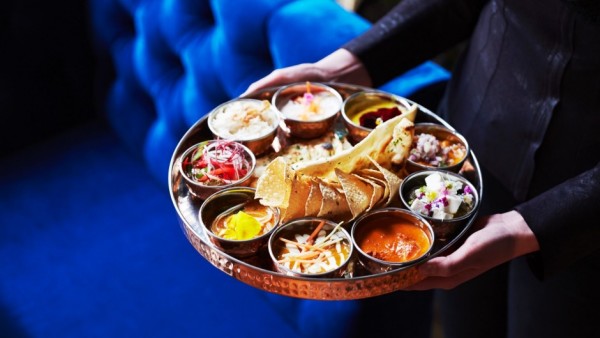 Eats
Fratelli Fresh has a whole range of exciting happenings this November. All Fratelli restaurants will celebrate Melbourne Cup with $60 three-course menus of traditional favourites, in addition to their staple offerings. The Fratelli Fresh Darling Harbour location boosts the celebrations with its inaugural Melbourne Cup lawn party on Tuesday, 6 November, including bottomless cocktails, live music and DJs, and several outdoor TV's. Other events include a pizza masterclass at Darling Harbour on Saturday, November 10th, a Campari Dinner at Darling Harbour on Wednesday, November 14th, and a Red Bull collaboration all weekend of November 17th. Hit the link above for even more upcoming events.
---
---
Don't Tell Aunty is Surry Hills' newest place to eat and one of Sydney's only places for very "unauthentic Indian" cuisine. Jessi Singh's new restaurant is playfully inspired by the home of a traditional Indian aunty – a place where you can show up unannounced and always be welcomed with great food and brightly painted walls. The restaurant centres around innovative food and wine driven by creativity and thought, not rule and tradition.
Bopp & Tone, opening mid-November, is the latest venture from hospitality group Applejack (Della Hyde, The Butler, Endeavour Tap Rooms). The welcoming space is a nod to the era of optimism and opulence enjoyed by post-WWII Australia. It will feature a contemporary Australian menu with influences from all across the Mediterranean. You can go ahead and book a reservation to be one of the first to experience Sydney's newest dining experience.
Drinks
Employees Only opened its doors in New York's West Village in 2004 and has been regarded as one of the best bars in the world ever since. This reputation was built by a well-crafted but evolving cocktail list, exquisite French-inspired New York-bistro food, amazing staff, and elements of Art Deco design – all things that have given Employees Only an essence of "quintessential New York". Now, they're bringing similar vibes, but taking an elusive approach to keep the new venue "distinctly Sydney".
Maybe Frank is known for great pizza and, increasingly so, for fantastic cocktails. Now, the team behind the Surry Hills gem is expanding its offering with Maybe Sammy, a cocktail bar set to open in The Rocks in late November. While the cocktail list will be entirely new and hasn't yet been finalised, you can expect creative cocktails like the ones Maybe Frank is known for. To give you an idea of what to expect, the current menu features the Hugs and Roses (vodka, citrus, turmeric, rose petals and honey), Flat Spritz (white wine, peach, Aperol and pop rocks) and Capitano (Encanto Pisco, mezcal, pecan-infused vermouth, bitters and charred wood).
---
---
What better way to celebrate great weather than with a gin infused garden party. Exclusively for the month of November, Chiswick Woollahra and Bombay Sapphire Gin are partnering to host a series of events every Wednesday evening from 5:30 to 7:30 pm. The lawns of Chiswick will be live with acoustic tunes, garden games and roaming canapés, all completely free of charge. Guests can purchase speciality Bombay Sapphire summer drinks for $10-$14. Other drink options include 4 Pines Pale Ale for $10 and homemade lemonade for $5. Check the website if you'd like to make bookings for the bar area, which will be available for after party walk-ins or bookings.
Melbourne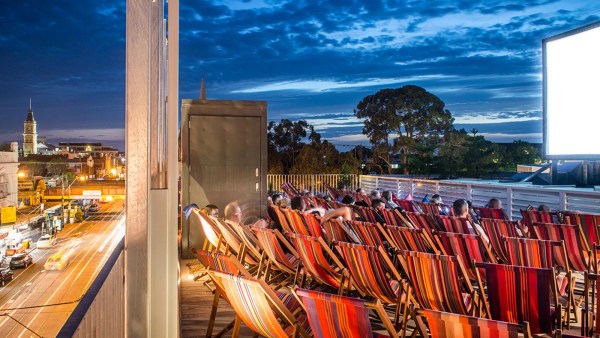 Events
Starting this November, Lido Cinema's rooftop makes a triumphant return for its fourth year running. Lido on the Roof will screen critically acclaimed summer releases including Bohemian Rhapsody, The Girl in the Spider's Web, Boy Erased, Fantastic Beasts: The Crimes of Grindelwald, and more. The food and drink counter is set to serve up a classic selection of movie treats, from choc-tops and vegan-friendly popcorn to edamame and craft beers. Check the website for the full list of offerings and ticket purchases.
Melbourne Music Week (MMW) is a nine-day celebration of the city's thriving, world-renowned music scene running from the 16th-24th of November. MMW broadens the stage by teaming up with a range of independent promoters, venues, labels and businesses to create a dynamic program spanning the city and illuminating the connections between music, people and places. There's a little something for everyone between the more intimate, interactive experiences in non-traditional venues and the headline performances at Melbourne Town Hall.
Hop Fest
There are few things better than drinking beer and saving animals and, at Melbourne's Hop Fest, you can do both at the same time. The first-ever Hop Fest will take place at the Healesville Sanctuary for native Australian species on the weekend of November 3rd–6th. The festival is a celebration of standout Yarra Valley craft beers and ciders, street-food style snacks, native flora and fauna, and live music. There are even chances to meet koalas walking around with their caretakers. The zoo opens at 9 am and drinks will flow from 11 am right through to 4 pm. One-day tickets are $49 and include all beer and cider tastings. All proceeds go towards Zoos Victoria's efforts to save the nearly-extinct brush-tailed rock wallaby. Definitely a cause worth drinking for.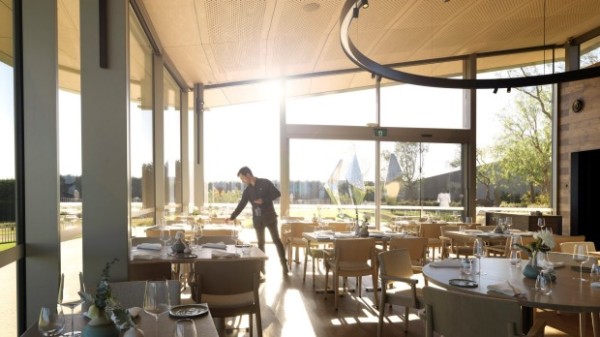 Eats
---
---
Though not new this November, Laura is still the place to be. Awarded New Restaurant of the Year by Good Food Guide 2019 and situated on Pt. Leo Estate, at Laura the idea is to put yourself in the hands of culinary director Phil Wood and follow a six-, five-, or four-course tasting menu along with a wine pairing. The food is designed to emulate a journey along the Mornington Peninsula with each course named after the location of the main element of the dish. The paired wines are more of an international jaunt, along with a couple of home visits in between. After a beautiful meal, you can take a wine of your choosing with you on a tour of the winery's elegant sculpture garden.
The award-winning venue, The Everleigh, has just undergone a refreshing revamp. Now showcasing a more substantial food menu and updated interior design elements, The Everleigh continues has evolved to be a flexible and versatile space for its customers. The new food menu boasts an impressive selection of European influenced dishes designed to share, ranging from light fare to more substantial plates. The space also features a new private room, called The Starling Room, to provide an intimate place for beautifully crafted food and drinks with friends.
Champagne & Seafood Brunch Cruise
Launching early this November, the Lady Cutler Melbourne Showboat Brunch Cruise is a great way to spend a sunny Sunday with beautiful food, drinks, and views. See beautiful Melbourne views from this harbour cruise from Docklands, which features a fully licensed bar. Every guest is greeted with a glass of champagne and hot and cold canapes on arrival. A seafood/carvery hot buffet will then be served with salad and bread plus petit desserts and tea and coffee. Costs are $89 per person with special rates offered for groups.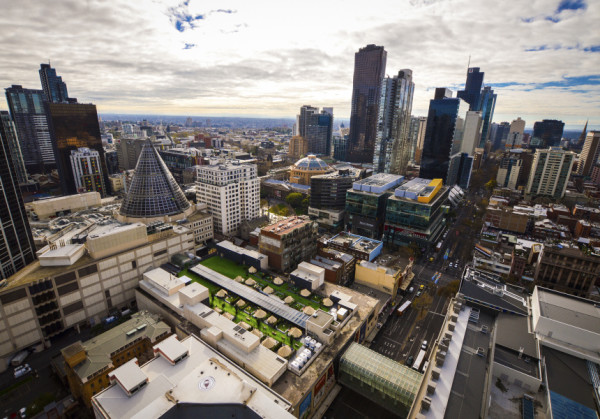 Drinks
We covered this earlier but now it's actually happening. Just in time for summer, Reunion Island Pool Club, located atop Melbourne Central, is a rooftop oasis featuring plunge pools, palm trees and great food and drink. Co-founder Jerome Borazio calls it the quintessential "summer in the city". It opens mid-November but you can book now for your own private pool for you and 1-11 lucky friends.
---
---
Christmas is coming early for gin lovers this year. Four Pillars gin is popping up in the Melbourne CBD in the lead up to Christmas with their first ever pop-up distillery. Found in the Myer Melbourne Giftorium during regular store hours it is the only location in Melbourne with the full Four Pillars range available for purchase. Special events include demos on how to mix the ultimate Australian Christmas Gin cocktail and perfect the classic Four Pillars G&T. There will also be a full gin tasting experience every Thursday night from 6:30 pm. All events will run on a first in, best-dressed format.
Talk To Me
When Peking Duk's Adam Hyde and Reuben Styles heard that their favourite bar in Melbourne was for sale, their natural response was to buy it. Hyde explained, "pretty much we were getting drunk every time were in Melbourne – we would go to this bar and we were like 'I reckon we could make this place a little better', and then we actually just bought it". The bar is set to relaunch this November under the name Talk To Me and will feature great drinks, eclectic food, and an all-around sense of party. Website to launch soon.
If you're into whisky then you've probably enjoyed Starward, Australia's leading modern whisky brand. This November, Starward celebrates the launch of their newest whisky, Two-Fold, with "Two-Fold Thursdays". In partnership with Melbourne's Cumulus-Up, Two-Fold Thursdays are a brilliant pairing of Australian whisky and food running exclusively throughout the month of November. Click the link to book your spot.