"This is not a device destined for infomercial infamy," the opposite of which, if I'm being honest, was exactly my first thought as I researched the V-Form trainer on Vitruvian's website.
Peeling back the layers of the Aussie fitness startup, however, and the numbers don't lie. The tech company, founded by Perth local, physicist and financial trader, Jon Gregory, clocked up US$2.5 million in investment in its first round of capital raising. More recently, the breakthrough fitness brand just closed another US$6 million, with one investor being none other than Collingwood FC's Josh Thomas. The head-scratching only got more intense as I tried to decipher the science behind the buzz. What was the root of all this hype?
The V-Form Trainer; all-in-one intelligent resistance technology revolutionising the home workout game and taking Vitruvian worldwide. With the power to release up to a staggering 180kgs of resistance, the V-Form trainer is efficiency, connectivity and convenience all together in one sleek package. We'll expand on this later, but the V-Form's ability to master both concentric and eccentric training effectively doubled my workout efforts in half the time, making my trial experience with the product all the more enticing – and my expensive gym membership all the more redundant.
---
---
The V-Form Trainer – A Unit Not To Be Underestimated
The V-Form trainer is a sleek carbon fibre platform with interactive LED's that enables resistance lifts from 5kg to 180kg via two handles. The unit itself is slim enough to slide under a bed or couch – thanks to a handle and wheels – albeit quite the hefty piece of kit otherwise (38kgs). While you wouldn't want to be moving it too regularly in its current form, whispers on the grapevine are hinting that Vitruvian is aiming for a target weight of 25kgs for the incoming generations of the product, which will greatly improve practicality around the house.
The luxury treatment and modest aesthetic take a bit of getting used to, as it's easy for any man who is used to a static gym setup to misjudge the V-Form given the absence of physical weights. And while you might not be able to see and feel the extra 10kgs you're slapping on until you grip the handles, you'll quickly realise the V-Form is not a machine to be underestimated.
How It Works – A Coach & Spotter All In One
Essentially, the adaptive weight acts as a spotter, learning the user's ability to lift, adjusting to their strengths and weaknesses over 40 times per second. Once the V-Form trainer builds a data-driven picture of your training level, it can modify the workouts accordingly to extract the best out of your efforts and actually increase your strength rather than just maintain it.
The real kicker with the V-Form, however, is its ability to offer concentric and eccentric resistance workouts simultaneously. Let me explain why those two training styles work best in tandem. If you're a pretty casual fitness freak like me (roughly 3 sessions at the gym per week or similar), then it's taking you the better part of an hour to extract your best form using just concentric training – i.e., the upwards lifting phase of an exercise that contracts the muscle.
Eccentric training focuses on the downwards/lowering phase of an exercise that lengthens the muscle. Basically, it keeps the tension on the way down from a heavy lift, rather than let the weight of a dumbbell fall naturally with gravity. Because your muscles are engaged in both phases of the workout, you're expending all of your energy with purpose. The science says eccentric lifting is less metabolically demanding, and you use less oxygen and energy than in a concentric movement while exerting even greater force on the muscles.
Humans are naturally able to manage a greater weight load on the eccentric phase, so you can work out with heavier weights than you might otherwise be able to lift. This also allows you to work your muscles more effectively, and for less time, to achieve better results.
The V-Form's algorithms quickly learn when to increase the load and when to let its foot off the gas, so you can improve your lifting without injury and ensure your training is always on the up.
---
---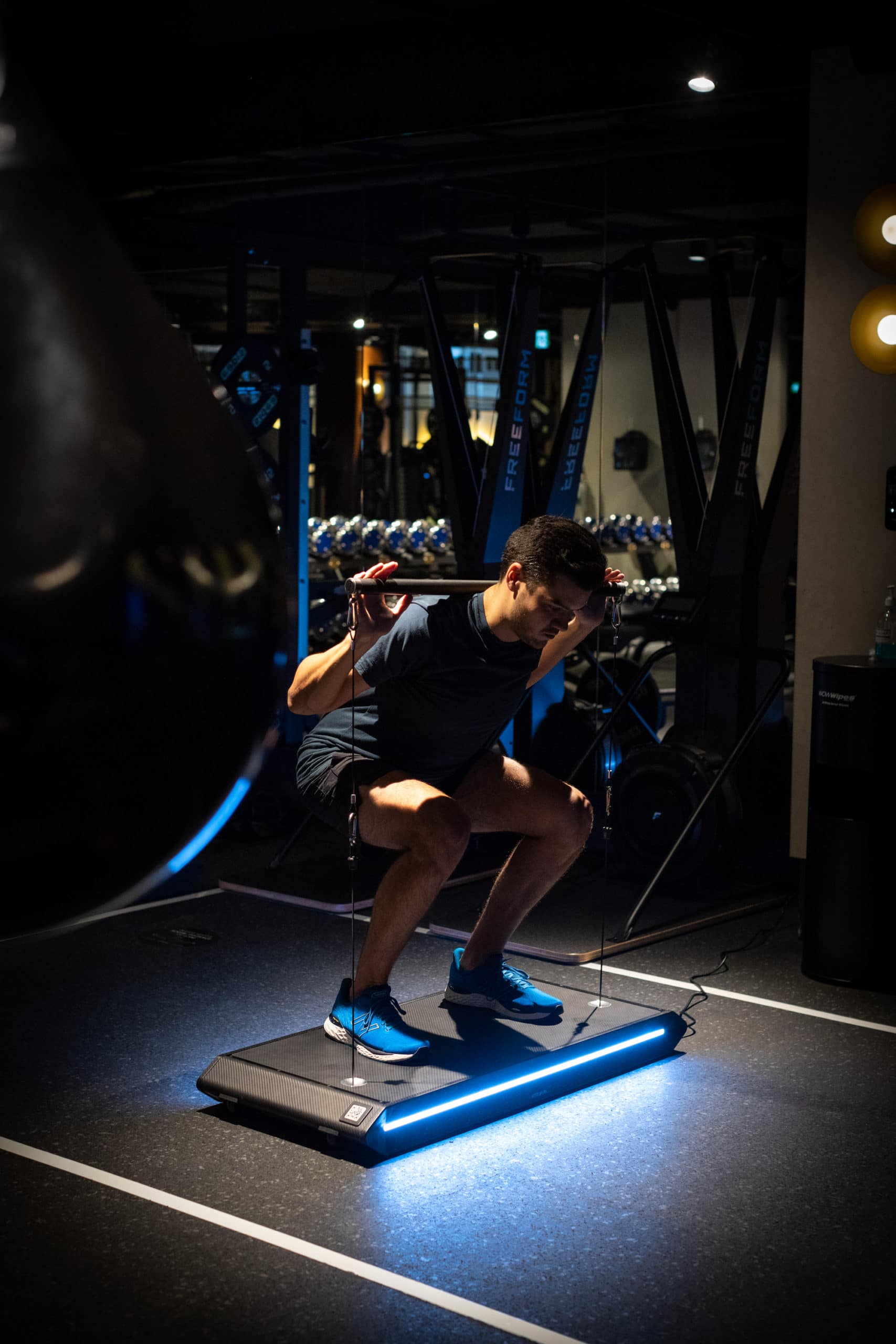 The Classes – Train Your Own Way
I usually relish in the opportunity for a resistance class at the gym (as opposed to cardio), but a 13-minute workout on the V-Form trainer had me literally knocked off my feet from both surprise and exhaustion. Surprise because I was genuinely impressed by the force and power of such an unassuming machine, and exhaustion because I severely underestimated the energy needed for said 13-minute workout.
After just three sets of five exercises, I was gassed. I often grimace at the idea of losing sleep to an early gym class – for the sake of squeezing in an hour before work – but the thought of 13 minutes extracting an equivalent level of energy from me was astounding.
For those who are time-poor yet thrive off the feeling of a rewarding workout to start the day, the V-Form lets you design your own workouts from over 200 targeted exercises, or take classes created by certified coaches that suit your specific goals. Stream your sessions to the TV and your power through multiple workout styles at home, at any time of the day.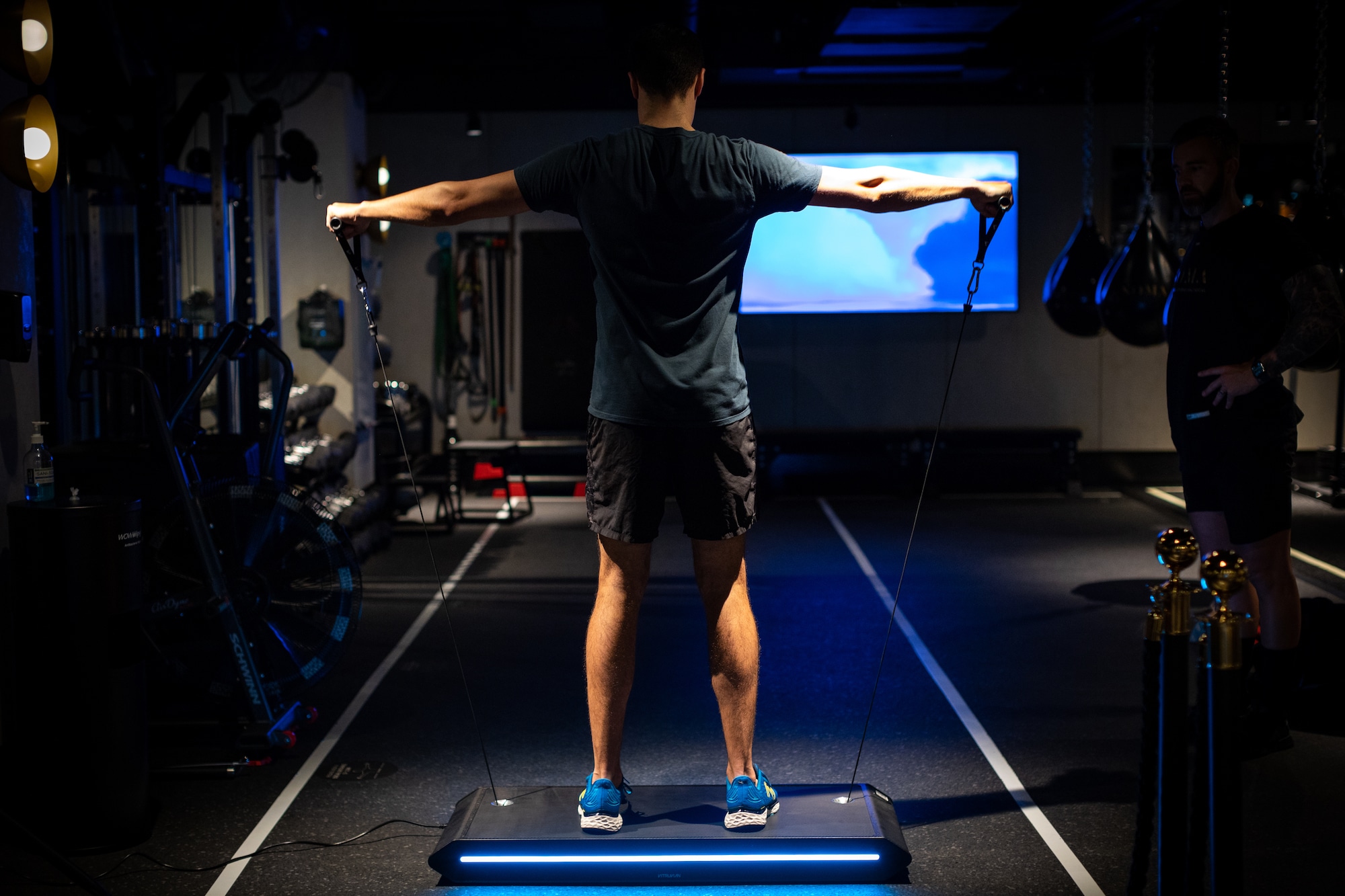 The Vitruvian App – Track Every Gain
No longer are you solely looking in the mirror for any visible signs of improvement. The V-Form trainer sends all of your detailed performance data to the Vitruvian App for no-bullshit, results-orientated growth. Micro-gains are trackable and your personal records are logged to be beaten. Store this information in your personal fitness profile so you're ready to go each time you kickstart the machine.
The guidance and coaching you deserve is offered to customers at three different subscription tiers – free, advanced, and premium. For US$19 per month, the "advanced" package gives you the ability to build your own customised workouts and unlock advanced data tracking and insights, while the "premium" offering can allow up to two and four individuals (US$39 & US$59 respectively) to use the same machine, as well as unlock tailored classes from your favourite trainers designed just for you. Cop a V-Form trainer before the end of July 2021, and you'll get a premium app subscription thrown in for free.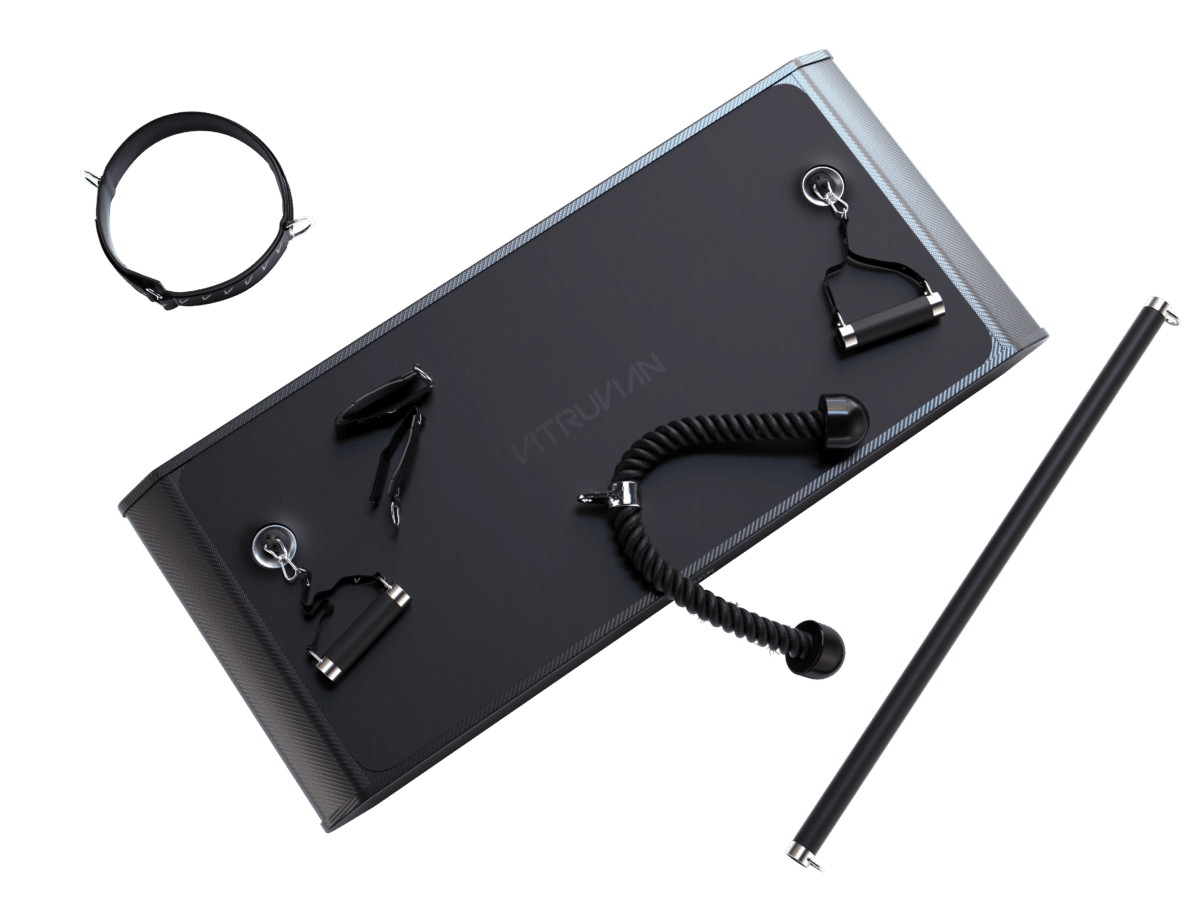 The V-Form Verdict
By 2023, the connected fitness space is set to springboard itself into a several billion-dollar industry – thanks to the likes of Peleton pioneering the space and Vitruvian following hot on its heels. Even a brief, two-week lockdown here in Sydney as I write this makes a compelling case for the V-Form trainer in itself, let alone the benefits outside of a global pandemic. An all-around return on investment in regards to money, time, and above all, health, Vitruvian's V-Form trainer will set you back AU$2,950 today and propel you forward to your best state of fitness tomorrow.
This article is proudly presented in partnership with Vitruvian. Thank you for supporting the brands who support Boss Hunting.