NBA All-Star Ben Simmons is making good use of his five-year contract with the Philadelphia 76ers valued at US$177.24 million (AU$238.97 million), having gone ahead and bought a palatial Los Angeles mansion for US$17.5 million (AU$23.6 million).
Located in the guard-gated Hidden Hills, this lavish West Coast outpost was designed and built in 2021 by Max Nobel of Nobel LA. The modern farmhouse offers seven bedrooms, three kitchens, and eight bathrooms. Additionally, Simmons' property boasts two separate pools, a guest house – or to most of us, another house – as well as 12,000 square feet of living space set upon a well-manicured 1.5-acre lot.
These days, the Hidden Hills is a far cry from the days of being a sleepily pastoral San Fernando community. In fact, the only horses you will find here likely exist on the front of a luxury sports car. The sheer breadth of LA's glitterati who call this place home include several notable professional athletes such as Los Angeles Rams quarterback Matthew Stafford, retired Miami Heat legend Dwyane Wade; and hip-hop stars like Drake, Lil Wayne, to name a few. Also among community are Jeffree Star, Lori Loughlin, plus just about every member of the Kardashian-Jenner clan.
---
---
RELATED: The Iconic Kaufmann Desert House Is On Sale For $22.5 Million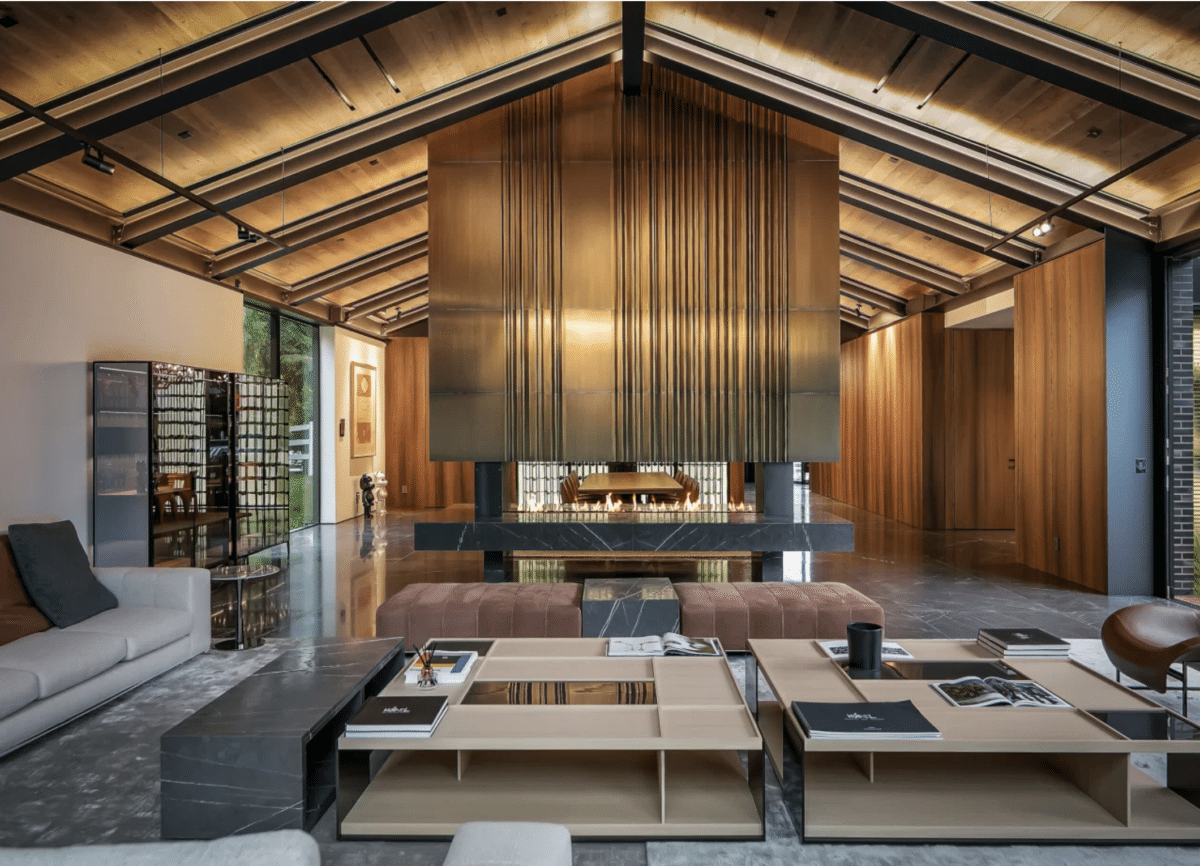 Continuing the ongoing architectural trend of pseudo farmhouses, the Ben Simmons Los Angeles mansion is situated at the end of a quiet cul-de-sac, consisting of charcoal-coloured brick and reclaimed wood siding. The main entrance features a long driveway behind its front gates, flanked by mature olive trees and emerald green lawns. Around the corner, there are two separate motorcourts with a three-car garage on the side of the home.
The front door opens into a blacked-out foyer, complete with sleek contemporary light fixtures overhead and floored with giant slabs of grigio marble. The entrance gallery with backlit rift oak paneling leads to a massive great room hewn from dark shades of grey and gold. This room includes two custom metal chandeliers (which reportedly retails for upwards of US$100,000 / AU$134,780 together), accompanied by a "floating" marble fireplace with giant brass sliding that bisect the room's dining and living spaces.
Beyond this room, a long hallway splinters off into a soundproof movie theater, guarded by a set of marble double doors. The hallway also leads to a double-height family room (presumably a necessity when you're 6'11") with custom cabinetry.
The stairwell draws a pathway to a balcony, connecting the master suite wing overlooking the pool and its poolside cabana. Here, the secondary wing can also be found, which holds the remaining bedrooms. Notably, the house does not include the sweeping city lights view that is generally a staple for nouveau riche buyers. Fortunately for young Benjamin, the developers went to the trouble of making the outdoors a spectacle of its own – with the infinity-edged swimming pool cantilevered over the grassy lawn below in conjunction with the glass walls of the main mansion.
Beside the pool, there's a deck forged from marble, paired with a more traditional wooden deck set alongside it. The poolside cabana comes with a lounge area that displays an iconic Kobe Bryant reverse-dunk decal; alongside a giant flatscreen TV and bathroom of equally epic proportions.
RELATED: Saudi Billionaire To List NYC Penthouse For Over $225 Million
---
---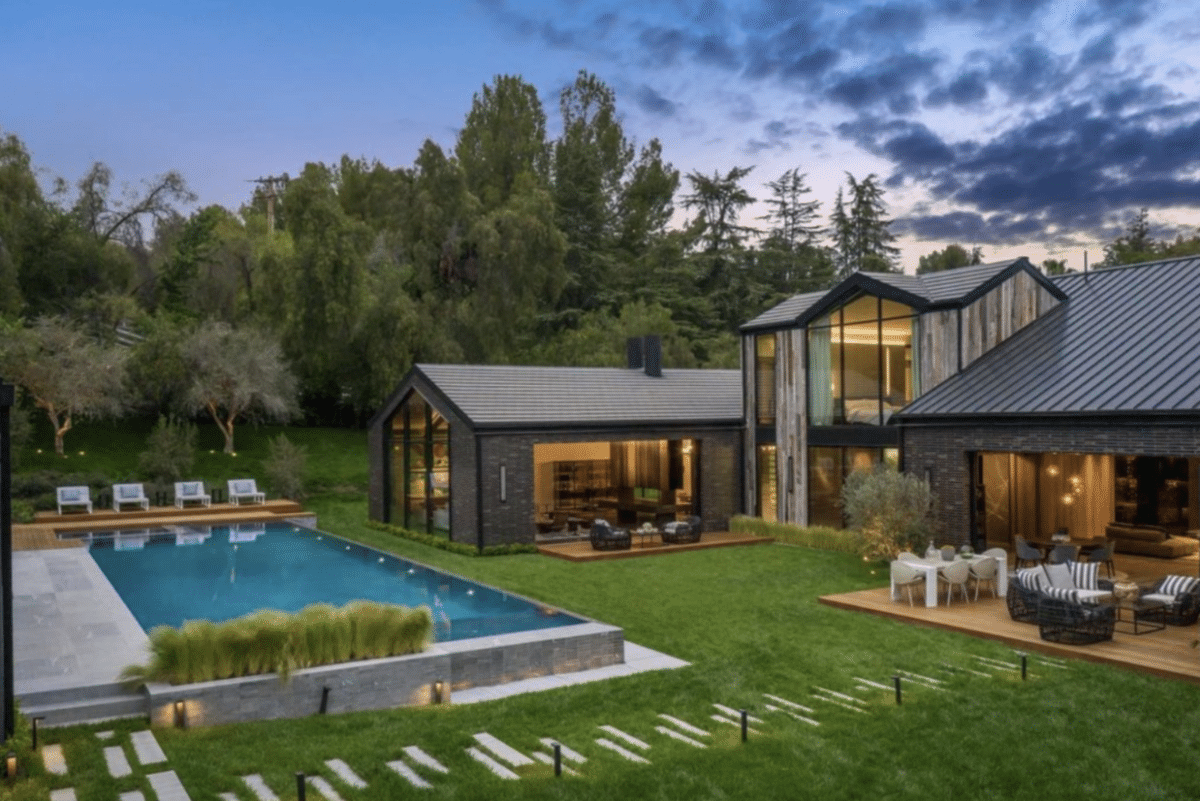 If all of that doesn't exactly impress you, perhaps the guesthouse will. Featuring its own negative-edge plunge pool, the bedroom is sure to prompt many phone calls from Simmons' mates in Fitzroy, with a giant fireplace, boutique-sized closet, a sitting area, and floor-to-ceiling glass panels overlooking both the aforementioned pool and ancient oak tree on the grassy hillside beyond.
The move to Los Angeles should comes as no surprise, considering the 24-year-old point guard has spent all four of his NBA career off-seasons here. After the lacklustre conclusion to this current season, there's a lot of conjecture regarding where Simmons will play next year (if even at all).
In light of his severely underwhelming performance, Simmons has also backed out of playing for Australia's Boomers in the upcoming 2021 Tokyo Olympic games. It requires cautious optimism to think that Simmons will finally improve since his Rookie of the Year season while residing in a house 4,000 kilometres away from Philadelphia with every distraction known to man. Surrounded by motorcourts, pools, movie theatres, and with both Drake and Kardashian curses hanging over his head… let's hope Simmons can find a jumpshot somewhere.
Check out the Ben Simmons Los Angeles mansion for yourself below.