You have to realise something. Writing about million-dollar real estate as regularly as we do means that eventually, the majority of properties out there will simply cease to impress. Yet the excessive Los Angeles mansion currently owned by billionaire hedge fund manager – Jeffrey Feinberg – has managed to stir some form of emotion in the BH office. And as of this week, the one-of-a-kind property dubbed The Brentwood Oasis can be yours (for the low, low price of just US$48 million / AU$68.85 million).
The recently completed complex located at 1047 N Bundy Drive, Brentwood was built on spec by developer Ramtin Ray Nosrati. Situated on a 1.26-acre slice of Brentwood, California and offering 55,000 square feet of space, there are seven bedrooms, 10 bathrooms, as well as a two-storey guesthouse. One could easily find themselves in need of a Search & rescue team here, or at the very least, Google Maps.
RELATED: Mystery Crypto Billionaire Snags Insane Hilltop Mansion For $112 Million
---
---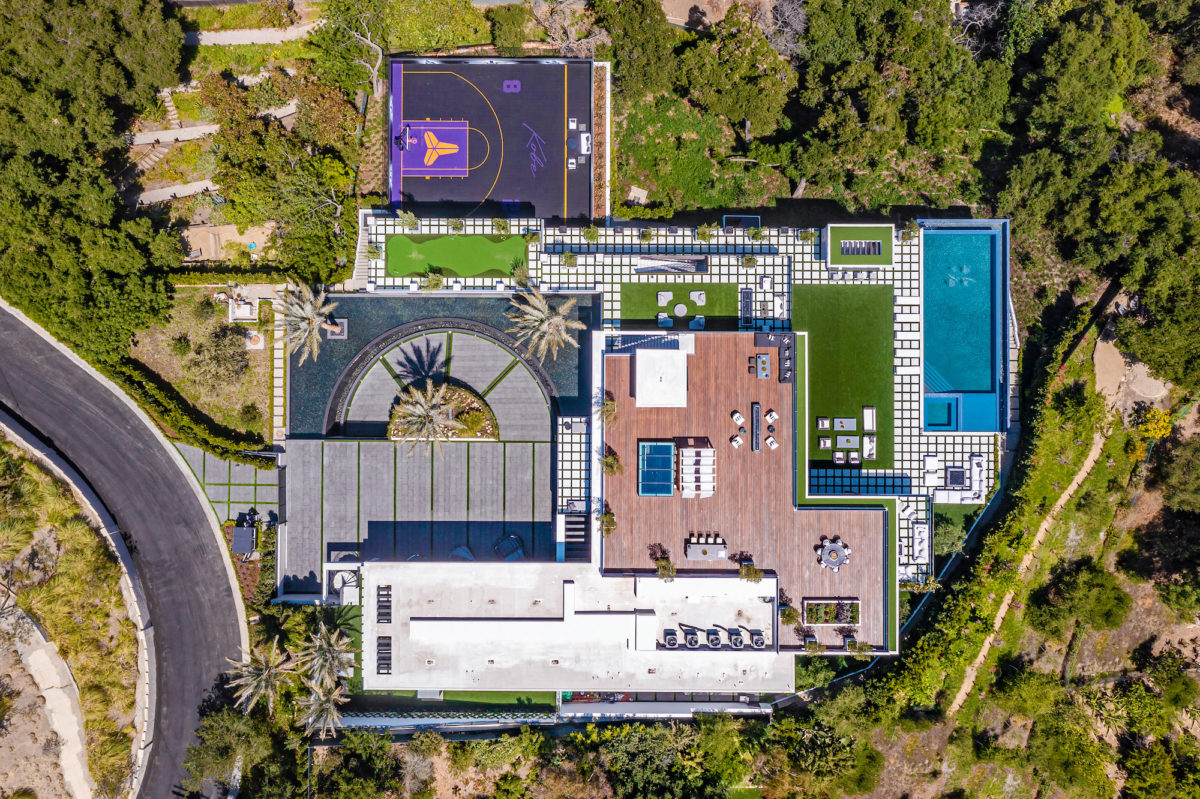 While this palatial monstrosity comes with plenty of rooms and plenty of unbelievable amenities, one thing you won't encounter here is subtlety. There isn't so much of a Los Angeles vibe as there is, oh I don't know… a touch of a Las Vegas one(?)
"The house is basically like a resort, with all the bells and whistles you can think of and dream of," Ramtin Ray Nosrati previously stated of The Brentwood Oasis.
There are the bog-standard inclusions you'd expect from a pad of this calibre, e.g. bespoke wet bar, world-class theatres w/ fibre-optic ceilings to simulate the night's sky, fully-equipped kitchen, bathrooms w/ imported marble, two gorgeous swimming pools (indoor + infinity-edge outdoor) w/ Baja seating and spa, state-of-the-art gym, modern office, etc.
Then there are the not-so-standard highlights. We're talking a three-hole putting green, high-tech games room with sports simulators, nine-TV media wall, double-height great room, 1,000-gallon aquarium, linear fireplace w/ monolithic stone wall, a bloody car showroom, an entire wellness suite, and hair salon.
Initially after construction, The Brentwood Oasis even boasted a cannabis garden on the rooftop alive with marijuana plants. Prior to picking up the keys, however, Feinberg reportedly fired off an email Nosrati's way requesting the good stuff be replaced with carrots and cucumbers. Lame, yes. But the next owner could conceivably bring back the vegetation that really matters.
Given Feinberg is a longtime basketball fan, this particular Los Angeles mansion also comes with an NBA half-court decked out in the Lakers' royal purple and gold, printed with the name "Kobe" and "24" as required by law for all residents of Los Angeles, /s. Throughout the home, pictures of superstars such as LeBron James and Mamba himself can be seen.
Check out The Brentwood Oasis at 1047 N Bundy Drive below.
---
---