What were you doing at 25 years old? Were you getting paid $44.7 million every year to be the star player of the best team in the NBA? Were you dating the highest-paid model in the world? When Devin Booker gave Architectural Digest a tour of his Arizona mansion, he showed the world what we already knew to be true. The game of life is over, and DBook has already won.
Think of it like this. Booker was recently picked for his third NBA All-Star appearance and it wouldn't even crack the top ten coolest things he has going on in his life. One of the more understated qualities of Devin Booker that we can get from just looking at his mansion in Arizona is the maturity of his taste. Professional athletes stepping into a lot of money is nothing new, and you'd almost expect them to splash it on something garish. However, not many 25-year-olds can say they have as much of a well-realised appreciation of Mid-Century design as Booker does.
For DBook, the house has been a long time coming.

"When I was a kid growing up in Michigan, I'd close my eyes before bed and imagine what my house might one day look like," he says.

"The size or shape of the home would be different depending on the night, but the interiors were always the same: modern with a bit of nostalgia in the mix."
---
---
RELATED: Inside Ben Simmons' $23 Million Los Angeles Mansion
Booker's house includes standout features such as a Bali-inspired swimming pool, an outdoor fire pit – despite the notoriously scorching heat of Arizona – and a guest house. Inside, the Clements-sourced or custom made furnishings were selected with an NBA-sized frame in mind. That includes a 12-foot sofa and a scaled-up poker table for Booker and the Phoenix Suns to comfortably gather around.
"I consider myself fortunate to be surrounded by people with great style," Booker tells AD.
"Whenever I walk into my friends' homes, I'm like a sponge, asking questions and absorbing what I see."
A road trip he took with Kendall Jenner to Roden Crater during the early days of the pandemic was also said to have an imprint on the design of the house. Here, the pair were able to see a massive art installation by James Turrell from within a volcano. He went on to purchase an LED wall sculpture for his dining area which Booker deems to be "one of [his] favourite parts of the home."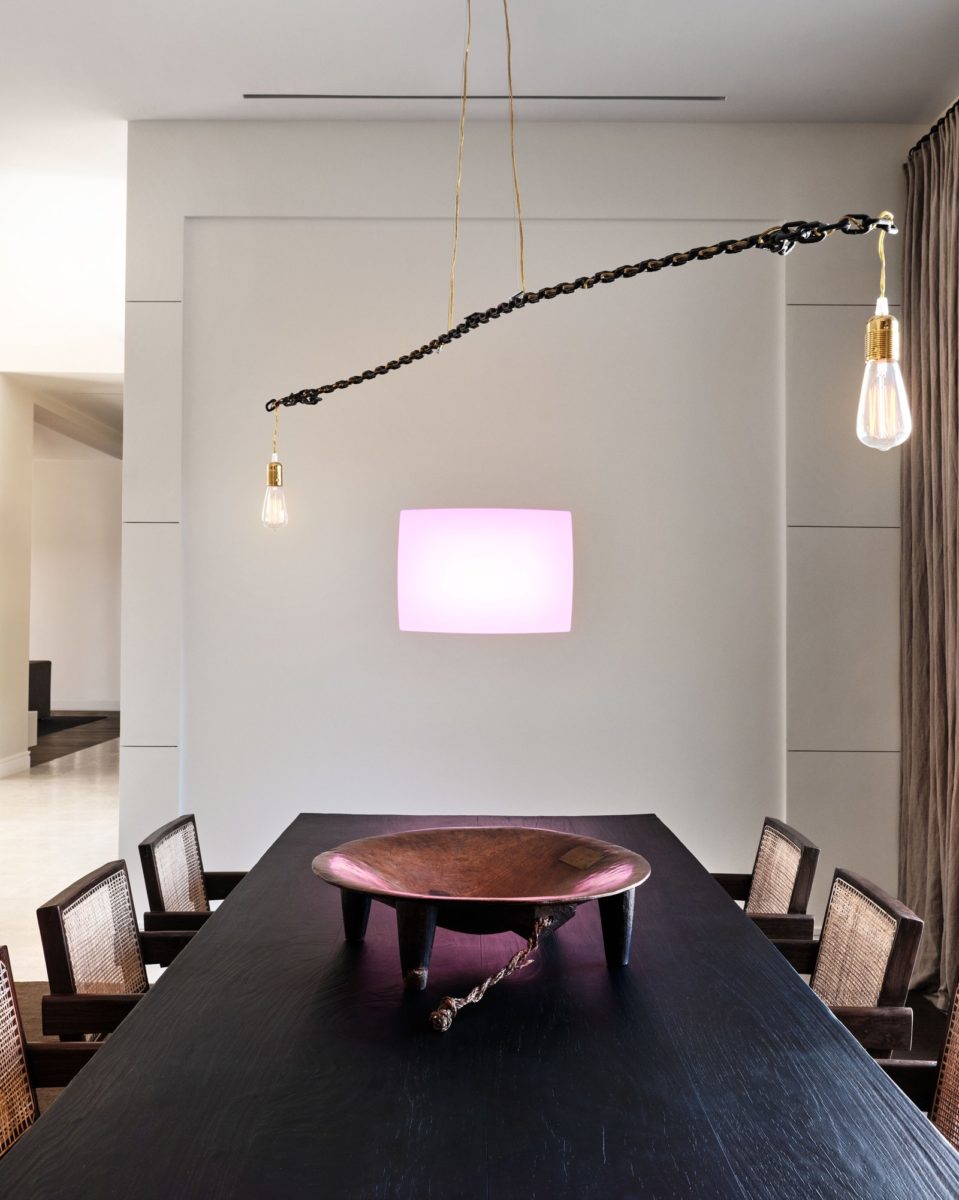 Thomas Hayes Studio stools covered in Moore & Giles leather and Keleen Leathers shearling pull up to the kitchen counter. It is one of the many examples of Booker employing older items that look lived-in, contrasting the more contemporary objects in the home. Blended together, they allow for pieces to complement each other.
On that note, it's worth noting the wunderkind's collection of classic cars, which – to be completely honest – is probably worthy of its own article. He has an affinity for old Chevrolets, which he attributes to his upbringing. Booker also has an equally nostalgic collection of sneakers, that each holds some level of personal significance to him. From the pool table containing the Kentucky University colourway to his own outdoor theatre, we see that this home is the tasteful reconciling of 25 trips around the sun.
---
---
"I know this house is something special… During those long stretches on the road, I can't stop thinking of getting back here. It's like something that's been a part of me my whole life but I'm just realizing it now."
Who can even blame him? This is Devin Booker's world and we are all just living in it.