A seven-bedroom, nine-bathroom home where music icon Frank Sinatra lived during the 1950s and 60s has been listed for US$21.5 million (AU$28.7 million). And if it looks familiar, you may watch a decent amount of TV. The estate – which spans 758 square metres set upon on 13.7 acres in Chatsworth, California – has been used extensively in both hit shows and films before – most notably Mad Men and Californication, but also Dreamgirls and Ali.
Hollywood's love affair with this property, known widely as the Frank Sinatra Byrdview Estate, speaks to an enviably theatrical quality rivalled by very few in the area, which is probably why the price has skyrocketed since it was last up for sale back in 2018; then valued at US$12.5 million (AU$17.1 million).
The home bookends an almost mile-long driveway atop a private promontory, overlooking the absolute chasm that is the 1,325-acre Chatsworth Reservoir nature preserve with 360-degree views. Over the decades, and across many owners, it was known as a constant lure for Hollywood's elite. Reportedly, Marilyn Monroe once lived in the guesthouse, and Sinatra frequently hosted many of his famous friends at the expansive and elegant home. Judy Garland and Vincente Minnelli renewed their vows on the property, no doubt tempted by the romance of that untold vista.
---
---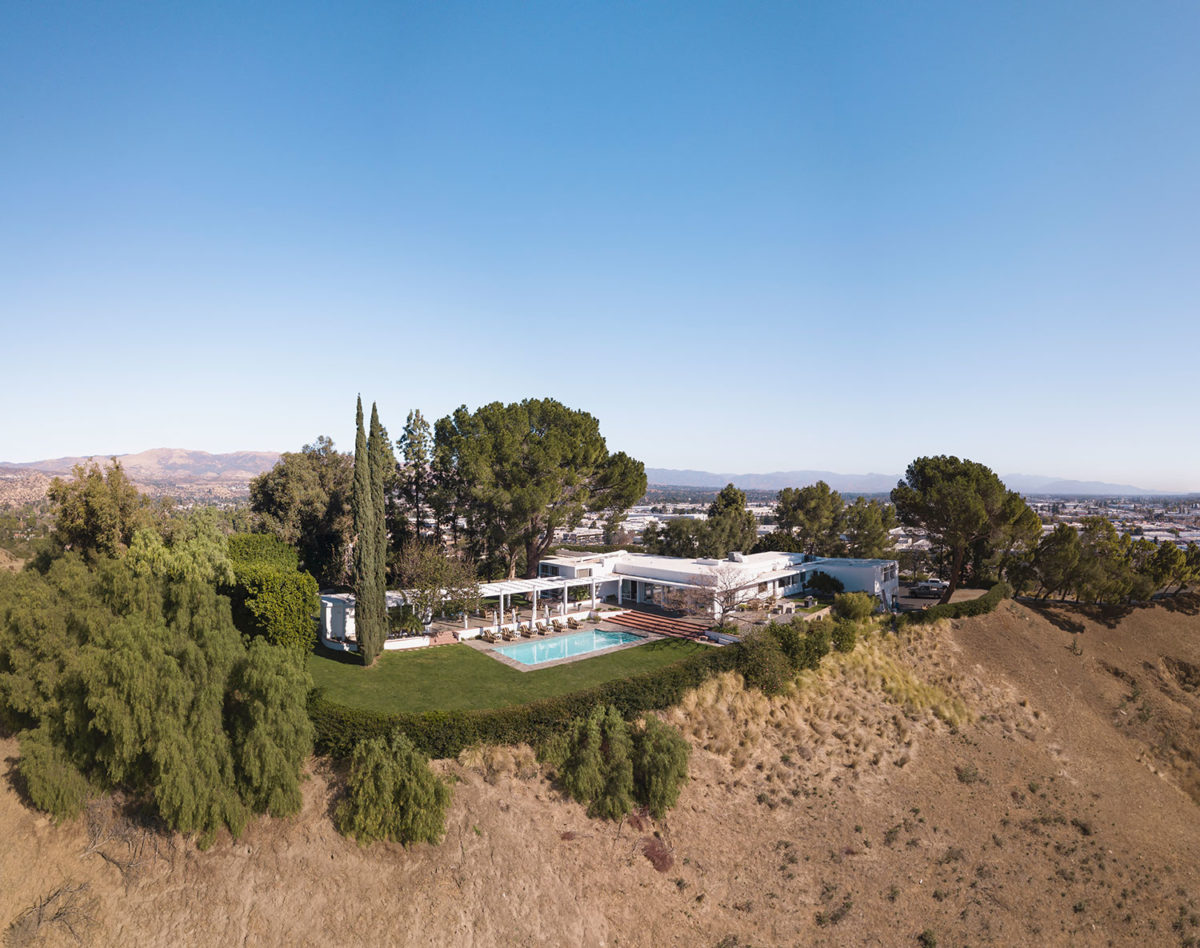 But just because it has the allure of once being owned by Frank Sinatra, doesn't mean it'll be a sure-thing on the market. Old Blue Eyes once owned a lush hideaway in the middle of Palm Desert, California, known as Villa Maggio. Positioned in Coachella Valley, it too has been relisted on the market this year. But as the New York Post notes, no one has purchased the estate, which is currently going for US$4.25 million (AU$5.8 million), despite it being listed on and off for the past 15 years.
Seclusion seems to be the key reason no one is buying Villa Maggio. That's less of an issue for the Frank Sinatra Byrdview estate which, on the other hand, is at least much closer to civilisation and commands a considerably higher cost simply because of how damn magnificent it is. The pedigree behind its construction might have something to do with it as well.
RELATED: The Weeknd Drops $97.7 Million On A Stunning Bel Air Mansion
The residence was erected in 1951 by Pereira Luckman AIA, which is the architectural firm best known for designing the Los Angeles International Airport. The main architect who worked on it, William Pereira, is the same mastermind who designed the iconic TransAmerican Pyramid that serves as one of the defining points of San Francisco's skyline. Byrdview is only one of four houses designed by Pereira, which adds another layer of prestige on top.
Inside, the home is as mid-century modern as you can get, especially now that it's undergone a US$1 million renovation. Light wood accents cover the interior, set against pristine white walls and dramatic floor-to-ceiling windows to really pull the view in. The floor plan is mostly open, consisting of a formal dining and living room with a full bar, the main suite with a massive bathroom overlooking the backyard, a formal sitting room, and of course, a piano room where Sinatra reportedly spent most of his time.
Outside, there's a patio and a 15-metre swimming pool with a wet bar. The design brief obviously took its cues from the view; it's as open and airy as you can get, stretching all the way to a parking area that's big enough for 100 cars. Beyond that, there's enough agricultural-zoned acreage that any new owner could easily build a vineyard.
That fully-outfitted guest house mentioned above, where Marilyn Monroe stayed, features a considerable gym and massage room nearby in a separate building, while also sporting its own yard and pool. Although by today's standards it looks rather glum, even if it's got that vintage charm that makes the perfect Hollywood-baiting backdrop for whoever ends up scooping the Frank Sinatra Byrdview estate.
---
---