It was just a few months ago that we were admiring the casual golf cause Mark Wahlberg had built outside the back of his 30,000 square foot Beverly Park mansion, installed six years ago by Back Nine Greens next to the actor's skatepark, regulation-size basketball court and grotto-style swimming pool. Well, now it appears that with just the right amount of money, you could own that golf course along with the entire property given the 6-acre Casa de Wahlberg has been listed on the market for a tidy sum of US$87.5 million (~AU$115 million).
Beverly Park, which is one of of the most prestigious gated communities in Los Angeles, has been the home of the Boogie Nights actor since he and his wife, Rhea Durham, bought it in 2009 for a reported sum of US$8.25 million (~AU$11 million and then turned it into the streoidal megamansion it is today with the help of noted celebrity architect Richard Landry (often referred to as the "King of the Megamansion").
So it comes as a surprise to see Marky Mark finally decide to offload the 20-bedroom, 12-bathroom home, which was shaped after Europe's largest chateaus, albeit blended with a bit of that ostenatious more-is-more approach just about every A-lister in LA ends up taking.
---
---
The Mark Wahlberg estate consists of a supersized main house surrounded by an equally lavish guesthouse next to a poolside cabana and viewing pavilion. Given Wharlberg lives a very active lifestyle, the comprehensive sports precinct features prominently with all the aforementioned outdoor features like the full-size basketball court and the golf course to help with the man's insanely disciplined athletic schedule.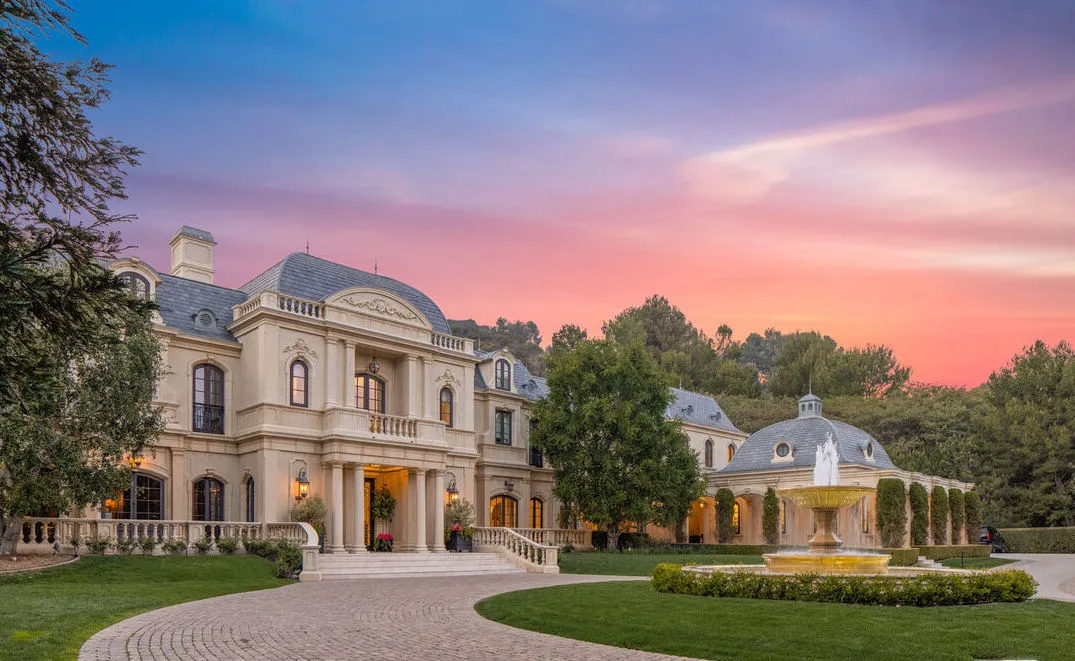 RELATED: The Rock's $36 Million Beverly Park Mansion Is A Full-Sized Tuscan Resort
Before guests enter the house they have the pass by a formal motorcourt that wraps around a tall fountain, preceding the large-scale features one can expect as soon as they would through those doors and into the home's two-storey foyer.
Limestone floors dominate the interiors, from the sophisticated living room with a fireplace at each end and no less than six sets of French doors, to the impressive wood-panelled library which spans two storeys and also features a marble fireplace. The dedicated breakfast room looks to be the spot with the most natural light, overlooking the state grounds with large windows, separate from the actual formal dining room that features a crystal chandelier, some elegant patterned wallpaper and – yes- another fireplace.
Wahlberg's love of fireplaces doesn't stop there either. He's got at least seven spread all throughout the main house, including in the family room, which connects to the main kitchen.
In the master bedroom, you can see Wahlberg prefers brown hardwood floors for a more mature look, with the space big enough to include a sitting area, private balcony, dual bathrooms and his & her closets. Durham's closet is distinctly dressed in lighter whites and lavenders while Mark prefers to set his threads against a backdrop of wood panelling and thickly veined marble slabs.
There are plenty of amenities throughout the house which speaks to the ultimate entertainer home, from the wine cellar and tasting room to the 15-seat movie theatre. As you can expect, Wahlberg also has an incredibly well-stocked glass-walled gym.
---
---
Kurl Rappaport from Westside Estate Agency is handling the listing, which if successful will rank as the most expensive Beverly Park property sold to date. The current holder of that lofty title is a custom-built property, reportedly sold by buyout kingpin Alec Gores to Hong Kong-based gaming tycoon Hao Tang for US$70 million (~AU$93.5 million).
Whoever picks up Mark Wahlberg's mansion will be able to call plenty of famous names neighbour, including Sofia Vergara, Justin Bieber, Denzel Washington, Rod Steward, Samuel L. Jackson, Eddie Murphy, The Rock and Magic Johnson.