From a girl speaking to the boys… fellas, let's get one thing straight, we aren't fast and loose on the right swipes like you are. We put your profile through a very stringent and strategic qualifying round before swiping right.
And so we don't piss our valuable time away, we go straight to Bumble to do it. We swipe right for…
The best pick of verified guys
All of your accounts linked straight in (Spotify & Instagram)
And a bit of a confidence boost, that comes from us initiating the chat.
But, the thing with Bumble is, we have a precious 24-hour reprieve to reconsider our decision.
---
---
The bad news – that's a long time for you to be on mute. Waiting, hoping.
The good news – our right swipe is entirely in your hands. It's based off your profile after all!
It should come as no surprise, then, that a half-arsed attempt at completing your profile will reduce your match potential by a lot. On the other hand, simply adding a 'badge' or two can increase your match potential by a staggering 227%. Translate those figures across to the 4 million Australian Bumble users looking for a date – and those become very, very big numbers.
Dating apps are more important now than ever. Lockdown or no lockdown, we have drastically changed our dating habits. There is an overwhelming preference for slow dating; connecting on the apps for longer. Two-thirds of users are taking their time to get to know someone more, before meeting them in real life.
To kick start this process, your profile is all we have to work with. We want you to get past the gatekeepers. And in order to prove it, I've rounded them up for you.
I'll drop in and out of the girl's group chat with seasoned Bumble regulars to discuss what it takes to earn our right-swipe.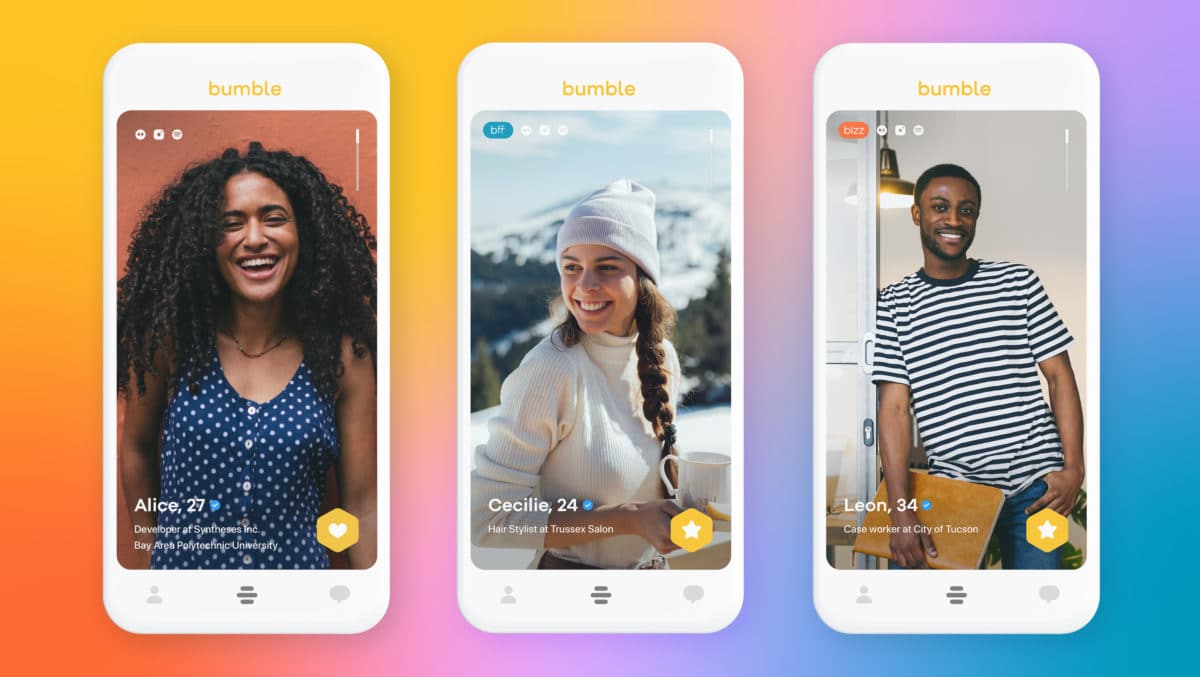 Disclaimer: none of the following advice has anything to do with the genetic lottery. Apparently 35% of Bumble users care a lot less about what their match physically looks like and are more concerned with their personality. It needs to come across in your profile.
A Girl's Group Chat On Your Photos…
Steph: "There are awesome guys out there, but something just happens to them on dating apps. They can't make their pictures reflect any of that."
---
---
Ella: "Cut them some slack, not every guy creates content for a living."
Steph: "Good! I never swipe on the wannabe influencers… or the guys in business class 'cheersing' Champagne."
Em: "Lol, it's not even a good way to show off. If you're a reg VIP flyer you wouldn't have that photo."
Ruby: "It's not the cringe factor. It's an anomaly! It's a '100-year photo'."
Steph: "A '100-year photo' 😂."
Ruby: "Seriously though. Cool that you once went to North Queensland and caught a huge fish, or went to Thailand in your gap year and pet a tiger and flew there in business class. But what do you actually do on the weekend?!"
Ella: "Totally! I love the more real and mundane. And just more, full stop."
Em: "Max out all six photos. I won't swipe on less than three."
---
---
Steph: "Three is also my photo minimum. The only exception is if they have also synced their Instagram and it has a heap of pics."
Ruby: "I want a preview of the life I'll enter into if we hypothetically start dating."
Em: "Agree. When I look at a guy's profile, I try to get a picture of who they are, what they do, where they go and what we could be together. It helps me work out if we're compatible. Will we match or clash?"
Steph: "Also, just saying, the more truthful they are in their photos, the less disappointed we'll be when we meet them. Show us your hair, eyes, teeth and height people…"
Ruby: "Surely they know that? After all, we know their angles better than anyone haha."
Ella: "That's why I don't trust any profile without the verification badge. It takes 2 seconds. It's just suss otherwise."
Em: "If an actual human at Bumble HQ sits there all day matching a current selfie to their profile, hell yeah I'm going to use it."
Key takeaways
Avoid: Bad quality images, repetitive facial expressions, cropped out ex-girlfriends, multiple group snaps, outdated mug shots, and flashy photos.

Include: Diversity in your photos that shine a light on your daily life or usual weekend. One solo shot, one full body shot and photos where you look happy and natural. Verify those pics with that coveted blue tick, ASAP!
---
---
RELATED: A Girl's Group Chat Tells Us What Drinks Not To Order On A First Date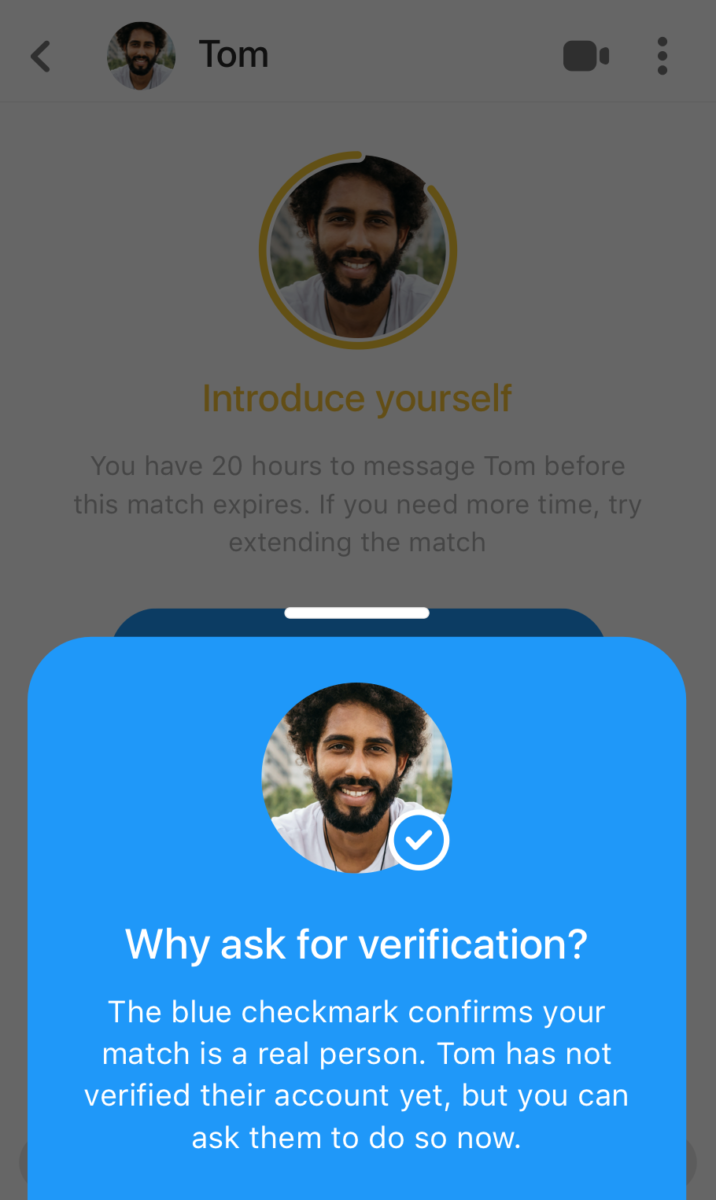 A Girl's Group Chat On Your Bio…
Ella: "I won't swipe on any tropes."
Em: "Uh, yes. 'Can reach tall places, good at catching spiders, own a suit…'"
Steph: "I've heard them all. Instant no."
Ella: "I want to hear about you, but you're using your valuable air time to pin us both as walking stereotypes?"

Ruby: "My pet peeve is the ultimatum guy: I won't swipe on you if…"

Em: "I hate that too. It's so obnoxious."

Ruby: "Don't announce your laundry list. Just don't swipe on that profile? We don't need to know why in advance. Keep it to yourself mate. It's not endearing, it just makes them sound aggressive."

Steph: "To be fair, the bio is the hardest. It's a completely blank canvas."
Em: "Mine is short and sweet. Then I elaborate more with profile prompts."
Ella: "Most guys totally underutilise it. They fill it with stuff they could have just answered with a badge."
Key takeaways
Consider freeing up some valuable bio real estate with badges instead.
---
---
An exercise badge will get you 21% more matches. That will balance out your odds if you continue to insist on including the dreaded gym selfie…
The astrology badge will get you 27% more matches, too! Hey, whether you're into it or not, consider it an easy win.
The height badge earns you 50% more matches. Interestingly, it's your withholding that loses you points here, not your actual height.
RELATED: A Girl's Group Chat Tells Us What Not To Wear On A First Date
A Girl's Group Chat On Dating During COVID…
Em: "Had you tried the video call feature before this?"
Ella: "No, but I wish I had! It has saved me so much time since! Lol."

Ruby: "Me too! Game changer. Normally I know within the first few minutes of a date if we're going to vibe. Then ultimately spend the rest of the time swirling my drink, really annoyed with myself for not vetting them better before meeting them. Haha"

Steph: "And now you can! At home… in your PJ bottoms."

Ruby: "Totally. I'll probably keep doing it too. Especially for the first getting to know each other part. It's def better than just messaging."

Steph: "And dating IRL is just awkward now. Even if I feel comfortable I don't know if they do? Can you kiss in public right now?"
Ella: "The risk bar is high. I put the social distancing badge on. So much easier than having that chat, or dealing with conspiracy theorists…"

Em: "Omg actually?"

Ruby: "I just rate that you can do it within the app!"

Steph: "So good that you don't have to give your number away. I can't even open Instagram anymore… My 'message requests' from random creepy guys gives me serious anxiety.
Ruby: "Yeah I was a very quick convert. You know you're safe and you can eliminate disgusting messages as a conversation starter. Bumble is just easy. I start the chat and feel totally myself. And I'm actually so much better on a call? I don't know why. I hate Gifs. I just prefer to get straight to it."

Ella: "I'm all about the memes. But totally agree. Your guard comes fully down because you don't have to worry about that other stuff. And ultimately you can get pretty deep and pretty chatty a lot more quickly, because of it. Especially on video Em…… Hint hint."
Em: "I don't think I can. Video dating? Bahhh so awkward."
Ella: "You just make a joke about it straight away, and then it becomes normal. It's actually like this hilarious mixture of normal and intimate. You go between first date questions, then noticing something weird in the background of their apartment haha."

Ruby: "Omg seriously. One minute it's like, "tell me about your family?" Next minute, "umm I think you massacred your pot plant."
Key Takeaways
Just give it a go, fellas! If you want to improve your odds and reap the rewards, you need to improvise, adapt and overcome.
---
---
So there you go, gents. I know "we're in this together" has become the COVID-19 catch cry, but I seriously mean it. I've gone straight to the always direct, sometimes disgruntled, but the very hopeful source to prove it to you. Aussie women are out there swiping and raring to go. Give us a leg up, and we'll give you a much better chance.
This article is proudly presented in partnership with Bumble. Thank you for supporting the brands who make Boss Hunting possible.