Pete Davidson has several faces — stand-up comedian, Saturday Night Live alumni, and herb connoisseur — but with every passing girlfriend, he's proving himself to be one thing above all else: a modern-day Don Juan with more game than Phil Jackson, Bill Belichick, and Jose Mourinho combined. He could straight-up teach a goddamn Harvard post-grad course if he wanted.
Now don't get us wrong. This isn't to take away from his looks. Because he is a good-looking rooster (if Pete Davidson's your preferred flavour). The sheer calibre of women he attracts – in conjunction with the undisclosed methods in which this is all achieved – is simply an endless source of fascination for some. Present company included.
So what the hell is the secret to Pete's love life?
RELATED: This Infographic Proves Leonardo DiCaprio Refuses To Date Women Over 25
Big Dick Energy (BDE) Explained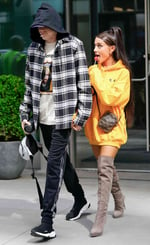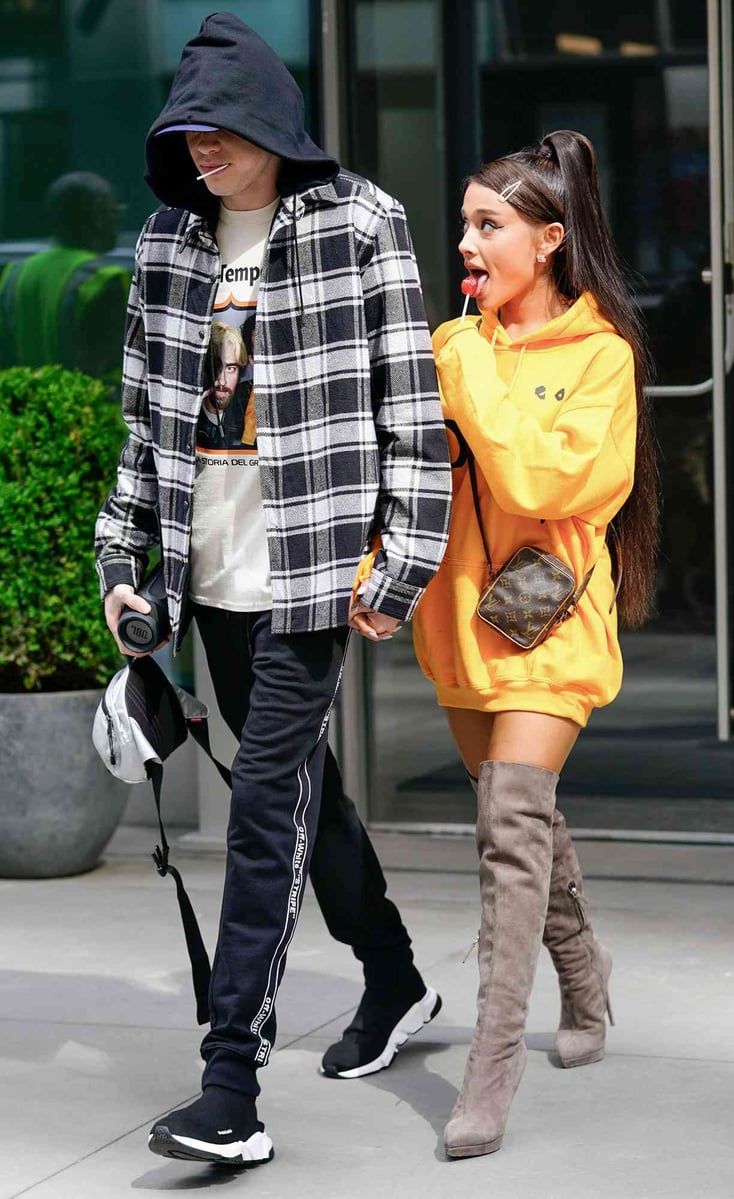 It's no secret Pete Davidson is the poster boy for Big Dick Energy (BDE).
The association was initially brought to wider attention when then-fiancé Ariana Grande hinted he was packing major schmeat (more on this later). That's when everyone started attributing his magnetic energy to the confidence you'd naturally possess lugging around a supersized kielbasa.
As explained by The Cut:
BDE is a quiet confidence and ease with oneself that comes from knowing you have an enormous penis and you know what to do with it. It's not cockiness, it's not a power trip — it's the opposite: a healthy, satisfied, low-key way you feel yourself.
Some may call this "oh he/she f-ks" vibe, but that is different: you can f-k, but not have BDE. Some may call this "well-adjusted," but we know the truth.
It's that thing that makes people bogglingly attractive to others, like Pete Davidson. It also is reflected in the way others look at you. Like, you can see your own big dick swinging in their eye. Example: how Ariana looks at Pete "Big Dick" Davidson.
Who has Big Dick Energy? (According to The Cut)
Trevante Rhodes: BDE.
Cate Blanchett: BDE for days.
Justin Bieber: BDE.
Justin Timberlake: Nah.
Justin Theroux: BDE.
Justin Bobby: BDE.
Jon Hamm: Nah.
Paul Giamatti: BDE, don't @ me.
Idris Elba: Biggest Dick Energy.
Bobby Cannavale: Oooooozes BDE.
Martha Stewart: BDE.
Bruce Springsteen: BDE.
Glen Powell: BDE.
Steven Yeun: Bathe me in his BDE.
Ryan Gosling: Nah. He has Shy Dick Energy
Shawn Mendes: Nah.
Charlie Puth: Yah.
Harry Styles: Sings about masturbation like it's NBD, BDE.
Zayn: Sings about sex like it's this thing he just heard about on a Jodeci song. Nah.
Jodeci: BDE.
Backstreet Boys: Nope.
'N Sync: Yup.
O-Town: YUP.
Ben: BDE.
Noel: Big Dick Energy, also, lucky Felicity.
Felicity: Nah.
All the Women on Living Single: BDE.
Zach Woods: Clearly, BDE.
Diplo: BDE.
Kanye: Nah.
Frank Ocean: The BDE platonic ideal, in my opinion.
Timothée Chalamet: BDE. It's how he can pull off that haircut.
Jonathan Franzen: Nah. Birds.
Rihanna: Overflowing with BDE. Hope you have a Teflon cervix.
But there's clearly more to this…
Carly Aquilino (2015)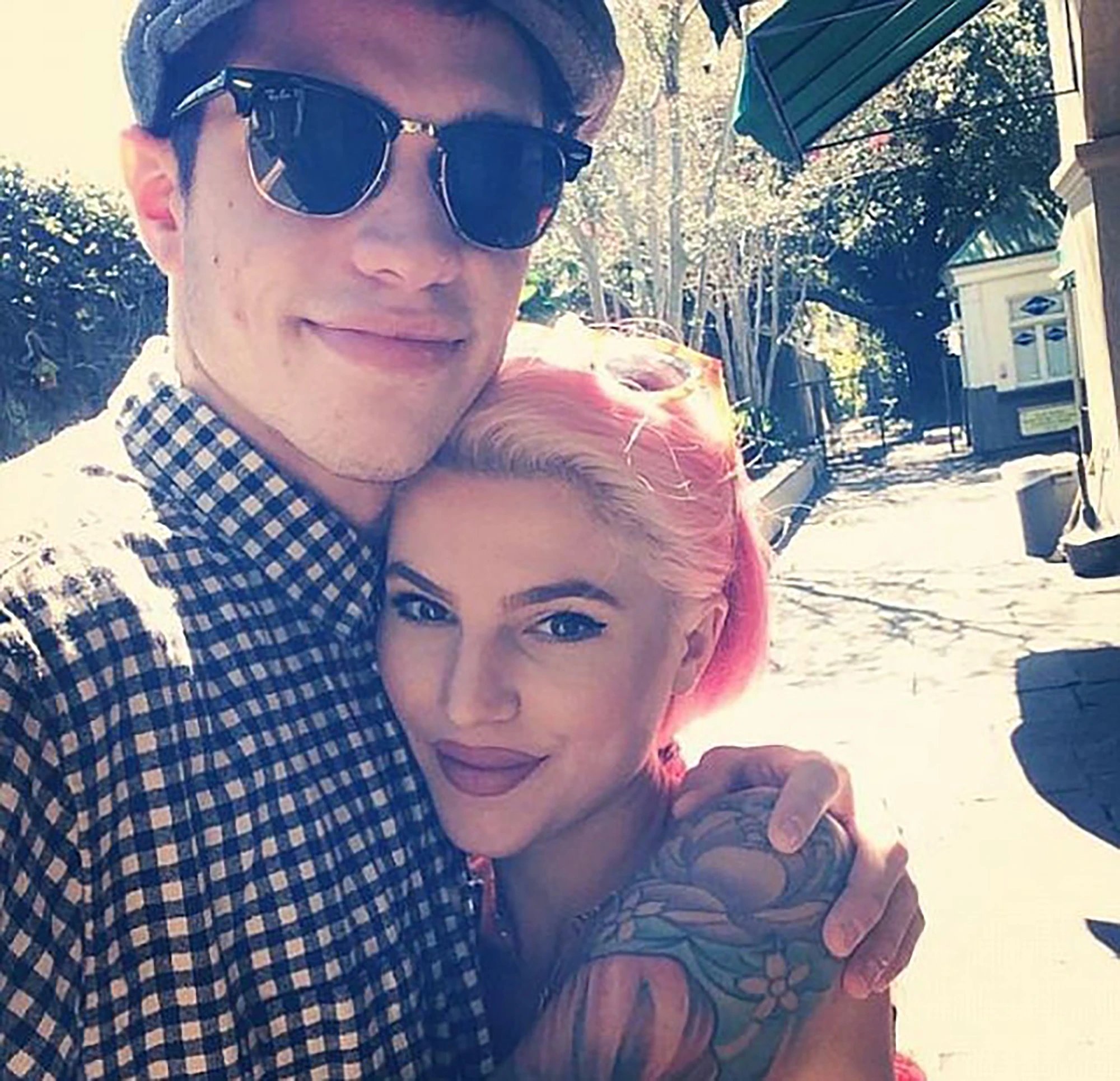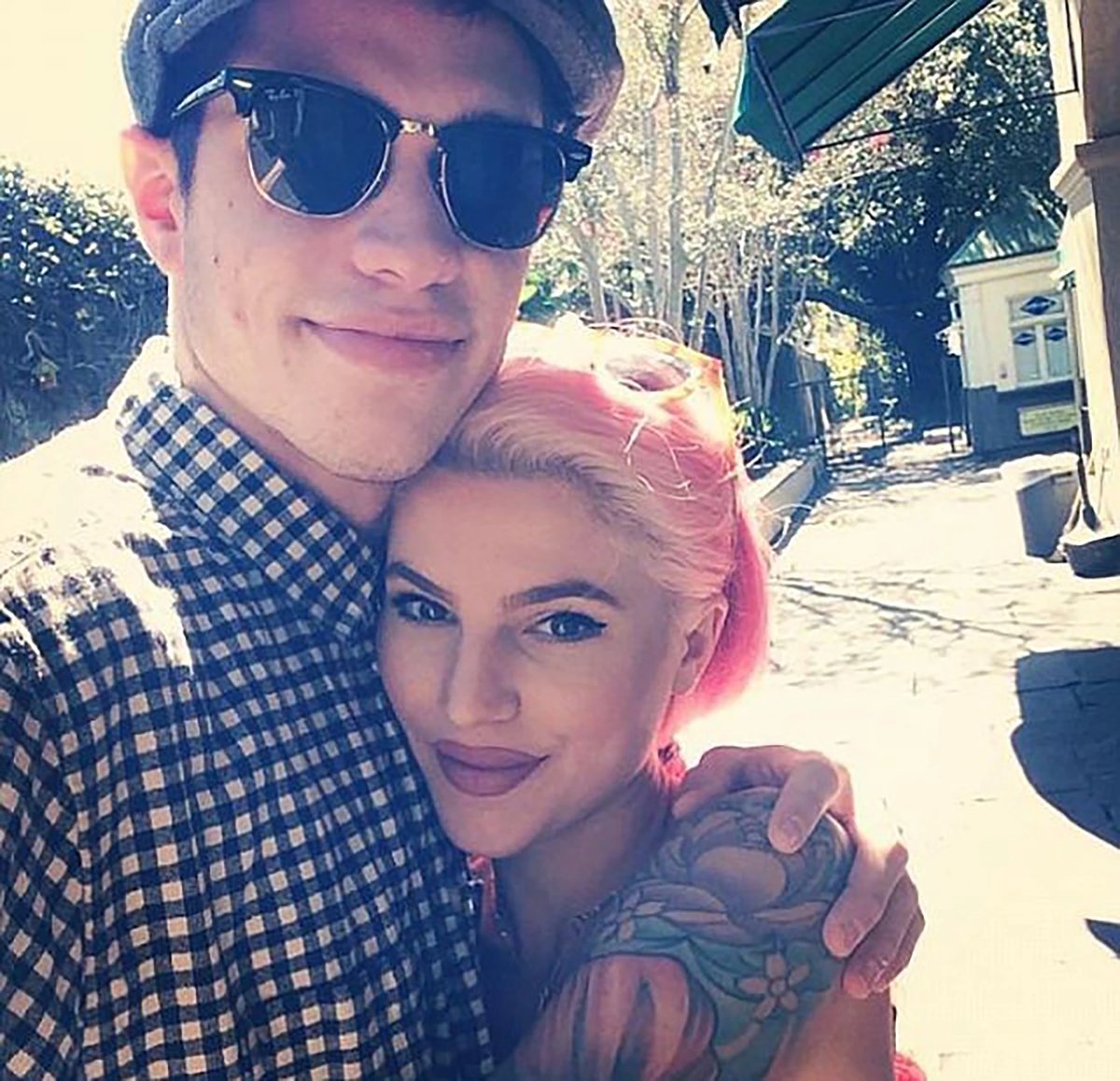 Pete Davidson briefly dated fellow stand-up comedian and future The King of Staten Island star Carly Aquilio.
While Page Six indicates it was never too serious, our boy made something of an impression on her. Enough of an impression for her to publicly post the following on Instagram when PD announced his engagement with Ariana Grande circa 2018:
"I know I'm the nine billionth person to text you today about this, but… I can't."
City boys up.
Cazzie David (2016-2018)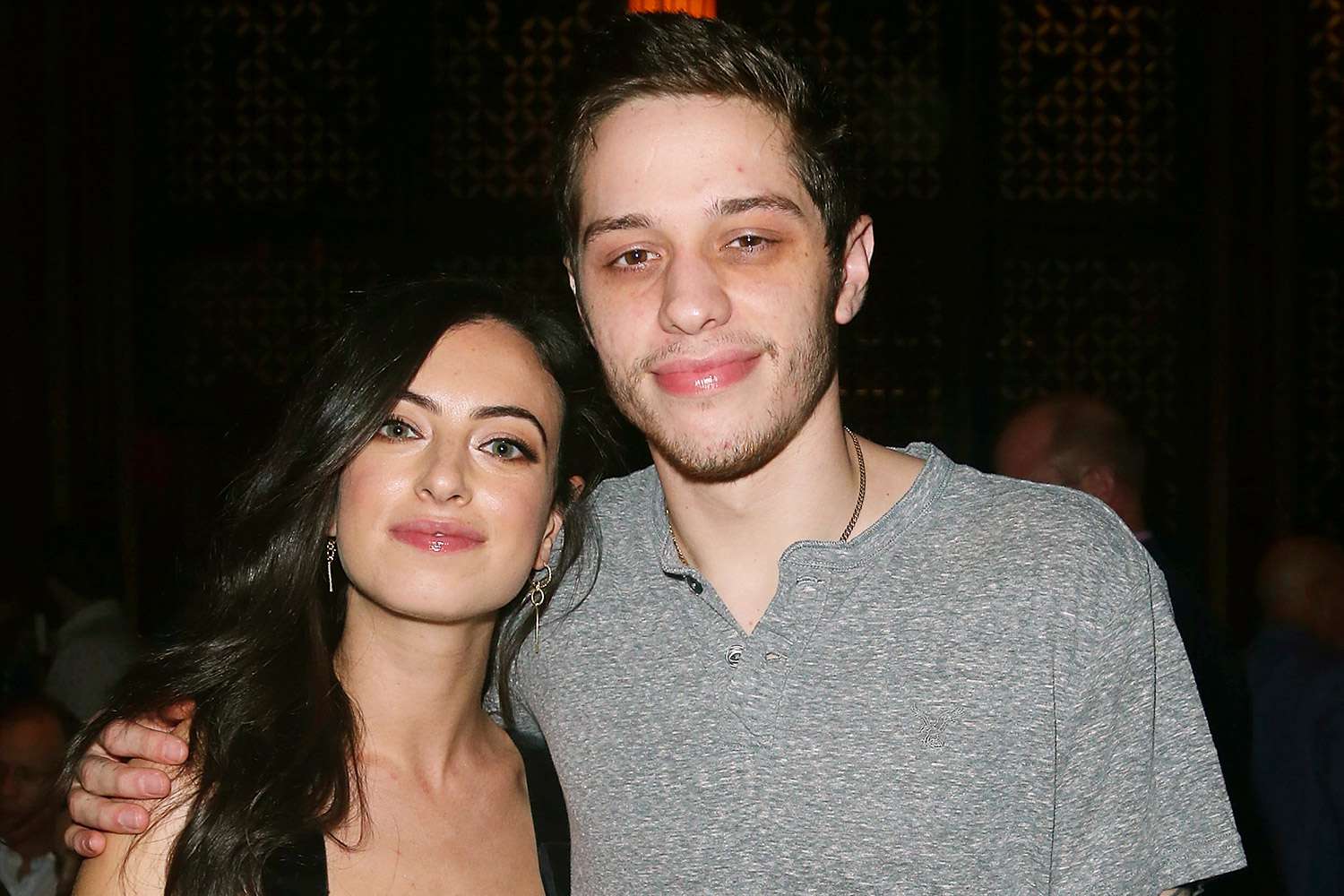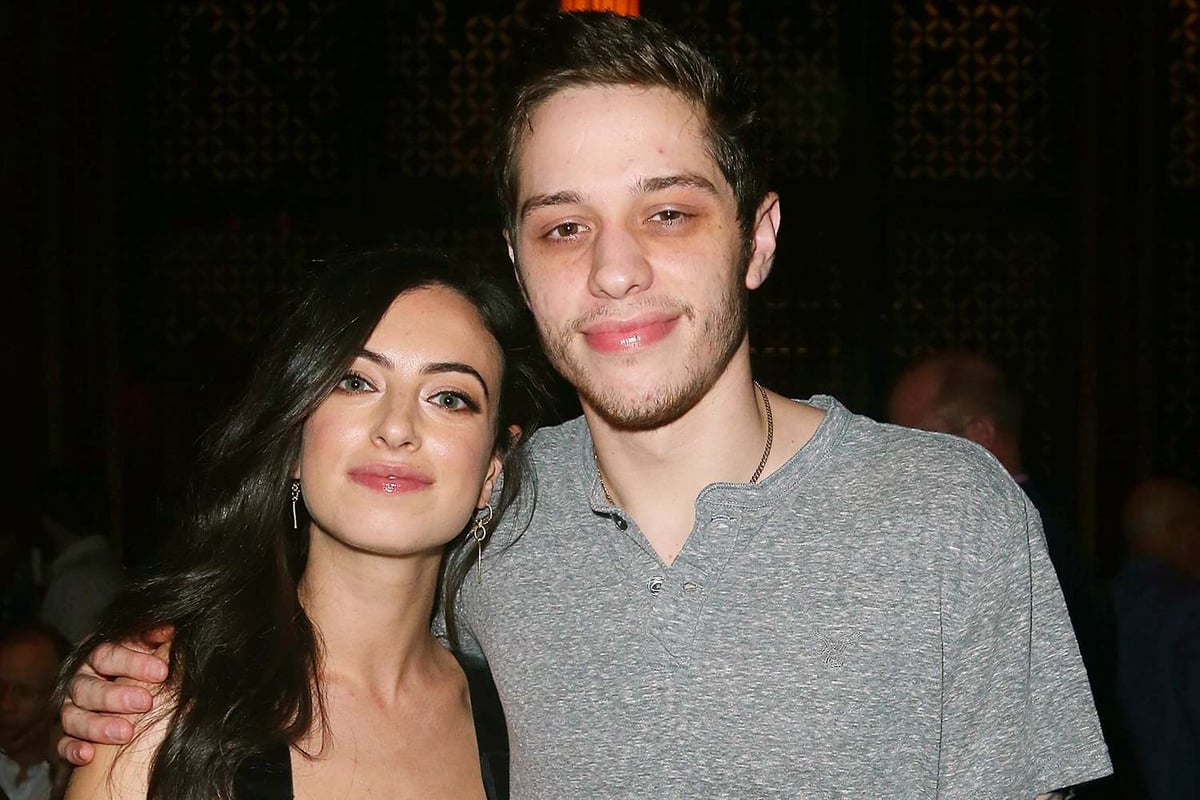 Shortly after, Pete Davidson found himself in a long-term relationship with Cazzie David, daughter of Seinfeld and Curb Your Enthusiasm creator Larry David, whom he called a "talented girl."
The couple began dating in May 2016 and officially called it quits two years later. According to the LA Times:
The following day, she learned that he was with Ariana Grande. He'd uploaded images of himself to Instagram showing that he'd covered his Cazzie tattoos.
She was devastated. On the plane to her sister's college graduation, David was held by her dad as she "shook uncontrollably in his arms for the entire flight." She curled up in the hotel's bathroom, crying and sucking on her weed pens. She woke up "screaming in agony," her dad pulling her from the bed to stop her from spiralling.
That's when she received the best possible advice in the most Larry David fashion…
"Cazzie, come on!" Larry David told her. "Your ancestors survived the Holocaust!"
Fair play.
Ariana Grande (2018)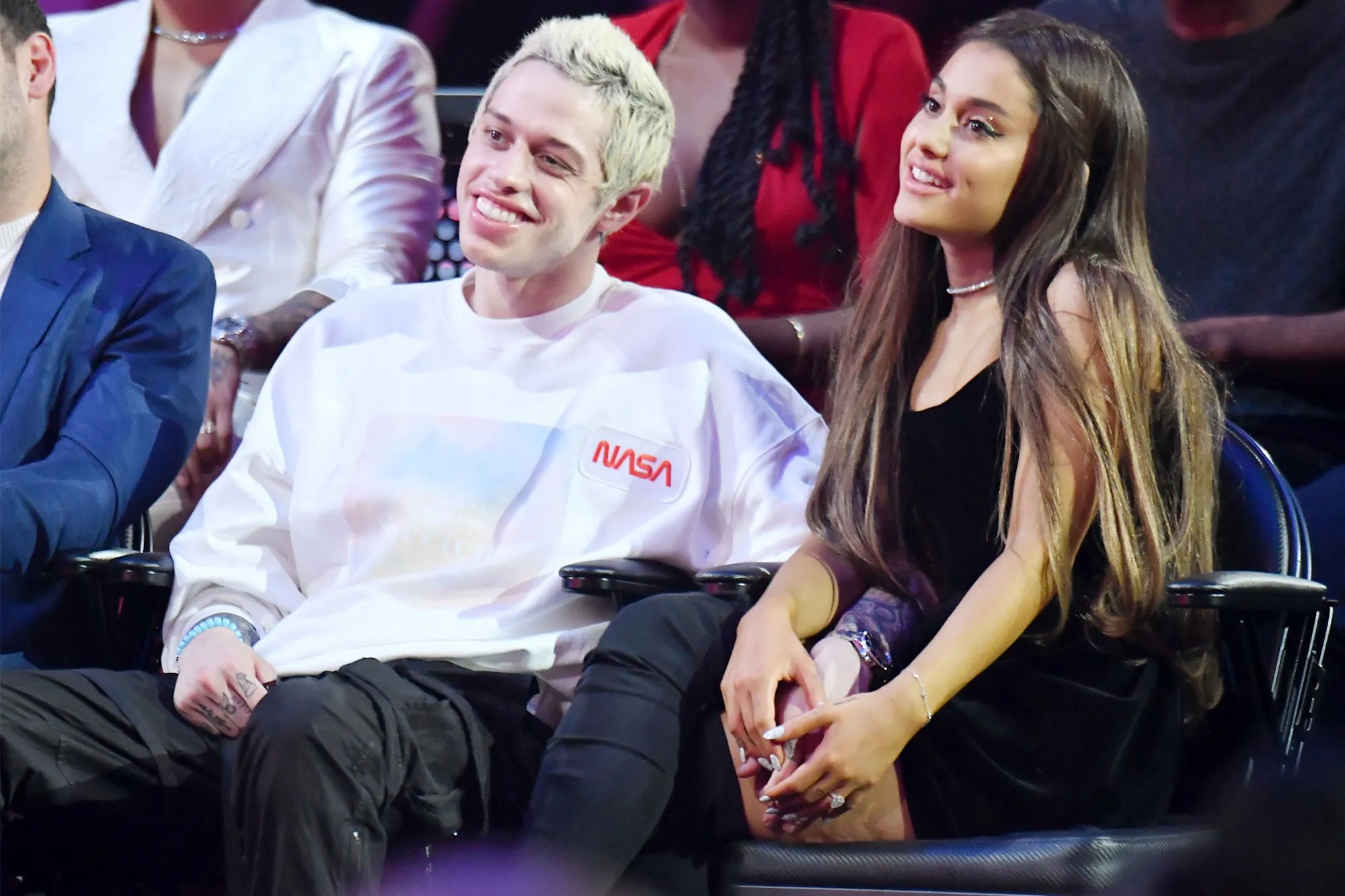 This is when the world started to suspect old Petey wasn't your everyday punter.
This was also when the hit songstress would let us in on (part of) the secret — all 10 inches of it — leading to the mainstream adoption of the term "Big Dick Energy" (BDE).
And it made perfect sense. How else could you explain Peter Davidson and Ariana Grande's engagement just weeks after they were confirmed an item?
Davidson himself has since admitted the physical dimensions are actually average in his Netflix comedy special Alive From New York. But it's clear the BDE aura is well above the standard.
Kate Beckinsale (2019)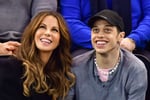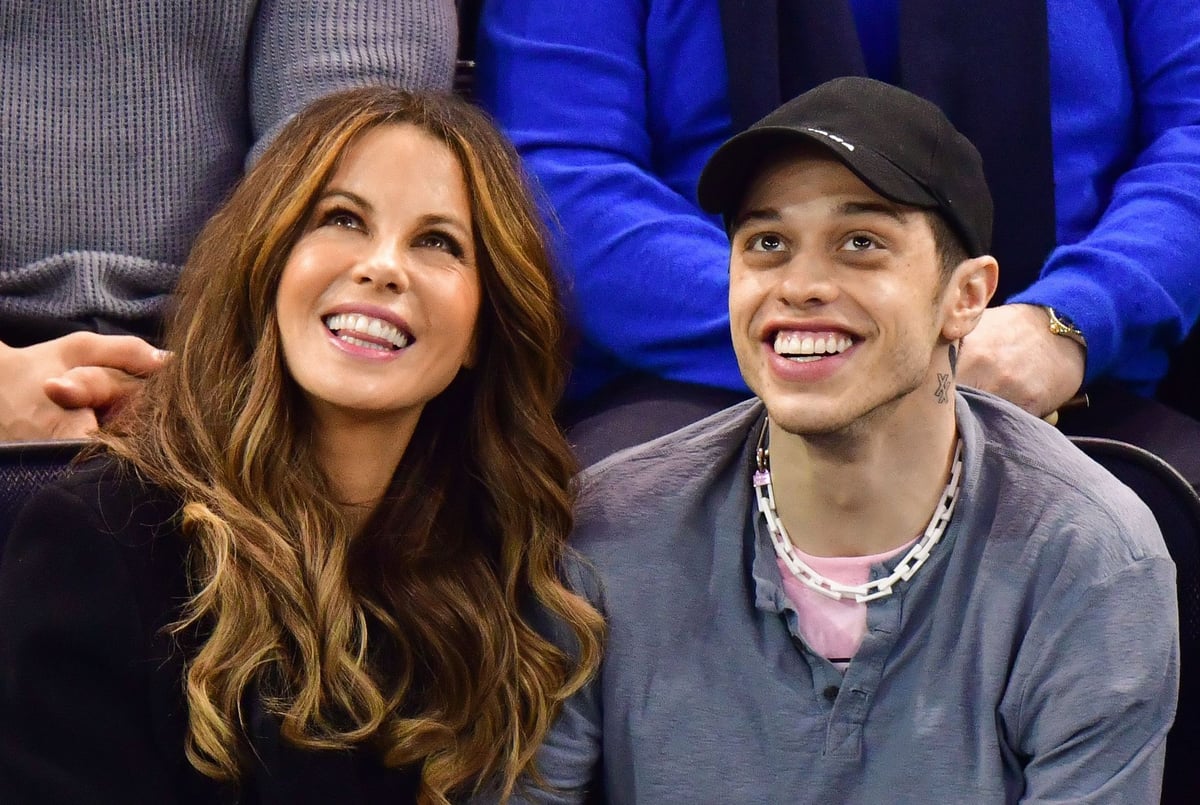 Pete Davidson and actress Kate Beckinsale were first linked romantically at a Golden Globes after-party in January 2019, wherein they were spotted flirting.
The connection was later confirmed when the duo were papped at a New York Rangers game.
"Even though Kate has been in Hollywood for a long time, she struggled with the attention on her relationship with Pete," revealed an insider.
"He lives his life with his heart on his sleeve."
This would mark the largest age difference in all of Davidson's dating history, being 20 years Beckinsale's junior (and just three years older than her daughter).
Respect.
Margaret Qualley (2019)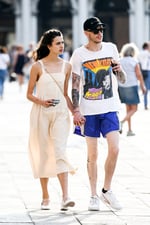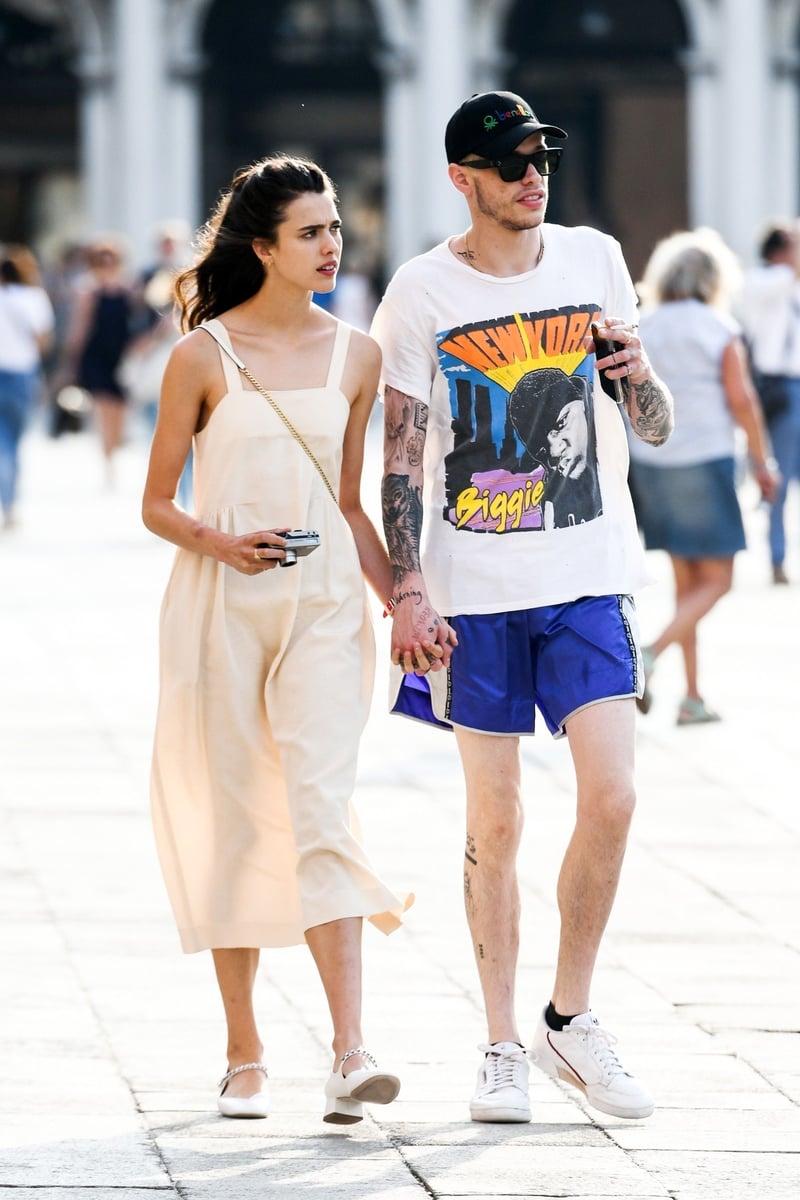 A few months after his brief fling with Kate Beckinsale ended, Peter Davidson shacked up with yet another actress Margaret Qualley.
The relationship began in August 2019, around the time they were spotted on a romantic outing in Venice while the actress was in town to promote her film Seberg (which screened at the Venice Film Festival).
Qualley's mother and fellow actress Andie MacDowell noted their love was "beautiful."
Always helps to win the parents over.
Kaia Gerber (2019)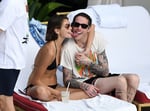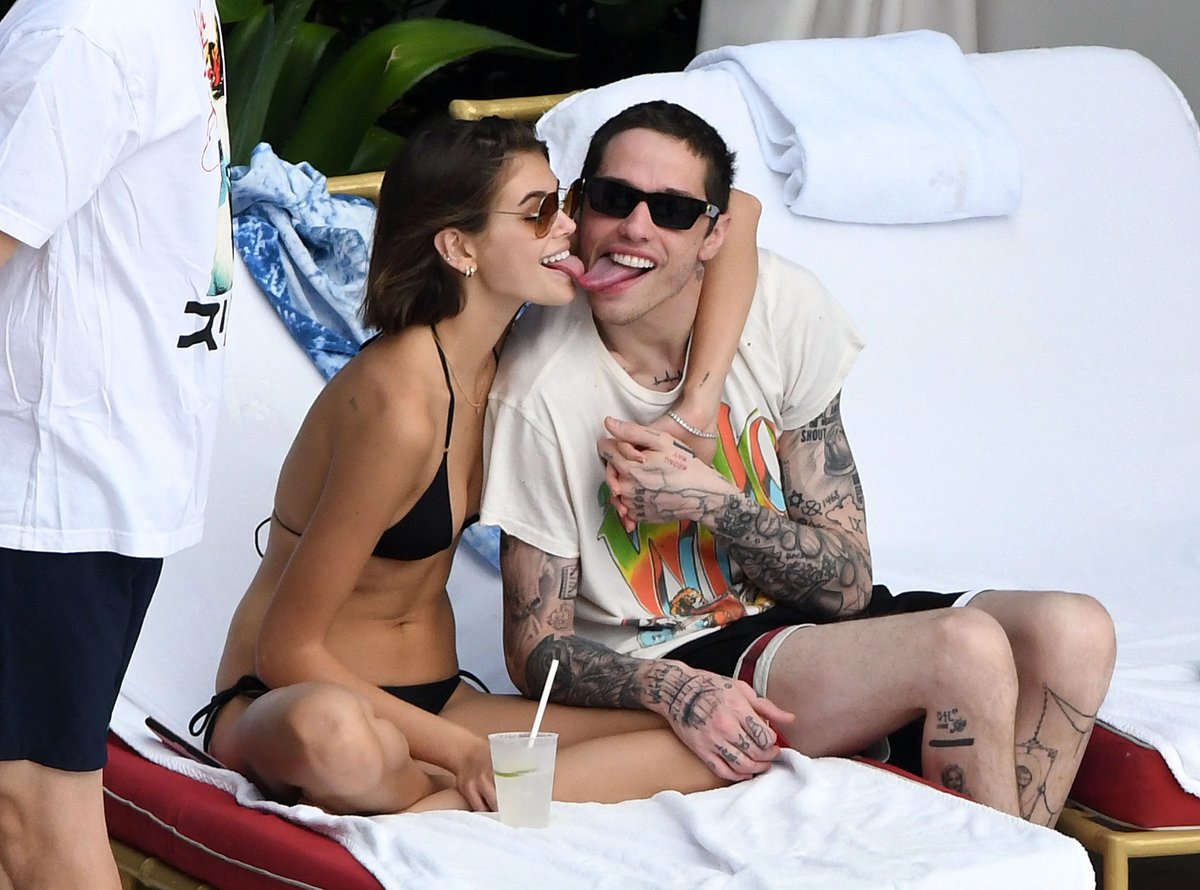 After Margaret Qualley, it was onto Kaia Gerber slash model — daughter of Cindy Crawford and Rande Gerber — who he began dating in October 2019.
Where Pete Davidson had the approval of Qualley's mother, the same couldn't be said about Gerber's parents. Page Six reported Crawford and Mr Gerber had hoped the relationship would "fizzle out."
Of course, this wouldn't really matter. Around January 2020 they broke things off when Davidson was "going through a lot" with his mental health struggles and checked himself into rehab.
A month later, Davidson said: "She's very young, and I'm f–king going through a lot, and it was before I went to rehab. It just wasn't the right place or the right time at all."
Olivia O'Brien* (2020)

Olivia O'Brien requires a big asterisk next to her name given she claims to have dated Pete Davidson from October 2020, although Petey denies they were ever together. And when has he ever been shy about who he's seeing?
During her appearance on the BFFs podcast with Dave Portnoy, the singer alleged she was dumped via text.
"He texted me and was like, 'I'm seeing someone else. So, like, I can't,'" said Olivia O'Brien.
Davidson's representatives categorically denied the very notion: "There is no truth to this. They were friends and hung out a few times."
Still, whatever the case, O'Brien left Davidson a glowing review, calling him a "nice guy" among other things.
"He's hot, and he's really funny, and he's really sweet. He's a really sweet guy."
Everyone loves an unavailable guy.
Phoebe Dynevor (2021)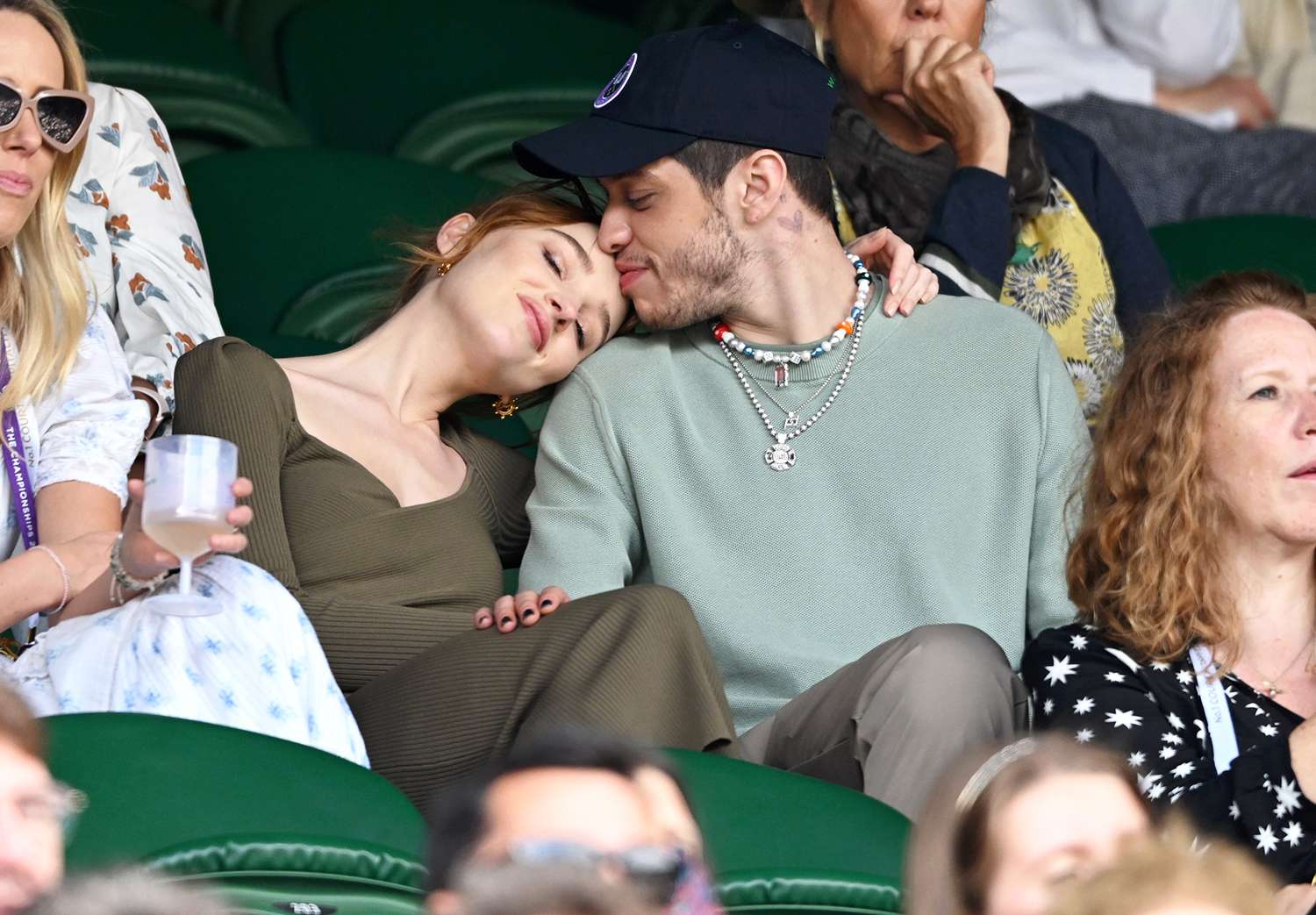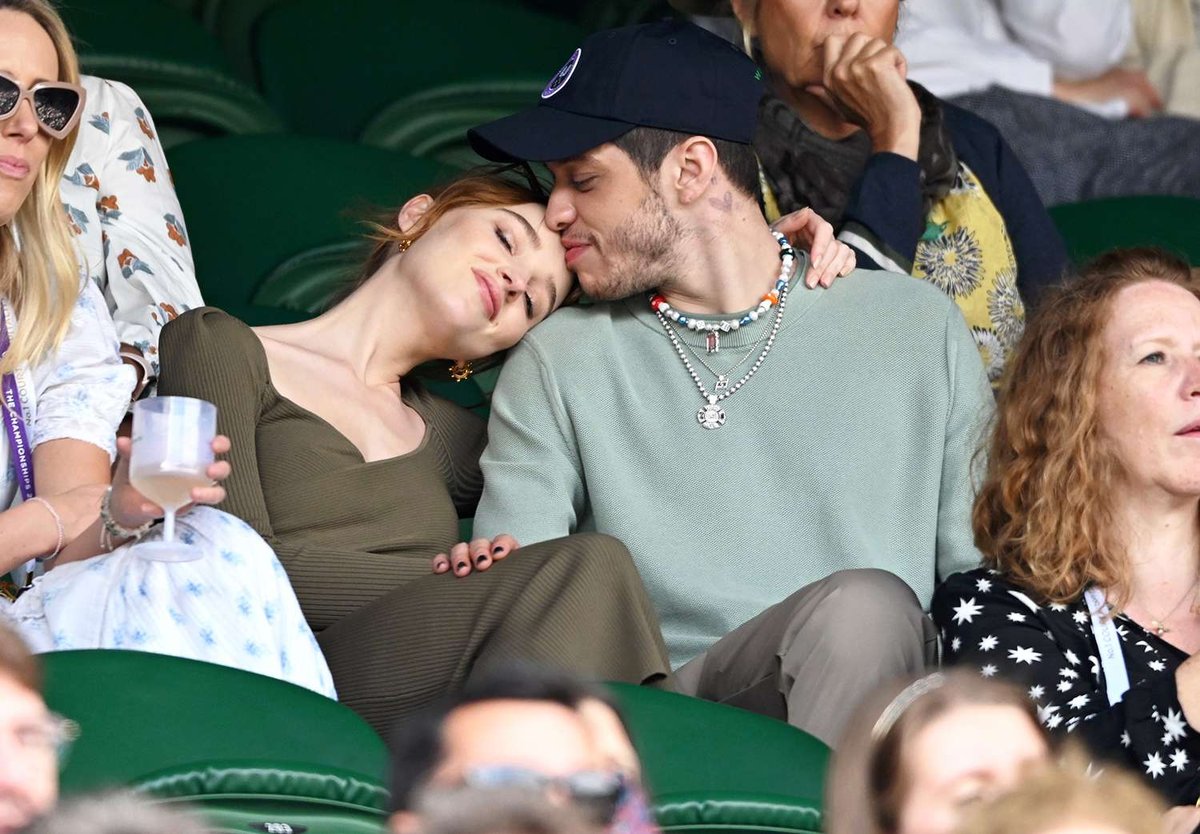 Pete Davidson eventually found his way to Bridgerton star Phoebe Dynevor.
Prior to going public, when prompted about who his celebrity crush was during a Zoom call with Marquette University students, Davidson responded: "I'm with my celebrity crush. That is all I can speak on."
Five months later, they split due to distance. Davidson obviously resides in New York while Dynevor is based in England, and there's only so much air travel you want to do in a lifetime.
Kim Kardashian (2021-2022)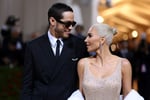 October 2021. Pete Davidson graduates to the role of Kardashian spouse when he and the reality star were sighted enjoying each other's company on a roller coaster.
This was not long after they shared a kiss during the SNL 'Jasmine & Aladdin' skit, as well as a certain hilariously-timed dinner wherein the couple, Kim's ex-husband Kanye West, Kid Cudi, and Timothee Chalamet were in attendance.
Ye would famously give Davidson a lot of grief for this, dubbing him "Skeet" Davidson.
At first, sources maintained it was purely platonic: "They hang in the same circles, so they will be together from time to time. It's just friends hanging out."
The truth came out soon enough.
"So, this is how it went down with Pete. I did SNL, and then when we kissed in the scene, it was just a vibe. And I was like 'Maybe I just need to try something different,'" said Kim Kardashian.
"Everyone was at my after-party. [Pete] does not give me the time of day. So, a few days later, I called the producer at SNL, and I was like 'Hey, do you have Pete's number?' and they were like, 'Yeah!'"
"Everyone was at my after-party, I was just thinking, like, 'Heard about this BDE. Need to get out there.' I was just basically DTF."
Kim Kardashian and Pete Davidson parted ways in August 2022 after nine months of dating. Page Six indicated the pair's demanding work schedules weren't conducive to a romantic relationship.
Emily Ratajkowski (2022)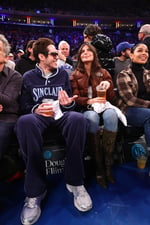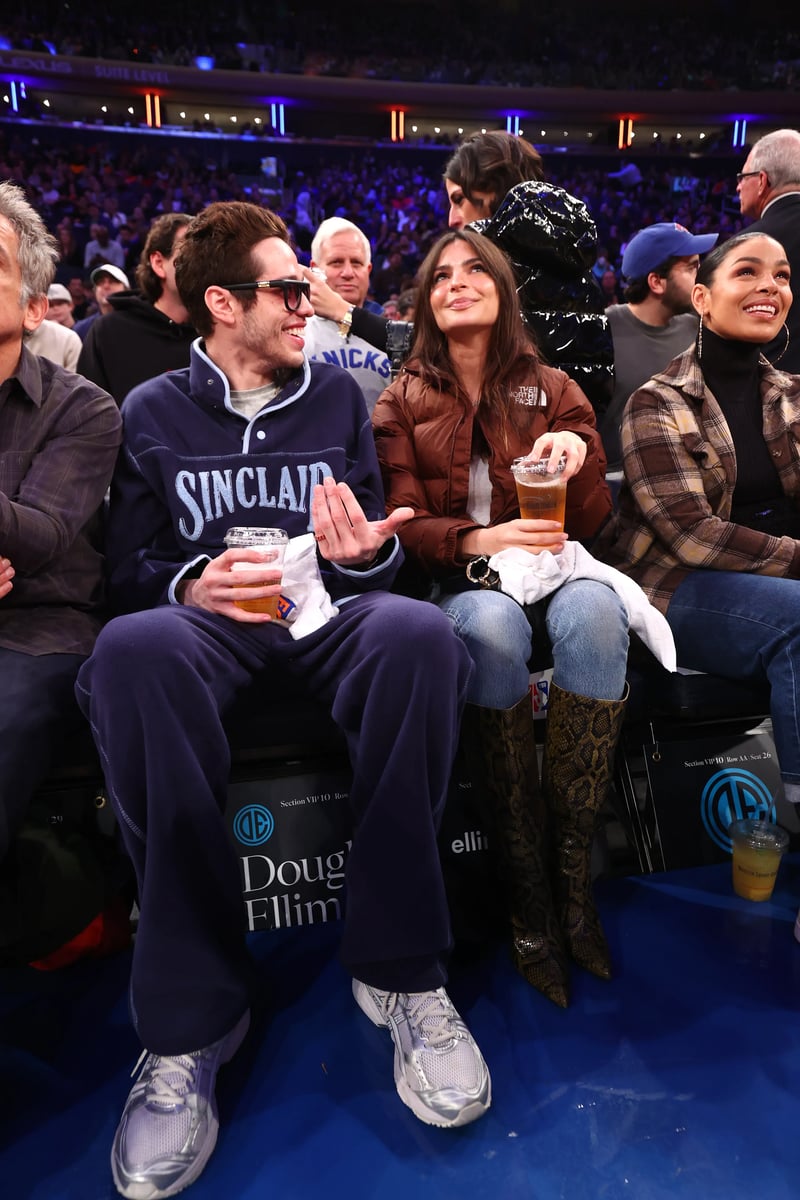 Just when we thought he'd peaked, Pete Davidson went ahead and landed the ultimate girlfriend: newly single model Emily Ratajkowski.
It was inevitable, really. Davidson — the most eligible bachelor in the world — had just broken up with Kim Kardashian. Ratajkowski — the dream woman of roughly 85% of the male population — had just separated from her husband Sebastian Bear-McClard in the wake of rumours the latter had cheated.
All it took was a nudge from a mutual friend.
"Pete and Emily have been talking for a couple of months now," a source told Us Weekly, adding they were "in the very early stages, but both really like each other."
"Pete makes Emily laugh, and he loves how intelligent she is."
Ratajkowski spilled on what she believes to be Davidson's secret sauce during her appearance on Late Night With Seth Meyers.
"He's a professional. First of all, you should know that about Pete," said Emily Ratajkowski.
 "He's got the height. Obviously, women find him very attractive. He seems super charming. He's vulnerable. He's lovely. His fingernail polish is awesome. He looks good!"
The cherry on top? According to the multi-hyphenate model, Pete Davidson has a "super great relationship with his mom."
Chase Sui Wonders (2023)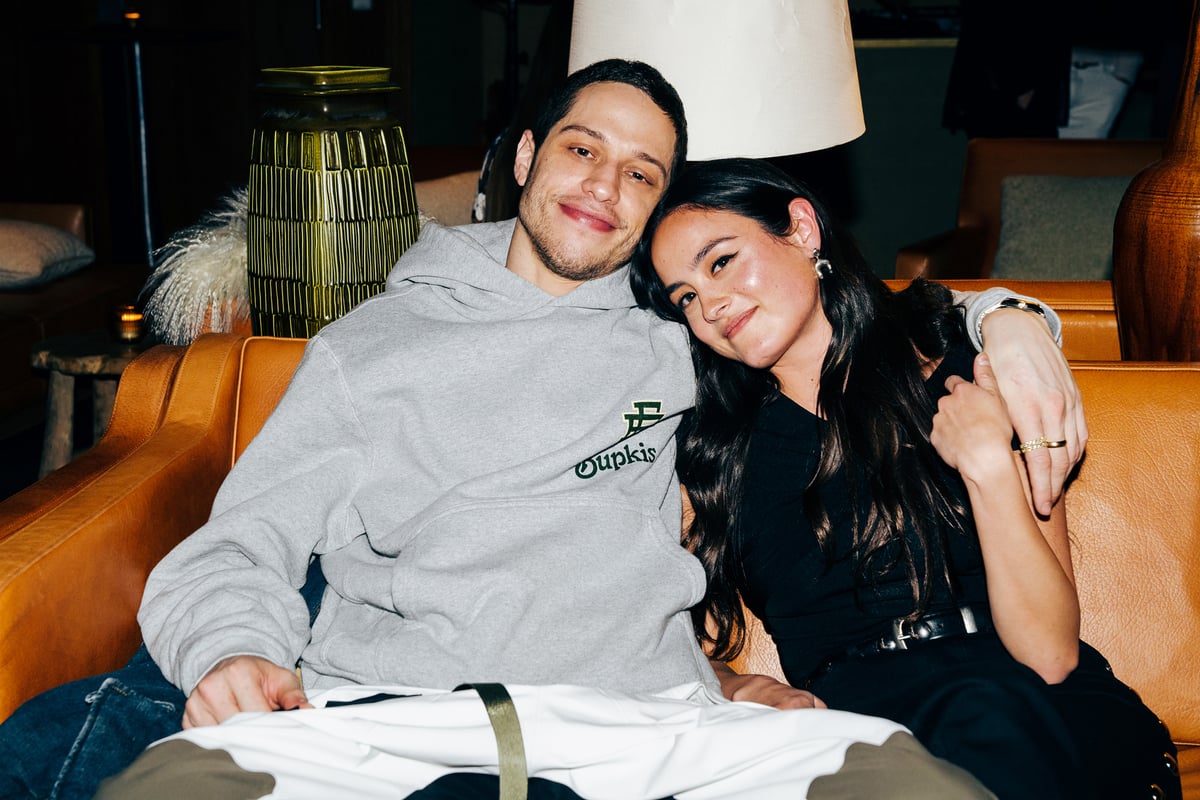 Following his enviable dalliance with Emily Ratajkowski, Pete Davidson hooked up with his Bodies Bodies Bodies co-star Chase Sui Wonders in December 2022.
The couple were spotted on several outings together such as a New York Rangers game at Madison Square Garden before being spotted enjoying a getaway in Hawaii.
But after less than a year of dating, they apparently called it quits just last month (August 2023).
"There's no bad blood or any hard feelings between them," yet another source told Us Weekly.
"Their relationship had simply run its course and they decided they just wanted different things."
There you have it.