While new iPhones, iPads, and the Apple Watch 7 were the talk of Apple's ecosystem last month, the company has now lifted the lid on several new flagships during this morning's Apple Unleashed event, including a redesigned Apple MacBook Pro in two sizes, 3rd-generation Apple AirPods, new Apple HomePod Mini colourways, and significant updates for Final Cut Pro and Logic Pro.
As always, Apple tends to announce a plethora of their tech essentials all at once, so it's a lot to get your head around. Here are the most important takeaways from the new Apple products announced this morning.
---
Apple Polishing Cloth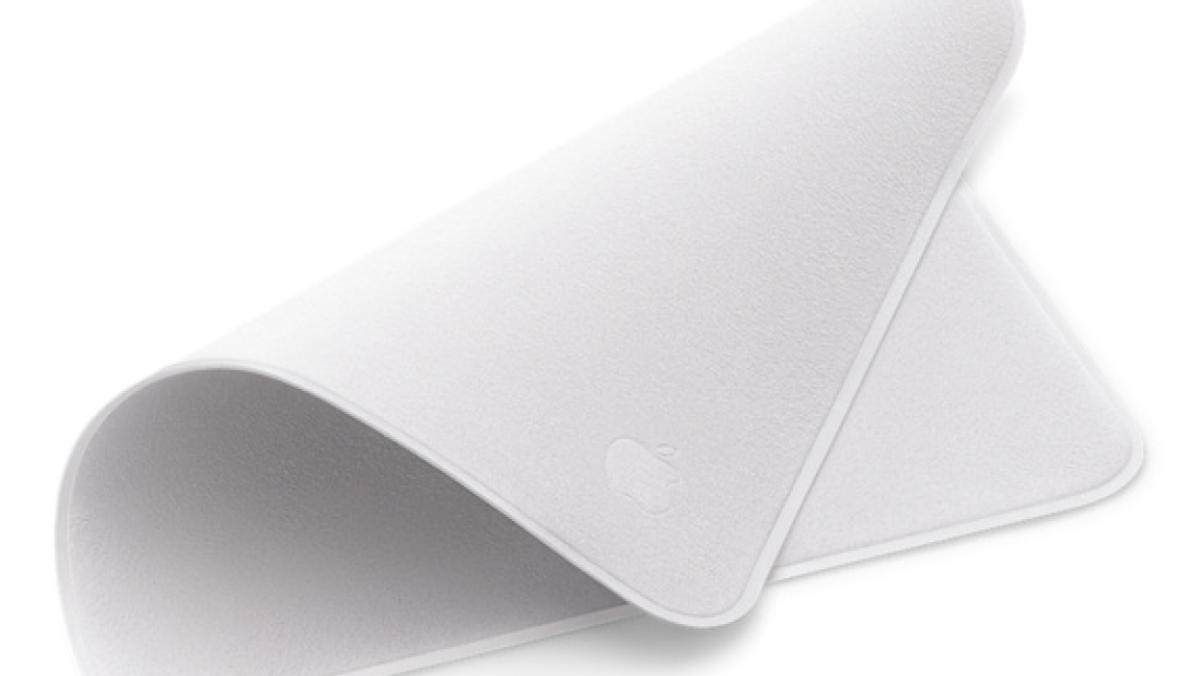 Let's kick this Apple announcement round-up off with one of the more curious releases from Apple, and possibly their most backwards-compatible product to date. That'd be an Apple-branded microfiber polishing cloth, made of unspecified nonabrasive materials. It's available to purchase separately for the modest price of $19, which is considerably higher than your typical microfiber cloth.
---
---
Other than having the Apple logo on it, there's really not much to this cloth. It won't be powered by any proprietary chip, come in funky new colours, or do anything but keep your devices clean. But it is at least very well-made, with Apple promising that the Apple Polishing Cloth can efficiently clean the nano-texture glass of new Apple devices. There's even a compatibility list on the cloth's official product page.
---
Apple MacBook Pro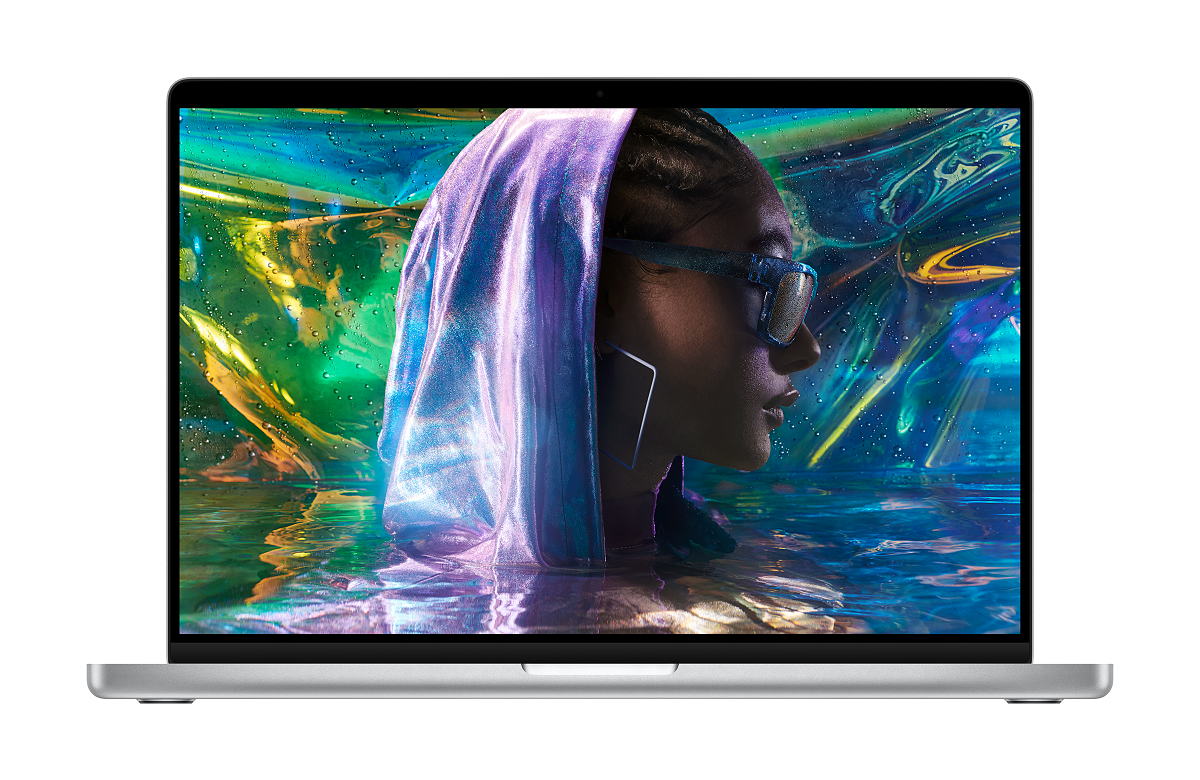 The headline for the new Apple MacBook Pro models is that Apple is genuinely listening to their customers, and responding to feedback in positive, productive ways.
The best example of this is the good sense to bring back some fan-favourite features that Apple disappointingly dropped in recent years, binning failed experiments like the Touch Bar and re-introducing the MagSafe power adaptor, SD card reader, and all-important HDMI port.
The new 14-inch and 16-inch MacBook Pro laptops enhance this 'looking back to look forward' approach with substantial boosts to performance and efficiency with longer battery life and what Apple claims to be the "world's best notebook display" and "best audio system in a notebook."
The new in-house M1 Pro and M1 Max chips, the first chips designed for the Mac, should be the most meaningful changes for the new flagship, marking a big step forward in the transition to Apple silicon on Mac. This is the first time a system-on-a-chip architecture has been applied to the Pro systems, which should translate to speedier memory, a swift uptick in bandwidth and performance, and what Apple claims is "industry-leading power efficiency".
The M1 Max is clearly the most powerful of the two and should be the choice for those who want the ultimate workflow. As with the M1 Pro, it features a 10-core CPU but doubles the GPU power with up to 32 cores and 4x the speed. Having up to 64GB of fast unified memory, where most of the latest PC laptops top out at 16GB of video memory, is going to make this a very valuable chip for users who require a heavier workload.
M1 Max's muscle has enough grunt to edit up to 30 streams of 4K ProRes video or up to seven streams of 8K ProRest video in Final Cut Pro. Which for graphics-intensive users like content creators, video editors, and graphic designers, is kind of insane.
---
---
Battery life on the 16-inch model is bring rated for up to 21 hours of video playback, which is easily the longest battery life a Mac has ever managed. The 14-inch gets an equally impressive promise of up to 17 hours of video playback, which is seven additional hours over the previous model.
In terms of aesthetics, you've got a Liquid Retina XDR display on both sizes, featuring the same mini LED technology used in the iPad Pro, capable of up to 1,000 nits of sustained, full-screen brightness and a 1,000,000:1 contrast ratio. Apple is promising enhanced shadow details, specular highlights, deeper blacks, and a wide colour gamut with support for 1 billion colours.
Much like the iPhone Pro models, Apple is also touting ProMotion for the displays, with an adaptive refresh rate of up to 120Hz, which dips when the more fluid moments aren't necessary in order to save on battery life.
The 16-inch model will offer a 16.2-inch display and 7.7 pixels, while the 14-inch model features 14.2-inches with 5.9 million pixels.
There's also a notch on the display now, carved out to house the new 1080P FaceTime HD camera, which doubles resolution and low-light performance while using imagine signal processing and tapping into the Neural Engine of the new M1 Pro and M1 Max chips. This should help make skin tones look a bit more natural so you don't look like a potato every time you jump on a zoom call with the office.
Connectivity is perhaps the most meaningful design overhaul from the previous generation, with Apple now focusing more tightly on offering more ports for better flexibility. Both models feature three Thunderbolt 4 ports for anyone who wants to connect advanced peripherals, an SDXC slot, an HDMI port, and an improved headphone jack that supports high-impedance headphones.
Most interesting is the return of MagSafe with MagSafe 3, bringing in fast charging with the promise of up to 50% in 30 minutes.
The amount of connectivity means that users who choose the M1 Max MacBook Pro models can connect up to three Pro Display XDRs and a 4K TV simultaneously.
---
---
MacBook Pro Australian Pricing & Availability
Pre-orders have now opened for Aussies who want to be the first to get their hands on the new MacBook Pro models with shipping starting from Tuesday, October 26. The new 14-inch Apple MacBook Pro model starts at $2,999, while the 16-inch starts at $3,749.
Apple Trade-In Details
If you're looking to trade in one of your old eligible computers, you'll be wise to take advantage of the typically generous Apple Trade-In program. This includes trading in various Apple devices for credit towards a new MacBook Pro. An iPhone 12 Pro Max, for example, is worth up to $1,120 on trade-in, while an old MacBook Pro can fetch you up to $1,060 in credit.
More Apple Trade-In details can be found here.
Apple MacBook Pro Colours
Apple hasn't taken any drastic changes to colourways with the MacBook Pro flagships, as they have with the HomePods. You've still only got 2 choices here – either Space Grey or Silver.
---
Apple AirPods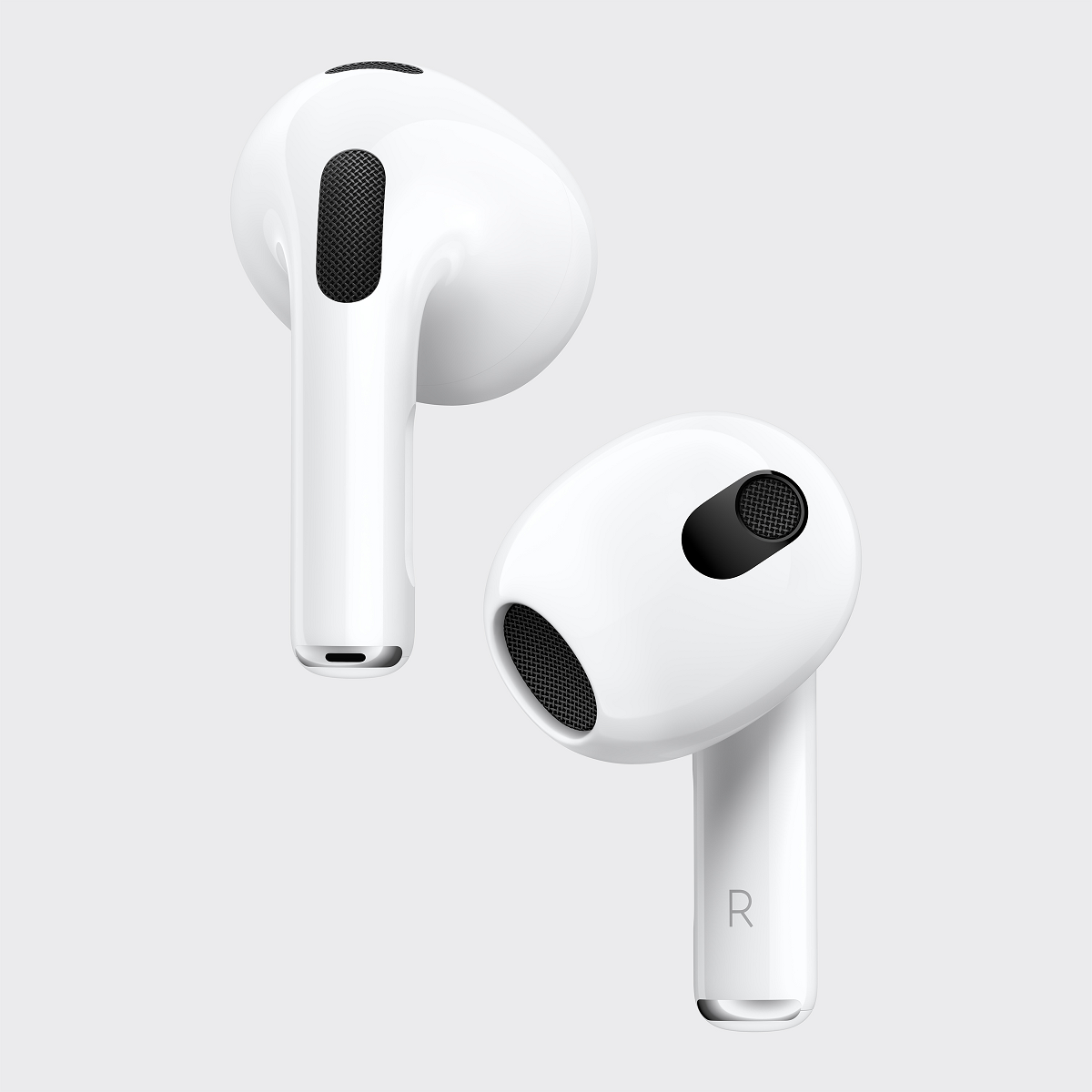 In addition to the new Apple MacBook Pro models, the company has now revealed what we can expect from the 3rd generation of Apple AirPods. The buds represent some major changes from the 2nd generation, now with the powerful Apple H1 Chip combined with an in-house designed acoustic system, dynamic head tracking across Apple devices, and superior spatial audio with Dolby Atmos, and a smoother listening experience with Adaptive EQ.
You've still got a rather modest IPX4 sweat and water-resistant rating, which falls far behind some of the competition but should still be enough to do the job. Other features of the new design include a lighter feel and lines that better follow the contours of the ears so the buds sit at the perfect angle for comfort and direct audio. Most notably, the much-maligned stem is now shorter than the previous generation, although there's still enough space to fit the intuitive force sensor for smooth media control.
Apple has now covered the microphone with an acoustic mesh to help reduce the sound of wind during calls, addressing a common issue with truly wireless earbuds which should make it much easier to slam those deals shut should you ever find yourself struggling against a particularly strong gust. AAC-ELD, a superior speech Bluetooth codec, is also now being used to offer full HD voice quality for clear, natural communication during FaceTime calls.
The 3rd generation AirPods seems to focus more heavily on spatial audio for iOS 15 users, which should mean a 3D cinema-like experience that is more object-based when it comes to sound, placing audio anywhere in space with Dolby Atmos support so listeners get a better sense of being wrapped into the music or media that they are listening to.
---
---
Other new features for the Apple AirPods 3 include a new skin-detect sensor that discerns when the buds are in the ear and compares this to when they are in a pocket or on a table. This should make it much more efficient when the AirPods intelligently pause and resume music based on the proximity to the ear.
Of course, battery life is always going to be a concern. This time around Apple is promising one extra hour of battery life over the previous AirPods, with up to six hours of listening time and up to four hours of talk time. Fast charging should give the AirPods an hour of battery life in just five minutes. The charging case will hold four additional full charges when it's topped up, which should give users up to 30 hours of total listening time throughout the day. MagSafe can now be used for wireless charging as well.
You still won't get ANC as you would with the Apple AirPod Pro models, even though they look pretty much the same. Remember, these are the regular Apple AirPods – the AirPod Pro models will most likely be announced at a later date.
Apple AirPods (3rd Generation) Australian Pricing & Availability
The Apple AirPods 3 will be available in Australia for $279 with online orders open now for shipping starting from Tuesday, October 26. This means that the previous model, the Apple Airpods 2, now drop to $219. Do note that AirPods will only work with Apple devices running iOS 15.1, iPadOS 15.1, watchOS 8.1, tvOS 15.1 or macOS Monterey – all of which will be available as free software updates by the end of the month.
---
Apple HomePod mini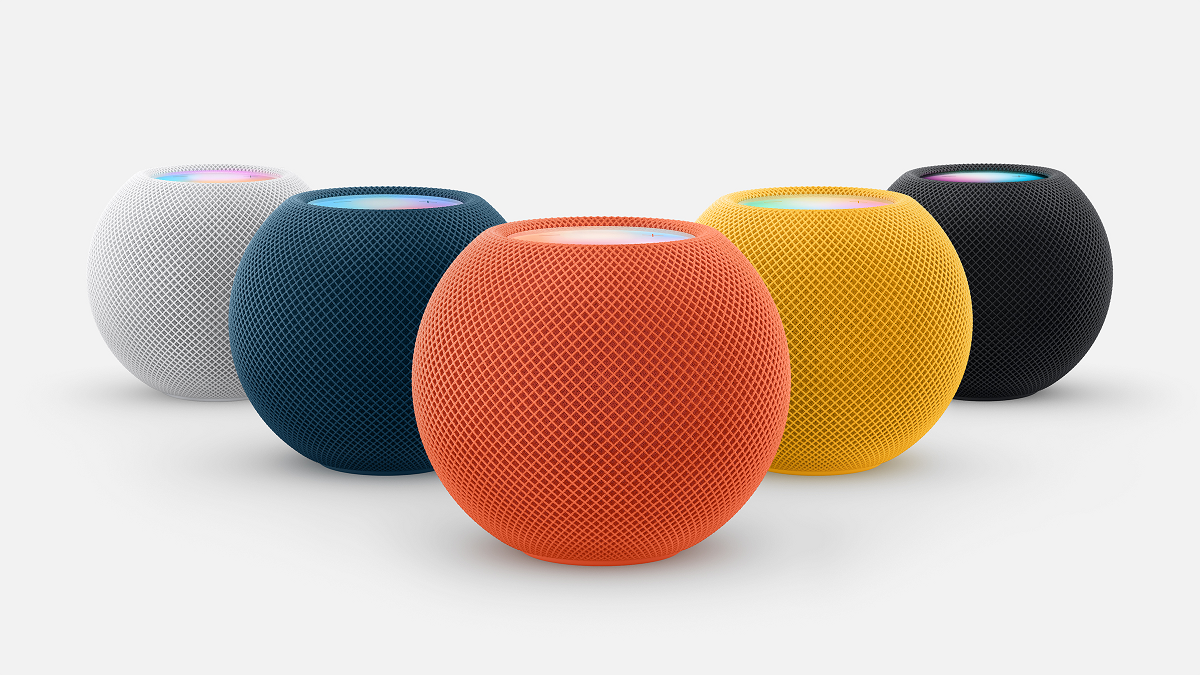 Not much has been done to actually change the internals for the popular Apple HomePod mini, except now the smart home device will come in three new colourways so design-conscious users can mix and match with the affordable speaker.
There's still the Apple S5 chip being used to analyse the characteristics of music and constantly adjust to optimise loudness and balance.
A new subscription tier has been added to Apple Music called Apple Music Voice Plan with more than 25,000 exclusive radio episodes and other original content, but other than that Apple Music is still the same rapidly evolving beast it has always been. The Apple Music Voice Plan will be available for $5.99 per month.
Tweaks have been made to better integrate Siri and tighten the smart home experience, giving the Homepod mini more ways to control connected devices in intelligent, scheduled, and efficient ways. This includes integration with Find My to pinpoint locations of lost devices, the ability to control devices at specific times, and expanded multi-user voice recognition.
---
---
The new colours for the Apple Homepod mini – yellow, orange, and blue, will be available alongside the current white and space grey variants.
Apple HomePod mini Australian Pricing & Availability
All the new Apple HomePod mini colours will be available in November for $149, with orders open now.
---
Final Cut Pro 10.6 & Logic Pro 10.7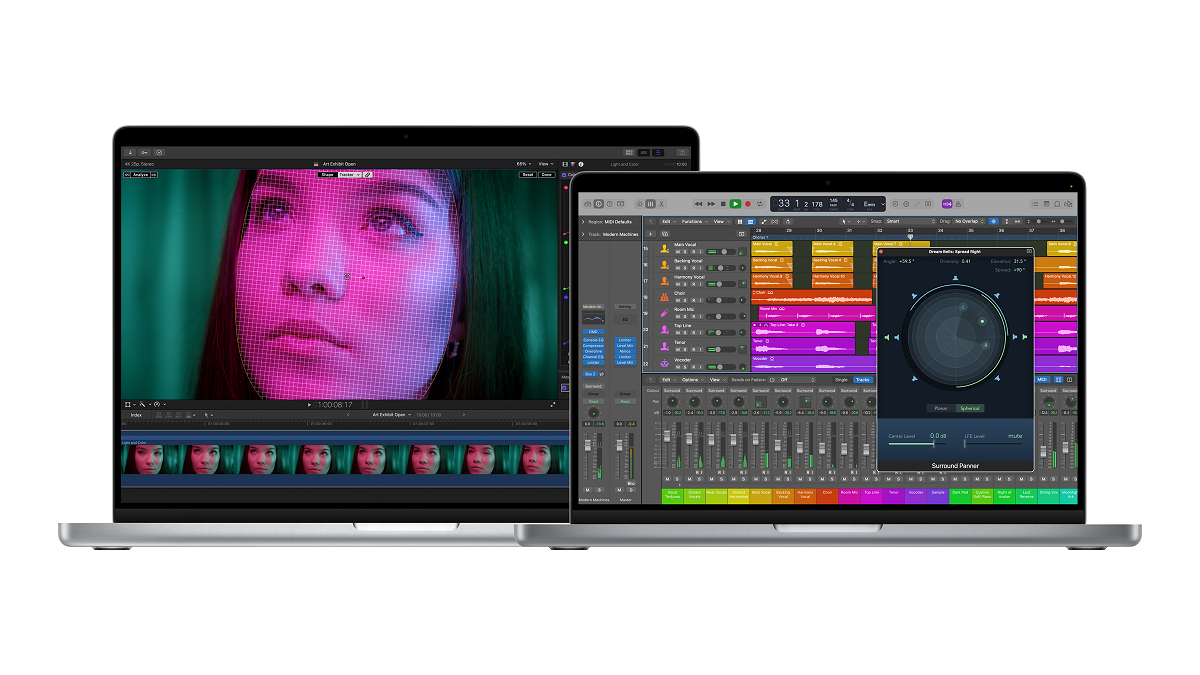 Finally, Apple Unleashed also revealed significant updates to both Final Cut Pro and Logic Pro.
The Final Cut Pro app maximises gains made by the M1 Pro and M1 Max chips in the MacBook Pro models, allowing video editors to now play seven streams of 8K ProRes at over 230 million pixels simultaneously, for example. ProRes video can now be exported over 5x faster than with the recent version.
Object Tracker has also been introduced to let video editors more efficiently create animated graphics that follow the movement of faces or objects in a video. Users who want to take full advantage of this should ideally have the 16-inch MacBook Pro, with Object Tracking analysis up to 5x faster.
Anyone creating video in Cinematic Mode on the new iPhone 13 models will also find it easier to adjust the depth effect of any shot and use keyframes to change the content over time. It'll be much easier to add or delete focus points, simply by clicking on a face or object in the viewer. This should eliminate the need for any reshoots, saving content creators a massive amount of time (and money)
Motion and Compressor also receive a raft of nice new updates to make the Final Cut Pro more user-friendly. Motion can now render projects up to 2x as fast as the previous version, and users can play two streams of 8K video at 5x the frame rate. Compressor can now transcode HEVC video up to 2x as fast and transcode ProRest video up to 10x faster.
With Logic Pro 10.7, users have more options when it comes to building spatial audio for multidimensional sound and clarity. The new update includes a reimagined set of mixing and rendering tools so users can author their songs as Dolby Atmos music files that are compatible with Apple Music.
---
---
Final Cut Pro 10.6 & Logic Pro 10.7 Australian Pricing & Availability
Final Cut Pro 10.6 is now available for Australians as a free update for existing users and for $499 for new users. Logic Pro 10.7 is also available today as a free update for existing users and for $319 for new users.
---