A growing pain faced by many during lockdown involved figuring out how to work between home and the office in relatively seamless fashion. Based on the sheer volume of Instagram's 'rona rig content, desk jockeys the world over were struggling in the landscape. Solutions being offered were either functional, elegant, or reasonably affordable (compared to monitors), though not all three. That is with the exception of the Espresso Display, and now, the Espresso Display V2.
A cursory glance would prompt the assumption that this sleek secondary screen originated from some corner of Silicon Valley, perhaps even that it's the product of European engineering. But what you're looking at is 100% homegrown innovation. Borne out of the frustrations of university friends Will Scuderi and Scott McKeon, the young Aussies felt restricted by laptops and conventional stationary monitors back in 2018. What resulted was the world's thinnest portable touch display. And likely the only piece of kit you'll ever want to hook your laptop to once you get a taste, in a WFH context or otherwise.
So precisely how thin is the world's thinnest portable touch display? It doesn't exceed 5.3 millimetres; weighing 865 grams for the 15-inch version (i.e. the one I had the pleasure of test-driving), 650 grams for the 13-inch, and 620 grams for the 13-inch iteration without touch capabilities. This has been achieved by the Espresso Display's power source… there is none. The entire screen runs from the juice of your device via USB-C to USB-C cord. Throw in the foldable magnetic stand and you can take this light-yet-durable aluminium bad boy practically anywhere.
---
---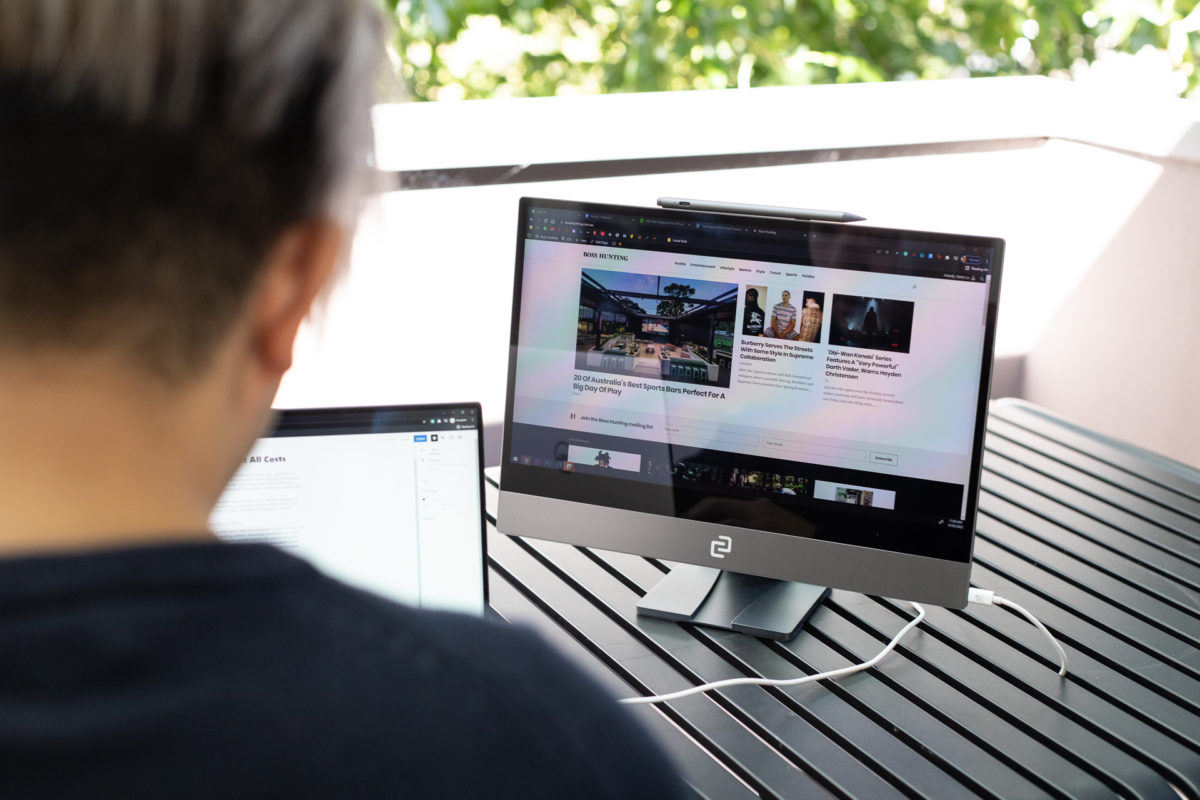 RELATED: Samsung's Galaxy Tab S7 Series Will Take Your Portable Productivity To The Next Level
What makes the Espresso Display V2 so tick, however, isn't strictly limited to its physical form. It isn't the AutoRotate we take for granted in smartphones and the like, which is apparently a herculean feat to pull off with monitors. It isn't even the enhanced Palm Rejection feature and incredibly intuitive Espresso Pen, which individuals far more creative than myself will actually get some decent mileage out of beyond childish doodles (yeah, let's call 'em that).
It's in the Sydney-based startup's proprietary software. Dubbed espressoFlow, all things touch have been completely integrated with both Mac and Windows for a silky smooth experience across everything from the Adobe suite to Asana.
"Every feature of our Espresso Display range has been designed to help people optimise their workflow by adapting to their unique ways of working," explains Will Scuderi.
"COVID-19 exposed where the real gaps were with our home and office technology in our ability to work and collaborate from anywhere. Our products allow real-time collaboration from anywhere. You can make meetings more productive by drawing, flowcharting, taking notes, all whilst being live on a call with your team."
"Espresso products are designed to transform how people think about performing at their best, at any time and in any environment, regardless of their device or what they need to get done."
RELATED: Samsung's Odyssey Ark Monitor Is 55-Inches Of Rotatable Insanity
---
---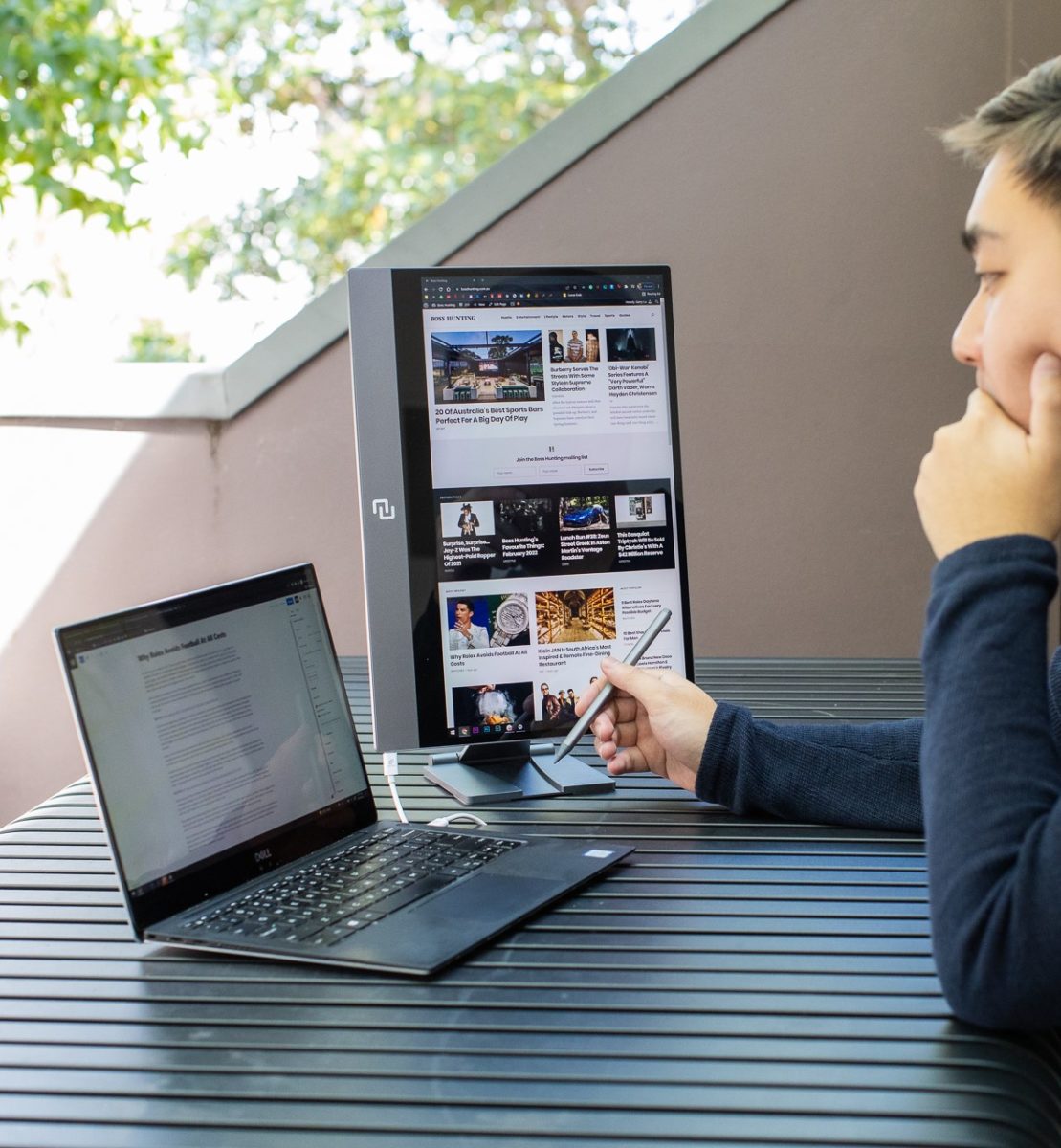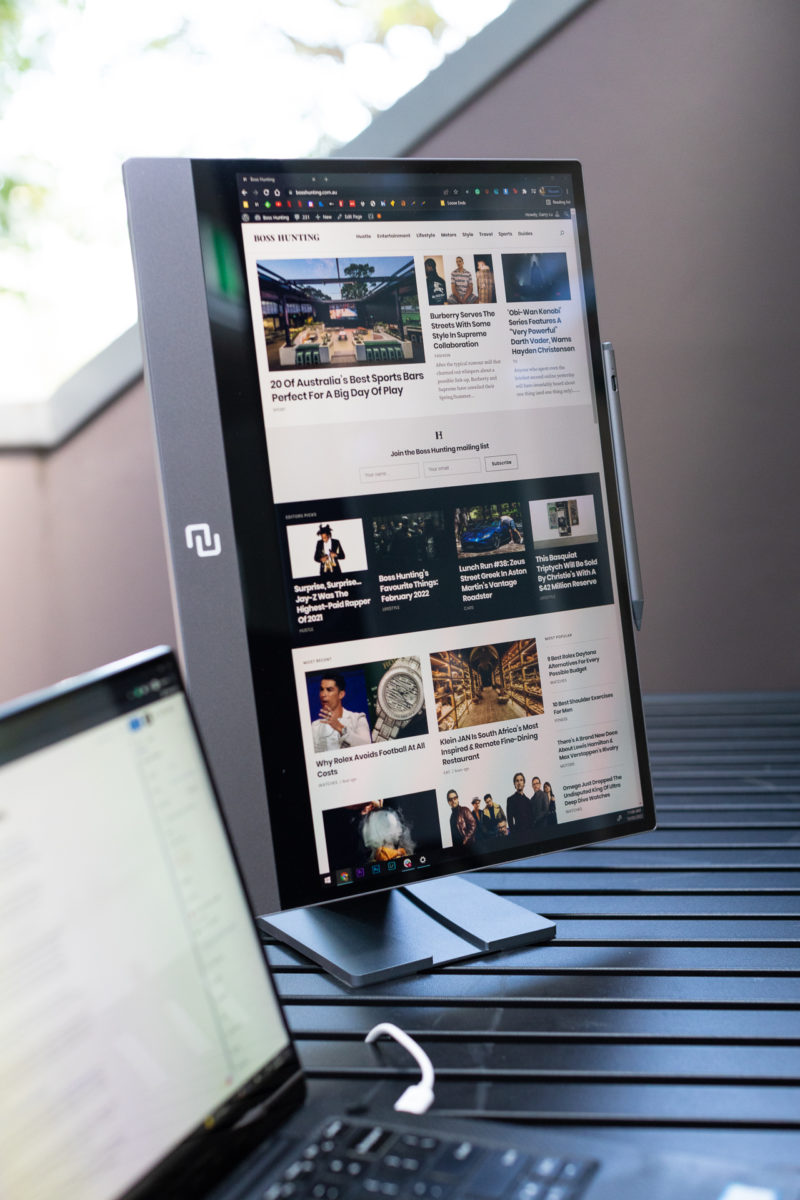 My only criticisms? For one, it sits on the expensive side of the secondary display spectrum, hence the opening paragraph's distinction vis-a-vis comparisons to full-blown monitors. Although keep in mind you're also paying for a helluva lot of R&D. Apple never intended macOS to support touchscreen capabilities. The fact espressoFlow can finesse that sort of non-native functionality out alone is (almost) worth the price tag. Good thing it comes with more than just that.
For another, it's not great at the maximums. And by that I mean the Espresso Display V2's maximum resolution of 1920 x 1080, maximum screen brightness of 300 nits, and whisper-quiet maximum volume courtesy of its built-in speaker leave much to be desired. Best avoid the outdoors unless you can guarantee shade to soak in that 16.2 million colour range at 60Hz, and maybe pack some earphones.
The Espresso Display V2 currently starts from $669 for the 13.3-inch, moving all the way up to $749 for the 15.6-inch. The magnetic Espresso Stand and Espresso Pen, on the other hand, will have to be purchased separately at this stage for $99 and $119 respectively.
Find out more below.