If anything has defined Apple as a company in the past year, it's finesse. These big, ambitious plays in the world of tech would mean nothing if they weren't accessible to a wider range of consumers, and so value should always be centred as the pinnacle achievement for these tech companies who keep refining and reassessing their flagships to try and deliver a coveted sweet spot between performance and price. Apple's newly designed M1 Chip has been essential for this, and the efficiency-focused architecture finally making its way into the iPad Air line is a big deal. What we've got as a result is the iPad Air 2022 (or the iPad Air 5), taking a massive (theoretical) leap in performance thanks to said M1 chip and a few welcome iterative changes made possible by the M1's very specific design.
How exactly the Apple M1 chip has been shaped isn't as important to consumers. Just know that it was created so Apple could move Macs away from Intel chips and towards something more in-house, with more control and better integration for the entire system that powers Apple devices. The system-on-a-chip approach means several components are unified on the one chip, increasing efficiency between things like the CPU, GPU, RAM, image signal processor and SSD controller. Power is more centralised, faster and more seamless with unified memory architecture that doesn't have to constantly swap between different pools of memory to access the same data. Think of it as organisation taken to the next level, so the M1 being included in Apple's second most expensive tablet range (the most expensive being the iPad Pro line) expresses a company that's currently more concerned with offering value than breaking new ground.
While rumours are now circulating that Apple is getting ready to reveal its inevitable 2022 iPad Pro with new wireless charging capabilities, is the fifth-generation iPad Air still worth considering, or would it be better to save some more cash and wait for the new, undoubtedly more powerful iPad Pro?
---
---
The answer, of course, depends on how much disposable income you're playing with, but if you asked me whether the iPad Air 2022 was worth the cash, it would be an enthusiastic yes. Right now, it's one of the best tablets you could possibly get your hands on, again balancing that sweet spot of performance versus price with the M1 chip working reliably well even under the heaviest of circumstances.
Apple iPad Air 5 Review Overview
Design
Function
Impression
Concept & Value
RELATED: Apple iPhone 13 Review: ProMotion, Better Battery Life, & Cinematic Flair
iPad Air 5 Design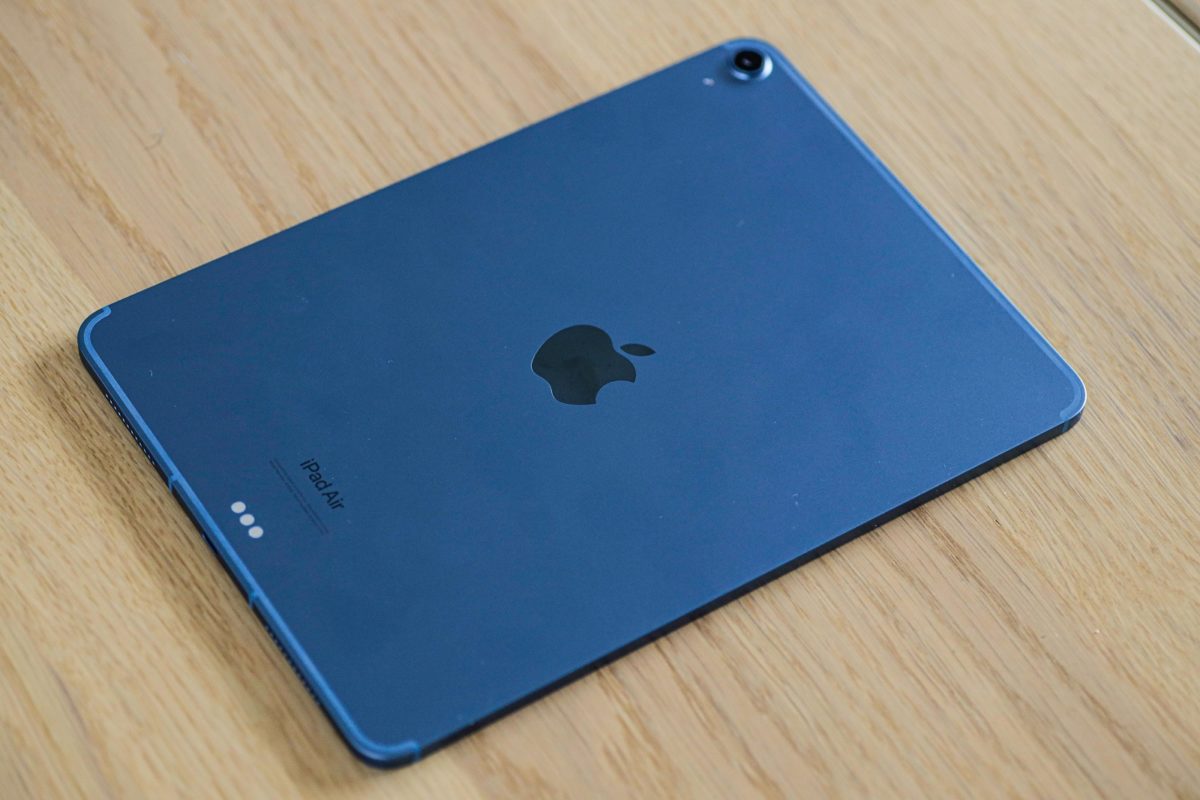 Apple has always had strange naming conventions for the iPad Air lineup, so you'll see this model referred to as either the iPad Air (5th Generation), the iPad Air 5 or iPad Air 2022. Whatever you choose to call it, it's hard to deny what Apple has done here. The 10.9-inch tablet is an attractive piece of kit, with an anodised aluminium body that feels appropriately premium and lightweight to hold. I could easily support this with one hand over a longer period of time than I could for most other tablets while happily wielding the fluid and very low-latency Apple Pencil in the other. As far as touch goes, this is an exceptionally smooth experience and the slim 6.1 mm certainly helps achieve that.
But again, it all comes back to the M1 chip. Given it streamlines what's under the hood and allows for a cleaner overall design. Beyond that, what you can see is more or less similar to the iPad Air 4, featuring the same sound and visuals. Not a bad thing, at all. But it should also go to show that this is still an iterative update as far as what you can actually see is concerned.
Although you can connect the iPad Air 5 to 4K and 5K external displays via the USB-C port, the actual Liquid Retina display doesn't represent any kind of improvement over the fourth generational iPad Air. You've got still got a reasonably max brightness of 500 nits and a 2360 x 1640 resolution that features a 60Hz refresh rate.
With ProMotion – which features in the iPhone 13 Pro – available on the 11-inch iPad Pro, this can obviously feel like a downgrade. Refresh rates are increasingly important in a world that's now becoming more used to faster, more fluid experiences while scrolling and switching between apps. As with all advancements in tech, once you get onto the evolution and then step down to the more standard version you almost always feel disappointed. That's my bias speaking. I've been using the excellent iPhone 13 Pro for months now, so having to contend with a 60Hz refresh rate is frustrating for me, even if some people who aren't used to anything faster wouldn't mind at all.
Angular corners were an interesting choice and add a nice little shapely element to the iPad Air 5 compared to previous models, but in the grand scope of things, the design choice doesn't really make much of a difference. The important thing is that the iPad Air 2022 doesn't feel uncomfortable to hold in the hand. In terms of weight, the Apple tablet comes in at 478g for the 5G variant (469g if you're doing without it – not much of a difference).
---
---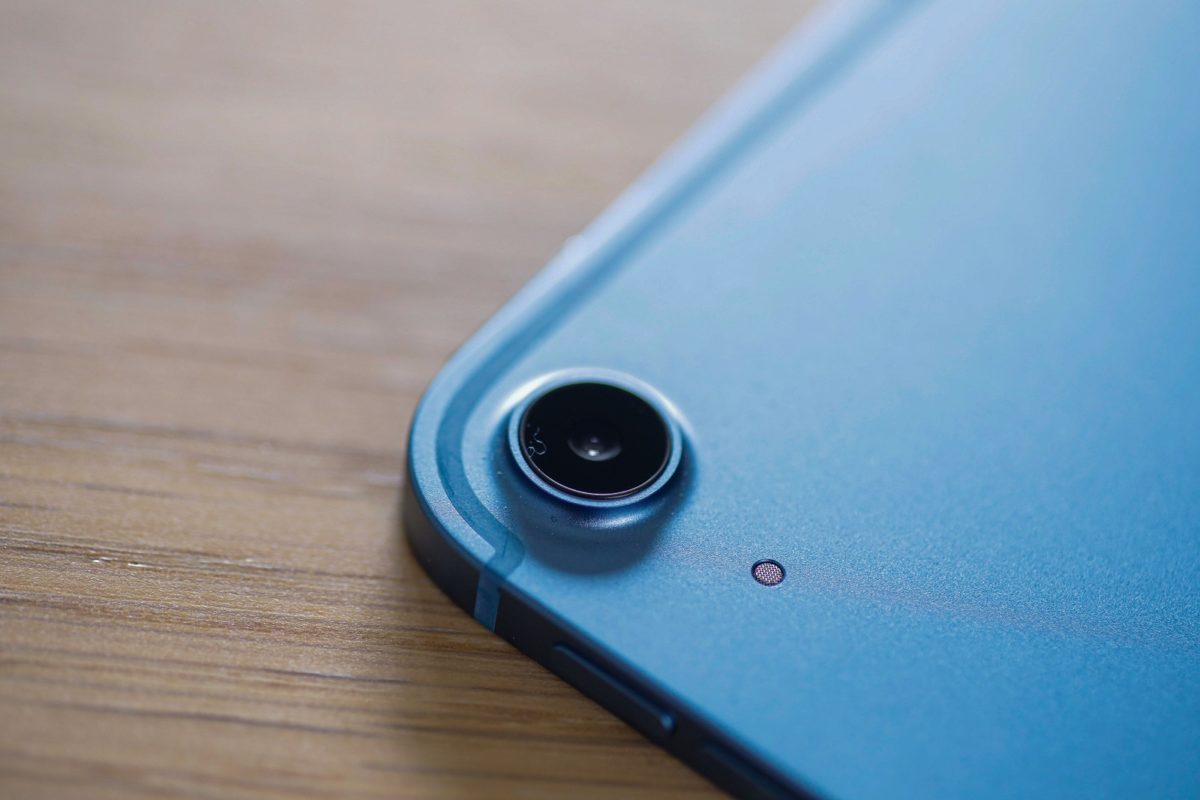 As is standard with these big tech releases nowadays, you've got the choice of a number of different colourways. Blue is the newest and most notable one here, and it looks appropriately sophisticated when compared to the more flamboyant colours like pink, starlight and purple. I'm not mad that Apple sent the blue one for review – the others don't look near as good.
You've also got different coloured smart folio covers available so if styling your iPad is at all important to you, there are plenty of colourways to play around with. That goes for other iPad models as well.
On the side, a power button with built-in Touch ID that works reliably fast. Tracking around the edge is a number of connectivity essentials, including the USB-C port on the bottom for better, more efficient data transfer speeds. I long for the day Apple includes this for the iPhone, but with all the iPhone 14 rumours swirling around, it looks like we won't see this until next year's iPhone 15.
Accessory support has always been important to the iPad Air series so Apple has clearly made it works as seamless as possible. The second-gen Apple Pencil attaches magnetically to the side of the tablet and I don't have an issue with it falling off at times as I did with previous models. There's also the expected Smart Connector on the rear of the tablet to easily flip on the Magic Keyboard, which is incredibly smooth to type on and features a stand that holds the latest iPad Air well without any risk of flopping around.
That Smart Keyboard Folio is worth mentioning further. All 2-in-1 tablets need this accessory to milk more versatility from the device. Not all tech companies get it right, but Apple has truly nailed the design here, with a strong magnetic connection that holds the tablet well. The only issue is the price, which starts at $449. It's ridiculously expensive for a complementary accessory that you really can't do without so should always be factored into the iPad Air 5 price before you take the plunge.
The cameras on tablets have never been anything to write home about, but Apple has ensured these ones are actually quite decent – you've got 12MP on the front and 12MP on the rear. Designers, architects and anyone else who actually uses the tablet to take photos – as opposed to their iPhone – should notice the uptick in post-processing after they snap their shot. While anyone using the iPad Air 5 with apps like Zoom or Google Meet should notice to improvement to the front-facing camera, which leaps from 7MP on previous models to a much sharper Ultra-Wide 12MP lens.
The only problem is placement here. Apple has positioned the front-facing camera so that it's on the side of the device is in landscape. Either Apple wants to push more people to make video calls in portrait, or this is just a glaring oversight because whenever you're beaming your face to someone on the other end you would appear off-centre.
To be fair, there is software to make up for this. Apple now includes Centre Stage which constantly pans to keep users in view as they move around, useful for things such as live presentations and shooting content. This basically grabs some functionality of a dedicated smart gimble and uses that to further Apple's ambitions of making the iPad Air 5 an all-in-one content studio for creators that won't be swiftly outdated as soon as the next generation drops.
---
---
Running around the edge of the very slim device you've also got the standards like the requisite Nano sim tray and stereo speakers (with reasonably good sound quality) plus the power button with a Touch ID sensor. That's you're only biometric here by the way, the iPad Air still doesn't have face ID since the single lens camera on the front doesn't include the necessary hardware. That's the case with the iPad mini as well, although the iPad Pro does have face ID.
RELATED: Everything We Know About The iPhone 14
iPad Air 5 Function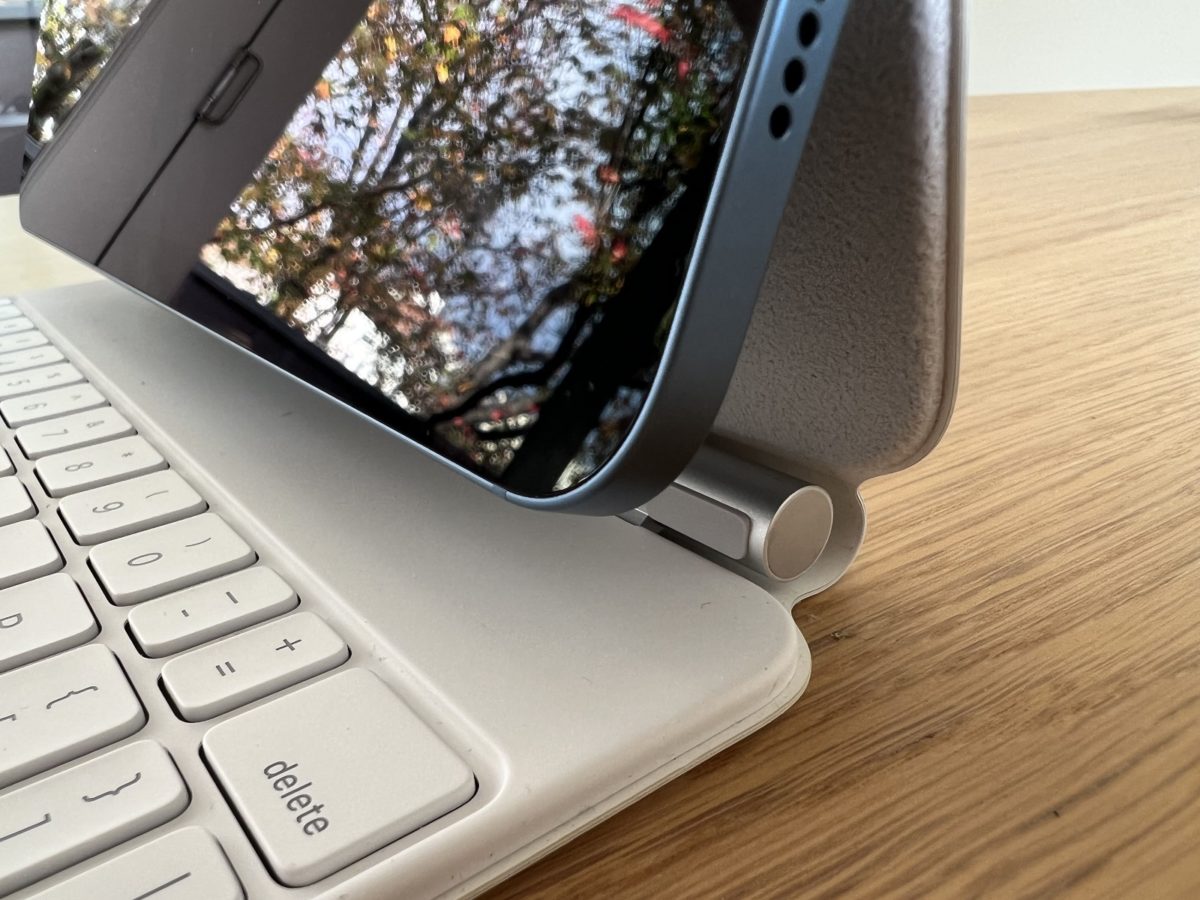 The headline to this entire iPad Air (5th Generation) really is the relentlessly fast M1 chip. As it stands, the iPad Air 5 is now the most affordable M1 product Apple has produced thus far, representing a hefty 60% jump in CPU performance over the previous iPad Air. Graphics also get a lot of grunt with a 100% bump for twice as much power when compared to the previous generation. I don't mess around with iOS games as much as I used to, but for the sake of the review I tested out a few of the more demanding apps. The M1 handles them like an absolute pro.
And it's the M1 that makes everything else possible. Like the lightweight chassis and impressively slim body? You've got the M1 to thank. Notice the photos are processed faster with more colour accuracy? M1. iPad lasting longer than you thought it would? Yep, M1. The entire experience in any of these devices always relies on the chip, so Apple's decision to use the same chip in the iPad Air 5 as it does in the iPad Pro is game-changing for anyone who doesn't need the iPad Pro. This is complemented by either 64GB or 256GB storage and 8GB RAM, all translating to an incredibly efficient tablet.
Apple might not really changed the display specs from the iPad Air 4 to the iPad Air 5, but visually this thing is a top-performer in the market with its gorgeous 10.9-inch liquid retina display. With the extra processing power from the M1 chip, 4K video plays incredibly well when streaming Amazon Prime or watching YouTube videos. I no longer own an iPad Air 4 so I can't do a direct comparison but this is some of the better contrast I've seen on a tablet. Not quite OLED-good, but really satisfying on those darker scenes to make everything look more cinematic and colour accurate.
Some may find the 10.9-inch liquid retina display to be a relatively small screen, but that's only if they're splitting hairs and comparing this to the 12.9 inch iPad Pro. Just under 11 inches really is the perfect size for something like this.
The other important part of the performance is battery life. A tablet is nothing without some decent battery life, and while Apple has clearly made strides here, it's still not enough. The company promises 10 hours on Wi-Fi and 9 hours on cellular, which is more than what you can expect from some competitors. It also aligns well with the iPad Pro, which also promises 10 hours of use but has been known to last up to 13 hours with light use.
As always, promises are always approximate and what I've been getting from the iPad Air 5 is closer to 8 hours. That being said, I did push this thing quite hard with constant HD streaming and cellular use.
---
---
As always, the iPad supports all the regular Apple features like Apple Pay, the iOS store and all the native apps that have made Apple such a powerhouse in the industry.
iPad Air 5 Impression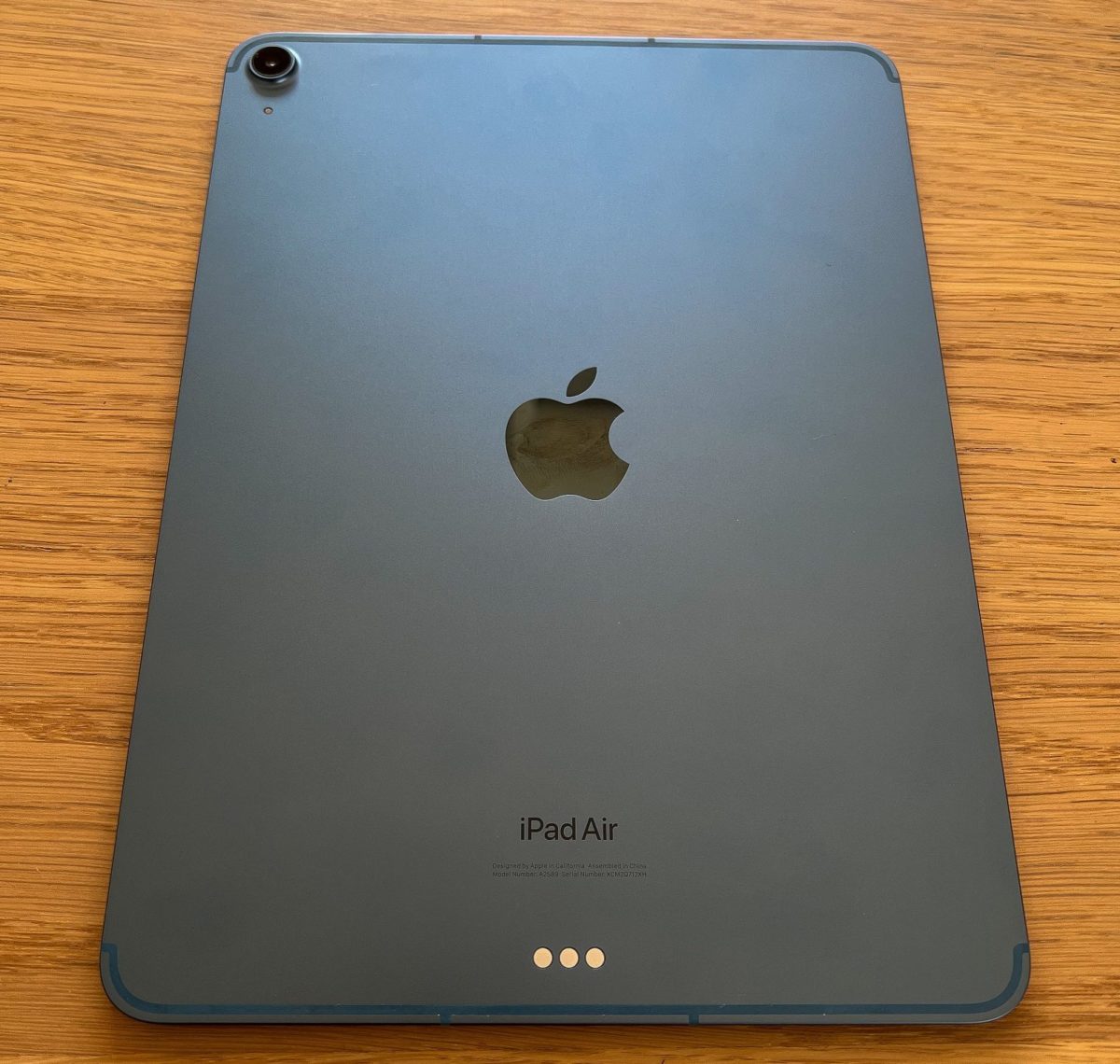 Apple is clearly continuing its value play. The company is too big not to try and hold onto customers by being a bit more generous with their less expensive models. We saw the impressive sense of value with the iPhone 13 line-up, with the standard models benefitting the most, and we're seeing if with the iPad Air, which has always been Apple's more balanced and lifestyle-orientated tablet.
Do you need it? The issue here is the issue with all tablets. Use cases aren't as broad or accessible as an iPhone. Want to stream? Just watch TV. Want to stream on the go? Just use your phone. Want to use it as a laptop? Mate, just save for a few more months and get a Mac (Apple's new Mac Studio sounds incredible; the Mac Mini also has an M1).
Apple clearly acknowledges this by making it more attractive to buy an iPad Air, but when you consider all the necessary accessories like a Magic Keyboard (or the Smart Keyboard Folio) and the second-generation Apple Pencil then you might as well just save a bit and get the iPad Pro. You'll have a better overall experience, especially with the 120Hz refresh rate.
iPad Air 5 Concept & Value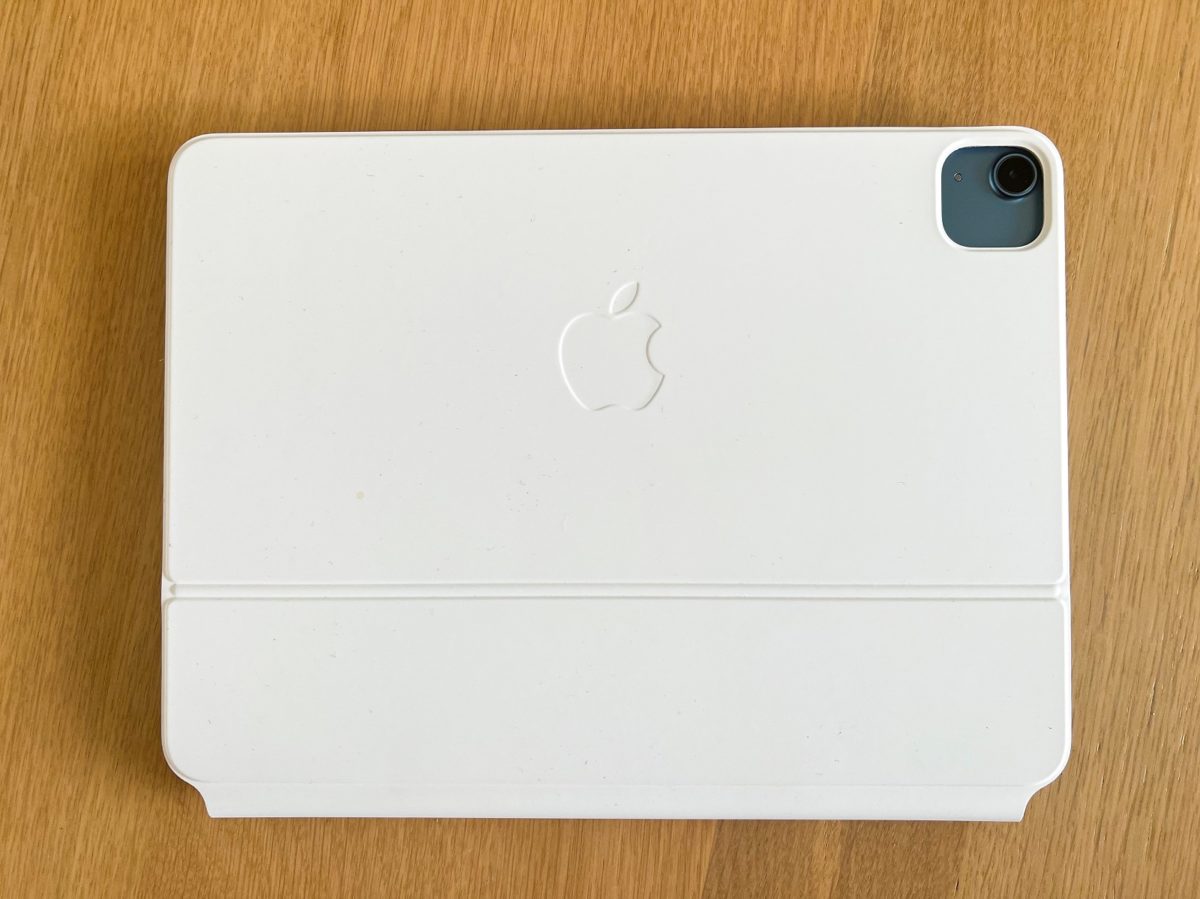 So what's the iPad Air 5 actually adding to the market? What's the idea behind its existence beyond just an iterative update? The concept, as mentioned above, is value. Apple wants to position itself as a tech company that pays equal attention to all levels of the market, and so sprinkling some of the Pro-level performance into the iPad Air 5 is certainly going to be appreciated by anyone who wants to stick with the second-best Apple tablet.
The only problem with that is, as mentioned above, it's not that much cheaper than the iPad Pro. Add that to the fact that the current apex tablet will likely drop in price once the 2022 iPad Pro is announced and those who have an actual need for a tablet – architects for example – are probably better off saving for a few months.
You'll also get more out of the entire experience if you immerse the new iPad Air in Apple's famously walled ecosystem, which means using it in tandem with other devices like the Apple Watch and one of the newer iPhone models. This only makes sense if you're already in the ecosystem to begin with. Otherwise you're looking at a hefty investment just to make the new iPad Air the best it can be.
The iPad Air 5 is available now from the Apple Store and retails in Australia starting from $929 (Wi-Fi model) and $1,159 (Wi-Fi + Cellular model). There are only two storage options – 64GB or 256GB, both with 8GB RAM.
---
---
---