The very concept of Samsung's Frame TV is revolutionary. Blending home entertainment with marvellously subtle interior design, in all honesty… what's not to love about a television screen-digital painting hybrid? And in an effort to elevate its status as a certifiable must-have, Samsung has announced a partnership that'll enable those in possession of a Frame TV to access + display 40 artworks and photographs from the iconic Musee du Louvre collection.
From the Mona Lisa to The Wedding Feast at Cana, this newly-formed partnership increases The Frame's already-extensive catalogue of 1,500+ images from 43 countries around the world, all of which can be enjoyed in stunning 4K. The Louvre isn't exactly the first famed gallery to open its doors to the South Korean tech giant, either. Prior to the latest development, artworks from the following were readily available to spruce up your lounge room:
Prado Museum (Madrid)
Albertina Museum (Vienna)
Tate Modern (London)
Van Gogh Museum (Amsterdam)
Hermitage State Museum (Saint Petersburg)
RELATED: Samsung Billionaire To Receive Entire Museum For His 23,000 Work Art Collection
---
---
"Ever since we launched our lifestyle TV portfolio in 2017, we have focused on developing the Art Store platform with prestigious partners," says Wonjin Lee, President & Head of Service Business Team at Samsung Electronics.
"This year, we are proud to join forces with one of the most famous museums in the world – The Louvre – to enhance this collection and offer a taste of French heritage throughout the world."
"We want to offer much more than a television, inviting Art into the homes of The Frame owners everywhere. This catalogue lists works by hundreds of artists, covering diverse periods, from ancient civilizations to modern art."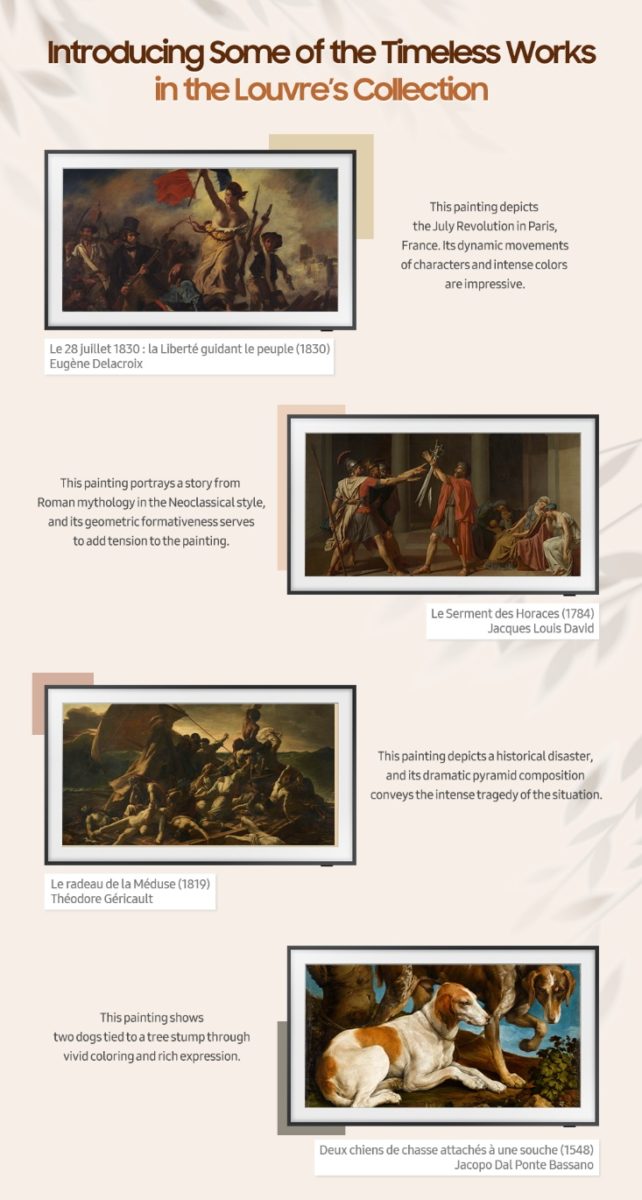 "The Louvre is a venue of discovery, imbued with emotion, a spectacular setting for artistic masterpieces," says Yann Le Touher, Head of Development, Brand Licensing, & Commercial Partnerships of the Louvre.
"Admiring works from its collection every day, at home, as well as views of the building, galleries and gardens, is a wonderful way to see and understand the extraordinary beauty of this museum."
You can cop a 2020 Samsung Frame QLED Smart TV starting from $699 here. For the latest 4K models ranging from 43-inch to 75-inch, head to the link below.
And those of you looking to admire the iconic Louvre collection without a Samsung Frame TV can check out our article on the museum's online experience here.
---
---