Every year, we collectively look forward to Spotify Wrapped like the narcissistic gerbils we are. But with the launch of the platform's fully-personalised Only You in-app experience to all 365 million users, every day can now feel like Spotify Wrapped day. Or at least until the campaign is over.
Established as a means of celebrating our unique listening habits, Only You analyses song + artist choices and patterns, providing insights on what makes you so… you. It's granular enough that Spotify claims some insights won't be applicable to anyone else in the world, hence its name.

Here's what you can expect:
Your Audio Birth Chart
"It's a musical meeting of cosmic proportions. Your Sun sign details the artist you listened to most over the last six months. Your Moon sign demonstrates an artist you listen to that best shows your emotional or vulnerable side. Your Rising sign brings it all together with an artist you've recently connected with."
Your Dream Dinner Party
"Choose the three artists you'd invite to the dinner party of your dreams. Once you select the trio, Spotify will create a personalized Spotify Mix for each artist to set the mood of the meal."
Your Artist Pairs
"This experience demonstrates unique audio pairings that you've listened to recently that show your range of listening interests."
Your Song Year
"When is the music you listen to from? This part of the experience shows how you've musically travelled through different time periods with music."
Your Time of Day
"Early bird or night owl, discover the music, and podcast content you listen to at certain times, whether early in the morning or late at night."
Your Genres/Topics
"Bring it all home with the combination of music and podcast genres that sets your listening apart."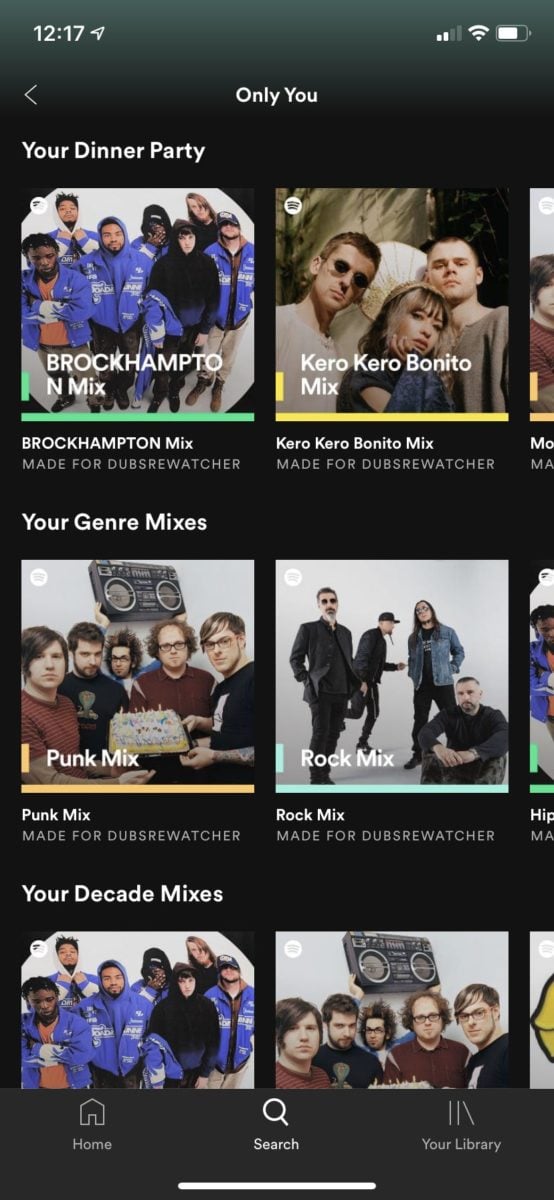 RELATED: Spotify Wants To Curate Songs Based On Your Emotions
---
---
In addition to Only You – and in stark contrast to what it stands for – the streaming platform has also rolled out a Blend feature, which is currently in its beta phase. Essentially, you can invite your mates to merge musical tastes into a single curated playlist and share the love, as it were. Blend playlists will be updated daily and grow over time; either to great success or disaster, depending on where you and your social circles stand re: preferences.
How to find the Spotify Only You feature
Open the Spotify app and log into your account.
If you haven't encountered Only You yet, there may be an automatic pop-up or prompt somewhere on your Home tab.
If neither of the above applies to you, tap the Search function and follow the prompt labelled 'Find out how you listen.'
Once this option disappears, you'll have to search Only You – tap on the option when it appears as a genre.
Share, save, & enjoy.
You can find out more about both Only You + Blend below.