More often than not, I imagine everything I'd grab at a moment's notice if shit were to hit the fan. House evacuation. Disgruntled ex. Friendly Italian man I borrowed money from wanting his "interest". Your everyday apocalypse. Whatever the event, there's a fresh addition to my essential on-the-go kit I'd like to introduce – the latest VinGardeValise suitcase capable of carrying twelve bottles of wine.
Known within the VinGardeValise family as the Grande 05 travel bag, this high-density foam cradle is protected by a polycarbonate shell. Meaning it will ensure all that precious vino is safe and secure from physical damage. With a total length of 13-inches, the cavities provided for said vino are designed to accommodate all shapes and sizes; from your standard numbers to your girthier magnums.
If wine doesn't happen to be your thing, you'll be happy to know the configurations can also be used as storage for an entire variety of bottles. Whiskeys, whiskies, vodka, gin, and even that VB long neck at twenty to eight in the fucking morning. Or, you know… non-alcohol related bottles such as olive oil and what have you. But in all honesty, why else would you ever carry glass bottles around?
---
---
Additionally – for you strange breed of non-drinkers – the configurations can also be rearranged to store personal cargo that don't involve any bottles at all. A few slips of the old high-density foam cradle and you'll have ample room for your more conventional travel kit – clothing, toiletries, tech, etc.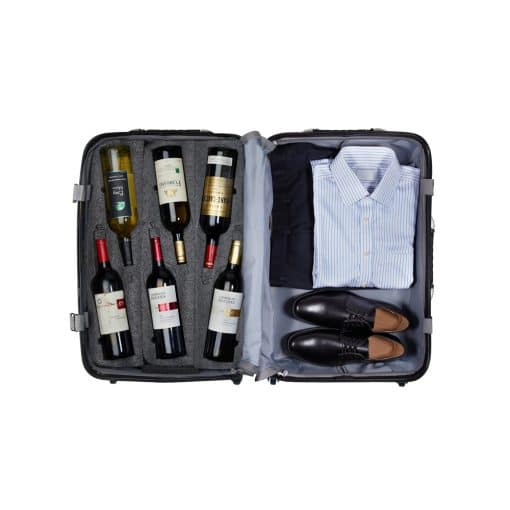 The VinGardeValise travel suitcases are currently available in matte black, silver, and burgundy. If the Grande 05 (US$349) is a bit too much for your specific needs, there's also the Petite 03 which has a capacity of eight bottles (US$299) and the Piccolo which has a capacity of five bottles (US$249). Each bag comes with a 10-year warranty.
Find out more over at vingardevalise.com.