Few cars on Australian roads have the sinister presence of an RC F. The distinctive laser-like 'Zoro' headlights slash open the souls of any onlookers as the signature panther staunch on the asphalt asserts the weapon's readiness to pounce.
The 2020 refresh of the Lexus F Sport racing coupe (hence the designation, RC F), is as brutish as it is seductive; a honeytrap designed to pull you in and then spit you out. The spicy 5.0-litre eight banger returns to put out an admirable 351kW of power and send 530Nm of torque to the rear wheels – Michelin Pilot Sport 4S tyres, to be exact, providing one incredibly intoxicating experience.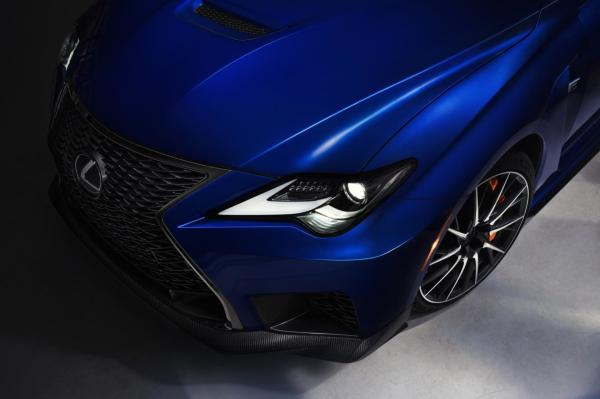 While the baseline of the RC F starts from an achievable $120k (give or take, before on-roads), BH was gifted the top-spec variant with all the bells and whistles to drive as our daily for 7 days, complementing a brief but bewitching encounter on closed alpine roads a few weeks prior and given the cheeky RC F cameo in the new Men In Black: International.
Referred to by Lexus as "Enhancement Pack 3", our whip sported an array of beast mode options including, but not limited to, 19-inch forged matte allow wheels, a 'moonroof' (how dare you call it a sunroof), titanium quad exhausts and Brembo carbon ceramic brakes with red callipers (which are what eat up the majority of your cash in the $22,432 package). Overall, you'd be looking at a $175,000 drive away price on this particular RC F, which we will admit is a tad pricey, but would make sense to anyone who was keen to commission this car as their ultimate daily driver, as there's no doubt it's a very enjoyable place to be.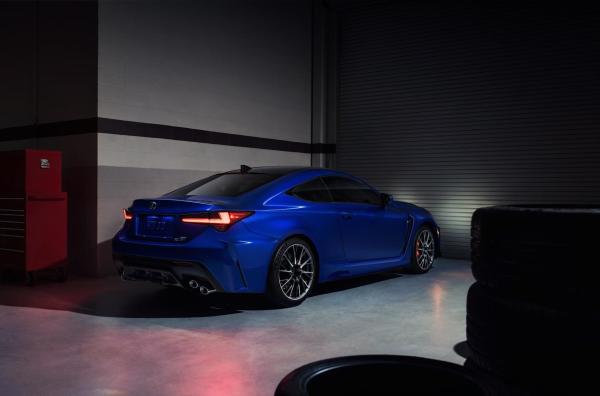 That being said, while I could look at the gorgeous 'Cobalt Mica' metallic paint every day for the rest of my life and not get bored, I definitely couldn't sit in the seats of the RC F for even a fraction as long. I appreciate the sporty, bucket nature of the 2+2 seating configuration, but the bolstering was simply just too intrusive to spend a lot of time in. The black and white colourway was a pleasantly striking contrast, however, and it channels the perfect balance between luxury and performance throughout the interior.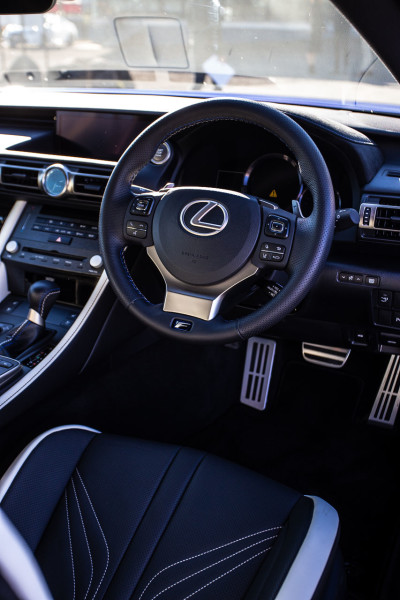 Interestingly, despite spending my fair share of time in Lexus vehicles over the years, this was the first time I properly warmed to the 10.3-inch multimedia screen with the remote touch-pad controller. The Bluetooth connectivity was as seamless as ever, something I plead for in other cars, and I'd finally found the perfect balance of sensitivity needed to enjoy the twitchy infotainment system. What I didn't like, however, was the driver assist voice that kindly prompted me to check myself before I wrecked myself every time I gave it a little bit of juice (the speed camera warning, however, was a helpful addition that I don't think anyone would have an issue with). My whinging aside, this feature can, in fact, be turned off.
You'll find me singing the praises of the 2020 Lexus RC F, though I would have to admit its price point is perhaps a little too premium for what you're receiving in performance. The gearbox is as seamless as always and the engine is spritely in its vigour, though something is still left to be desired in the RC F, a quality which I think would reign true from base spec right up to this $175k beast. All I had to compare it to – performance wise in the brand's lineup – was the underdog that is the LC 500, which is fantastic in every respect and perhaps had set the bar unattainably high.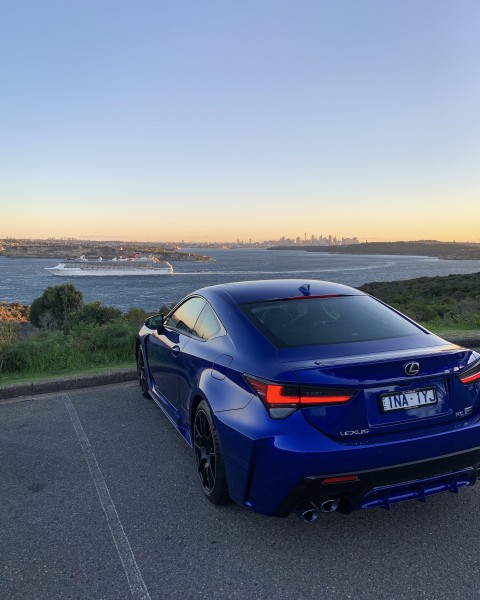 What I haven't done, however, is experience the RC F Track Edition (left of top image), which despite claiming just a slight edge in curb weight over its little brother, from all accounts, has done so in the most surgically effective ways possible, paying dividends for anyone lucky enough to get behind the wheel.
Until that day, you can explore the Lexus performance range in full over at lexus.com.au
RELATED: I'll eat my words, turns out I would actually buy the LC 500