A $12,000 Bang & Olufsen sound system. A $17,000 titanium sports exhaust. A $25,000 dynamic sport package (I'm still not entirely sure what exactly that even entails). All added options on the Audi RS6 Avant Performance that I found waiting patiently just outside the doors of Sydney's Audi Service Centre.
The look of disbelief on my face when the keys to the fully spec'd monster were thrust into my hand would have been one for the books. Did I forget to mention the exclusive and stupidly expensive 'Vegas Yellow' premium paint job? I quickly realised I wouldn't just be turning heads in this thing, I'd be snapping necks.
Sure, a grand total of $325,000 for a wagon seems like a hell of a lot of coin to spend on a very (in comparison to a McLaren, for instance) nonchalant performance car. But it was almost – dare I submit to the cliche – love at first sight. At that moment I succumbed to the realisation that I may have found the dream daily supercar. The peak of all this motoring craziness. Why would anyone buy a McLaren 650S when you could get one of these?
And it is a supercar, don't let the family wagon facade fool you or let anyone tell you otherwise. Just consider the RS6's lightning quick squirt to 100km/h for a moment – 3.7 seconds. That's as fast as a Lexus LFA or an Aston Martin DB11. The entire car is so bonkers you have to keep reminding yourself that despite all its batshit crazy tricks and gimmicks, you can still fit four mates, a surfboard, your dog and a set of golf clubs in the back.
We thought we were in for a good weekend. Then an RS4 rolled up, too.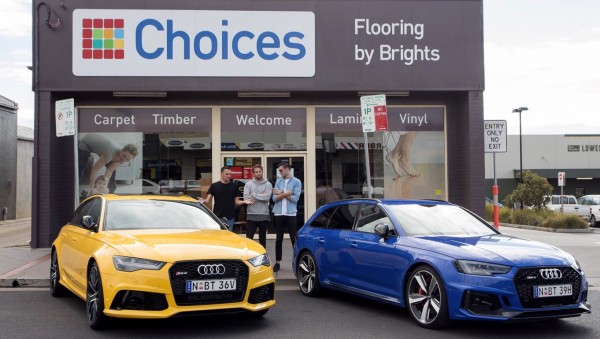 Upon hearing of our excitement to loan one of the most coveted and sought-after performance vehicles amongst car enthusiasts (the RS6) a few days earlier, Audi kindly threw us the keys to a brand new, charmingly blue RS4 Avant. For the same weekend. Back to back.
A grand total of half a million bucks worth of Audi Sport wagons.
After a few days living with the RS6 I was keen to experience the hyped re-incarnation of the new RS4 which would round out my experience with Audi's entire RS line-up.
Having never driven the previous RS4, I'd been primed about the lack of visceral bite absent in the 2018 version compared to its predecessor, especially since I was stepping down from the barking brute force of its big brother, the RS6.
The Audi RS4 is sleeker, more chiselled and slightly smaller than the aforementioned wagon, but boy does it fly. It's an absolute rocket that sources its power from a continuous stream of torque on tap that's thirstier than a Uni student during happy hour. I had no problem whatsoever chasing James in the RS6 as we climbed NSW's Bell's Line Road, the 2.9-litre V6 in the RS4 holding its own – but not so much its sound – when up against the throaty 4.0-litre V8 of the RS6.
The RS4 is sharp, nimble and was honestly quite refreshing after slogging multiple hours out west behind the wheel of the heavy six. The next generation Audi tech interface found on the four, with its interchangeable full-screen digital dash and wireless charging capabilities, was also a pleasant experience.
For a starting price of $153,900 (ours was a little sauced-up with a few options, though not as many as the RS6) the new RS4 is a compelling package, despite it lacking some of the raw characteristics it may have sported previously. It's one of the best cars you could snap up if you're looking to buy a wagon – or an Audi Sport wagon more specifically.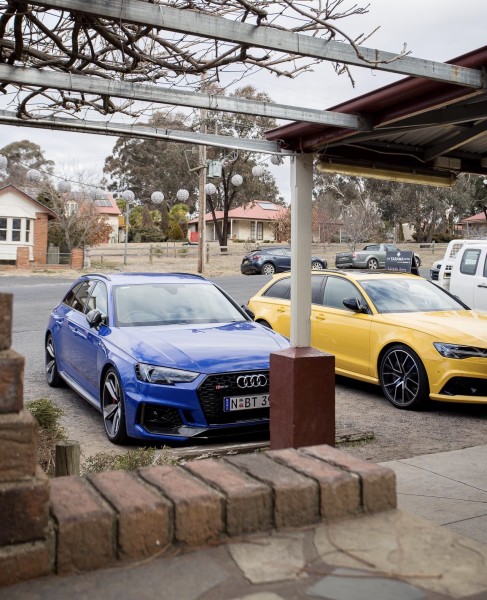 Those that want an RS6, however, are going to buy an RS6 no matter what you tell them. It isn't even a point of discussion. The RS6 reserves a special place in the hearts of many. These individuals might say their dream car is an Aventador or a 911, but really, they know all the while that the RS6 is all they could ever want or need. Let alone more likely to end up in their garage at some point as opposed to a Lambo.
And if you're going to throw a lazy $240,000 down on a wagon just to start with, you may as well go bonkers, start ticking those boxes and get a 'Vegas Yellow' one with $80,000 worth of kit stacked on it. The sound system would be worth it alone.
Catch the video above for some chat and to hear the naughty sounds of these two gorgeous vehicles for yourself.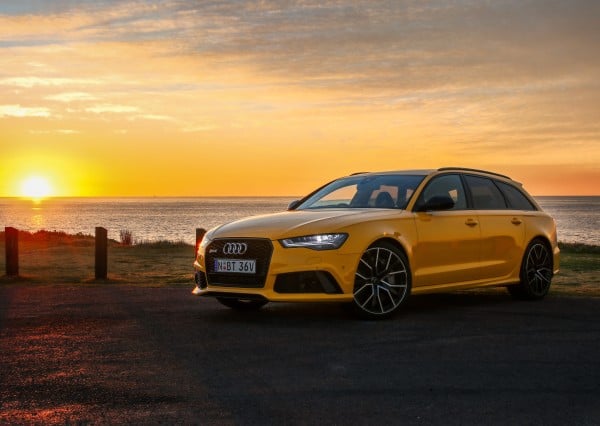 RELATED: Audi's TT Finally Sheds The Hairdresser Stereotype With The 2018 RS