You have to admire GM for creating a car so quintessentially American. It's a showman, a performer and an attention demander, and that's before you opt for the 'Red Hot' colour variant. With a decibel-scale breaking soundtrack, ultra-aggressive bodywork and powerhouse performance, the Camaro is a vehicle of extreme character. Thanks to HSV, we now have a limited run of factory spec V8 Camaro's available in Australia from $86,000.
The process to get one of these bad boys on Australian roads is no walk in the park. HSV, now devoid of V8 vehicle production, has purchased 550 left-hand-drive Chevrolet Camaro SS's from GM in the States. Once whipped off the end of the production line in Michigan, the vehicles make their way to HSV's new Australian factory in Victoria where, with the help of GM's design models, 130 man hours and 357 new parts are used to covert each car to RHD. After a thorough BH inspection, we can say that conversion quality is exceptional and HSV's effort is commendable in both a business and a workmanship sense.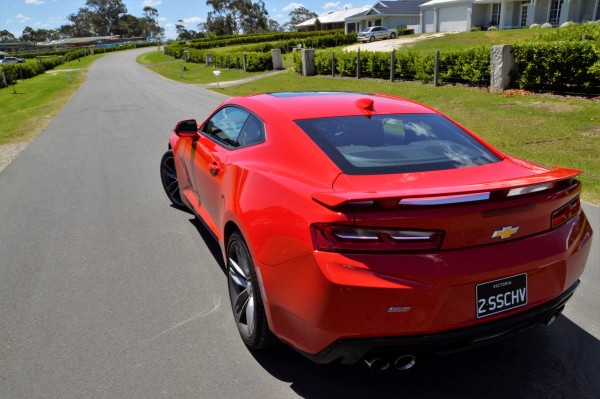 We find ourselves in a machine with a 6.2-litre V8 producing 339kW of power and 617Nm of torque, enough to twist the Earth's rotation off its axis. The sprint to 100km/h is done in a few tenths more than 4 seconds, which is always impressive for a +1,700kg coupé. I can confirm that complacency at the wheel is a scarcity as every breath on the throttle induces white knuckles – this is a truly exciting car.
The Camaro begs to be thrashed. Peak torque comes high at 4400rpm as a result of the free-breathing unit under the bonnet, so it's most scintillating work is done well into that range. You can tell that's where it wants to be too, constantly egging the driver on to give it the sweet satisfaction of revving out. Upshifts at full noise give a delightful king hit to the spine as the 8-speed cracks through the gears like a whip.
The ZF transmission can be a touch edgy when being pushed hard and we found applying power linearly out of corners challenging. Over-enthusiasm on the Camaro's throttle will ensure the rear-end simply packs up and strolls off into the distance.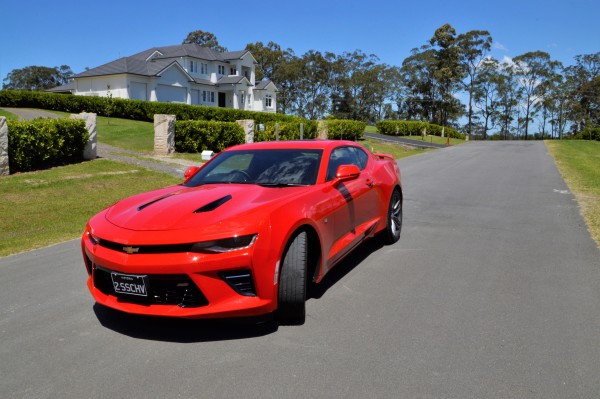 This aside, the 2SS is a winner through the bends and its size belies its impressive handling prowess. Independent suspension all round, capable Brembo brakes and a limited-slip differential have weaponised the Camaro into a corner hunter. Boasting minimal body roll and stellar feedback, the boat-like stereotype of the traditional pony car has been shattered with this number. Of course, it's not top of the pile, but if the BMW M2 is a scalpel, then the Camaro is a large hunting knife – still damn sharp and able to get the job done if the surgeon is good enough.
That noise… oh, that noise. It's enough to make any original HSV owner weak at the knees and I daresay the same goes for Mustang GT owners – the Camaro spanks it for aural pleasure and they know it. Working from low down, the bimodal quad exhaust starts with a sound comparable to God gurgling liquid gold and builds to a resonant metallic wail that crescendos with an enormous bark at the 6500rpm redline. The active exhaust means you can toggle through four modes of sonic hedonism, but our tester rarely found itself out of the 'Track' setting. Trust me, you'll seek out tunnels.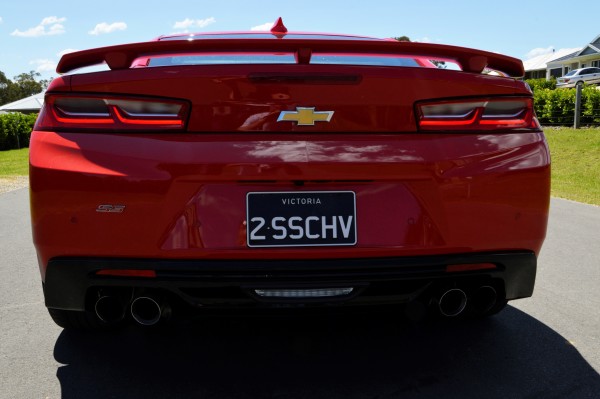 There are a few niggles from the Australian conversion. The driver's armrest hasn't been moved over, so you'll find your left arm in the cup holders, the side mirrors haven't been reworked and stick out at an odd angle, and gaps in the internal panelling are wide in places. These are easily shrugged-off nuances and can quickly be forgotten.
Despite being the Camaro's biggest critique, I didn't find visibility from the driver's seat to be as dramatically poor as every nitpicking car journalist describes. Yes, the dash and window sills are high and the C-pillars are thick, but it's something you get used to after a couple of days and are worthy sacrifices for those striking exterior looks. My only gripe is with the headroom, which meant my hair was constantly touching the roof even with my seat at its lowest, but bear in mind I'm 6'3.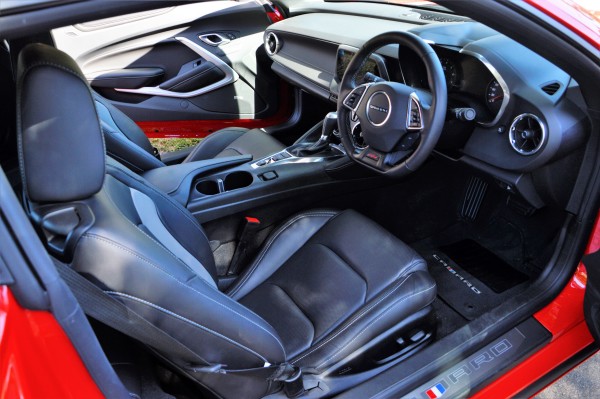 Inside, the Camaro boasts a fair amount of kit that comes standard and justifies the higher purchase price, including a 7-inch touchscreen with Apple CarPlay, interior mood lighting, a crisp 8-inch digital instrument cluster, wireless phone charging, a sunroof, cooled/heated front seats, remote start, leather everywhere and a premium dash presentation. I wouldn't have been surprised if the 9-speaker premium BOSE sound system only played the American national anthem, but it thumps out any track with exceptional talent.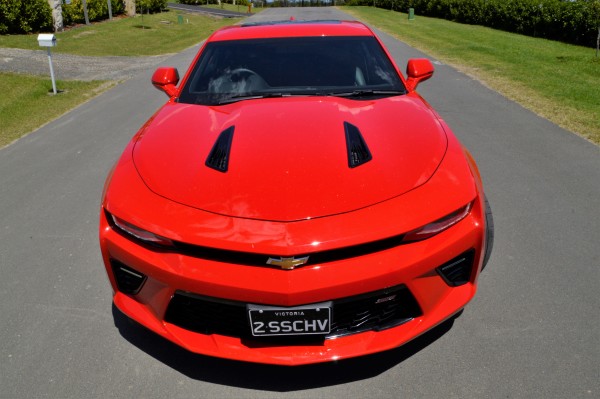 Punters will love the Camaro for its character; it just puts on such a massive visual and auditory show. I'll guarantee all of the existing 550 units (of which 75% are already taken) will be snapped up and that the imports following will be a hit among Aussies despite the price premium over the Mustang GT. This kind of performance for under $100K is certainly bang-for-your-buck territory, add the exclusivity factor and we've got a great buy that I'd happily put my name down for. Lastly, HSV has hinted at bringing the 485kW, 868Nm supercharged V8 Camaro ZL1 Down Under in the near future. Say your prayers.
2018 Chevrolet Camaro 2SS
Price: $85,990, plus on-road costs
Engine: 6.2-litre V8
Output: 339kW @ 6,000rpm
Torque: 617Nm @ 4,400rpm
Transmission: ZF 8-speed Automatic
Fuel Use: 11.5L/100km
ALSO CONSIDER: 2018 Mustang GT | 2018 BMW M2