Back in January of this year I finally got my hands on BMWs plug-in hybrid sports car, the i8, and I loved it. a few weeks ago I was finally handed the keys to the new BMW i8 Roadster to see if chopping the roof off has improved this already very impressive car.
My first impressions of the BMW i8 Roadster are that its wonderfully futuristic looks are only improved by removing its top. The low and wide body suits the convertible look so well and by making the car a proper 2-seater, it finally has that supercar appearance you want from a $350,000 car. Inside there are some very welcome changes and improvements that the car has been begging for. A few nice little carbon touches here and there along with a bit of an infotainment update and the that slightly dated feel the coupe suffered from has disappeared. The seats are also much comfier. Much, much comfier. I always thought the coupe should have been a dedicated 2-seater instead of the 2+2 layout as the only real use for the back seats was for luggage as there is literally no room for anything in the boot if it doesn't fit in a shoebox. And that does lead to a valuable point, there is now no storage apart from that bowling ball-sized rear boot, but the i8 is hardly a practical family wagon.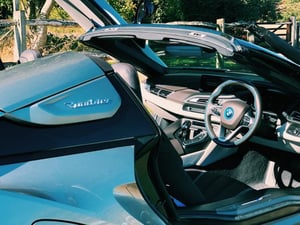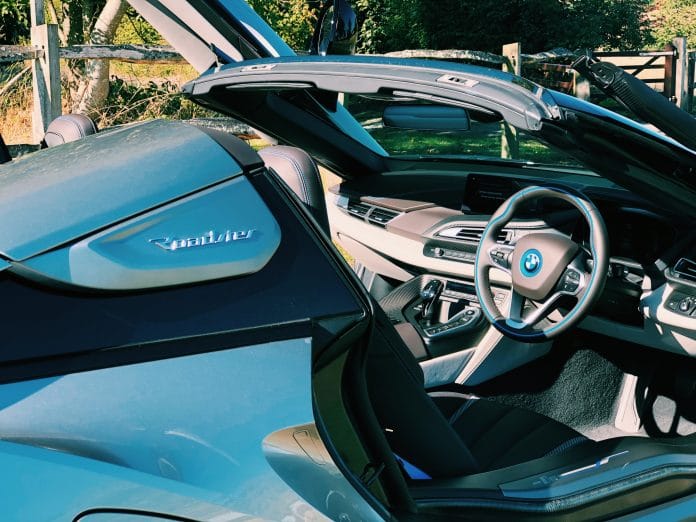 Driving the BMW i8 Roadster is very similar to the hardtop variant, the chassis feels tight and well balanced there doesn't seem to be any noticeable negatives to opening the car up to the elements. I have always preferred convertibles over coupes, which may seem bizarre given that I live in a country that rains more than most places. It isn't even a summer thing, I love wrapping up and having the cold air blowing in my face as I navigate the twisty country roads on a crisp winter's morning as much I do in the summer! Having the roof off opens up a whole new dimension to driving that's hard to describe.
RELATED: Alfa Romeo's Quadrifoglio Robs BMW's Throne For Sharpest Luxury Sports Sedan
With the i8 being so low and wide, it hugs the road and as you feed more power through the throttle. The clever all-wheel-drive system plays a huge part here, making it feel like it's on rails. With a 231 bhp, 1.5-litre engine powering the rear and a 143 bhp electric motor pushing the font, when the car is in full Sport mode it shoots off the mark like a space-age rocket ship. 2 other modes are available for everyday living if the fake engine sound pumped into the cabin is a bit much for your morning commute – Hybrid mode is nice and calm and also returns unrivaled efficiency for a 2-seater convertible sports car and you also have the option to drive at up to 75 mph using the only electric power from the plug-in battery reserve.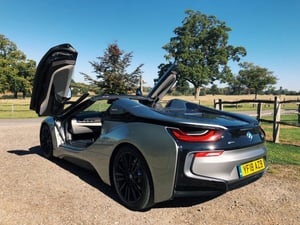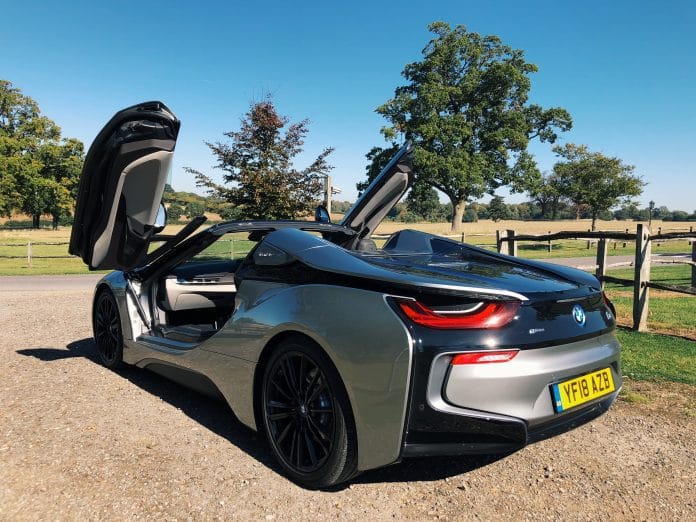 When I first drove the coupe, I raised the question of is the i8 still important and is it still groundbreaking and after some quality time with it, I came to the conclusion that it was. The BMW i8 Roadster is no different – the small, but needed, improvements inside make it as good a place to be than any rival Porsche 911 or Audi R8, and in my opinion the fact that you can get a proper 2-seater sports car that can accelerate from 0-62 mph in 4.5 seconds and also return 134.5 mpg (claimed) makes it a huge deal. Where the i8 falls behind the Porsche and Audi, though, is in the overall feel. It's a lovely car to drive and it can also be good fun to drive angry, but it just doesn't have the same overall performance of its rivals. This was a little disappointing at the start of the drive as you want every car to feel like a supercar when you first drive it, but as, like a lot of other cars in this price bracket, most of the cars sold will never be driven hard let alone go near a race track.
As a great fan of the combustion engine, I do see the arguments against cars like this. We seem to be living in a time where in one hand everyone is becoming more and more aware of their responsibilities on this planet, but in the other hand, louder and shoutier is best… The main objection I've seen from people about the BMW i8 and BMW i8 Roadster is the lack of noise from its little 3-pot engine – "It would be much better if it had a V8" and so on… but whether we like it or not, there will be a time where 100% combustion powered cars will be off our roads. Yes, it's a sad truth, I agree, but instead of stubbornly refusing to accept hybrid and electric-powered cars, why not embrace them and be excited about where we are going to go next. People who rode horses to work every day once looked at cars with negativity, and look where we are now…
By James Ford