If you were expecting a romantic saga of how a 1960s Arctic buoy-laying ship found a new lease on life as an exquisite motor yacht, then this article isn't it.
Well, sort of. It's still damn right impressive regardless.
Blue II by Turquoise Yachts is indeed about as refined as they come. There's not a cookie-cutter naval design cue in sight. This 56-metre motor yacht puts your standard all-white pleasure craft to shame. And so you're correct in thinking the final product we have here began its story as a unique host ship waiting patiently for a revival, but that's not where it finished.
---
---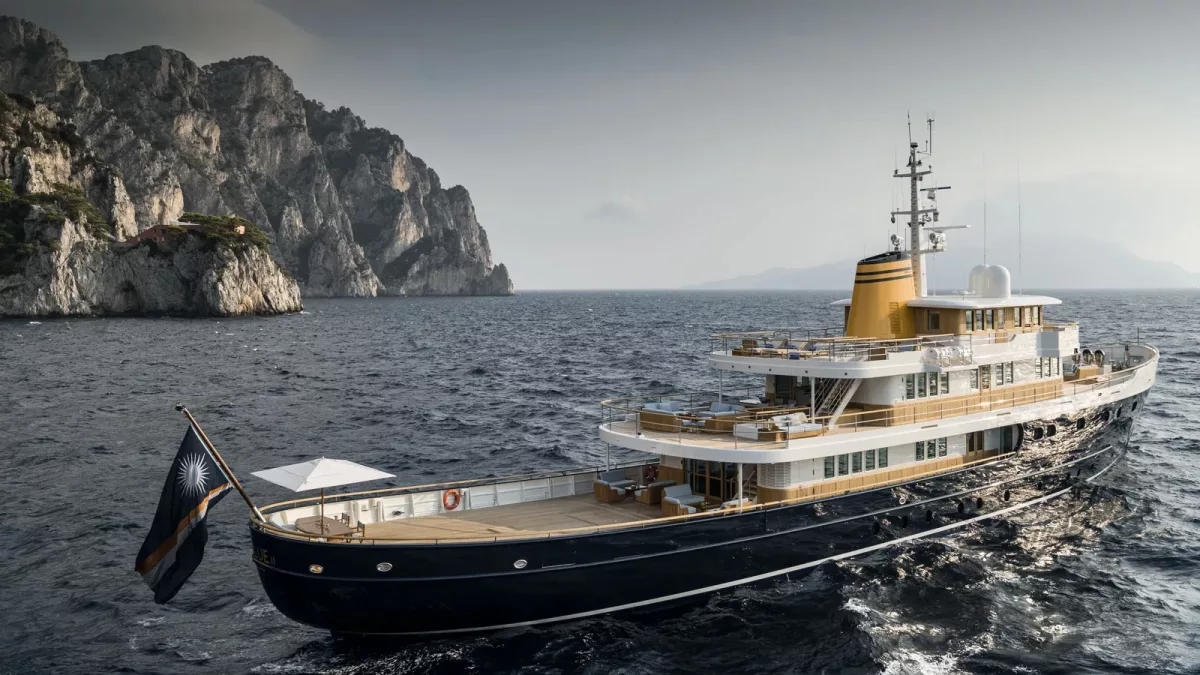 Blue II was built in Turkey under the watchful guise of Dutch naval architect Andre Hoek who told BOAT International of the vessel's intriguing inception.
"Years ago, someone I know bought a decommissioned North Sea buoy-laying ship intending to convert it into a yacht. He was going to gut it and asked me what I would [design]. It was a really beautiful ship, and I told him I would do a design on the condition he did not scrap it."
The architect drew up the designs only for the project to be put on the back burner, and when he heard the hull had eventually been listed for sale, he took it under his wing and began looking for interested parties to commission the restoration and refit. It was simply too good to not become a reality.
He eventually settled on two business partners with an equal stake in the vessel that were not only eager to put exploration at the heart of the build, but conservation too, all the while adhering to Hoek's prelim designs.
Their wish was for a yacht that broke the mould, combining a workboat aesthetic with a classic style and balance profile that still had the capabilities afforded to it by an ice-classed hull paired with an elegantly curved sheer line.
But the idea of converting the host ship eventually had to be scuttled. Concerns about the old steel plating and tankage limitations made the gutting and replacement of the superstructure too difficult. "It was better just to start over," said Hoek.
So Blue II became a homage to its original. An exact imagination of Hoek's initial designs, albeit now a tad longer and a bit wider.
---
---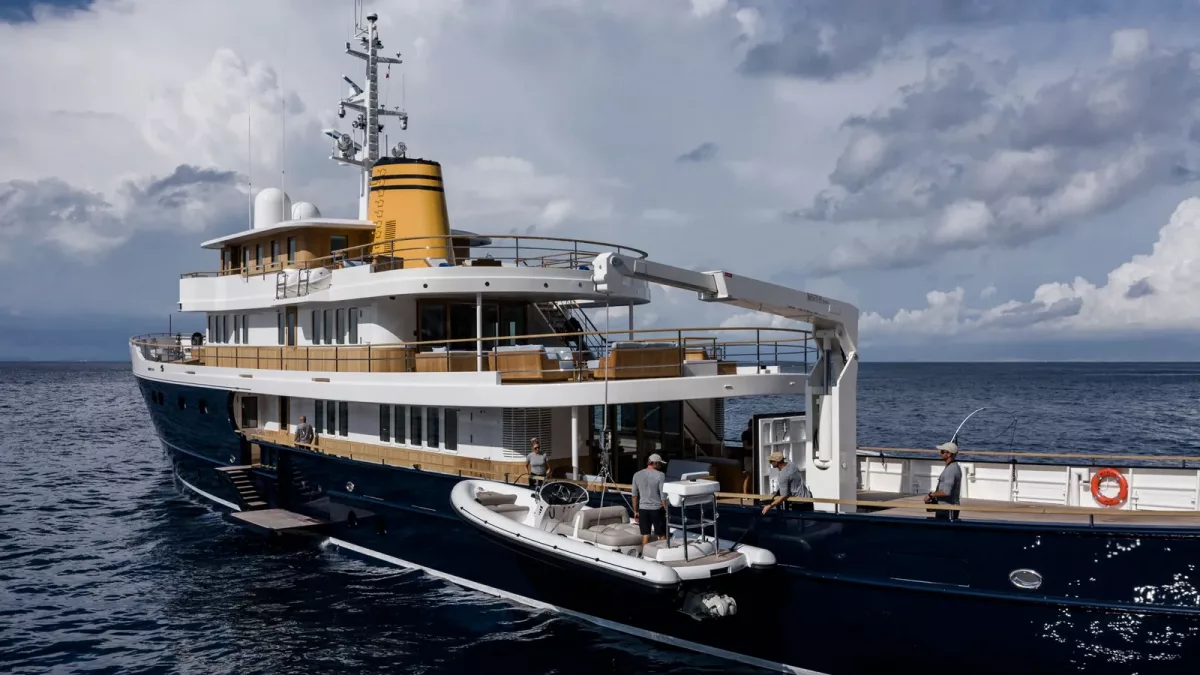 The completely new aluminium superstructure afforded it teak decks, skylights and brightwork cladding on the upper and bridge decks. It also allowed for the large tenders and three-person submarine – all part of the original brief – to be stored below deck. A custom six-tonne capacity articulating crane stows invisibly alongside the toys under the curved deck via 10.4 metre-long hydraulic hatches.
The powertrain was upgraded to a full diesel-electric propulsion system with modern exhaust treatment and just a single prop to aid navigating through ice.
Inside there are dual master suites, one for each co-owner, finished with a simple combination of teak, white paint and beige upholstered panels. There's also a private study, sauna, and bookcase in the main salon that can rotate 360 degrees to allow anyone to watch the built-in television.
Even the bar, coffee, and games area are purposefully designed for the guests or owners to engage in a more interactive yachting experience.
"We thought about this for quite some time: what type of motor yacht would our sailing yacht owners want? It is modern below the water yet displays classic lines. It will not be quickly outdated but will still look great in 10 to 20 years."
Blue II is available for charter via Burgess Yachts from €295,000 and can sleep 12 guests across six cabins.
Imagery courtesy of Guillaume Plisson.