Never in my life did I ever expect to hear of a hypercar being built on home soil. I especially didn't expect to see it in the same sentence as the Aston Martin Vulcan and the McLaren P1 GTR.
Brabham Automotive, founded by the son of late Australian racing star Sir Jack Brabham, has green-lit this track-focused weapon known as the BT62. With specific rivals in mind, most notably the aforementioned British manufacturing icons, the vehicle will be an unprecedented move for the hypercar segment.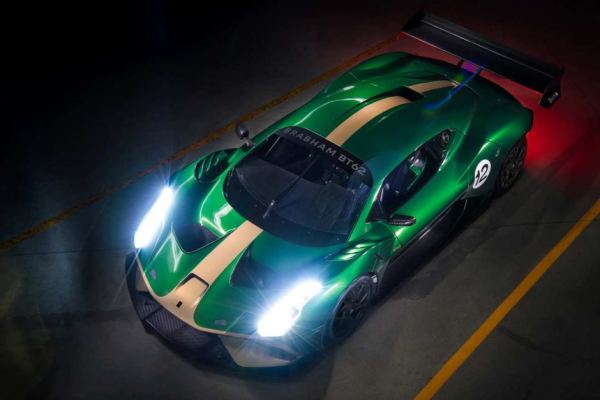 Unveiled at the Australian High Commission in London overnight, the BT62 will punch out a whopping 720 horsepower (converted by way of exclusive Michillen tyres) through a naturally-aspirated 5.4-litre V8 and race-spec transmission.
---
---
Downforce, downforce, downforce. That's about all there is to say about its carbon fibre tub and super aggressive aero kit. Together, they generate a staggering 1200kgs of the stuff when at full pelt.
Only 70 of these cars will be made at the facility in Adelaide, and are suspected to retail at £1 million ($A1.8 million) each. The price tag includes a driver development and experience program to help owners squeeze the maximum out of their new whips.
The first 35 examples of the BT62's off the production line will sport a livery in homage to Sir Brabham's Formula 1 Grand Prix victories of the same tally. A small handful will likely be put aside for the Le Mans 24-Hour race, which the company has vocally expressed interest in getting involved with.
If you're currently counting your coins, you better do so quickly. Downpayments for these bad boys are presumably already underway given their end-of-year delivery date. The harsh curtailing of internal combustion engines globally could mean it's quite possible this might be the only Australian-built hypercar to ever exist, so it wouldn't be a bad investment if you ask us.