Something that undoubtedly caught the attention of many of us in Ford v Ferrari – aside from Christian Bale and Matt Damon's stellar performances – was how authentic the vintage cars looked. And for good reason… because much of the cars displayed onscreen were the real deal – all thanks to the personal collection of one man.
Meet Bruce Meyer, the founding chairman of the Petersen Automotive Museum in Los Angeles and a bloke who has a unique relationship with the Ford v Ferrari story. As you will have gathered by now, Meyer is a motor connoisseur with the wealth to fulfilling his high-octane fantasies.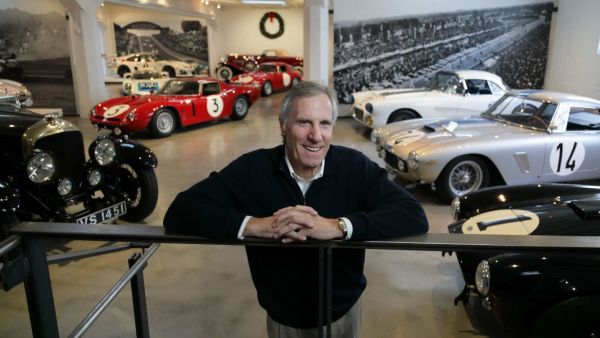 But what you might not have known is that Meyer was friends with Carroll Shelby himself. Yes, the Carroll Shelby – as in the renowned automotive entrepreneur responsible for the Ford GT40 which defeated Ferrari at Le Mans; the creative genius responsible for the Shelby Cobra; and now more widely known as the character portrayed by Matt Damon in the James Mangold film.
---
---
This friendship came with a few perks. For one, Meyer received the first Shelby Cobra ever made. For another, Meyer was also presented with the opportunity to purchase the Ferrari 625 250 Testa Rossa driven by Ken Miles (portrayed by Christian Bale) in 1962 – which he obviously went through with. Meyer holds quite the reputation not only being as avid appreciator of motors, but as someone legitimately connected with motoring history. Which was exactly why he was approached when the cogs of Ford v Ferrari began turning.
Both of the aforementioned vehicles showcased in his incredible feat of curation, in addition to a silver 1961 Ferrari 250GT SWB, were subsequently loaned to the production. But there was a moment where it almost didn't happen. Meyer had stopped allowing film studios access to his collection around two decades ago, for the very reason that they "… always [came] back a little less than when they left…". What convinced him otherwise was the fact that the film would be a tribute to the memory of his dear friend.
"He really [was] a great automotive hero and a great American hero – and worthy of praise," says Meyer.
"At the end of the day, he won, in every sense of the word."
After all is said and done, it would appear that this chapter in American motoring history has come beautifully full circle. And what we have to show for is the perfect celebration of both Carroll Shelby and Ken Miles' accomplishment. Wouldn't you agree?
RELATED: Watch Gordon Ramsay Track His Entire Supercar Collection In One Video.