In place of a cancelled 2020 Geneva Motor Show, automotive marques have taken their own initiatives in launching their respective new additions to the ultra-luxury car market.
The likes of Bentley, McLaren, Porsche, Koenigsegg and Alfa Romeo in particular have turned up the heat this year with the announcement of some seriously powerful and equally exclusive weapons.
We'll stop wasting your time – here are last night's car reveals you need to feast your eyes on right now.
---
---
Bentley Mulliner Bacalar
It'll cost in excess of AU$3 million and just 12 examples will be built. The Balacar is named after a blue lagoon in Mexico on the Yucatan Peninsula and derives its core from the popular Continental GT (although seven times the price). Interestingly enough, the Balacar will be coated in 'ethically sourced' rice husk ash paint and the interior uses 5000-year-old Riverwood in its two-seat convertible cabin.
McLaren 765LT
McLaren's 765LT follows in the same 'longtail' design spirit originally seen in the 1990s F1 GTRs and is in a similar vein to the brand's other production longtail, the 600LT.
Essentially a 720S on steroids, the 765LT will do the 0-100km/h dash in 2.8 seconds with a shift-time 15% fast than its predecessor and a downforce-to-drag ratio improvement of 20%.
Just 765 of the 765LT will be built and available globally, each with an individual number.
Porsche 911 Turbo S
Featuring a new 3.8-litre flat-six engine running twin variable geometry turbochargers and delivering 478kw and 800Nm of power, the 2021 Porsche Turbo S has to be the hottest release of the last 24 hours.
It'll do the 0-100 km/h squirt in 2.7 seconds – which is a drop in 0.2 seconds over the outgoing model. On paper, the Turbo S runs more or less the same figures as the McLaren 765LT, which is incredibly interesting considering it (presumably) costs considerably less than the aforementioned longtail, for which Australian pricing has yet to be confirmed.
The Porsche Turbo S Coupe will start at AU$473,900 before on roads and will go on sale the latter half of 2020.
---
---
Koenigsegg Gemera
It's outrageous to think that the blisteringly quick Swedish automaker Koenigsegg has made room for all the boys with this four-seater 'GT' dubbed the Gemera.
Boasting 1270 kilowatts of power and 3500Nm of torque, the Gemera demolishes the 0-100km/h dash in just 1.9 seconds.
There are even cupholders, wireless phone charging ports, rear-seat entertainment and four pieces of specialised luggage for all your gear. Yeah, righto.
The Koenigsegg Gemera has a top speed of 400km/h, which is limited, and only 300 will be built.
Alfa Romeo Giulia GTA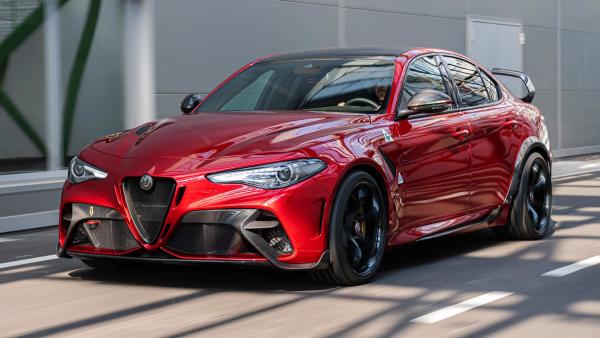 Available in two versions – the GTA and the GTAm – these aggressively reworked whips are all about shedding weight and maximising downforce courtesy of Alfa Romeo's F1 partnership with Sauber Engineering.
We already wrote an article on this beauty – which you can check out here.
REVIEW: BMW's M2 Competition Devours Victoria's Best Driving Roads