Months after motoring YouTuber Varryx stalked spotted it in public, and a few more months after its initial unveiling at Pebble Beach, the brand new Lamborghini Countach LPI 800-4 has (officially) debuted on the road. Accompanied by two of its most important predecessors – the first Countach LP 400 and the last Countach 25th Anniversary produced – the hybrid beast deleted some rubber tearing through the Italian countryside. And although it would've certainly been a spectacle to witness in person, we'll happily settle for the polished footage Lamborghini themselves have recently uploaded.
"The dynamic debut together with two protagonists of the company's historic collection provided extraordinary and unprecedented images."

Lamborghini
The 2022 Lamborghini Countach LPI 800-4 arrives with a hybrid powertrain – LPI denoting the "Longitudinale Posteriore Ibrido" designation previously seen in the 2015 Asterion hybrid concept – housing a naturally-aspirated 6.5-litre V12 engine and 48V electric motor. Capable of sending a combined horsepower of 803 (600kW) to all four wheels and generating 720 Nm of torque, effectively, it does the 0-100 dash in just 2.8 seconds with a top speed of 355 km/h.
---
---
Plenty of carbon fibre has been utilised for the exterior chassis and body, as well as the front splitter, engine bonnet cover intakes, rocker panels, and lining the front + side-view mirrors. Lamborghini reportedly leveraged the power of 3D-printing technology to create movable air vents, while also incorporating a futuristic photochromatic roof. Essentially, this means it has the ability to shift between solid and transparent with the press of a single button.

RELATED: Lamborghini Farewells Pure Internal Combustion Engines In 2022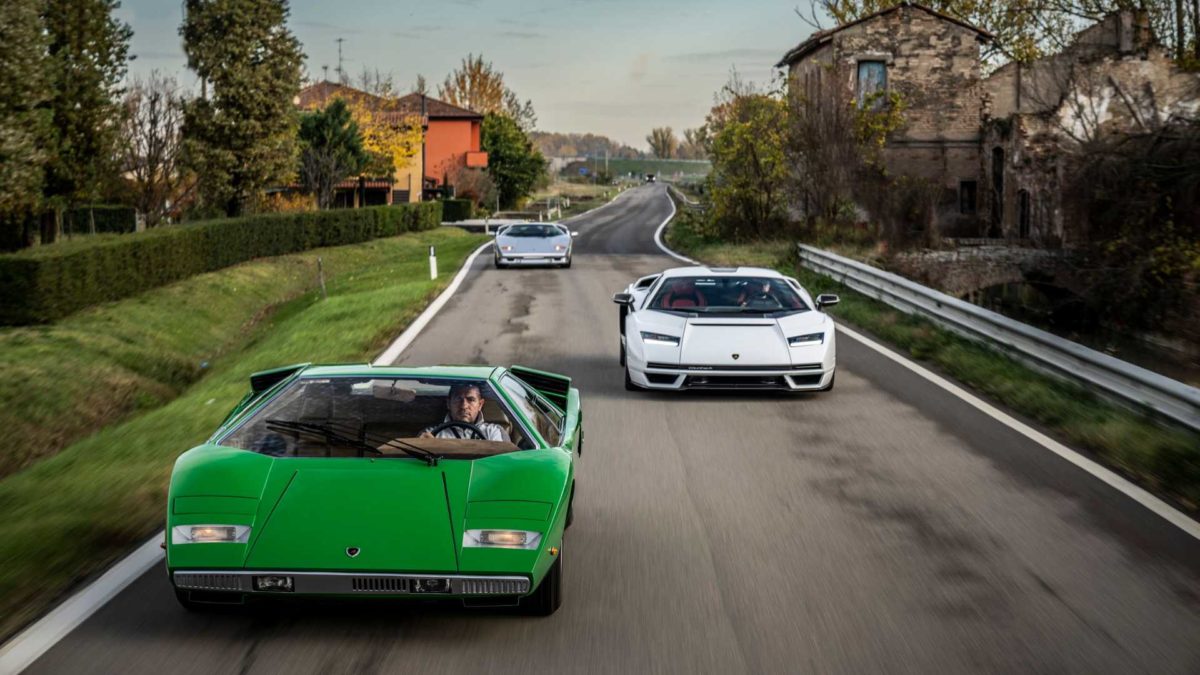 "The Countach LPI 800-4 is a visionary car of the moment, just as its forerunner was," says Stephan Winkelmann, CEO & President of Automobili Lamborghini.
"[The car] pays homage to this Lamborghini legacy but it is not retrospective: it imagines how the iconic Countach of the 70s and 80s might have evolved into an elite super sports model of this decade."
"Whenever I look at it, it gives me goosebumps and it serves as the perfect reminder for me and the entire design team to design every future Lamborghini in a visionary and futuristic way," says Mitja Borkert, Head of Lamborghini Centro Stile.
"This is an un-negotiable part of our DNA, the essence if you so will. The first Countach shaped the Lamborghini design DNA like no other car; the new Countach translates that unconventional and edgy character into the future."
Limited to just 112 examples, every single one of these US$2.64 million beauties has already been snapped up with first deliveries expected sometime later this year (Q1 of 2022).
Check out the new Lamborghini Countach LPI 800-4 hitting the road with the first Countach LP 400 and the last Countach 25th Anniversary above (and the moment it was spotted by Varryx below).
---
---