Mercedes has unveiled the S-Class of the future as curtains draw back on the 2022 EQS all-electric sedan. Debuting via conference in New York earlier this morning, the EQS has effectively put the likes of Tesla and Audi on notice, and is already being described as "the pinnacle of electric vehicle luxury."
The 2022 Mercedes EQS boasts a considerable maximum driving range of 770 km, sexy bodywork that's bound to make a statement, the lavish interiors you've come to expect from the German marque – including a certain MBUX Hyperscreen dashboard that's causing quite a stir – as well as an improved charging time (fast-charging at up to 200kw at a 500-amp+ station for 10-80% in just half an hour).

The following two EQS variants will be available at launch:
EQS 450+ (rear-wheel drive)
Single eATS electric motor assembly on the rear axle, generating 245kW and 568Nm of torque; capable of achieving 0-100 in 6.2 seconds with a 210 km/h electronically-limited top speed.

EQS 580 4Matic (all-wheel drive)
Flagship 580 4Matic houses an additional electric motor on the front axle, generating a total of 385kW and 855Nm of torque to all four wheels; capable of achieving 0-100 in just 4.3 seconds with a 210 km/h electronically-limited top speed.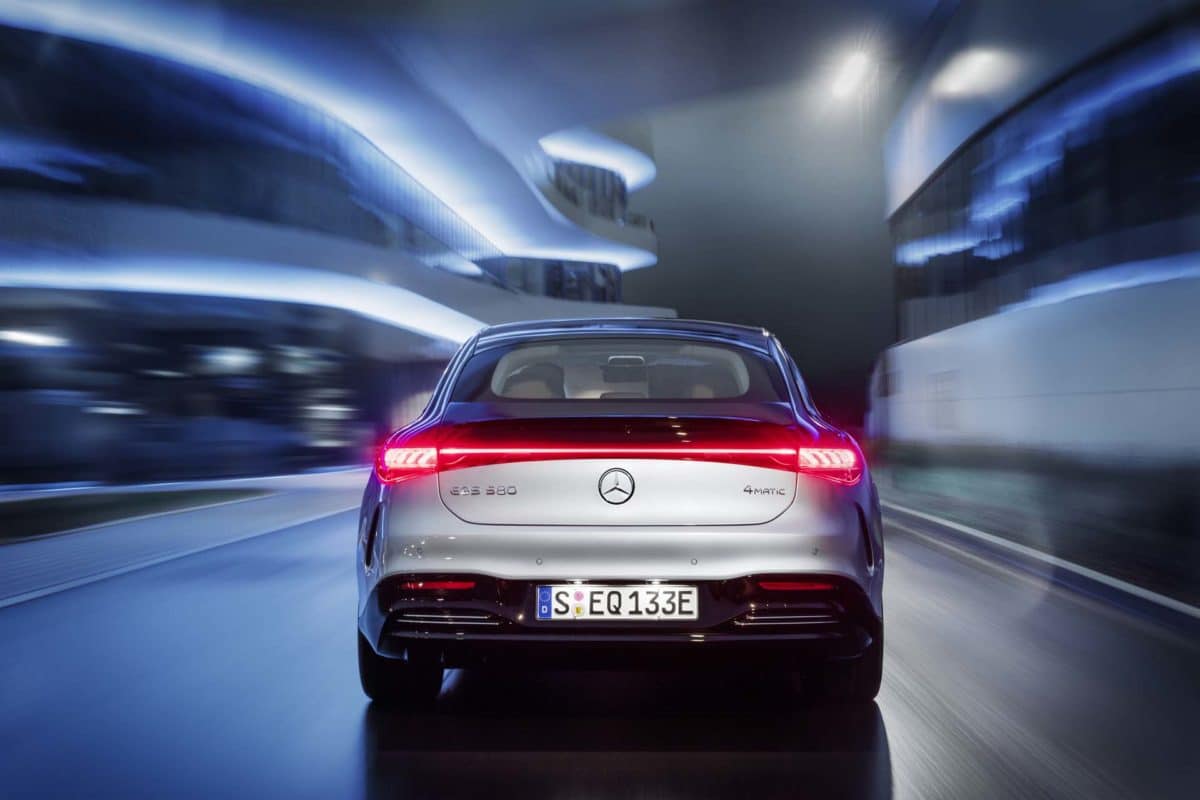 According to Car Advice, a torque-vectoring system helps spread power across the front and rear axles as needed at up to 10,000 times per minute, but its capabilities apparently won't be "fully realised" until the 560kW AMG EQS arrives later this year. Customers have a choice of either 90kWh or 107.8kWh lithium-ion battery packs.
---
---
The interior cabin, on the other hand, offers a level of comfort which has become synonymous with Mercedes over its 94-year history. As previously mentioned, all eyes are on the gorgeous MBUX Hyperscreen. Measuring to 1,410 mm wide, the dashboard panel includes a 12-3-inch instrument cluster, 17.8-inch central touchscreen, as well as a 12.3-inch passenger display.
The 2022 Mercedes EQS will officially arrive here in Australia by December 2021 – local specifications and pricing has yet to be confirmed. A spokesperson, however, has hinted it'll hover around the very same US$95,000 mark as a 2020 S-Class (meaning an adjusted domestic figure of around $300,000).