Did you ever use to get excited seeing images of cool concept vehicles at motor shows? Maybe I geeked out a little more than others, but from an industrial design standpoint, concept vehicles were the haute couture heretics of the transport world. This excitement, however, was usually short-lived. By the time accountants had deemed certain materials too costly, and engineers had questioned the practicality of certain design features, the production version of said concept ended up looking a little deflated.
When BMW Motorrad revealed its "Concept Link" in 2017, I thought, "Here we go again". The electric concept vehicle looked like something straight out of Blade Runner. With its sharp lines, brutalist details and long wheel-base, I was certain we'd never see anything this experimental on showroom floors. But, fast forward 5 years and BMW Motorrad has somehow released a scooter that not only matches that original concept but in many ways, improves upon the already outstanding design.
Dubbed the "CE 04", the new bike isn't BMW's first foray into electric mobility (that title goes to the C Evolution), but it is by far the most impressive. It would want to be as well, with BMW announcing that all of its urban mobility vehicles after 2025 will be electric only, the CE 04 has to set the standard for this ambitious product rollout. With that in mind, I flew down to Melbourne to spend a day on the space-age sled to see if it was as special to ride as it looked.
---
---
Design
Sometimes products don't translate well from lifestyle images to how you experience them in the flesh, but the CE 04 is not one of them. It's a striking piece of industrial design. The disc wheels might look like space-savers at the first glimpse, but when contrasted with the futuristic lines of the body, they just work. The sculpted seats… the integrated side stand… the braked cowlings… it's all a little dystopian military meets aerodynamic efficiency. Being BMW, build quality is exceptional, which is particularly rare in this segment, and the 10.25" TFT Display is a work of art.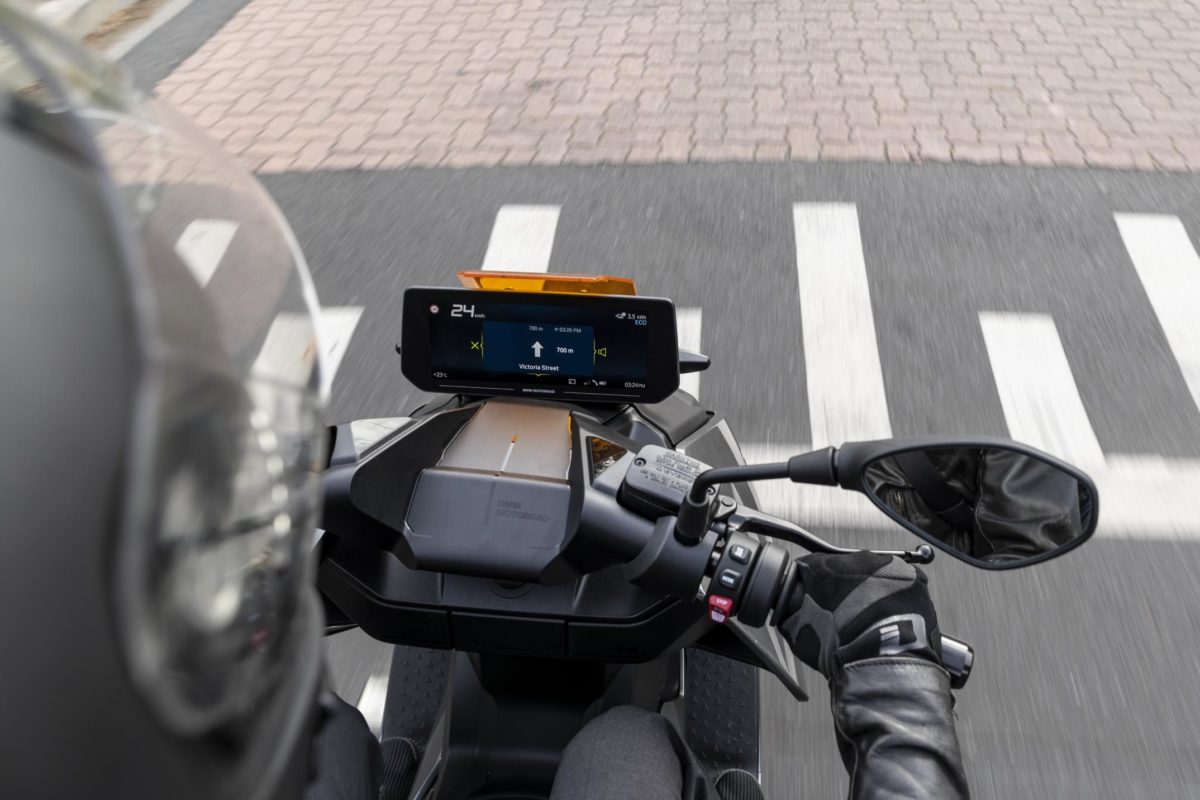 Electronics
Underneath the sculpted body lies some goodies from BMW's electric car division. The permanent-magnet, liquid-cooled electric motor is a smaller version of the unit used in the X3 xDrive 30e and 225xe plug-in hybrids. The unit is good for 31 kW (42 hp) at 4,900 rpm, and (more importantly) a juicy 62 Nm at 1,500 rpm.
Powering the unit is a lithium-ion battery pulled from the iX.
The 60.6 A-hr / 8.9 kW-hr unit has enough juice to power the CE 04 for around 130kms using the WMTC (World Motorcycle Test Cycle) standard. This might not sound like much when compared to EV auto numbers, but when you factor in the average Aussie commute (exactly what this bike will be used for) is 16km, the range should be ample in most cases.
Charging the scooter is straightforward:
Grab cable from under the seat
Insert Cable to scooter and charge point
Turn CE 04 on (this initiates the charging display)
Monitor charge via BMW Connected App
A standard home plug (single-phase) will charge 0-80% in 4 hours 23 mins or 0-100% in 5 hours 25 mins. For most people, leaving your bike charging overnight like a mobile phone will be the preferred method, but if that option isn't available to you, BMW will happily equip your CE 04 with an optional quick charger (0%-80% in 65 minutes).
RELATED: The 2023 BMW 7 Series Features A 31-Inch Theatre Screen In The Back Seat
---
---
Riding
So, what's it like to ride? Well, on the big bad streets of Melbourne, an absolute blast. With a 0 to 50 km/h time of 2.6 seconds, you find the burst from traffic light to traffic light as addictive as it is enthralling. Unlike unrealistic performance stats often assigned to sports cars, the CE 04 uses its strengths in a very pragmatic way.
You get up to four ride modes: ECO, Road, Rain and Dynamic. They all alter slightly in terms of regeneration and power delivery, but even in Eco, you still get a super-responsive, zippy riding experience.
Pulling up the electric sled are double 265 mm discs up front partnered with 4-piston calipers and a standalone 265mm, single-piston caliper on the rear. An effective ABS gets you out of trouble under hard braking, but for the most part, you get into the habit of using the regen to slow yourself down. The overall ride is quite firm and more aligned with city roads but you can adjust pre-load if need be, and while the front-end is quite agile, the longer wheelbase takes some getting used to. To assist in getting the bike out of tricky spaces, BMW fitted a low-speed reverse function, which seemed like a gimmick at first, but quickly proved its worth as I struggled to grip my boots on some of Melbourne's wet pavement.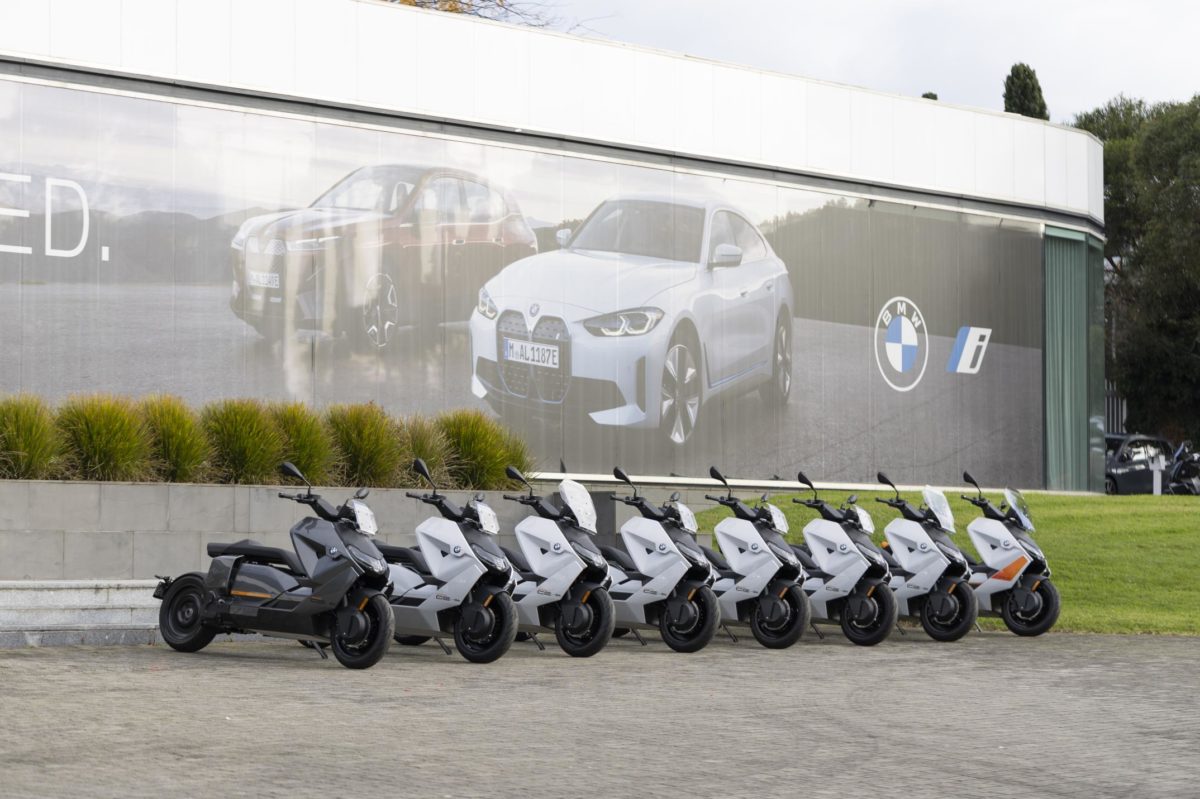 As the cold wind started to rip through, I turned up the heated grips and seat to 3 and let the toastiness commence. The 10.25" TFT Display is loaded with features, from navigation to electric data, with plenty of customisation along the way. Not only is the display the best I've ever seen on a scooter, but it's also the best I've used on a two-wheeled vehicle of any kind. There is a concealed, weather-proof charging pad for your phone, and all the buttons and finishes are sublime.
Verdict
From $21,960 ride away, many people will baulk at the price tag on the CE 04, and rightly so. Paying that amount of money for a scooter seems like a large chunk of change. But you can't think about the CE 04 in traditional terms. The combination of technology, design, build quality, and utility puts the bike in a league of its own.
Not only is it the coolest electric vehicle I've experienced – but in terms of ticking all the boxes, it's probably the best commuter vehicle ever released. It's the sort of vehicle that state and federal governments should be subsiding; Low emission, low noise, low congestion, lightweight (minimal road damage), and minimal parking space required.
Will there be more affordable electric two-wheeled alternatives? Absolutely. But none will look anywhere near as memorable or will be as well equipped as the BMW CE 04. If this the start of BMW's electric mobility revolution, then the future looks very bright indeed.