After two years of delays, Tesla has finally started delivering Cybertruck orders. For those in Australia holding out to get behind the wheel of one, unfortunately, we wouldn't hold our breath for the foreseeable future.
For those in America excited about a Tesla Cybertruck order, there's also some less than thrilling news: the RRP has jumped around US$30,000 ($AU45,500) since the vehicle was first announced. Not only that, but the driving range of the Cybertrucks leaving the factory is around 250km less than what was first promised.
In spite of these changes between what was originally communicated and what has arrived, the Cybertruck remains one of the most hotly anticipated cars of the last decade and Tesla has been priming appetites with some seriously cool promotional content. Check out the angular ute drag racing a Porsche 911 above.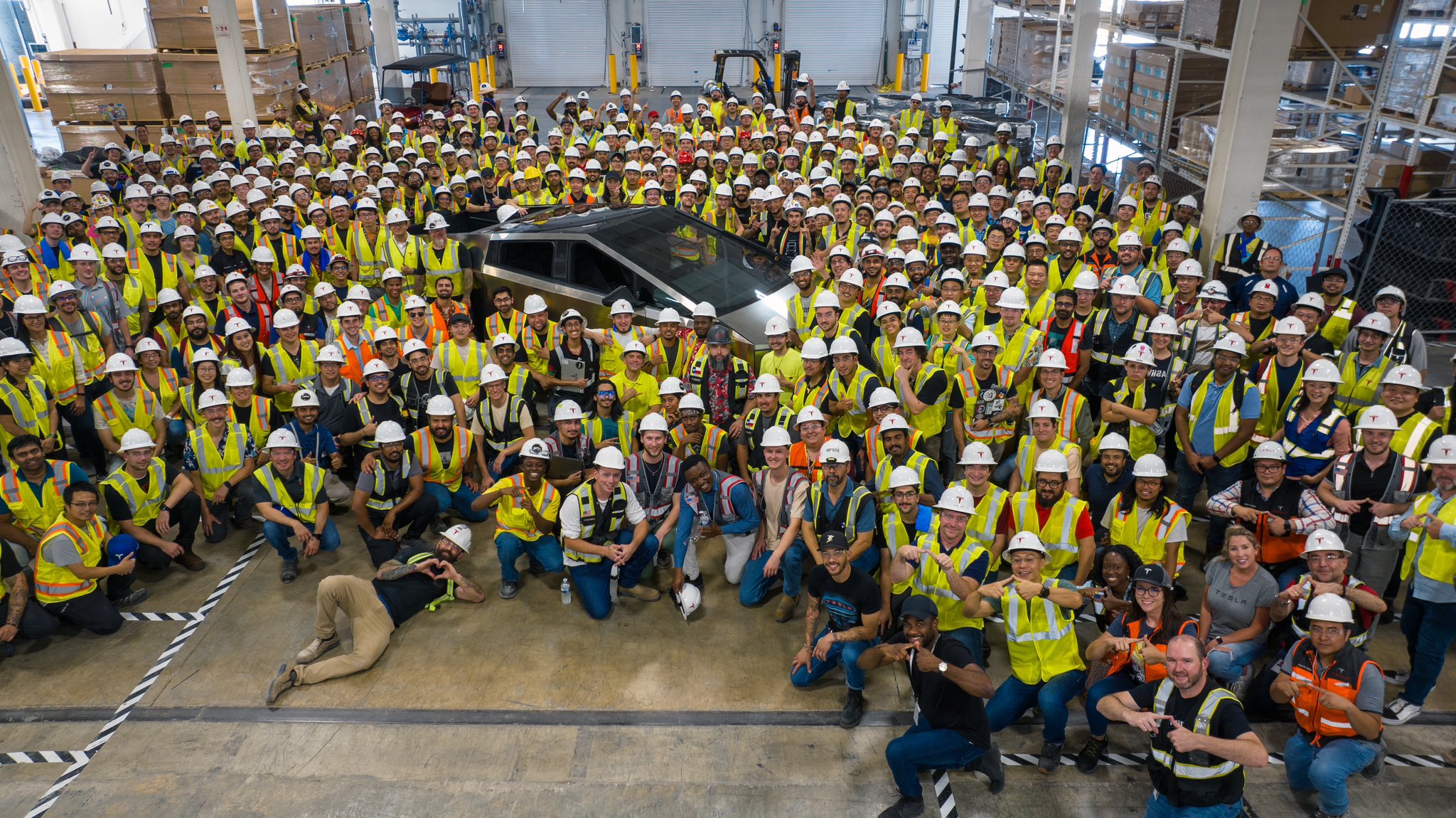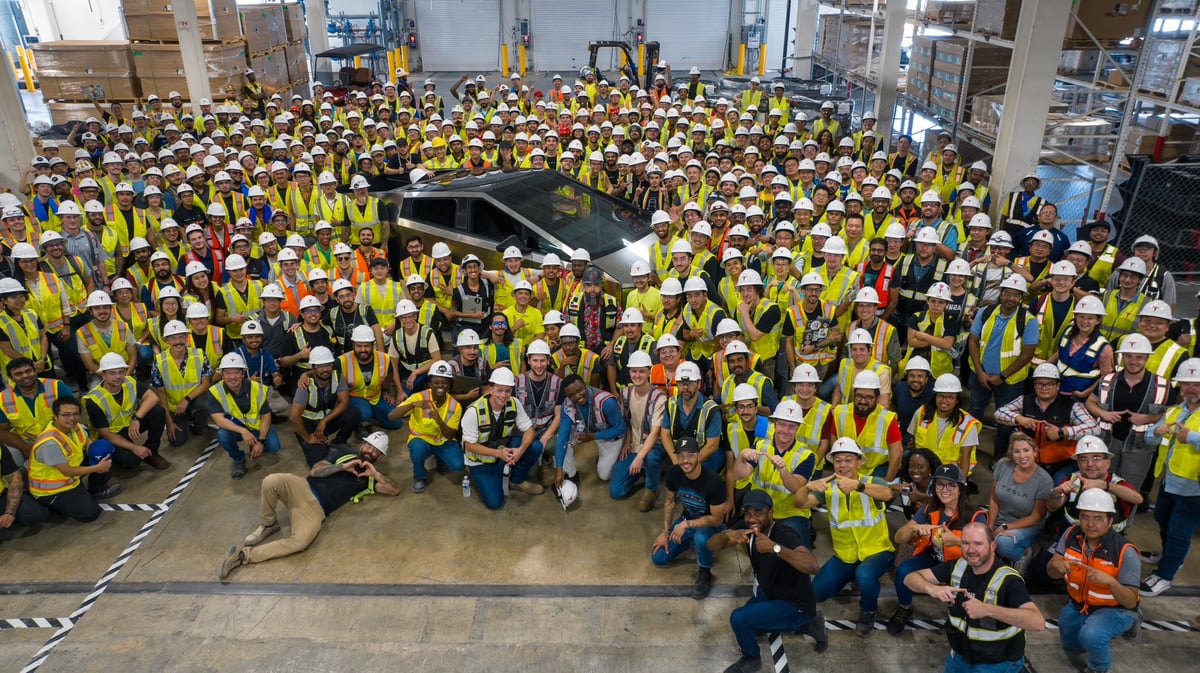 Update [17/7/23]: The first Tesla Cybertruck has finally rolled off the production line at the automaker's Texas-based Giga factory, marking an important milestone for the millions of waiting customers who want to know its official launch date, price and specs. Despite being 18 months delayed after its originally projected arrival, the current timeline for the Tesla Cybertruck appears to be accurate following Elon Musk's April promise of Q3 production.
In a post shared to Twitter earlier today (where else would such an update be posted, after all), the very first complete vehicle was pictured on the factory floor, surrounded by hard hats and smiling faces. While it's believed the factory won't reach full production capacity until 2024, it's a great sign for those who've been waiting since the prototype was unveiled in late 2019.
Despite this good news for international customers, it remains uncertain if the Tesla Cybertruck will reach Australian shores (even if one was spotted on a New Zealand airport runway). Tesla recently confirmed that it won't be making right-hand-drive versions of the updated Model S sedan or Model X SUV, leaving the fate of the Cybertruck uncertain for now.
First Cybertruck built at Giga Texas! 🤠 pic.twitter.com/ODRhHVsd0t

— Tesla (@Tesla) July 15, 2023
Update [21/4/23]: After nearly four years since the Tesla Cybertruck was first announced, Elon Musk has finally given a concrete timeline for when the futuristic ute will be delivered to customers. On an earnings call with investors on Wednesday, Musk confirmed units of the long-delayed Tesla off-roader will leave the Texas Tesla Gigafactory in the third quarter of this year.
"It takes time to get the manufacturing line going, and this is really a very radical product," Musk said on Wednesday during the call. "It's not made in the way that other cars are made."
Musk isn't wrong here, with the Tesla Cybertruck constructed from stainless steel instead of the more malleable steel that is typically used in automotive manufacturing. Stainless steel can't be stamped into shape for body panels and requires special welding techniques, meaning Tesla has needed to create specialised manufacturing lines to construct and assemble the Tesla Cybertruck.
Even though the Tesla Cybertruck is only months away, we're still waiting on confirmation of the specifications of the ute, but Musk has confirmed that an announcement revealing these details will be coming soon. It's been a long wait, but it sounds like it won't be long at all before we start to see Tesla Cybertrucks on roads around the world.
Original article: Despite the fact Tesla has yet to deliver a single Cybertruck to a paying customer, the angular utility vehicle remains one of the most discussed, debated and hotly anticipated cars ever announced. Sure, Tesla CEO Elon Musk has been a busy man since the car was first announced, but with the news that the Cybertruck launch date has been pushed back again, we wanted to take a closer look at the specs and price of the Mars-ready ride.
---
Everything You Need To Know About The Tesla Cybertruck (Launch Date, Price, Specs)
Tesla Cybertruck Updates
21 November 2019: Tesla Cybertruck was first unveiled at the Tesla Design Studio in LA. This was the event that Cyberytruck designer Franz von Holzhausen accidentally broke the "Armour glass" windows with a steel ball that Tesla claimed was unbreakable. Tesla stated they would begin Cybertruck production by the end of 2021.
23 November 2019: Using his favourite medium of communication, Elon Musk took to Twitter to state Tesla had received 146,000 pre-orders of the Cybertruck within 36 hours. A pre-order could be made by making a refundable $100 deposit. The number of preorders was reportedly 250,000 by 26 November.
22 July 2020: Tesla confirmed the manufacturing location for Cybertruck production would be at Tesla's Gigafactory, Texas.
9 August 2021: Tesla's website published a statement outlining that the production of the Cybertruck would be delayed till early 2022.
13 January 2022: Reuters reported the production of the Tesla Cybertruck had been delayed again, suggesting it wouldn't begin till the first quarter of 2023. Tesla removed all mentions of a production timeline for the Cybertruck from the Tesla website.
8 April 2022: Elon Musk confirms the Tesla Cybertruck won't begin production until 2023.
20 April 2023: Musk confirms on an investor earnings call deliveries of the Tesla Cybertruck will begin in Q3 of 2023.
17 July 2023: The first Tesla Cybertruck rolls off the production line.
1 December 2023: The first Tesla Cybertruck deliveries begin.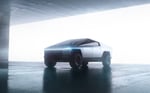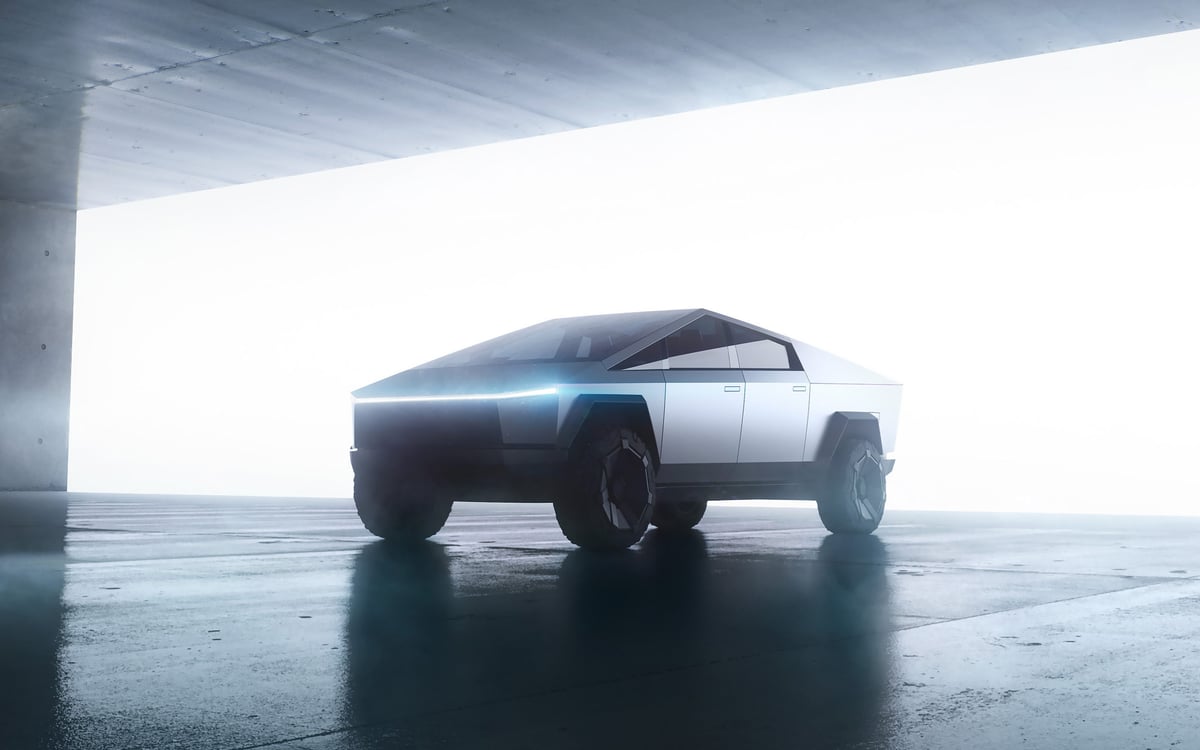 RELATED: This $69,000 Tesla Cybertruck Fold-Out Bed Is Perfect For The Post-Apocalyptic Camper
---
Tesla Cybertruck Release Date
Deliveries of the Tesla Cybertruck began in America in early December of 2023. There's currently no word on if Australia will receive the new vehicle, or when that might be likely to happen.
---
Tesla Cybertruck Price
The Tesla Cybertruck will be available in at least four different configurations, which include a Single Motor RWD, a Dual Motor AWD, and a Tri-Motor AWD.
Single Motor Cybertruck RWD: US$$60,990 (~AU$91,300)
Dual Motor Cybertruck AWD: US$79,990 (~AU$119,700)
Tri-Motor Cybertruck AWD: US$99,990 (~AU$149,700)
---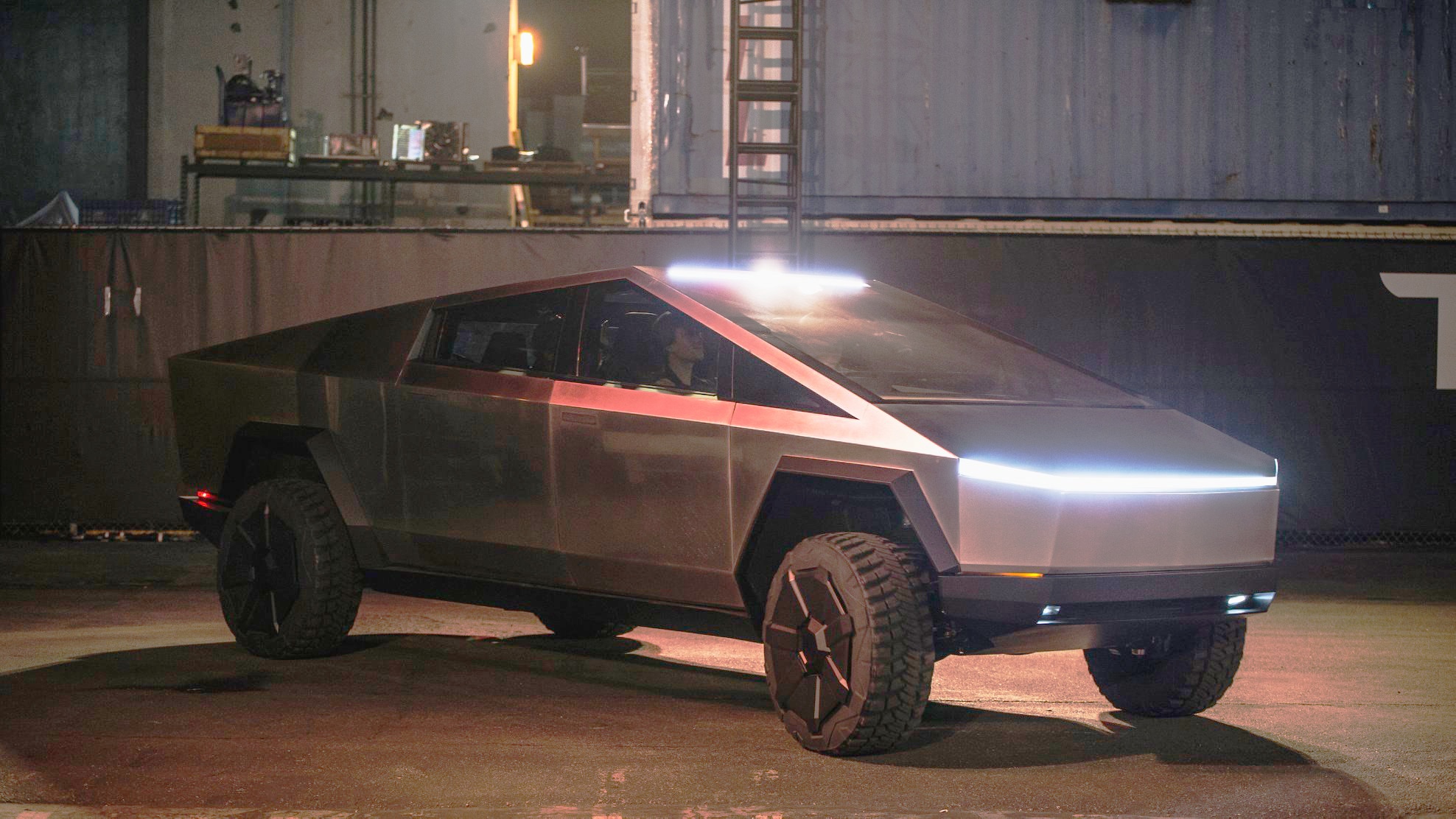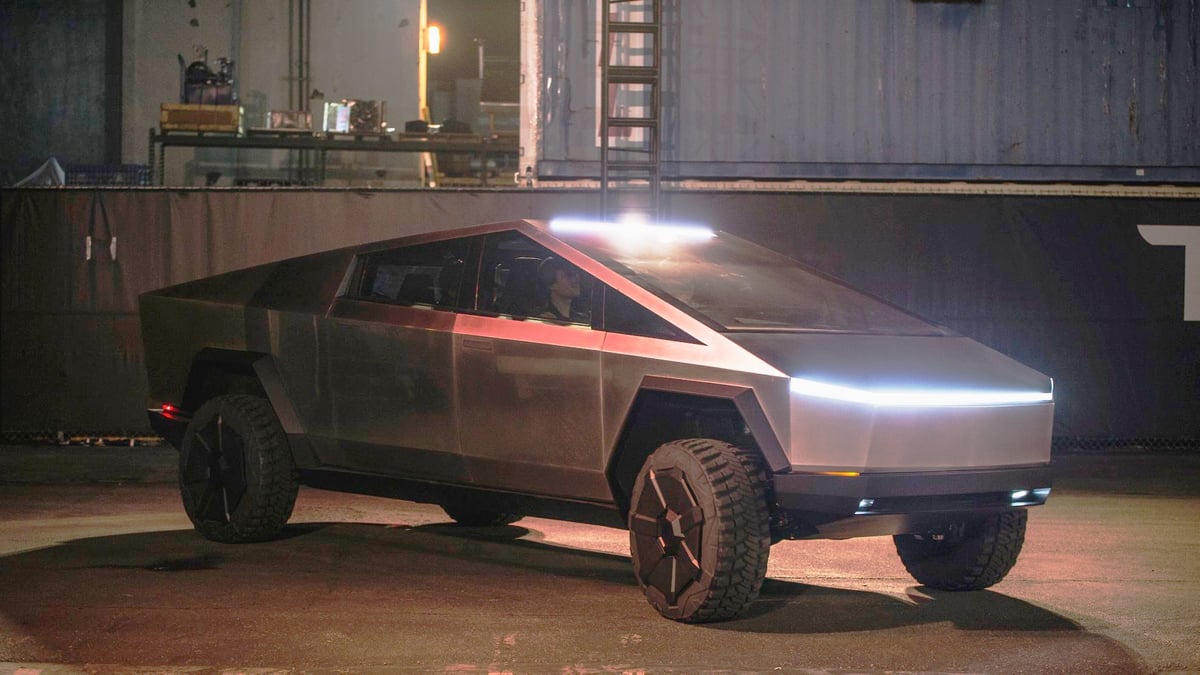 Tesla Cybertruck Design
The Tesla Cybertruck design is an understandably polarising one, as an aggressively angular electric pickup truck that Musk has said was inspired by the Lotus Esprit. While the Lotus Esprit was made from 1976 until 2005, it's clear that it was the more angular iterations of the British sports car from the late '70s and early '80s that served as the kernel of inspiration for Musk.
It's also not a long bow to draw to see the design of the Cybertruck as the realisation of a childhood dream of Musk, who has publicly stated that his work building SpaceX grew from his dream of visiting space as a child. Musk was born in 1971, so it's easy to imagine Elon growing up as a child in South Africa and being fascinated by the weird and wonderful shapes of cars from his pre-teen years.
Of those that the Cybertruck reminds us of, we would include the 1982 Lotus Esprit Series 3, the 1979 Aston Martin Bulldog, the 1981 DeLorean DMC-12 and even the 1978 Lamborghini Countach LP400 S. Ten or eleven-year-old Elon Musk would have been equally enamoured with the geometric vehicle shapes in the 1982 Blade Runner film, which he has also cited as an inspiration of the Cybertruck.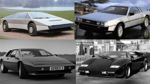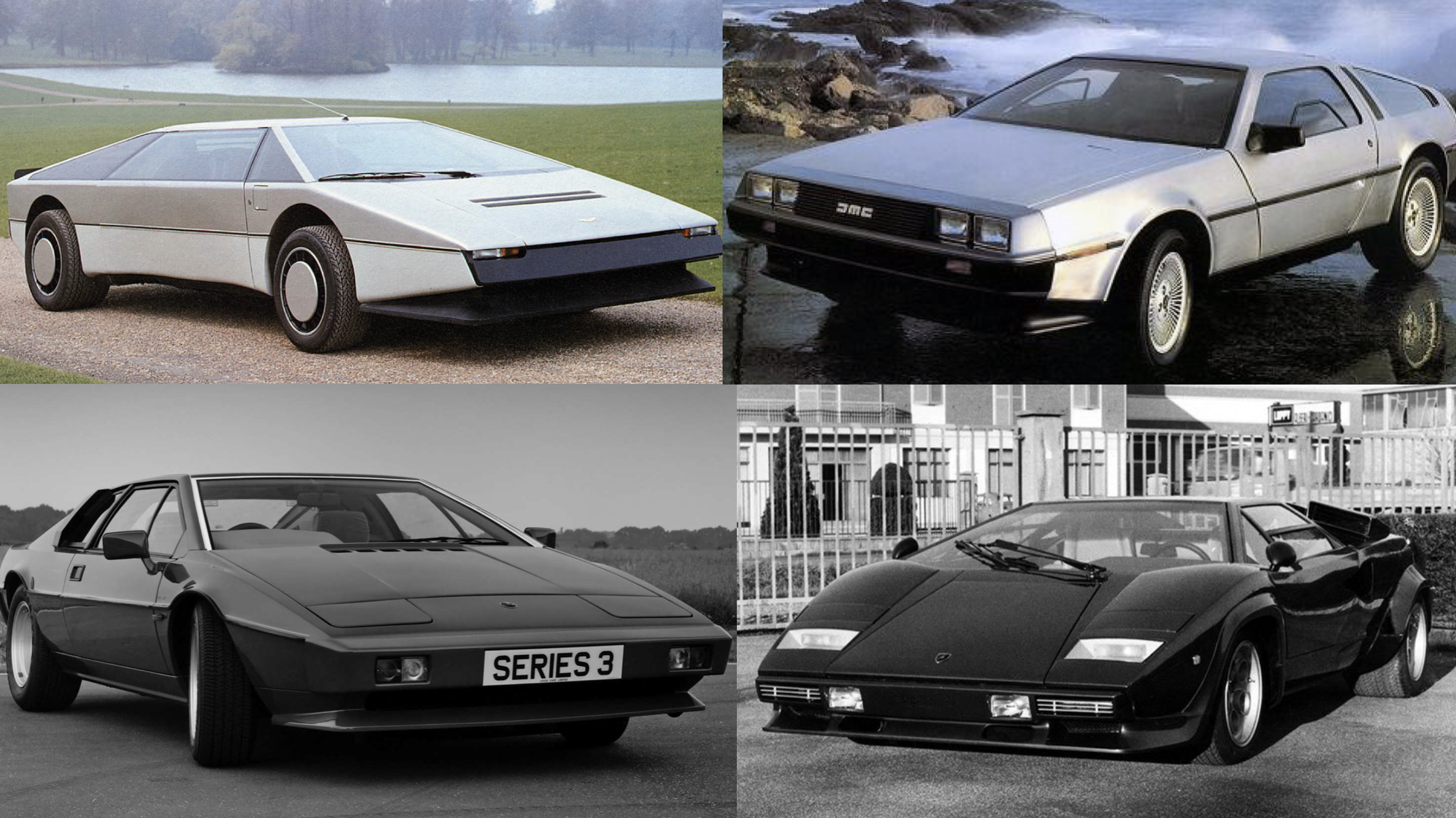 However, such a distinct aesthetic does come with some practical functionality in the Cybertruck, which has a very different structural design from standard petrol or diesel pickup trucks. Most utility vehicles feature body-on-frame construction, where the cabin is manufactured as separate from the chassis, but the Cybertruck has a unibody construction (called "exoskeleton" by Tesla) due to the under-floor battery pack.
This is part of the reason behind the ultra-hard 30X cold-rolled stainless-steel panels that make up the body of the Cybertruck, which can't be stamped like standard car panels and can only be bent along straight lines. It's the same steel that SpaceX uses in its rockets, chosen because it more evenly distributes stress as well as being stronger than standard types of automotive steel.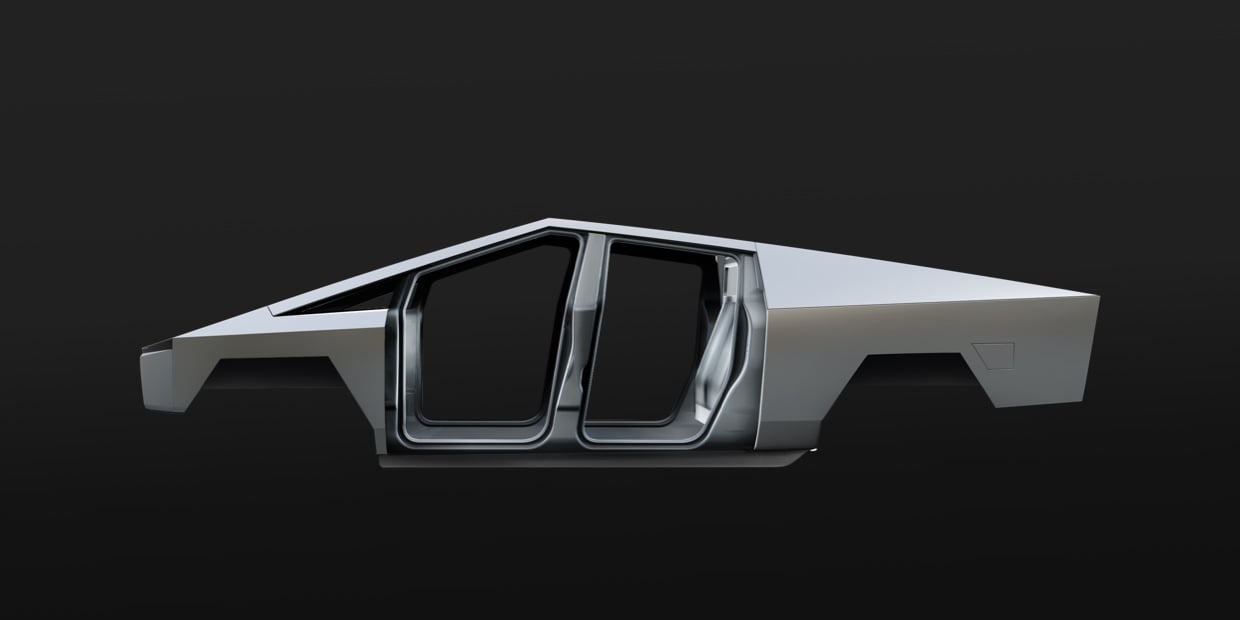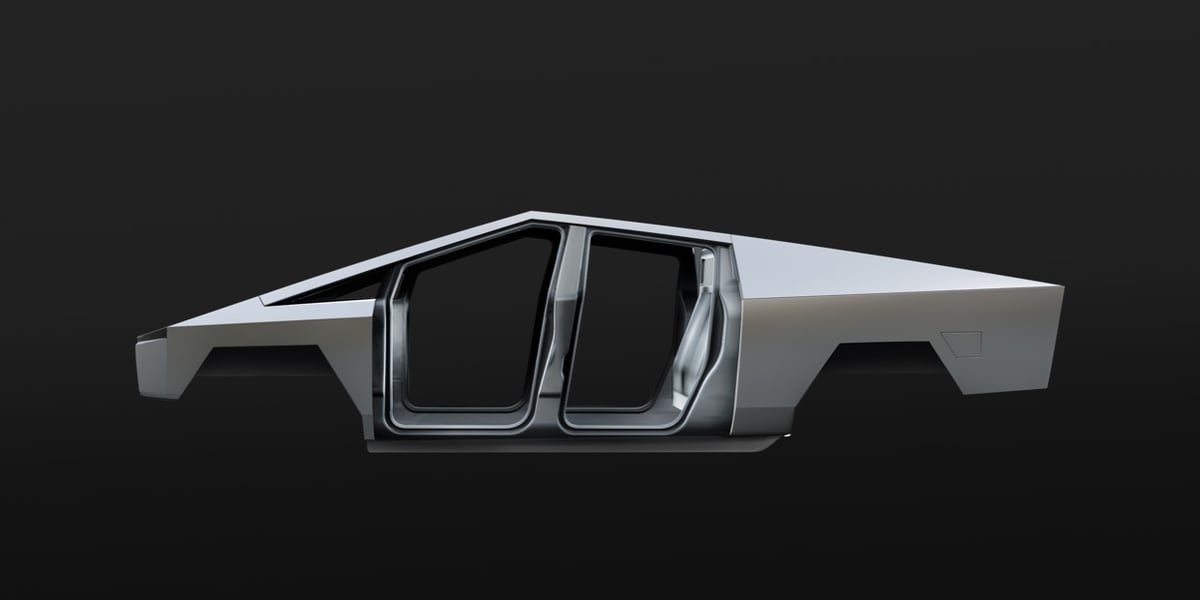 Beyond the nearly impenetrable exoskeleton of stainless steel exterior shell and Tesla armour glass, the Cybertruck uses adjustable air suspension for a smooth ride and has plenty of storage space thanks to the tray with 100 cubic feet of lockable storage. Thanks to its electric motors, the Tesla pickup towing capacity exceeds 14,000 pounds (6,350kg) for the tri-motor AWD, while the single-motor model and dual-motor AWD version offer a more modest payload capacity.
The Tesla Cybertruck interior seats six thanks to a pair of bench seats, while the driver's attention will be split between the road and the 17-inch display screen that communicates similar information to other Tesla model electric vehicles. Rather than a standard circular wheel, Tesla's electric pickup truck will feature a yoke steering wheel, just to make you feel like you're driving a Mars rover.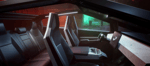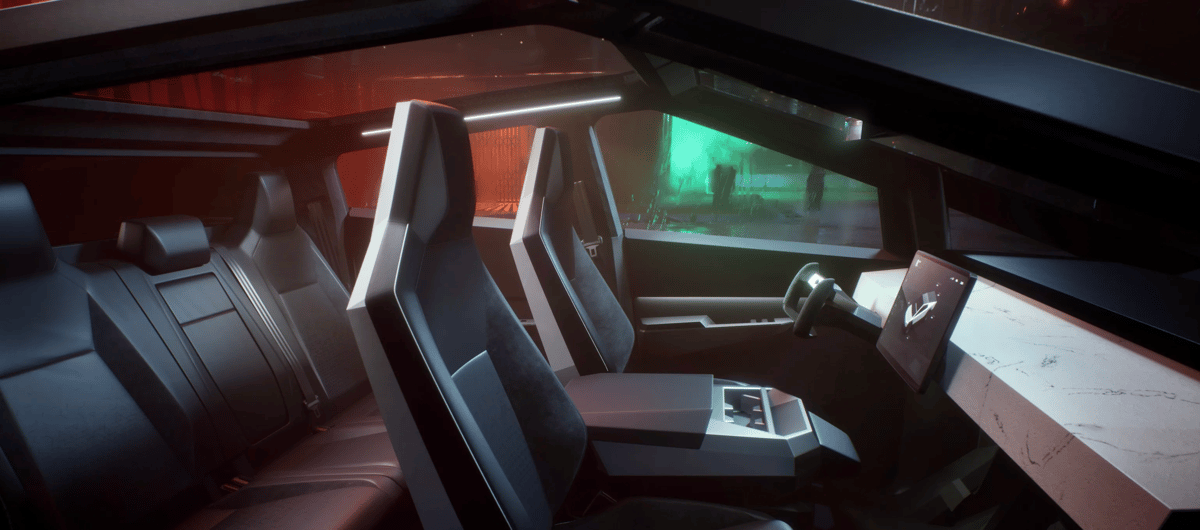 ---
Tesla Cybertruck Range & Speed
Depending on whether you pick out the base model Tesla Cybertruck or the advanced tri-motor model, the specifications of the various electric trucks are slightly different in terms of speed and miles of range.
Range
Single Motor RWD: 400 km (250 mi)
Dual Motor AWD: 550 km (340 mi)
Tri-Motor AWD: 515 km (320 mi), or 705 km (440) with the range-extender
Speed
Single Motor RWD: 0–97 km/h (0–60 mph) is < 6.7 seconds, top speed is 180 km/h (112 mph)
Dual Motor AWD: 0–97 km/h (0–60 mph) is < 4.1 seconds, top speed is 210 km/h (130 mph)
Tri-Motor AWD: 0–97 km/h (0–60 mph) is < 2.7 seconds, top speed is 210 km/h (130 mph)
So there you have it, everything that has been confirmed so far about the Cybertruck, from what we know about the launch date and the range Tesla aims to deliver, to the price of the different models and their corresponding specs. It's a genuinely cool-looking car, from one of the most exciting automotive manufacturers of this generation, and we can't wait to see the Cybertruck out on the streets of Australia.
---
Tesla Cybertruck Launch Date, Price & Specs – Frequently Asked Questions
What is the Tesla Cybertruck launch date?
Deliveries of the Tesla Cybertruck began in early December 2023.
How much is the Tesla Cybertruck?
The Tesla Cybertruck will cost approximately between AU$91,300 and AU$149,700.
How fast is the Tesla Cybertruck?
The Quad Motor All-Wheel Drive Tesla Cybertruck has a 0–97 km/h (0–60 mph) of less than 2.7 seconds and a top speed of 210 km/h (130 mph).