We get a joyously healthy share of luxury vehicles to drive here at Boss Hunting. In the last month we've had a McLaren, Aston Martin, BMW, Alfa Romeo, Lotus and Audi, not to mention countless drive days and launches around the world. This car isn't any of those, and it's the cheapest car we've reviewed by a fair margin. Despite this, the Ford Focus RS Limited Edition appears as a young protégé reaching up to nip at the big dogs' heels – it exudes arrogant enthusiasm and boasts a loud mouth.
We thought the car deserved some time with us to assess its desirability as a daily drive and as a follow up to our rundown of its racing performance capabilities after a day teaching the Sydney Motorsport Park track some respect.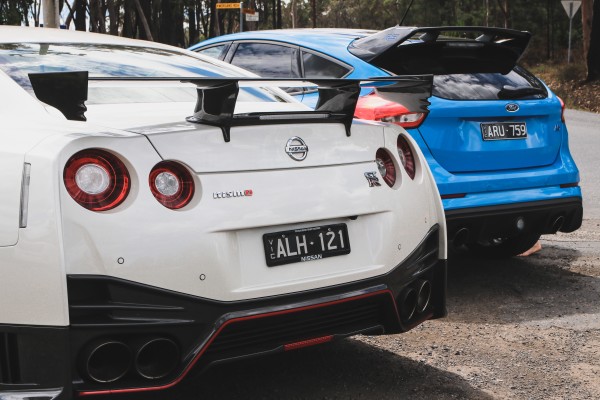 …Unfortunately for the Ford, though, we were also reviewing a Nissan GT-R Nismo at the same time. In fairness, a Japanese road-legal fighter jet is not the best sparring partner for a comparison, but I tried to give the RS LE an unbiased opinion and ignore the difference between 441 and 257 kilowatts.
---
---
In short, this car fulfills all the fun criteria: it's undeniably quick at 4.7 secs to 100km/h, has an otherworldly grip on the black stuff and sounds like an opera singer who smokes a pack a day – sonically pleasing in a rough way. Input from all four wheels means you can huck it into a corner and this bitch will stick, much like the charges I racked up over the review weekend. We often find driving automotive weapons on public roads frustrating as we can't even scrape the sides of the performance barrel, but the RS LE is aggressive, responsive and frivolous even below 60 km/h. This car noticeably relished burning around Sydney's suburban roads and delivered fast-paced enjoyment in spades.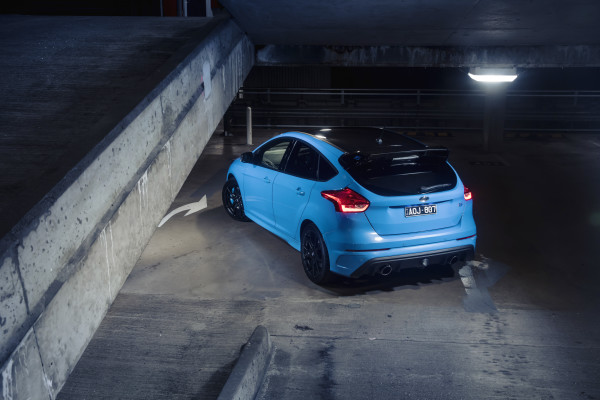 Exterior aesthetics are catchy and designed to turn heads. The LE is available only in 'Nitrous Blue' body paint with black to the wheels, roof, spoiler, mirror caps and tinted windows, overall committing to a gritty high-end street racer façade. Convoying through Sydney with the Nissan won a fair amount of attention – whether this is a negative or a positive is up to you.
The cabin is kitted out with the expected bells and whistles, including an 8" touchscreen with a Sync 3 connectivity system delivering satnav and Apple Car Play, Recaro Sports Seats, Dual Zone Climate Control, keyless entry and push-to-start, a leather steering wheel, and sports alloy pedal covers. The feel of the driving tech is relatively basic and the gauge setup doesn't take itself too seriously. An annoying itch presents itself in the form of no seat height adjustment options, which subsequently leaves one feeling somewhat high and dry.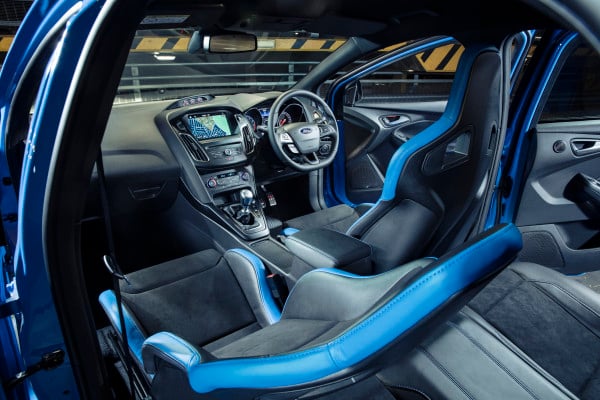 The car is fitted with four driving modes – Normal, Sport, Track and Drift – two of which you won't use if you're smart. I found myself driving in Sport mode simply for the elevated exhaust note, which growls menacingly at anything over 0 rpm and produces an addictive backfire from the two giant cans sticking out of the rear bumper when shifting at high revs. As expected, the mode also tightens the suspension (and books you a physio session at the same time). We may or may not have tested the launch control feature, which may or may not have been incredibly pleasurable.
A rainy day provided a dangerous opportunity to see how the hyperhatch enjoys a swim. Despite being all-wheel drive and fitted with the clingiest of rubber, I found myself driving sideways on a few occasions when cornering in 'Sport' mode. I wouldn't call this a genuine safety issue unless you drive like a pelican.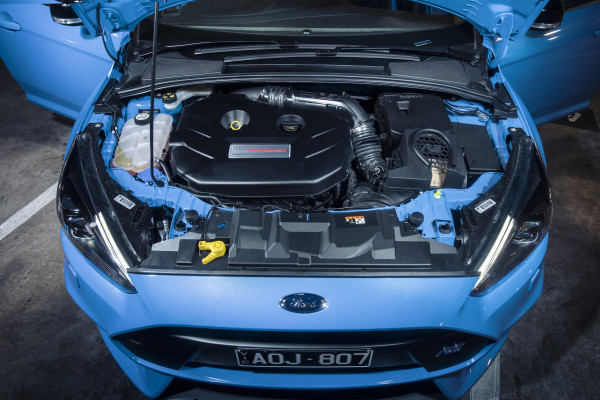 In terms of comparison, its closest competitors in the hot hatch arena are the VW Golf R and the Subaru WRX STI, although the RS LE belts both for specs under the hood and just about every other metric except price. The front-wheel drive, lower-powered and unfortunate-looking Honda Civic Type-R isn't in the ballgame. Arguably a couple rungs up is German hatch royalty, comprising the Mercedes AMG A45 and the Audi RS3, both superior performers but with correlating price tags.
I found myself being less harsh in my critique of the RS LE simply due to its price tag. For the performance it delivers for only $56,990 RRP, it deserves the benefit of the doubt. If reviewing a $100k+ vehicle of the European variety, I'd be roasting the cheap-looking dash materials and limited rear visibility, but in the LE it's a bit of a "who cares, it's fast" moment.
---
---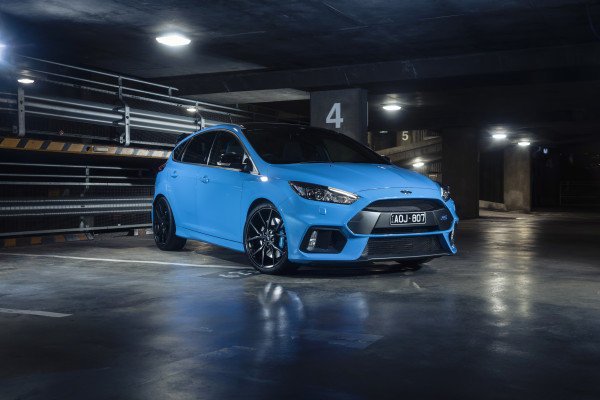 With its playful looks and fun driving experience, the RS LE appeals heavily to the younger male bracket. However, it seems ironic that this age group mostly can't afford a $56,990 car, and by the time they can, they've matured past it to low-hanging luxury stock like the BMW M140i. With only 500 models imported locally, an exclusivity factor enters the price comparison fray too. Granted, if I had to spend $60k on a car today I'd be looking towards the blue oval.
2017 Ford Focus RS Limited Edition
Price: $56,990, plus on-road costs
Engine: 2.3-litre four-cylinder turbo
Output: 257kW @ 6000rpm
Torque: 440Nm @ 2000-5000rpm (470Nm on overboost)
Transmission: 6-speed manual
Fuel Use: 8.1L/100km