The first ever mid-sized off-road 'Raptor' pickup to be commercially available in Australia was dramatically revealed to Boss Hunting in Thailand this week. Bridging the gap between popular American F150 supermax trucks and the current top-of-the-line Ranger offering, the Ranger Wildtrak, the all-new Ranger Raptor injects a spark of Ford's performance characteristics into the well-established lineage.
We were invited to Bangkok to witness the global unveiling of the bold new product at an undisclosed location outside of the city.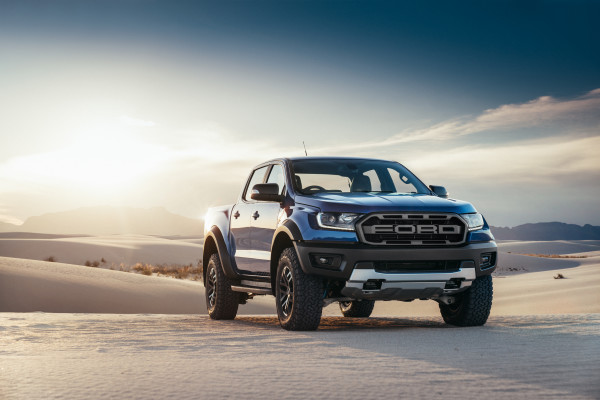 Ford's performance DNA found in the Ranger Raptor is shared with other production staples such as the Focus RS, Shelby GT350, and Ford GT but is now mashed together with a brutal ruggedness and triumphant engineering capability.
"Built Ford Tough," the Raptor's magnesium paddle shifters turn over its 2.0-litre bi-turbo diesel engine via a seamless 10-speed automatic gearbox that was co-engineered to maximize compatibility and thus efficiency and performance. Those skeptical of what power output this car can produce will quickly be silenced by its 157kw engine and 500Nm of torque – its sequential turbos meaning responsiveness under throttle will not be doubted.
The new Raptor's jacked-up ride is a result of the optimised suspension alongside Fox Racing Shox shock absorbers designed specifically to the Raptor, optimising stability through any bump or hit. The hydraulics were assured to minimise 'donkey kicking' and the reinforced chassis ensures the highest levels of adaptability off-road.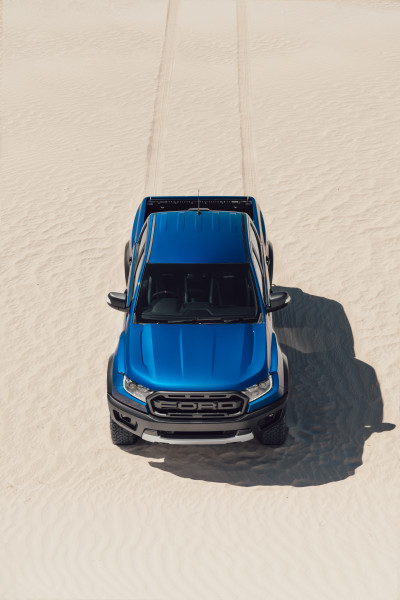 Ford's batshit crazy "Baja Mode" for a flat-out desert-bashing inspired driving experience makes its Asia-Pacific debut with the Ranger Raptor. You'll find high-strength low-alloy steel was employed for its reinforced frame and the two recovery tow hooks rated at 4.5 tonnes were jokingly assured to us as only necessary for rescuing others, not the Raptor.
These vehicles have been put through the absolute wringer to find the upper limits of their engineering capability. Despite the Raptor line-up's distinctively American roots, local buyers can rest assured knowing this vehicle was just as much born here on home soil as it was in the harshness of Southern California. Endurance specifications have been tuned to the most extreme conditions in places like Alice Springs and the German Autobahn.
Walking around the only representation of the Ranger Raptor to exist following the theatrical reveal, we could observe the 17-inch rims more closely. Dwarfed by massive sidewalls, these wheels – while the rims themselves appear somewhat small for a truck this size – are much less whimpy that those often found on the Ranger. A hardened bash plate and flaring fenders change up the distinctively Ranger front end, giving it a much wider, Raptor-inspired presence on the road.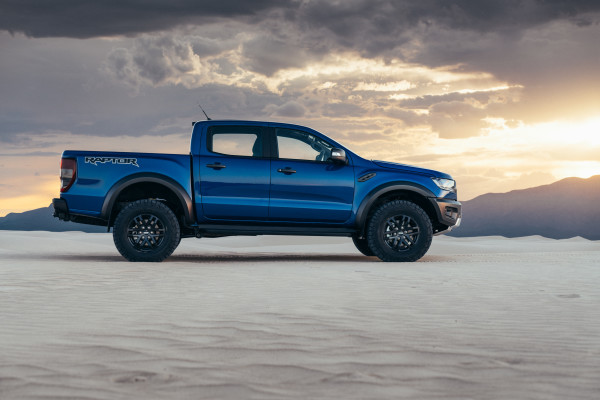 The popular blacked-out FORD grill reminds onlookers that they are indeed observing a tremendously muscly vehicle and comes as factory standard with the Ranger Raptor. Previously in Australia, such a grill on a Ranger was a popular (but only aftermarket) option.
Aside from this bold lettering, however, there is very little about this vehicle that mirrors a standard Ford. Almost everywhere the manufacturers could poke a stick at they've branded the aggressive Raptor logo to remind passengers of this top-tier vehicle's aggressive demeanor, everywhere from the steering wheel's spoke bezel to the technical suede covered seats and externally on the loading tray's sides.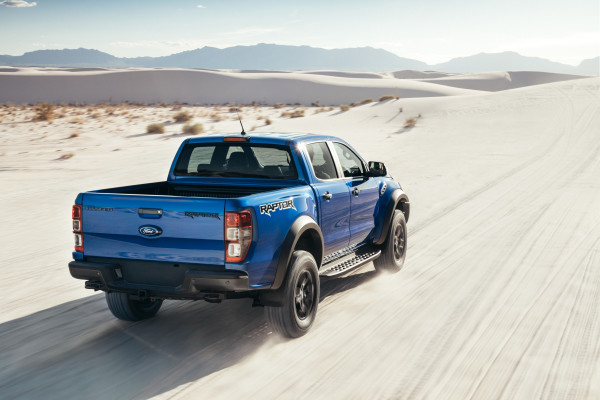 Available in Lightning Blue, Race Red, Shadow Black, Frozen White as well as a unique (but honestly quite underwhelming) 'hero' Conquer Grey, the Raptor isn't a vehicle to go unnoticed on a suburban milk and bread run.
We suspect this weapon will absolutely smash sales locally, and while the dollar statistics have yet to be confirmed, one can likely deduct it will sit substantially higher than the top-of-the-line Ranger Wildtrak.