At Gulfstream headquarters in Savannah, Georgia, the delivery of the first G500 private jet recently took place four years after the product was initially revealed back in 2014.
The set of keys (we like to think that a G500 would have an epic master key) was handed over to an undisclosed North American customer in exchange for a figure anywhere north of the $43.5 million USD starting price.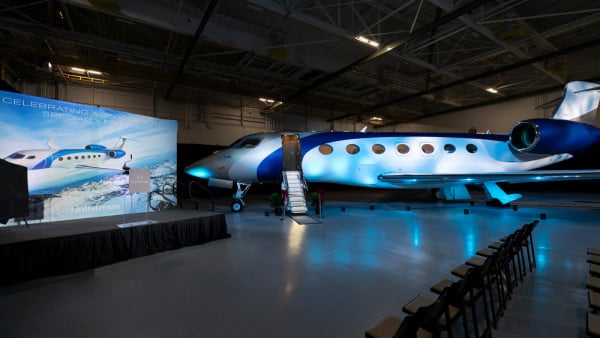 The G500 is capable of travelling a distance of 9,630 kilometres at a cruising speed of Mach 0.85 (about 900km/h), allowing customers to reach continental Europe from anywhere on the mainland United States in a single jaunt. If the Maverick at the controls is really pinning it, the G500 can hit a top speed of Mach 0.925 (roughly 1142 km/h) and a breath-taking altitude of 51,000 feet.
Robb Report's John Lyon, who managed to snag a seat on the jet for a recent demo flight, described looking out of the G500's gigantic windows "like switching from a 30-inch standard definition TV to a 60-inch 4K." The air onboard the jet is recycled every two minutes to keep occupants fresh and boasts a seating capacity capable of up to 19 flyers, dependent on the client's configuration choices.
RELATED: How much it costs to own and operate a Gulfstream V private jet