Ah yes, the ever more common 'compact luxury SUV.' Your go anywhere, do anything, park in any urban car spot kind of whip.
Jaguar has just delivered a very sharp and attractive offering into this compact SUV market, taking the sophistication and performance out of their sports cars and putting them into a five-seater, family friendly all-wheel-drive vehicle. If you're here for in-depth driving impressions, my colleague James' stint in the E-Pace on the phenomenal roads of Corsica will satisfy your needs more than adequately. I'm about to give you something a little different.
As with any Jaguar Land Rover product, however, customisation is a core pillar of the brand that may be confronting for many. The E-Pace, for example, has 38 different variants, and that's before you even start ticking boxes. To take this daunting task out of your hands, we're going to simplify the process for you.
---
---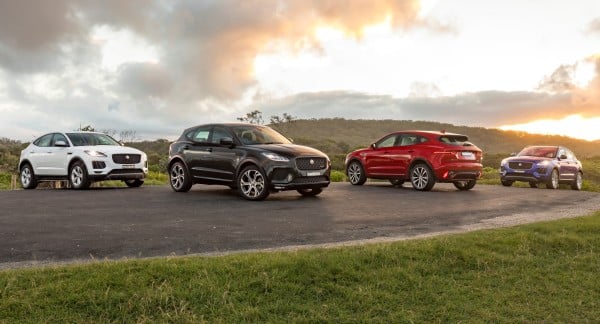 The range starts at $47,750 before on roads and soars all the way to a staggering $84,370. If you cop all the bells and whistles on the top-line variant, you'll be at the upper limits of a spectrum that is bookmarked by a $35k difference.
You're not buying this thing for the Dakar Rally or to drag race out at Eastern Creek every Wednesday, so you should consider your compact SUV diplomatically. You can get a pretty mean looking E-Pace built around a lower-specced model for considerably less than the top line variant – and you'll still have some coin left in the bank.
Below we're going to show you how to maximise your money, by only tacking on the necessities and saving yourself some coin in the long run.
The Models
All this talk about options might be making you a little dizzy, so let us take you step-by-step through the lineup. Firstly, you need to choose a base model, by this, we mean your blank canvas with pre-set exterior features and internal specifications.
The 'E-Pace' is the entry-level, relatively simple, squashed and sporty SUV. It doesn't, however, exude many vibes akin to the daily Boss Hunting reader. Up a notch, you'll find a common Jaguar staple, the R-Dynamic, adding a twist of sports car flare to the compact SUV. Observe the subtle differences below.

Lastly, for the 2018 model year only, you have the option of a Jaguar E-Pace First Edition. The fully-kitted out whip is your holy grail of E-Pace variants, maxing-out the price scale at that ludicrous $84k we spoke of earlier.
For the purpose of this article, we're making the E-Pace R-Dynamic our guinea pig.
---
---
The Engines
For a full breakdown of drivetrains available for the E-Pace, head here. We're going to cut the BS for you and conclude that Jaguar's 'D180' all-wheel-drive, Ingenium engine is all you'll need. This is just one notch above the base offering, the D150, and still produces an admirable 132kW of power from a 4 cylinder, 2.0-litre engine.
The 'D' in 'D180' stands for diesel. By taking the diesel option, you'll save yourself a hell of a lot of money on fuel, an expense that can't really be justified for such a car if it were a petrol engine. At 6.5-litres per 100km, the D180 gets the job done in a very satisfactory manner.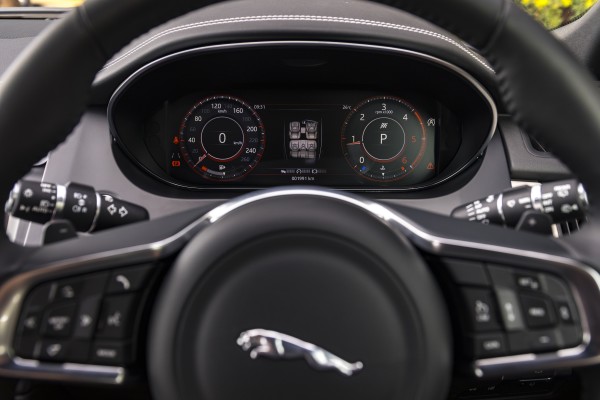 The Specs
For those unfamiliar, JLR offer specifications by way of S, SE or HSE pre-sets. We'd recommend you opt for the 'S' pack to then work your magic around.
While the E-Pace sports some striking colours, we'd suspect you'd be keen on a colourway similar to the RR Velar we had last year. The 'Coris Grey' body looks really sharp; throw on a Black Pack, a fixed panoramic roof for some airy ambiance and elusive privacy glass, you'll be well on your way to a beefy, tough-looking E-Pace. What I think detracts the most from the E-Pace is its stock wheels. We'd swap out the standard 18 inch set for 20 inch, 5 split spoke 'Style 5051' wheels.
To bring the interior up to scratch with the now striking exterior, opt for the ebony grained leather with a sharp electric blue contrast stitching. We can assure you this looks even better in the flesh. We'd also suggest the 11-speaker Meridian sound system as opposed to the standard.
For the driver, a digital interactive display brings your E-Pace into the next generation. By ditching the analog system you'll have a truly luxurious, high-tech and head-turning set of wheels. The E-Pace is also only the second Jaguar to have ever had towbar compatibility, so if you're after a true family weekender, chuck that on also.
The Goods
We've done the hard yards and put all of the above options into an actual E-Pace S R-Dynamic for you, the finished product you can preview below. For the full specification details, and to design your own, head here.