Jeep's Grand Cherokee Trackhawk doesn't make sense. It doesn't make sense as a Jeep, it doesn't make sense as an SUV, it doesn't even make sense as a car.
There are so many contradicting things happening with the Trackhawk, it's as if the Dr. Frankenstein of the automotive industry picked up random jigsaw pieces off the factory floor and mashed them all together for an after-hours batshit crazy experiment.
Somehow, though – and we're baffled as to how – it's worked.
I'm still reeling from the experience myself after hammering the weapon around Australia's best incarnation of a racetrack, Philip Island, at the Australian media launch late last month. An SUV launch at a racetrack. The first of many inconceivable mismatchings that all come together for one helluva car.
In 2017 Jeep conquered what has forever been its stomping ground – the terrain – with the Grand Cherokee Trailhawk. Every other automaker would have stopped there at what they knew best, put down the tools and enjoyed a few frothies to celebrate a job well done.
But Jeep is adamant it's no ordinary manufacturer. Instead, it set its sights on the complete opposite for 2018, collectively concluding with a "Hey, screw it, let's dominate the track as well." Not what anyone predicted from the brand – at least I never saw that one coming.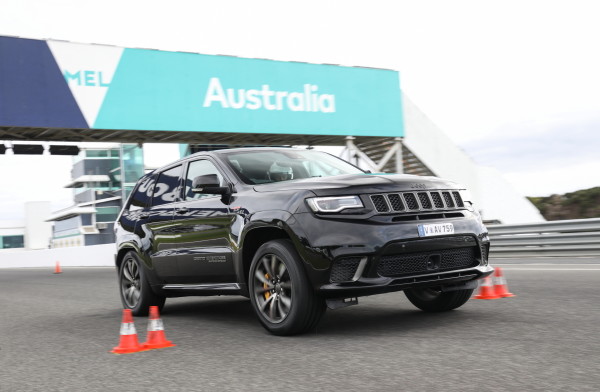 When you're up at the crack of dawn, standing in the pit lane of Philip Island's Grand Prix circuit as the crisp autumn air slices through your clothes, you're usually there for an overly hyped reason. Such a reason might be the spine-tingling scream of a Lamborghini's V12 or the crackle and splutter of BMW's new M5.
If someone drags you out of a warm bed to the track for an SUV, levels of skepticism are understandably permitted. Any skepticism I may have had that morning flew right out the window when I heard them fire up the throaty 6.2-litre supercharged V8 of the Trackhawk, a powertrain that Jeep cunningly snatched from Dodge's infamous Hellcat. I like to picture a few loose units from the Jeep production line knicking one of the engines from their Dodge cousins under the cover of darkness somewhere in Detroit, secretly working on the Trackhawk in a dimly-lit basement. For this story's sake, we'll say that's definitely how the Trackhawk came to be.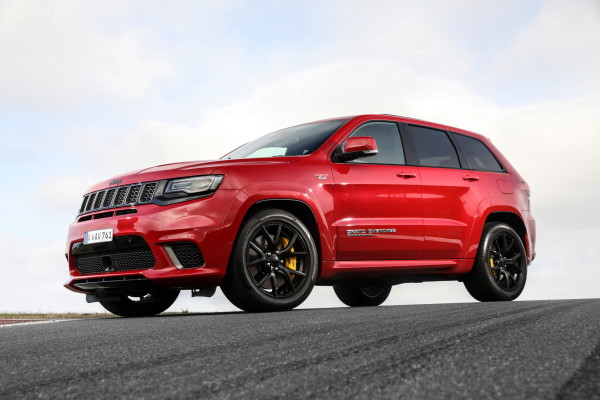 This monster is all about the numbers. I try to resist judging a car based on what I see on a piece of paper, but when the best figure of all is a starting price of just less than $135,000 excluding on-roads, it would be an injustice to overlook the sheer impressiveness of what Jeep have achieved with the Trackhawk by the numbers.
The squirt to 100km/h is certifiably the most insane feature of this 2.4-tonne beast. It sprints off the line like a raging bull finally let loose on the streets of Pamplona, thundering to the century with a sound so ferocious it could make a grown man cry – all this within a mere 3.7 seconds. For any other sports car, these are impressive numbers, for an SUV of its weight, it's damn right astounding. This ludicrous time can be attributed to the staggering 868Nm of torque and 700bhp sent primarily to the rear wheels by way of the aforementioned super engine.
This car is so counterintuitive that Pirelli had to especially design the Trackhawk its own breed of tyres to account for the increased stress placed on the outer walls. No top-heavy SUV profile has ever previously had the need for such specced-up rubber.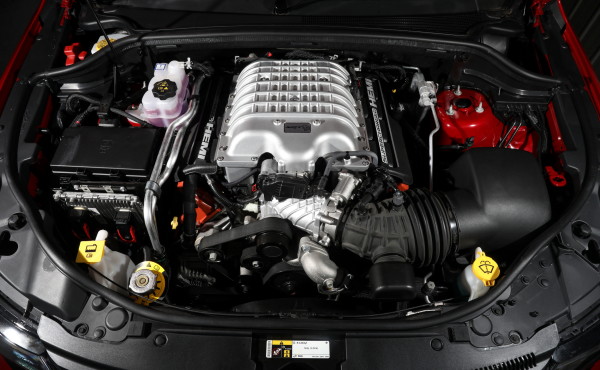 When you're chasing V8 supercar drivers around one extremely narrow and fast circuit, the 'track' drive selection is literally all you're taking notice of. If you want to drop off the kids at school, however, the 'comfort' mode is still there. If you're about to hit a muddy section on your trail to your campsite, never fear, that drive mode is there also. This Jeep will do it all, as you'd expect from the brand, but it'll also confidently throw its weight around a racetrack, which let me assure you, was indeed unexpected.
The Jeep Trackhawk absolutely hunts. That might not sound like much of a professional opinion coming from us, but when I subbed in V8 supercar driver Tim Slade for his first time ever behind the wheel and he casually started booting it through corners at three times the speed as myself, his reaction was a suspected surprise.
"This thing absolutely grunts, the way it just pulls and pulls through every gear, I thought that was quite impressive. There's not much I know of on the market that can top this kind of power for price."
That price, let me remind you, is just under $135k before on-roads. In itself, that should be enough to make your ears prick up and pay attention. Considering Lamborghini's Urus starts just short of a colossal $400k and claims to shave only a tenth of a second off the Trackhawk's 0-100 dash (not to mention Porsche's Cayenne Turbo starting at $240k), the phrase 'bang for your buck' has never had a truer definition.
And, when you look up synonyms, we promise you'll find 'Jeep Grand Cherokee Trackhawk.'