What do we have here?
The latest iteration of the Jeep Wrangler 4×4, in an Unlimited Rubicon edition. This model, which is yet to be released in Australia, features a 3.6L V6 and a tonne of features for off-roading including Jeep's signature Rock-Trac 4×4 system, electronic front sway bar disconnect, performance suspension, and Dana 44 heavy-duty axles.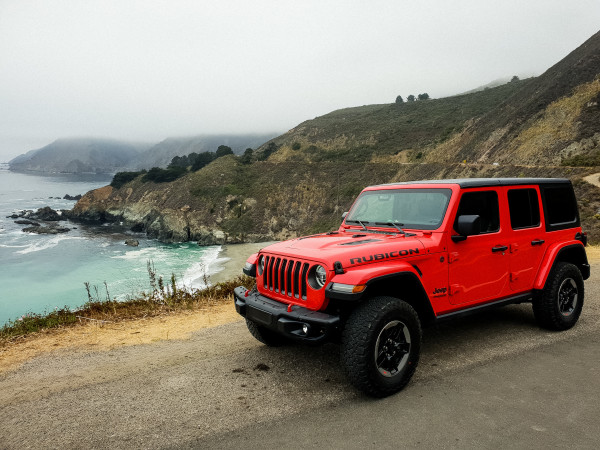 Why do we have it?
If the above is all jargon to you, the main point is that it's a Jeep to be driven fresh out the factory and straight up the side of a mountain with ease. This isn't your washed down city SUV, the Rubicon is a fully capable machine built for enthusiasts with a surprising amount of modern comforts.
What are the takeaways?
Named after a back-breaking off-road trail that snakes through the mountains of California, the Wrangler Rubicon ticks all the boxes in terms of 4×4 capability. But that's not the first thing that catches your eye. The updated exterior design of the classic Wrangler silhouette positions it as something that easily fits into city life, with a sleeker nose and fancy new inclusions such as halo LED daytime running lights. Its interior is a reflection of this sentiment, leather and brushed metal touches mix in with rugged rubber protection for when you want to go topless. The cabin itself is still cramped but has all the modern amenities you could need, including a comprehensive entertainment/nav system, reverse camera (I recommend getting this and parking sensors in order to deal with the tighter Aussie streets) and plenty of handy spots for storage. A phone storage slot located between the centre console cup holders is a particularly welcome touch.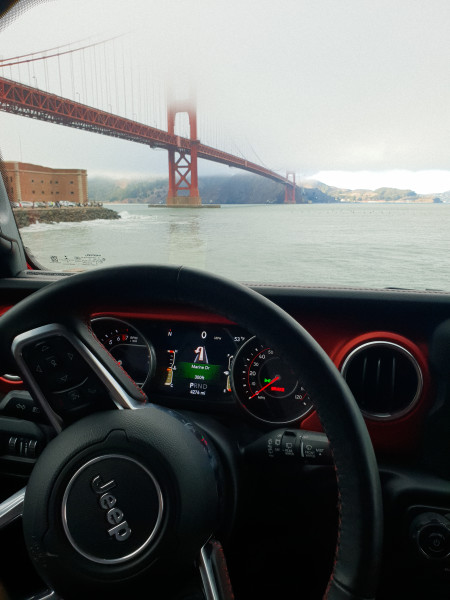 Speaking of going topless, that strip down process to get the roof off has become much easier. Wrangler hard tops are notoriously difficult to handle with all the parts needed for removal but Jeep has addressed that by providing plenty of easy places to put items such as screws and tools. Furthermore, it's actually refreshing in this day and age to go through the manual process of removing the modular elements (which include the windshield and doors in addition to the roof). Just remember that you'll need an external storage spot for anything that's not the front two panels of the roof.
Moving away from the aesthetics of the vehicle, let's address the elephant in the room; is this Rubicon too niche for an everyday driver? Surprisingly, the answer is no. Whilst it's admittedly a mediocre drive and massive rattler on the highway straights (no one was ever expecting it to be an open road cruiser), it handled itself amazingly well in the streets of San Francisco and Los Angeles where we tested it. The Rubicon is fairly nimble, accompanied by a manageable turning circle, and with help from the reverse camera, those parallel parks are a breeze. The bends on any National Park drive also come nice and easy, it's only when you hit those straights at 100 km/h that you really start to experience its weakness. You do feel above everyone else when sitting on the performance suspension and 17-inch wheels but in terms of the Australian market it's a perfectly doable transition between the dirt roads and city streets.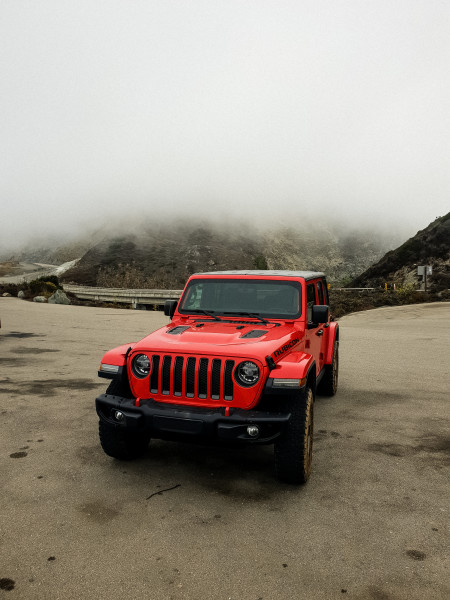 I will say you'd want to be hitting the rocky off-road trails pretty frequently, as its performance would be shamefully wasted running down the streets of Double Bay. Jeep's Rock-Trac 4×4 system hits its peak with the Rubicon, which is specifically designed to deal with tricky situations off the beaten track. Able to deliver massive amounts of torque, it means the Wrangler can easily crawl over any obstacle in its path with specially designed high and low range modes (which control the torque to axle split). It also has the ability to change shift on-the-fly, via the specially allocated mechanical 4×4 gear lever, from two-wheel drive to four-wheel when needed, optimizing that everyday drive differential. Further touches like the sway bar disconnect, which helps to further reduce the body roll on tough inclines and rougher situations, make it a tonne of fun to handle away from those smooth roads. The only downside to all this power is all the usual fuel consumption that comes with a large American vehicle and trust me, it chews through a whole lot.
The Verdict
The Wrangler Rubicon is a compelling offer for any off-roading enthusiast but it's the 2019 touches that Jeep has put forward that make it a capable everyday drive. So whether it's city life or a weekend escape, the Rubicon's offering is broad enough to not isolate it from the casual driver.
2019 Jeep Wrangler Unlimited Rubicon 4×4
Engine: 3.6L V6 24V VVT w/ EES (more options to be announced)
Power: 209kW
Torque: 353Nm
Transmission: 8-speed automatic transmission
Fuel economy: 8.5L/100km
Price: TBC
.