It's been four years since I attended the international launch of the all-electric Jaguar I-Pace. Coincidentally, four years later I arrive by helicopter at the National Arboretum in Canberra to drive Kia's first dedicated EV. How are they related, you may ask? Because at first glance, these two cars are basically one of the same.
All-electric. Firsts for the brand. Sedan-SUV amalgamations that are both bold declarations of brand identity and statements of intent regarding their motoring futures. Above all, however, one can't deny they basically look identical.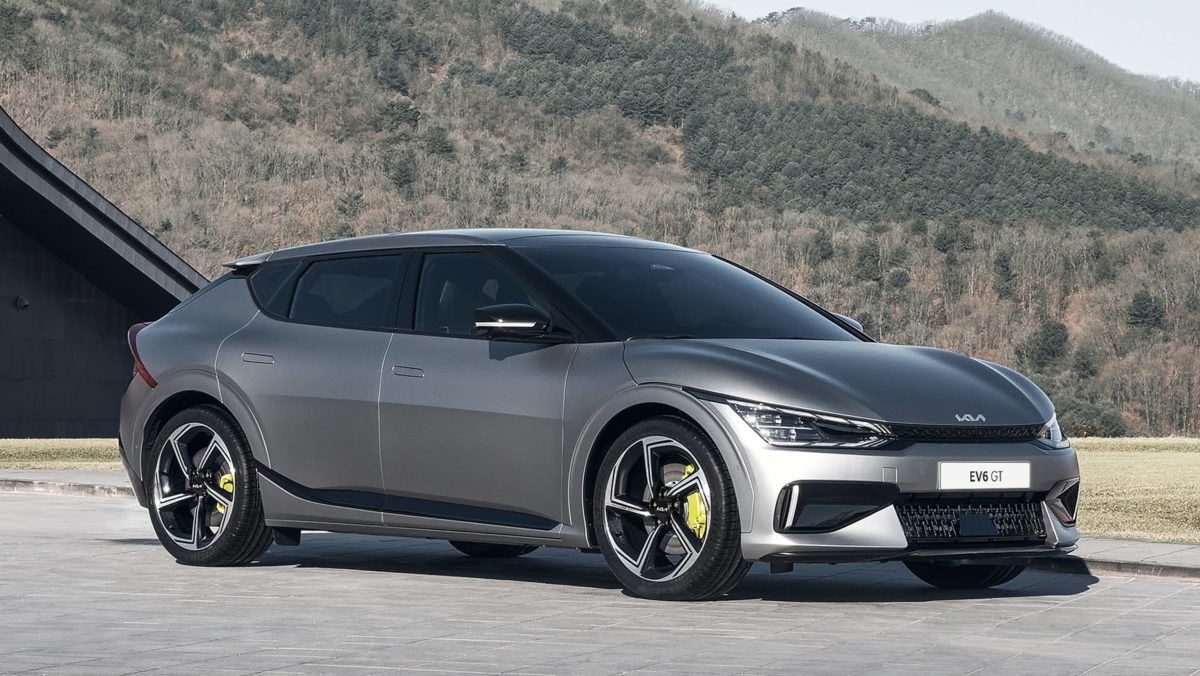 That is until you consider the price point of Kia's debut electric vehicle, the EV6. And this, dear readers, is where I shall command your attention and have you hooked for the rest of this article. Starting at $67,900, it's a straight up slap in the face for all the European automakers who have filled that subsequent four-year gap with a slew of cars that rarely – if ever – make it in under the $100k threshold.
---
---
And we've driven all of them since 2018. Mercedes' EQC, Porsche's Taycan, the aforementioned Jaguar I-Pace and the three amigos from Tesla (the Model 3 is an exception to this threshold), just to name a few. As of 2022, it's becoming quite clear that the South Koreans are now catching up; one can't forget the recent domestic arrival of the IONIQ 5 from Hyundai (and it would be remiss of me not to mention Sweden's Polestar, which I'll be driving next month). But most importantly, the EV6's Australian arrival has been strategically timed as Kia finds itself on the precipice of a full brand renaissance.
Kia is becoming cool. The Sorrento and Sportage have prompted double takes from both colleagues and friends of mine alike. More recently, in the past few months, the EV6 has continued to catch observers off-guard as the very good (if not excellent) reviews started to flood in from around the world.
As I stood in front of a sharp EV6 sporting a smart all-wheel-drive "GT-Line" spec with a scrumptious matte grey finish, I couldn't help but crack a smile. By all accounts, and from my brief first drive of this car which I'll expand on shortly, the EV6 is Kia's trump card. And I'd argue they've played it at a bloody good time.
If Kia want to lead from the front domestically as EVs become in vogue and – more importantly, approachable – to the everyday Aussie, they're going about it the right way. But before we go any further, let's get the details out of the way.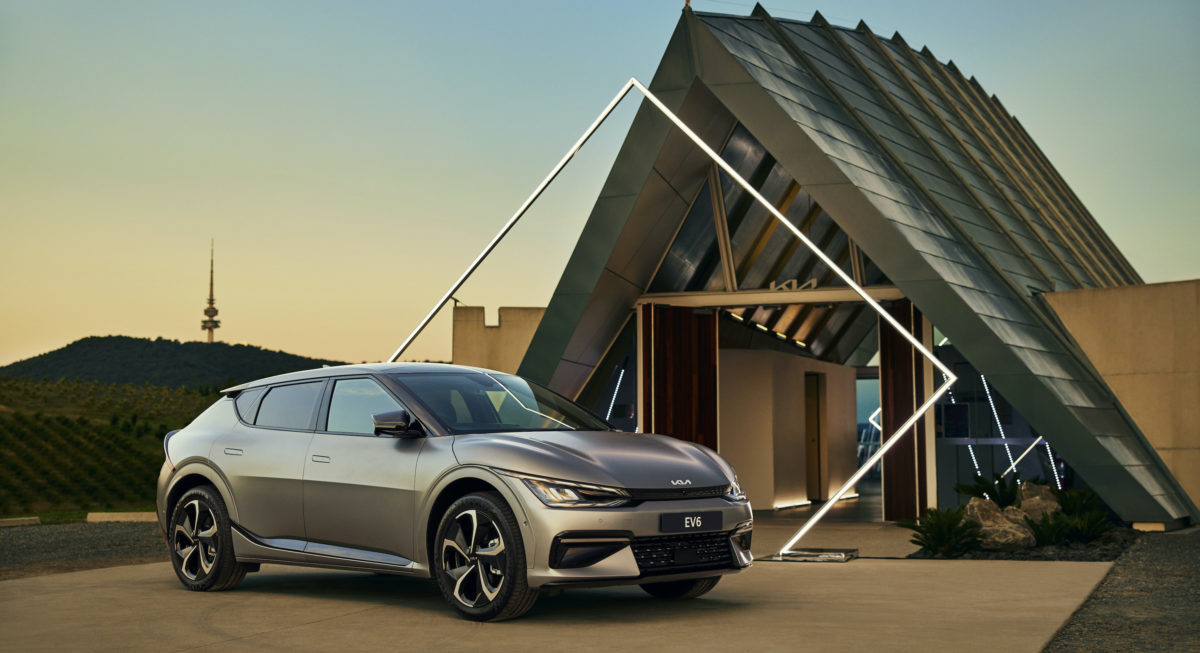 How much does the Kia EV6 cost?
There are currently three variants of the Kia EV6 available in Australia, with a fourth on its way at the end of the year. The EV6 "Air" will kick off the entry point to the range at $67,990. The real-wheel-drive single motor EV6 puts down 168kW of power via 19″ alloys and produces 350Nm of torque. More importantly, it touts a sizeable single-charge driving range of 528km.
This same RWD single motor is also available in the "GT-Line" spec with futuristic-looking 20" alloys as standard, a driving range of 504km and priced at $74,990. Finally, an optional all-wheel-drive dual motor EV really turns things up a few notches, producing 239kW of juice and an impressive 605 Nm of torque. It'll do the 0-100 dash in an admirable 5.2 seconds with a range of 484km, all the while commanding an RRP of $82,990.
There are just 500 allocated to Australia for 2022, but more are obviously expected as they become available.
---
---
Now for the big guns. A performance-focused EV6 eGT is slated to arrive in late 2022/early 2023, and it's expected to cost you around 100 beans or so. We've heard 0-100km/h times will be around the 3.5-second mark, which, let's not forget, was the benchmark for most supercars of the early 2010s. And we're now talking about a Kia chipping away at that same benchmark.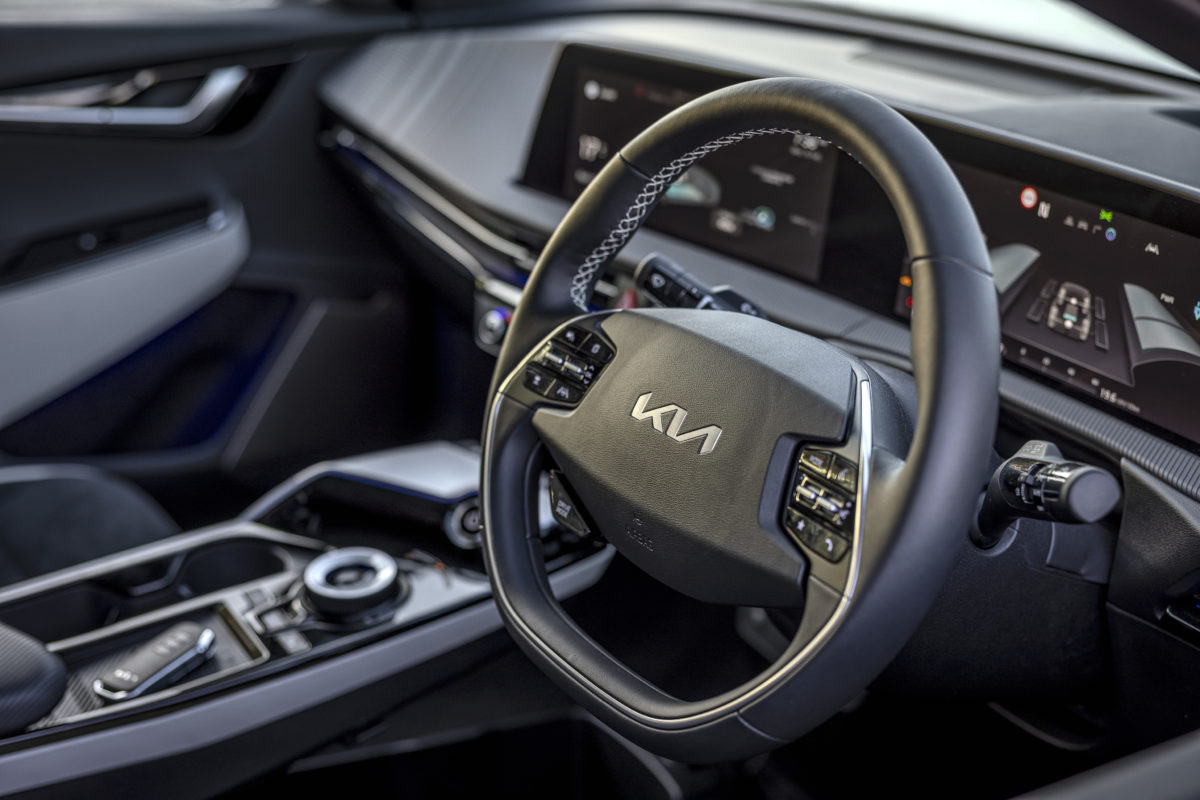 What are you getting for your money?
Kia does standard equipment very well, which will be music to the ears of any regular joe keen to jump on the EV train in Australia. I drove the Stinger GT Line maybe two years ago and was really quite astounded as to how many goodies the Koreans could pack into their cars without asking customers to tick extortionate boxes for the privilege. I was pleased to see that the EV6 was no different, embracing much of the tech-focused design trends we've come to expect from its electric European contenders.
A few notable inclusions for the standard offering include LED daytime running lights, flush door handles, dual-zone climate control, smart cruise control, a striking LED wrap-around taillight, paddle shifters with regenerative braking control, as well as front and rear parking sensors paired with a reverse camera.
There are USB-C charge points galore and dual 12.3-inch driver displays with a touchscreen navigation system. Android Auto and Apple Car Play are standard, although annoyingly, wired. It could have been a slam dunk for Kia if they'd embraced wireless car play, but alas, that's about all I could fault in the standard interior.
As for the GT-Line, think more aggressive 20″ wheels, heated and cooled front seats, a 14-speaker Meridian premium sound system (just like the Jaguar I-Pace), as well as an augmented reality heads up display. The AWD option goes one further in offering a wide automatic sunroof.
The Kia EV6 Air is available in six colours with Glacier White being new to the Kia pallet. EV6 GT-Line is available in five colours, including the striking Moonscape matte paint exclusive to the GT-Line trim, also new to the Kia range.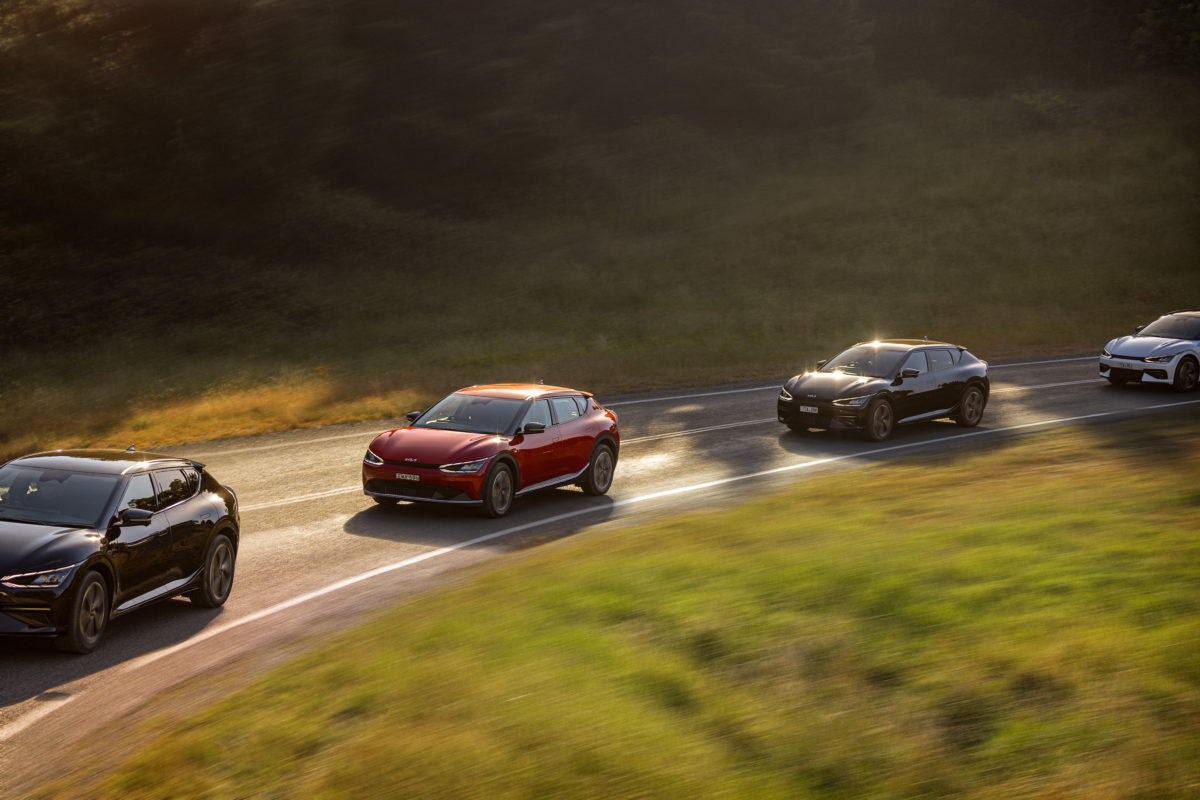 What is it like to drive?
I won't try to pull the wool over your eyes – my first drive of the EV6 was too brief to form any substantial opinion. But during my initial stint behind the wheel and as a passenger, I struggled to pick apart anything from the GT-Line that I didn't like.
Despite its arrival in small numbers initially, Kia made a point of locally tuning the suspension of this new electric platform specifically to suit Australian roads. That attention to detail shows. The EV6's chiselled, aerodynamic silhouette coupled with its low centre of gravity afforded by its floor-mounted battery packs means you're privy to quite the sticky ride that I thought felt at home on the outskirts of Canberra.
---
---
I personally found the steering a little too loosey-goosey for my liking, even in the all-wheel-drive GT-Line. But dialling it up to Sport seemed to sharpen its composure on the road immediately, although I'm not sure what that would do to the car's overall range if you found yourself driving it in that mode permanently.
My other initial enjoyments included the orientation of the instrument clusters towards the driver, and despite expecting heightened cabin noise from the lack of an engine note, the EV6 seemed to expertly suppress it.
A new feature which took me a few minutes to get my head around, and which I'm excited to explore in the future, is the ability to adjust the responsiveness of the regenerative braking via the paddles on the steering wheel. Instinctively, most would be used to shifting gears with these paddles when driving an internal combustion sports car, but the EV6 now allows drivers to tweak the intensity of the one-foot-driving method using the same levers.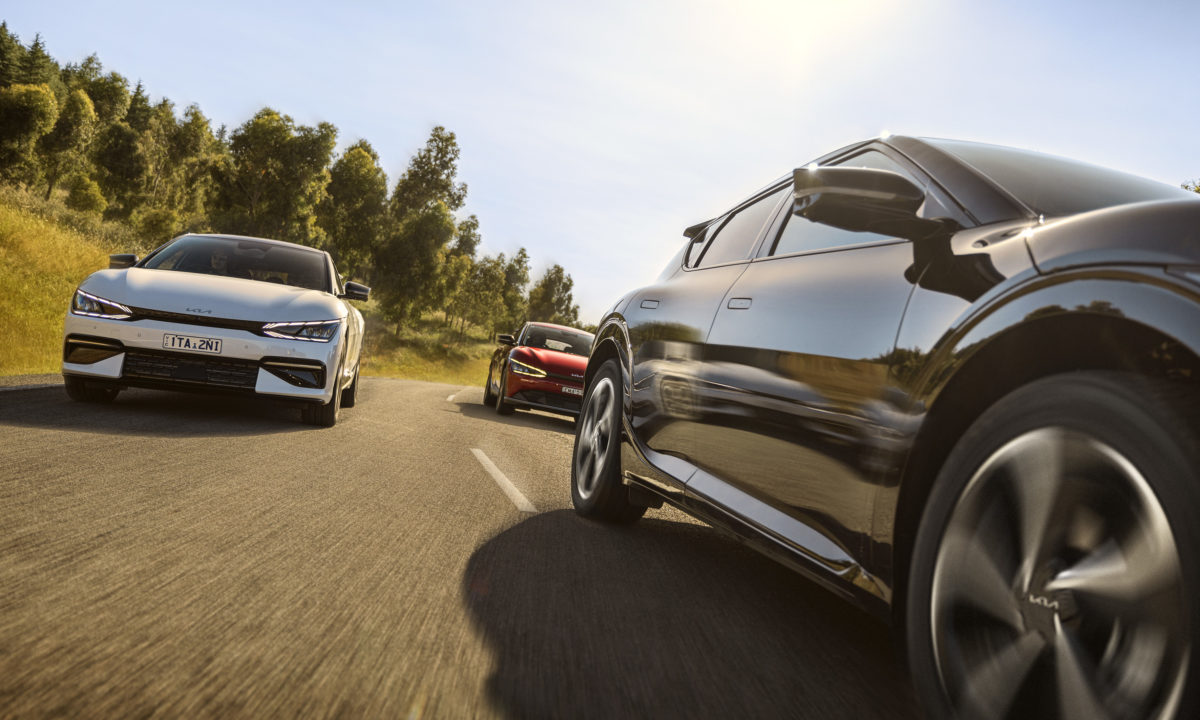 Why should you be excited about it?
For conversations around realistic range, liveability, and reliability, you'll have to come back here another day. But on face value, there's plenty to make me believe the EV6 will arrive down under with a superhero-like landing.
It's hot on the heels of European examples in regards to technology, Kia itself has come leaps and bounds from any preconceptions you might have had of the brand, and it's offered at a very achievable price point that undercuts Euro segment competitors in Australia almost by half.
With just 500 examples scheduled for delivery in 2022, the EV6 might take a while to trickle down the global supply chain funnel to begin with, but I wouldn't be surprised if a tsunami of electric wheels from Kia overwhelm Aussie roads in the near future.