Lamborghini's unreleased Aventador SVJ has already thrown its two cents of dominance into the game after knocking Porsche's GT2 RS off the perch with a new lap record at the Nürburgring.
Due to be unveiled at the Monterey Car Week next month, the SVJ lapped the Nürburgring-Nordschleife in a record time of 6:44.97 minutes, taking the crown as King of the Ring. The GT2 RS, a crowd favourite for its (until now) unbeatable performance sans the ego of, for instance, a Raging Bull, clocked in late last year with a time of 6:47.30, now more than two seconds slower than the mysterious Lambo.
The punishing proving ground commonly referred to as 'The Ring' extends for over 20 kilometres through German Rhineland and is considered the decisive test track for comparative performance in the motoring industry. The camouflaged SVJ, pictured below, was piloted by resident Lamborghini test driver Marco Mapelli.
---
---
"Its tenure as the Nürburgring lap time record holder, even before its unveiling during Monterey Car Week in California in August, endorses Lamborghini's competence in applying superlative design engineering and ground-breaking technologies. The SVJ is a super sports car at the zenith of performance, while also ensuring unrivalled driving pleasure," said Stefano Domenicali, Automobili Lamborghini Chairman & CEO.
The GT2 RS was a welcome change to a reign of Lambo's over the recent years which began back in 2015 with the Aventador LP 750-4 SV delivering the first sub-seven second time. The SV was chased quickly by the Huracán Performante which held the 2016 spot until Porsche took charge towards the end of last year with the GT2. It seems the tug-of-war has now resumed with the SVJ, and we can't wait to see in what form Porsche's response comes next year.
Side note: How about that rear wing!? We love it.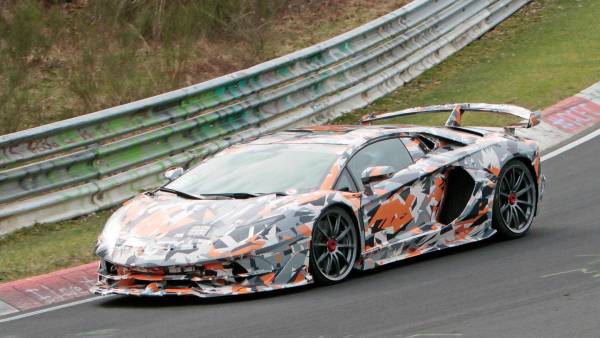 RELATED: The Murdered-out Porsche 911 Dubbed "The Dark Knight"