Unsurprisingly, the biggest fish in the sea also comes with the biggest price-tag. But how much would it actually set you back if you wanted to, say, snap up one of these big fishes with all the bells and whistles attached?
In no particular order, here are the largest superyachts in the world and how many you'll need to afford them.
Azzam – $845 million
Length: 180.61 metres
---
---
Owner: Sheikh Khalifa bin Zayed Al Nahyan
Year Built: 2013
Builder: Lürssen Yachts
Top Speed: 31.5 knots
Azzam is capable of such impressive speeds due to an innovative water-jet propulsion system – two fixed jets, two directional – which catapults this 180-metre superyacht at 31.5+ knots.
Eclipse – $643 million
Length: 163.5 metres
Owner: Roman Abramovich
---
---
Year Built: 2009
Builder: Blohm+Voss
Top Speed: 22 knots
Eclipse sports bulletproof windows, a German missile detection system, and a provision to escape via submarine located at the bottom end of the superyacht. There's also dual swimming pools and 20 jet skis. To be expected from the flagship of Chelsea Football Club owner Roman Abramovich's private navy of superyachts.
Dubai – $563 million
Length: 162 metres
Owner: Sheik Mohammed bin Rashid al-Maktoum of Dubai
Year Built: 2006
Builder: Platinum Yachts Dubai
---
---
Top Speed: 26 knots
Dubai's interior configuration has been designed to comfortably accommodate up to 36 guests overnight in 22 cabins, comprising of a master suite, 5 VIP staterooms, and 16 double cabins. She's also capable of carrying up to 88 crew onboard to ensure a killer luxury superyacht experience.
RELATED: How Much It'll Cost To Berth Your Superyacht In Monaco Over Grand Prix Weekend
Dilbar – $844 million
Length: 157 metres
Owner: Alisher Usmanov
Year Built: 2015
Builder: Lürssen Yachts
Top Speed: 22.5 knots
---
---
Although it's not the longest superyacht on record, Dilbar is considered the largest by gross tonnage. This could be due to the inclusion of a record-breaking 180 cubic metre swimming pool (believed to be the largest on any superyacht). Unfortunately, images of the supposedly exquisite interiors remain elusive.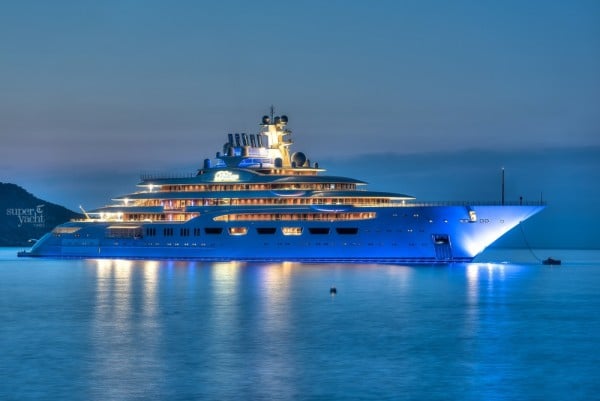 Serene – $810 million
Length: 134 metres
Owner: Prince Mohammed bin Salman
Year Built: 2011
Builder: Fincantieri
Top Speed: 20 knots
In August 2017, Serene ran aground on a shallow rock reef in the Red Sea, where significant damage was sustained to the bow. The damage was repairable and Serene is once again available for charter. It's said Bill Gates once chartered this superyacht in the summer of 2014 for $5 million a week.
Motor Yacht A – $633 million
Length: 119 metres
---
---
Owner: Andrey Melnichenko
Year Built: 2008
Builder: Blohm + Voss
Top Speed: 23 knots
Motor Yacht A's unique design received an incredibly polarising reception. Jonathan Beckett, chief executive of London yacht brokers Burgess, stated: "I have to say I was impressed. It's a very exciting boat to watch. It's simply unlike anything that's ever been done before." On the other hand, The Wall Street Journal's Robert Frank called A "… one of the ghastliest megayachts ever created…" and "…more like a cruiser for Darth Vader's navy than a family pleasure boat for the Mediterranean…". We've been trying to pinpoint what it reminded us of for years now, and Frank has done it. It's a sea-going Star Destroyer.
Sailing Yacht A – $422 million
Length: 143 metres
Owner: Andrey Melnichenko
Year Built: 2017
---
---
Builder: Nobiskrug
Top Speed: 21 knots
Does this creation really need a description? The direct counterpart to Andrey Melnichenko's motor yacht above, S/Y A is one of the most commanding vessels in the Mediterranean.